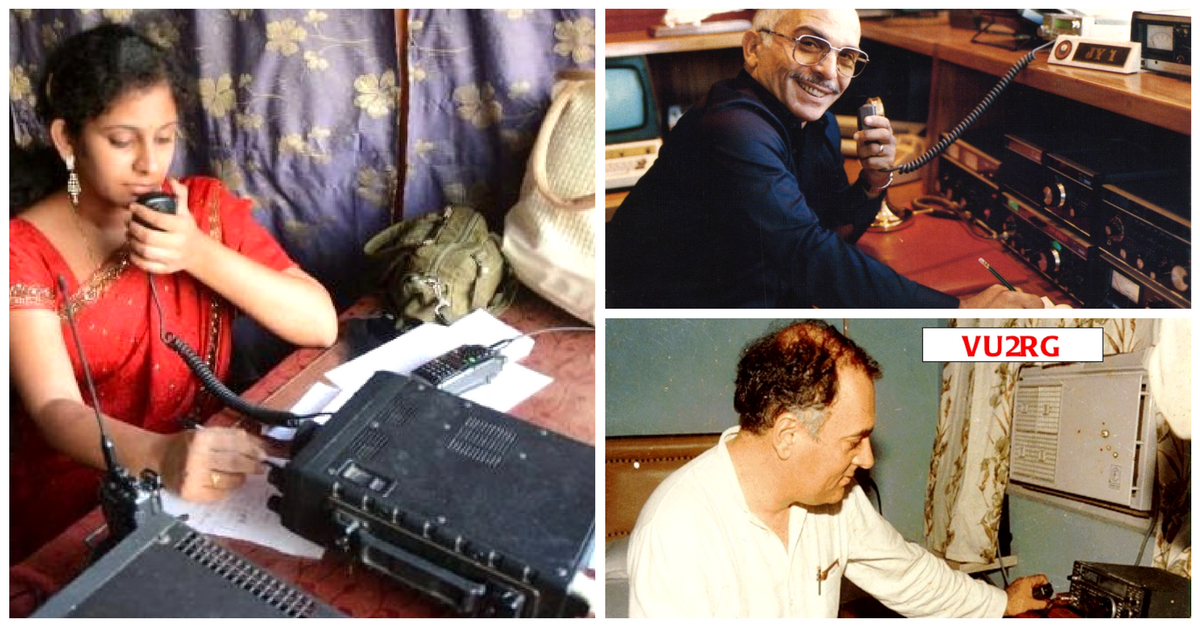 Any hobby that lets you talk to a geologist in Antarctica, an astronaut on the International Space Station, or the captain of an Italian ship sailing on the Pacific Ocean with just a ham radio, is nothing short of incredible. Here's an insight into India's fascinating ham radio community, a social networking club powered by radio waves.
Here's an insight into India's fascinating ham radio community, a social networking club powered by radio waves.
Twenty six years ago, Keki Darbary and Vilas Rabade, two amateur radio enthusiasts from Pune, were fiddling with their ham radio sets when they accidentally established contact with a Soviet astronaut aboard the orbital space station, MIR. They had a three-minute exchange, and a number of their fellow ham radio enthusiasts were also tuned into this conversation that took place on April 14, 1989.
Such are the experiences of the members of this unique social network that works via radio waves. In the ham radio network, friends are made through incidental contacts on an amateur radio, that is, a wireless transceiver (radio transmitter plus receiver) that works as the networking platform.
The beauty of this alternative form of communication is that, while sitting in one's own room, one can make contact with anyone, anywhere across the globe, provided the other person also has the required equipment.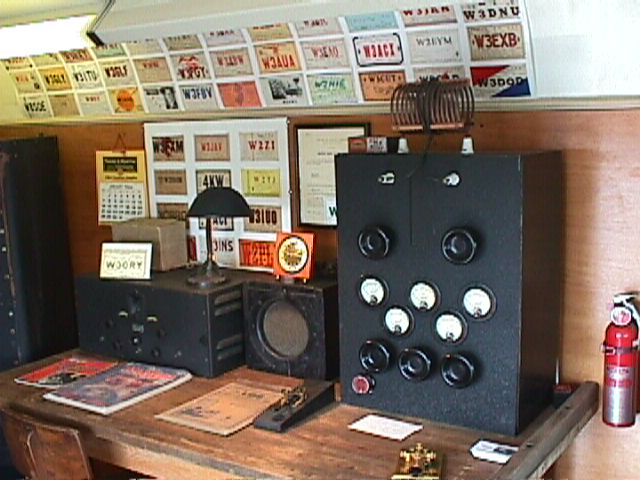 Amateur radio got its start at the beginning of the 20th century, when amateur radio lovers began tinkering with equipment to talk to each other. In many ways, it was the first social network – anyone with the right equipment could join, get a call sign, and start chatting. Since then, amateur radio operators, nicknamed 'hams', have been using radio waves to communicate wirelessly through Morse code, voice or even images with people around the world.
If you have ever wondered why amateur radio operators are called hams, the story goes like this: HAM was the station call of the first amateur wireless station, operated by amateurs from the Harvard Radio Club. Their names were Albert S Hyman, Bob Almy and Poogie Murray. The name HAM was taken from the first letters of their surnames. Ham operators also say that the word signifies Help All Mankind.
Interestingly, in ham terminology, male radio operators are called Old Men (OL) and women are called Young Ladies (YL), no matter what their actual age!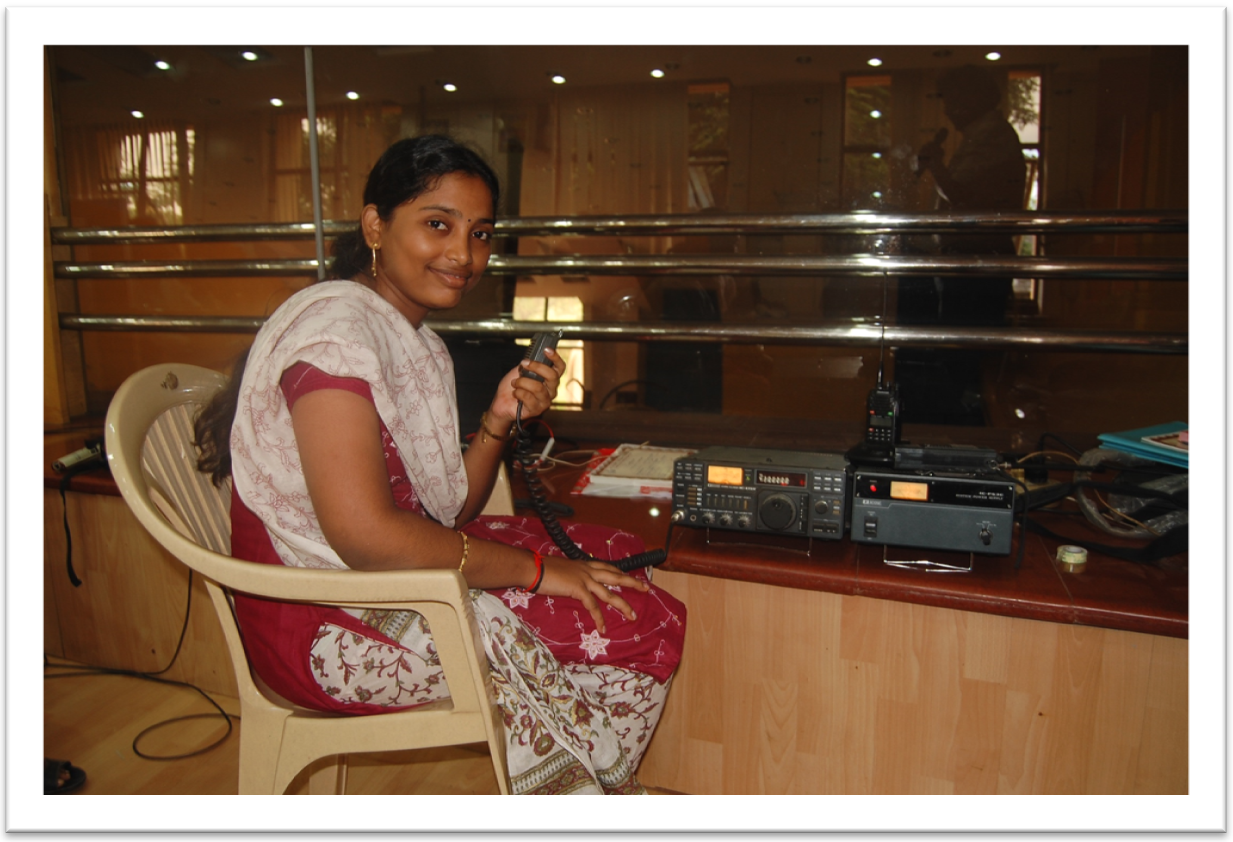 Even as modern forms of communication such as mobiles and the internet have edged out the radio, the tightly-knit global community of ham operators continues to thrive. Worldwide, there are more than three million hams, each of whom has a "call sign" that denotes his/her identity, country of origin and whether he/she is using the ham radio for personal use, military use, or for aircrafts.
India, too, has an enthusiastic community of hams, most of whom are based in South India.  Bengaluru, the amateur radio capital of India, has about 5,000 amateur radio operators, with 1,200 enthusiasts taking to the platform in the last five years.
To be a ham operator in India, one needs to appear for a test organised by the Wireless Planning Coordination (WPC) wing of the government and get a clearance from the Intelligence Bureau. After obtaining the licence, the operator can buy or assemble transmitter receivers from the electronic kits available in the market. In India, the call sign for hams must use the call sign prefix 'VU'.
Historically, ham radio operators also played an important role in the Indian freedom struggle. In 1940,  ham operator Nariman Abarbad Printer (VU2FU) set up the Azad Hind Radio to broadcast Gandhian speeches, nationalist music and uncensored news. He was immediately arrested and his equipment seized.
In August 1942, after Mahatma Gandhi launched the Quit India Movement, the British began clamping down on the activities of nationalist leaders and censoring the media. To circumvent media restrictions, Indian National Congress activists, led by Usha Mehta, contacted Mumbai-based amateur radio operators, Bhavsinh Moraji "Bob" Tanna and Nariman Printer to help broadcast messages to freedom fighters across the country.
The radio service, called the "Congress Radio", began broadcasting from September 2, 1942, on 7.12 MHz., and could be received as far as Japanese-occupied Myanmar.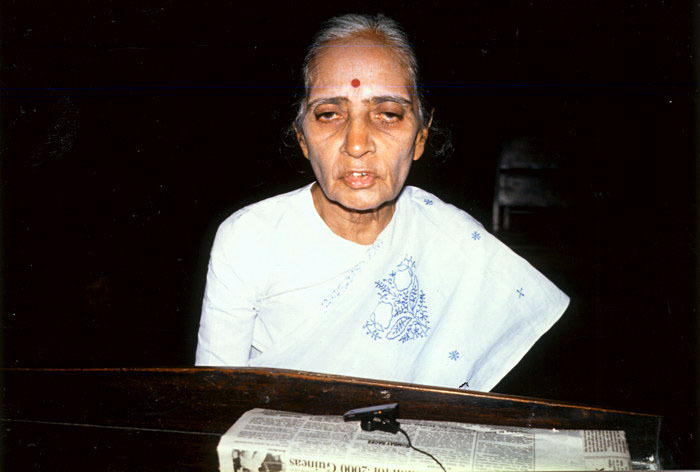 However, in November 1942, Tanna was betrayed by an unknown radio officer and was forced to shut down the station.
Temporary amateur radio licences were issued again after the end of World War II in 1946. By 1948, there were 50 amateur radio operators in India, although only a dozen were active. Following India's independence in 1947, the first amateur radio organization, the Amateur Radio Club of India, was inaugurated on May 15, 1948, at the School of Signals at Mhow in Madhya Pradesh. The club headquarter was later moved to New Delhi, where it was renamed the Amateur Radio Society of India (ARSI) on May 15, 1954. As India's oldest amateur radio organization, ARSI then became the country's representative at the International Amateur Radio Union.
Among the famous hams in India are Amitabh Bachchan (VU2AMY), late Prime Minister Rajiv Gandhi (VU2RG) and Kamal Hassan (VU2HAS). Legendary Soviet cosmonaut Yuri Gagarin (UA1LO), late NASA astronaut Kalpana Chawla (KD5ESI), and Hollywood actor Marlon Brando (FO5GJ) were also part of the global club of ham operators.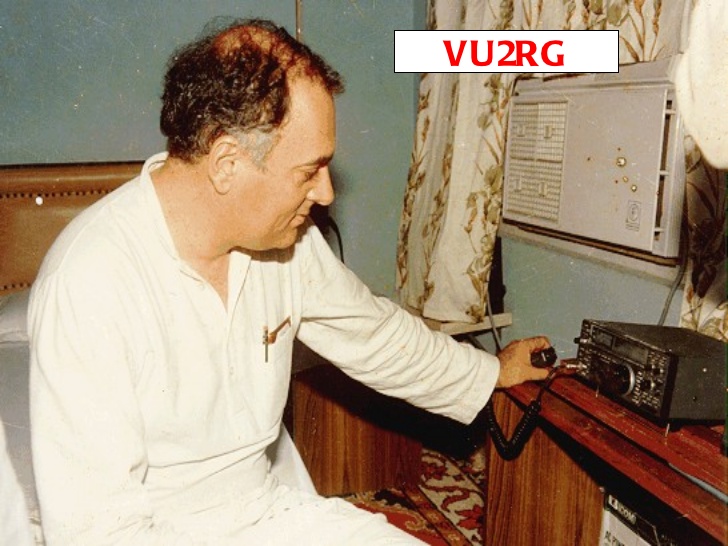 For the most part, hams enjoy contacting strangers and 'chewing the rag' (chatting in ham terminology) via their radio sets – the rarer or more elusive the contact, the better. Since most of the contacts are incidental, the global community of hams also gives preference to the weakest signals they receive – someone may need their help or could be transmitting from a remote location.
What hams also like doing is using their skill to help others during natural calamities. Usually, when a powerful disaster strikes, most mainstream communication services (like cellphones) stop working. However, since a ham radio doesn't need much infrastructure to work, it continues to function. As a result, ham radio operators serve as essential communication channels in the rescue, relief and rehabilitation efforts during disasters.
For example, when the earthquake in Latur happened in 1994, ham-radio enthusiast K A Avari was one of the first people who went to help at the disaster site. Along with other volunteer hams, he set up a 24×7 operations room to get communications up and running with the help of the local government. A retired engineer, Avari began to play around with ham radios in the '80s in Mumbai, a hobby born out of a genuine love of tinkering with electronics and radio communications.
On December 26, when an earthquake in Indonesia triggered a tsunami, Bharati Prasad (VU2RBI) was visiting Andaman and Nicobar Islands. Along with a few other ham operators, Bharati (one of India's prominent women hams) stayed back to help with the relief activities.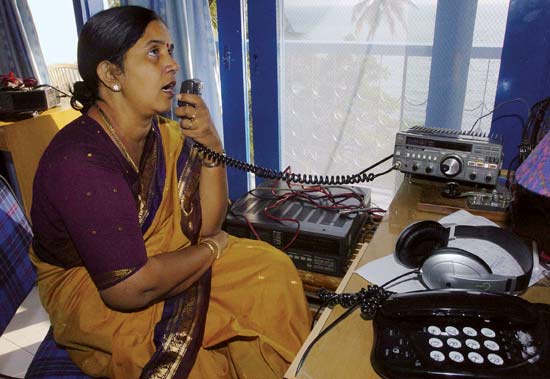 Offering her services to the island administration, she remained there for more than a month after the disaster, leaving her husband to care for her young children back in Delhi.
Bharati was also the first Indian YL to go on a DXpedition to Lakshadweep in 1983. In ham terminology, DXpedition is the term for trips to locations most operators might find difficult to access. Back then, getting the permission to operate amateur radios on Lakshadweep involved getting through a number of bureaucratic hurdles. After a long effort that involved getting permission from the Home and Defence Minister, Bharati received a clearance for a 15-day stay at Lakshadweep. Just 22 years old when she embarked on her remarkable DXpedition, Bharati made contacts with around 25,000 people across the world on that trip.
For septuagenarian Puthanpurayil P M Mathew, better known as Mathachan Ashan among his friends, ham radio is not just a means of communication, but an integral part of his life.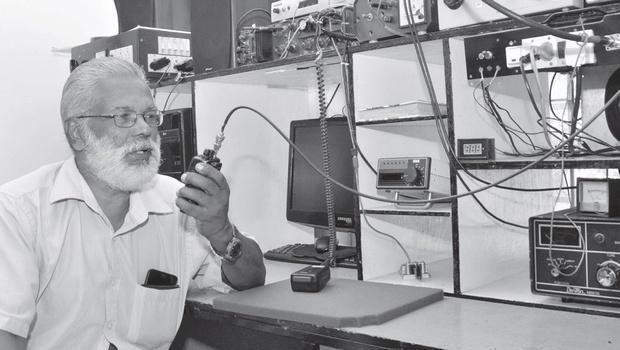 It was in 1982 that he bagged the licence for running a ham radio for the first time in the history of Idukki (in Kerala). He fondly remembers how people used to rely on him for passing urgent messages back then. Ashan was one of Kerala's many hams who was at the forefront of emergency communication during the 1988 Peruman train accident, the 2009 Thekkady boat disaster and 2011 Sabarimala stampede. He also helped track seven doctors from Ernakulam who went missing in Kashmir floods of 2014.
In the aftermath of the Gujarat earthquake in 2001, many emergency ham stations were installed and they rendered effective communication services in the affected areas. During the Bhopal gas tragedy, radio amateurs set up a VHF (very high frequency) communication network in the city to help the affected people who had to vacate their houses in a hurry. Ham operators have also worked in disaster zones of the cyclones Aila, Hud Hud and Phailin as well as the Nepal earthquake. Recently, ham radio operators swung into action in flood-hit Chennai where communication networks at several places was affected.
---
Also Read: This Ham Radio Club in Pune Designed the Antenna for a Student Satellite Recently Launched by ISRO
---
Another major perk of being an amateur radio operator is the ability to talk to an astronaut in space with nothing but a ham radio. It must be surreal to have a casual chat with humans who are floating up there, but technologically, it's really not even that hard. According to ham experts, on clear days, one can chat with astronauts aboard the International Space Station (ISS), though it's only possible at very specific times – when the satellite is directly overhead.
The use of amateur-grade ham radio as a means to talk to Earth from spaces goes back decades to when astronaut Owen Garriott brought a handheld ham radio with him as part of the Shuttle Amateur Radio Experiment(SAREX) and used it to chat with students and other amateur radios while careening around the Earth at 17,000 mph.
Since then, the SAREX project has evolved into Amateur Radio on the International Space Station (ARISS), which maintains a ham radio station on the ISS that astronauts can use to chat with radio (and space) enthusiasts back here on the blue marble.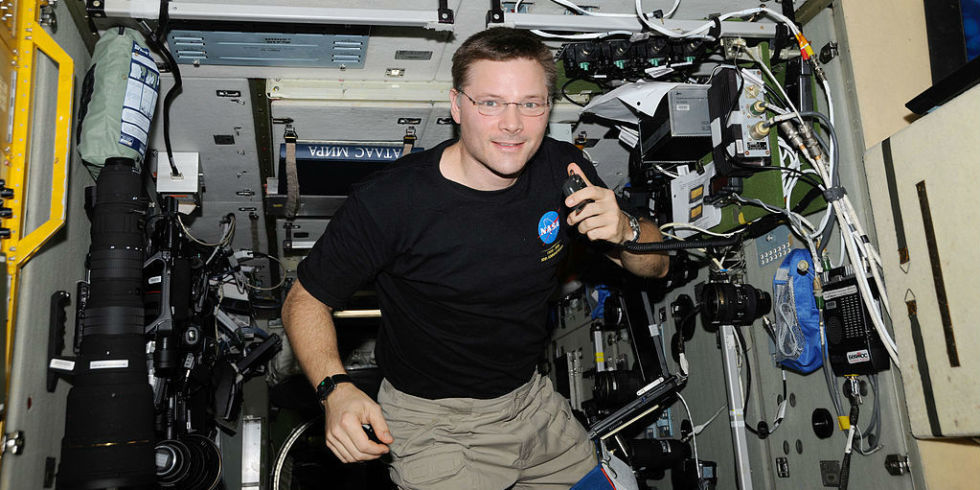 ARISS schedule chat sessions for schools or other educational organizations, in which students get a chance to ask them questions about their work. The Little Lilly's School in Bengaluru's Mahalakshmi Layout has an active ham club and its students have successfully contacted the crew aboard the ISS on SAREX missions.
Ham-licensed astronauts on the ISS also spend their free time at the station's ham setup just chatting with terrestrial ham operators at random, and if one times it right, one can get a small window to chat with them too! You can find more technical details about the process on the website for ARISS. And if you're going to try it out, good luck!
While ham radios may have been the coolest thing for generations in the past, it is now that young students are increasingly waking up to the many practical uses of this medium.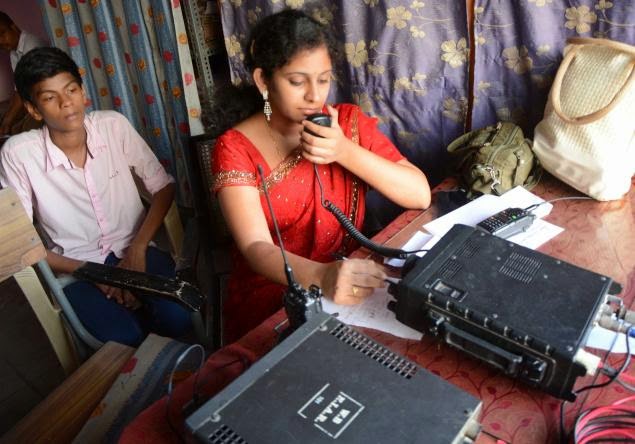 Many of them have bought their own transmitters, antenna and set up miniature radio stations at home after completing basic training at certified institutes affiliated to the National Institute of Amateur Radio in Hyderabad.
The charm of amateur radio is evident in the fact that even in these days of instant tweets, texts and Facebook posts, the century-old form of ham networking is drawing in new enthusiasts by embracing the latest technology. After all, any hobby that lets you talk to a geologist in Antarctica, an astronaut on the International Space Station, or the captain of an Italian ship sailing on the Pacific Ocean with just a ham radio, is nothing short of incredible!
---
You May Like: TBI Blogs: This Community Radio Programme Encouraged a Father to Support His Daughter's Education
---
We bring stories straight from the heart of India, to inspire millions and create a wave of impact. Our positive movement is growing bigger everyday, and we would love for you to join it.
Please contribute whatever you can, every little penny helps our team in bringing you more stories that support dreams and spread hope.