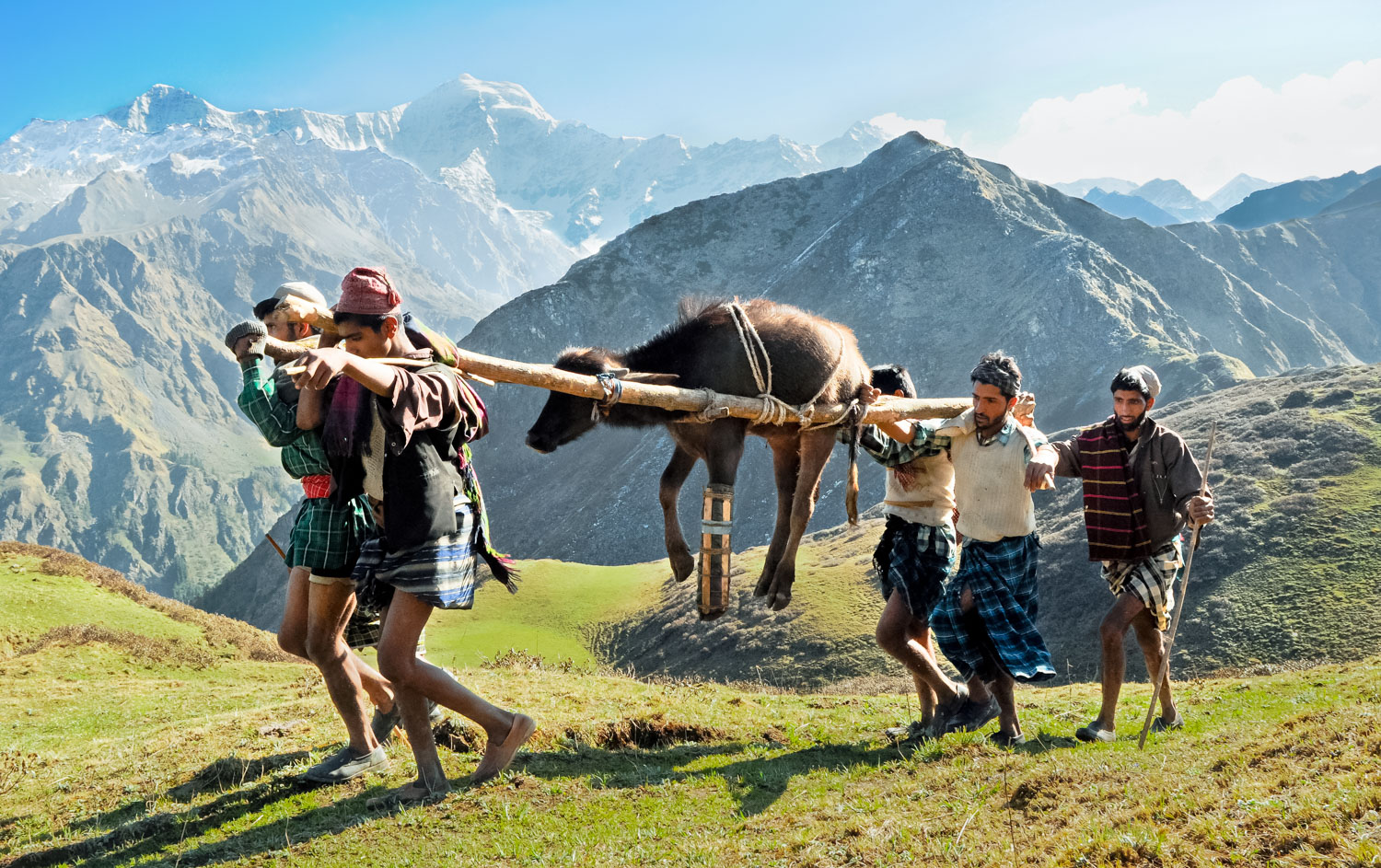 Every spring, as the snow begins to melt in the mountains, the nomadic tribe of Van Gujjars embarks on an epic journey in search of the best pastures for their buffaloes. Here is the story of this peaceful, forest dwelling tribe and their journey across high plains, treacherous passes and picturesque Himalayan valleys.
The Himalayas are a place where sublime beauty meets the practical struggle for survival.
Every spring, as the snow begins to melt in the mountains, the nomadic tribe of Van Gujjars embarks on an epic journey in search of the best pastures for their buffaloes.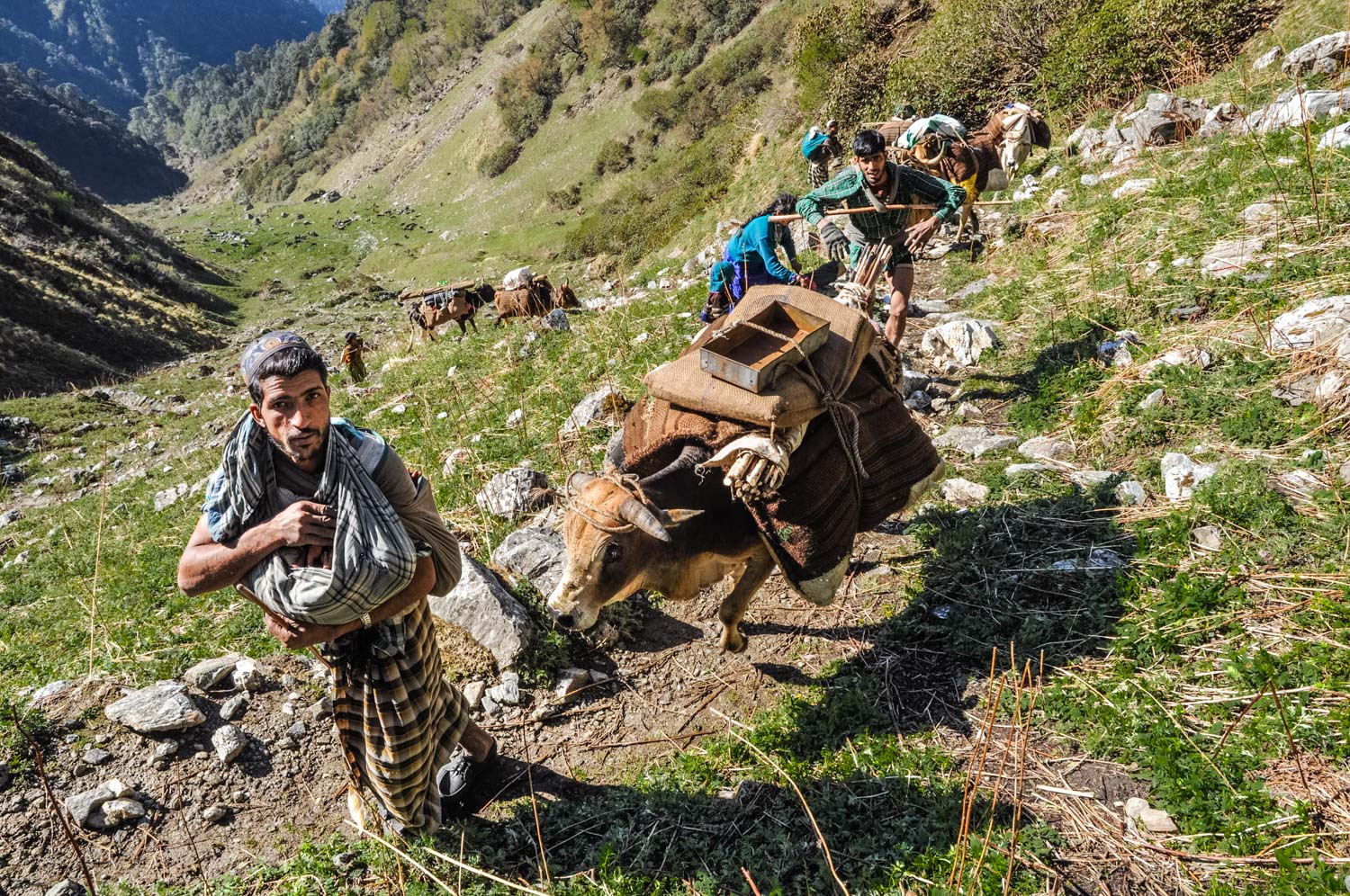 There are no roads, no electricity and no fixed addresses on this journey that takes them across high plains, treacherous passes and picturesque Himalayan valleys. Like for their ancestors before them, life for the nomadic tribe of Van Gujjars, is all about survival and perpetual movement. Originally from Jammu and Kashmir, the tribe has over time spread out across the ranges of Uttarakhand and Himachal Pradesh in search of rich forests and meadows for their cattle.
Spending their entire lives in tents, these people have a very simple lifestyle – they ride their horses, herd their buffaloes, trade their goods, live off the land, and are grateful for what little they have.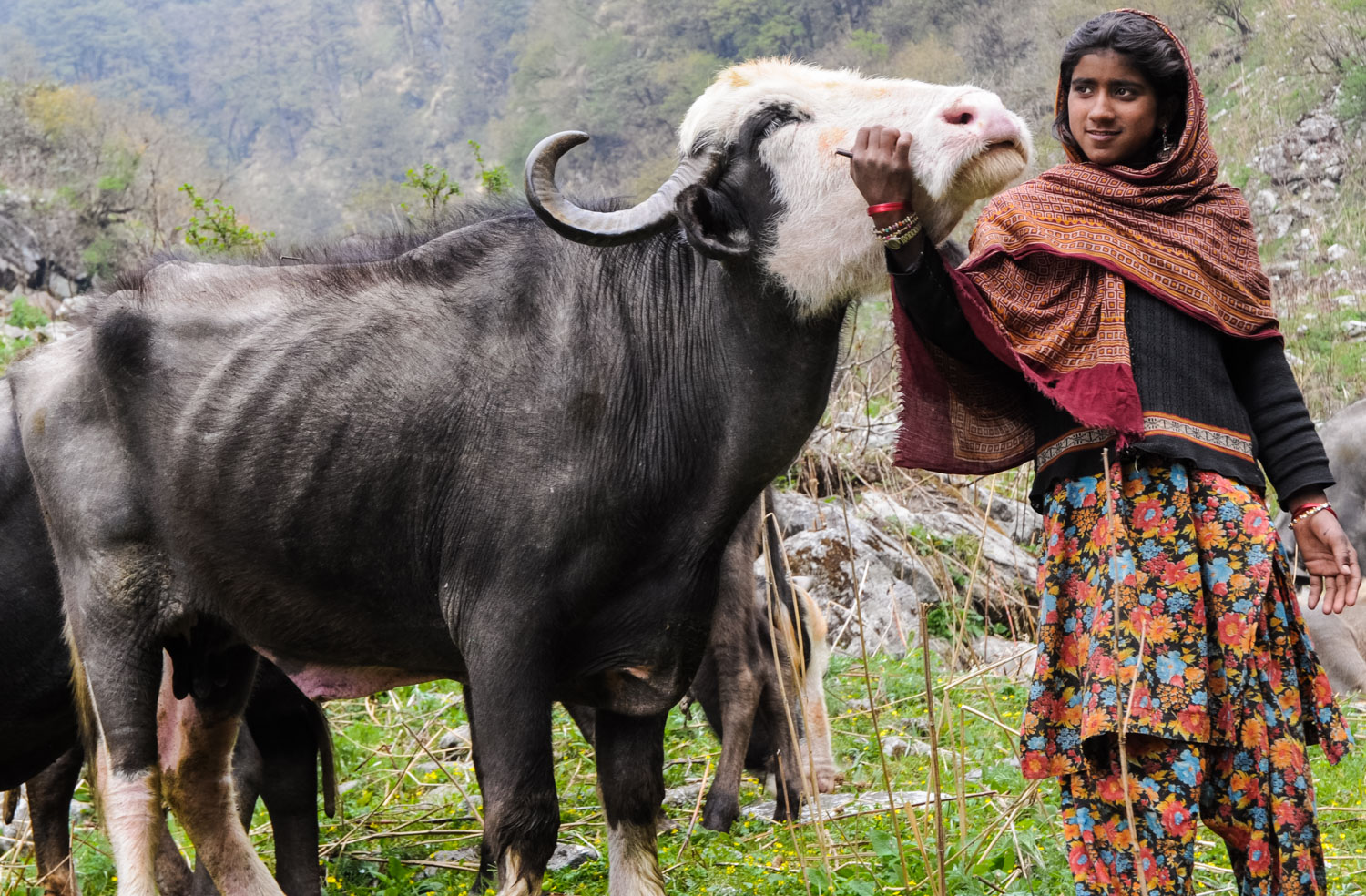 The lives of the Van Gujjars are centred around caring for and finding food for their animals. Winters are spent in the wilderness of the Himalayan lowlands, the Shivalik range, where the lush foliage provides plenty of fodder for the buffaloes. Aware that the amount of milk produced by the buffaloes, along with its flavor, is determined by what they eat, the herders themselves climb up trees to chop off the best varieties of leaf-laden branches for their buffaloes.
Each Van Gujjar family lives in its own temporary base camp, which is essentially a stick-and-mud hut (dera) built a few hundred metres away from its nearest nomadic neighbours. They also build small water holes for the buffaloes by damming small creeks near their deras.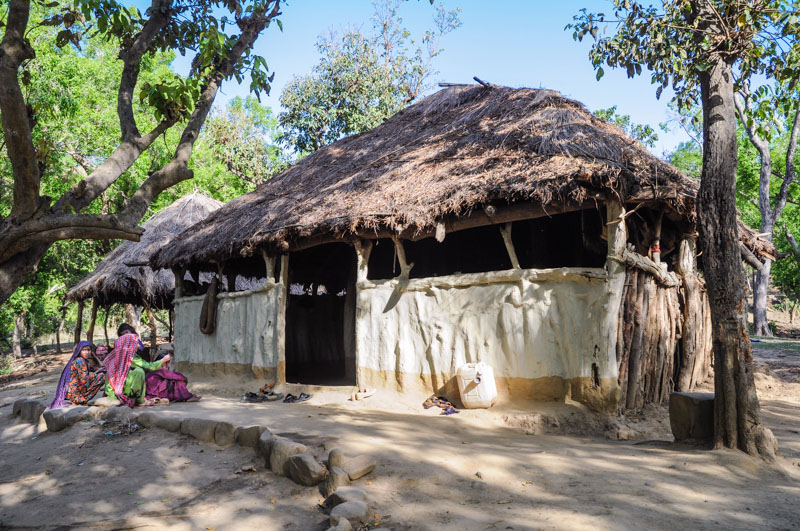 The annual spring migration, called transhumance, starts when summer hits the northern hemisphere in the months of April and May. With the temperatures soaring above 45 degrees Celsius, leaves wither and creeks run dry in the heat. With nothing left for their buffaloes to eat or drink, the Van Gujjars load up all they own and start the long trek with their herds up into the cool mountains.
Each family gets a permit from the forest authorities to live in a particular forest for six months. From children to the elderly, entire families trek with their herds up into the Himalayas. While on the trek, camps are set up within striking distance of water sources.
Herd animals are unloaded, tents are set up, firewood is gathered, and water is hauled. The women prepare chapatis, smeared with rich buffalo butter and spicy chili paste, and thick milky chai. Meanwhile, the men and children climb higher to cut grass and bring it back to feed their buffaloes. Next day, they get moving again.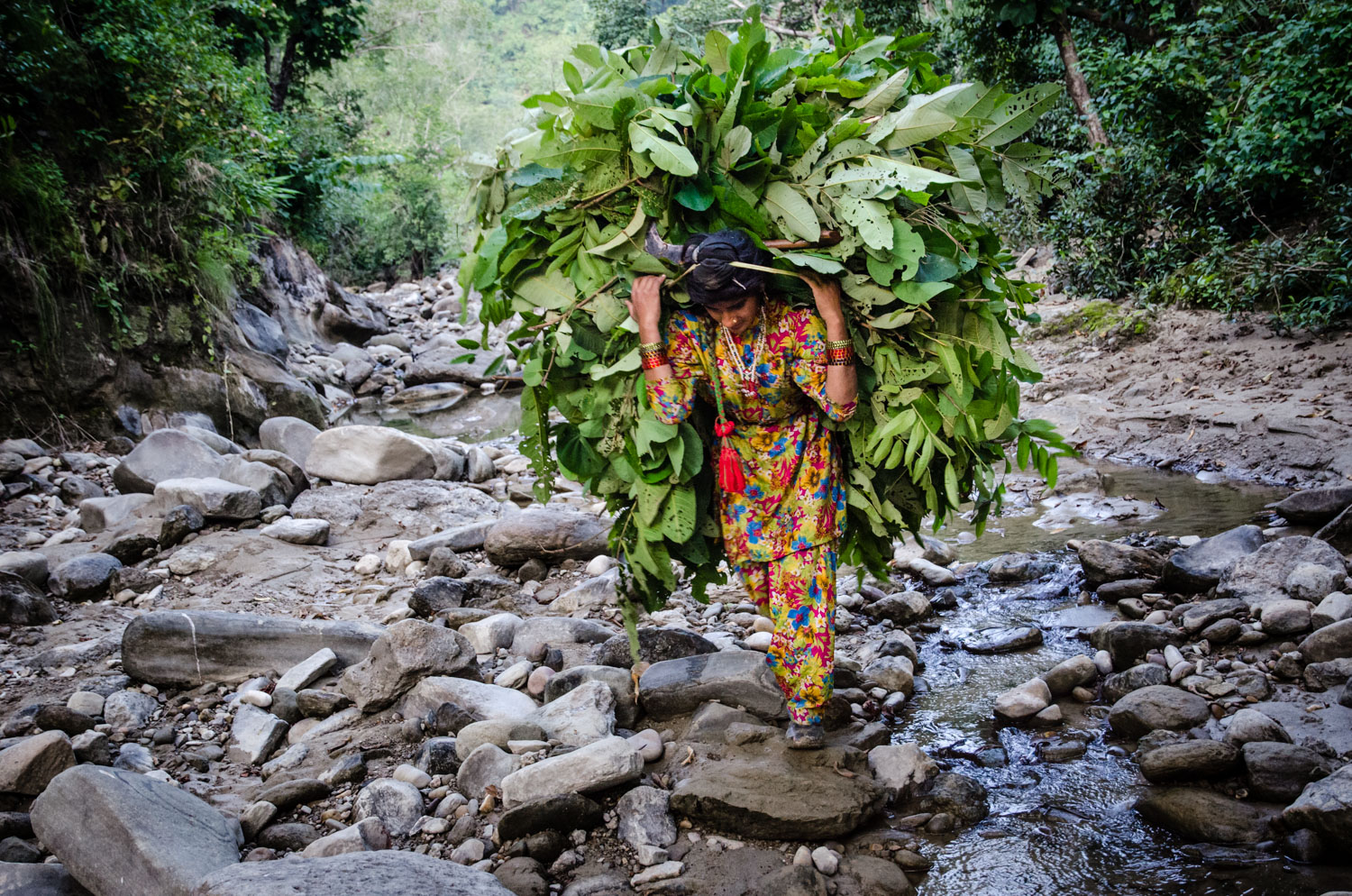 There are two things that the Van Gujjars have to reckon with to optimize the timing of their ascent. If they reach alpine grasslands too early, the meadows will still be covered with snow. But if they linger too long en route, they will waste money (earned by selling milk on the way) to buy fodder and food they don't actually need. So they move strategically, analysing the ground conditions, aiming to reach the meadows as soon as the grass comes up.
Each member in a Van Gujjar family has a well-defined role (based on age) with the animals: the adults walk with big buffaloes and horses while the children follow at a slower pace with the calves.
Walking through different landscapes, such as towns, villages and dense forests, for almost three weeks, they finally reach their summer home – lush alpine meadows laced with gurgling streams. Leaving their cattle to graze, the nomads rest, sing, play, and relax for the season.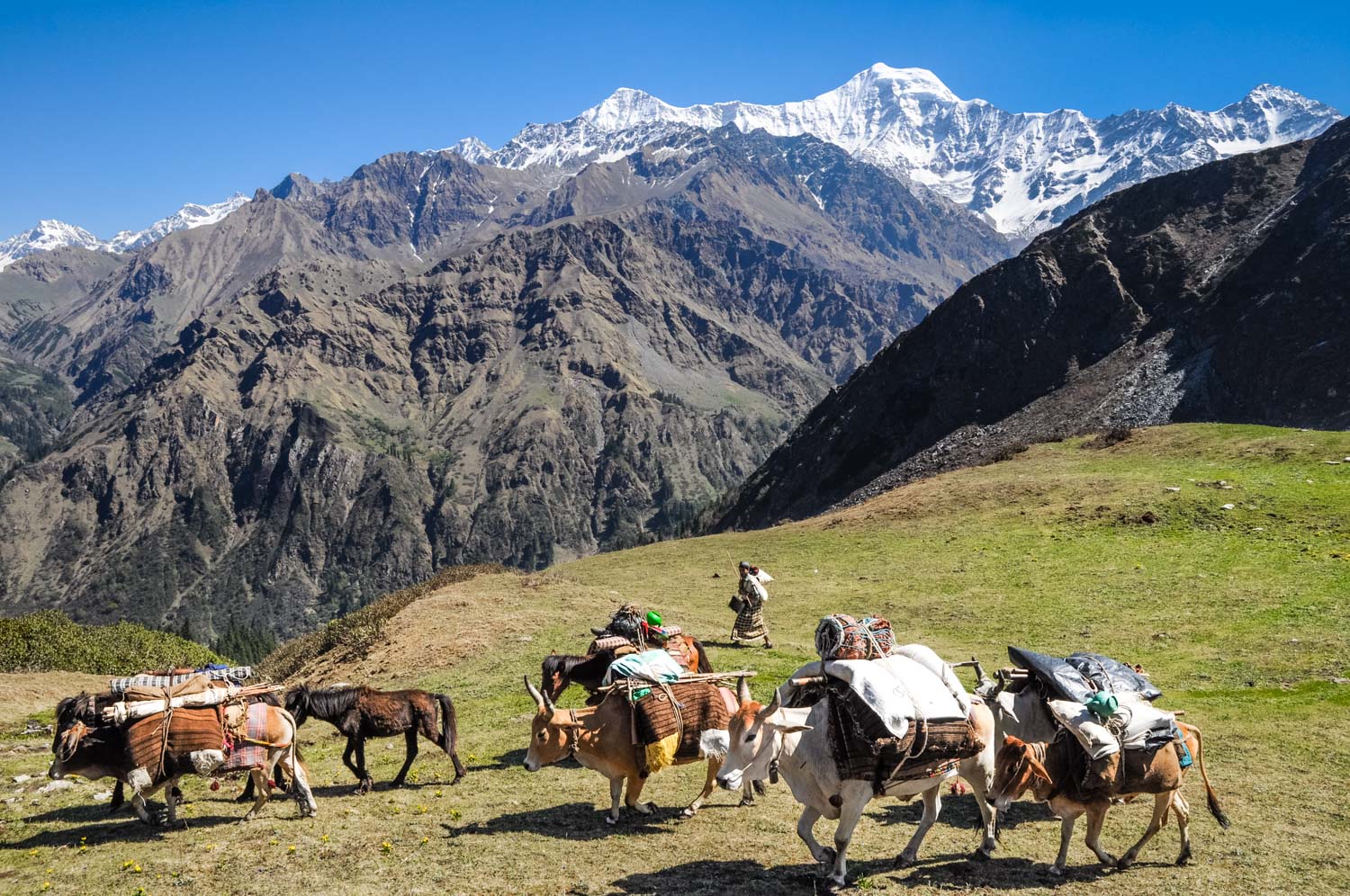 A Muslim community, Van Gujjars have their own dialect called Gujjari, which is a linguistic fusion of Dogri (a Kashmiri tongue) and Punjabi. For most of their history, the nomads were known as Gujjars. They only added the word Van (forest) to their tribal name in the late 1980s. This was to distinguish themselves from the other Gujjars in India, a very different community with whom they may or may not share distant ancestral roots.
Buffalo milk is the main (and often only) source of income and the staple food for the Van Gujjars. With the well-being of every Van Gujjar family being completely dependent on the well-being of its herd, it's no wonder that caring for the water buffaloes is the axis around which the tribe's world revolves. The tribe's water buffaloes are different from those normally kept by farmers and dairymen in India.
A little smaller and a lot hardier than other domesticated breeds, these buffaloes may give less milk under optimal circumstances but they can endure the tough transhumance journey, continuing to give milk even when stressed.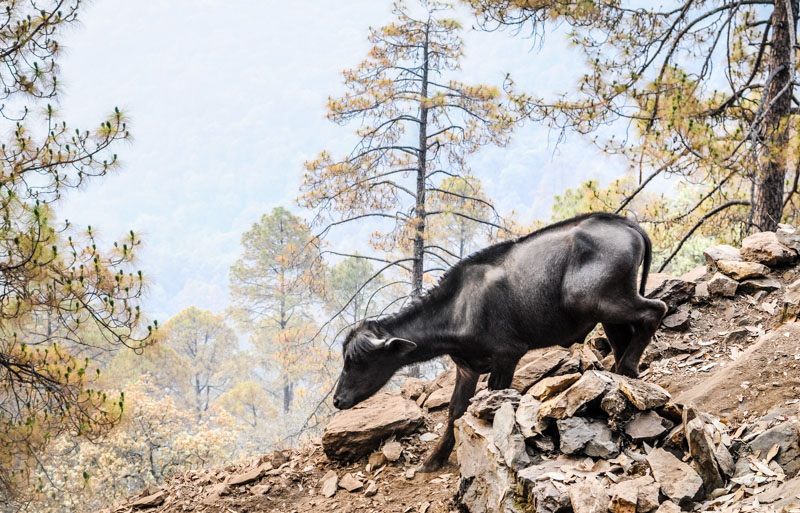 Aside from thriving on all sorts of foliage, these animals also know how to fight with predators and work together to protect their calves from attack.
Van Gujjars relate to their buffaloes as much more than a mere source of income. Deeply attached to their animals, the nomads think of buffaloes as family members, naming each one and caring for them with genuine affection.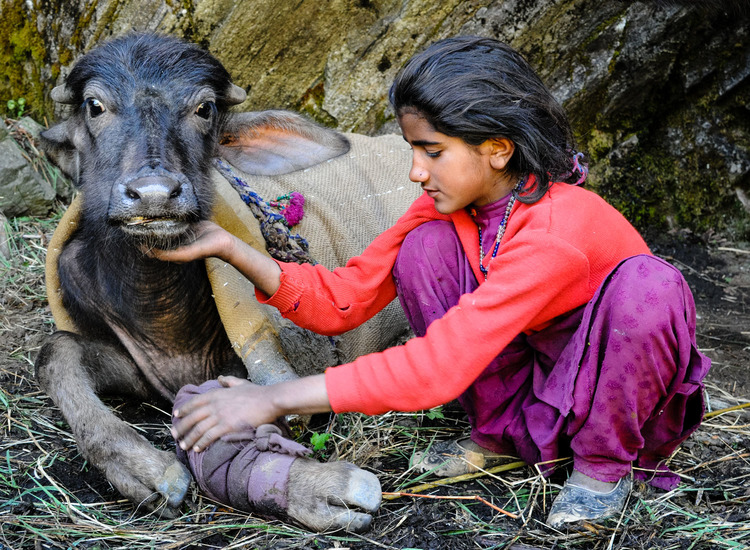 If a buffalo becomes ill or injured, its owners fret with concern till the animal gets better and when a buffalo dies (a loss more personal than financial for Van Gujjars), the animal is mourned almost like one would mourn a family member.
Due to their deep bond with their animals, Van Gujjars never eat their buffaloes or sell them for slaughter. The traditionally vegetarian tribe doesn't hunt, and even though they share the Shivaliks with tigers, leopards and bears, it's very rare for the tribe to kill wild animals out of fear for their own safety.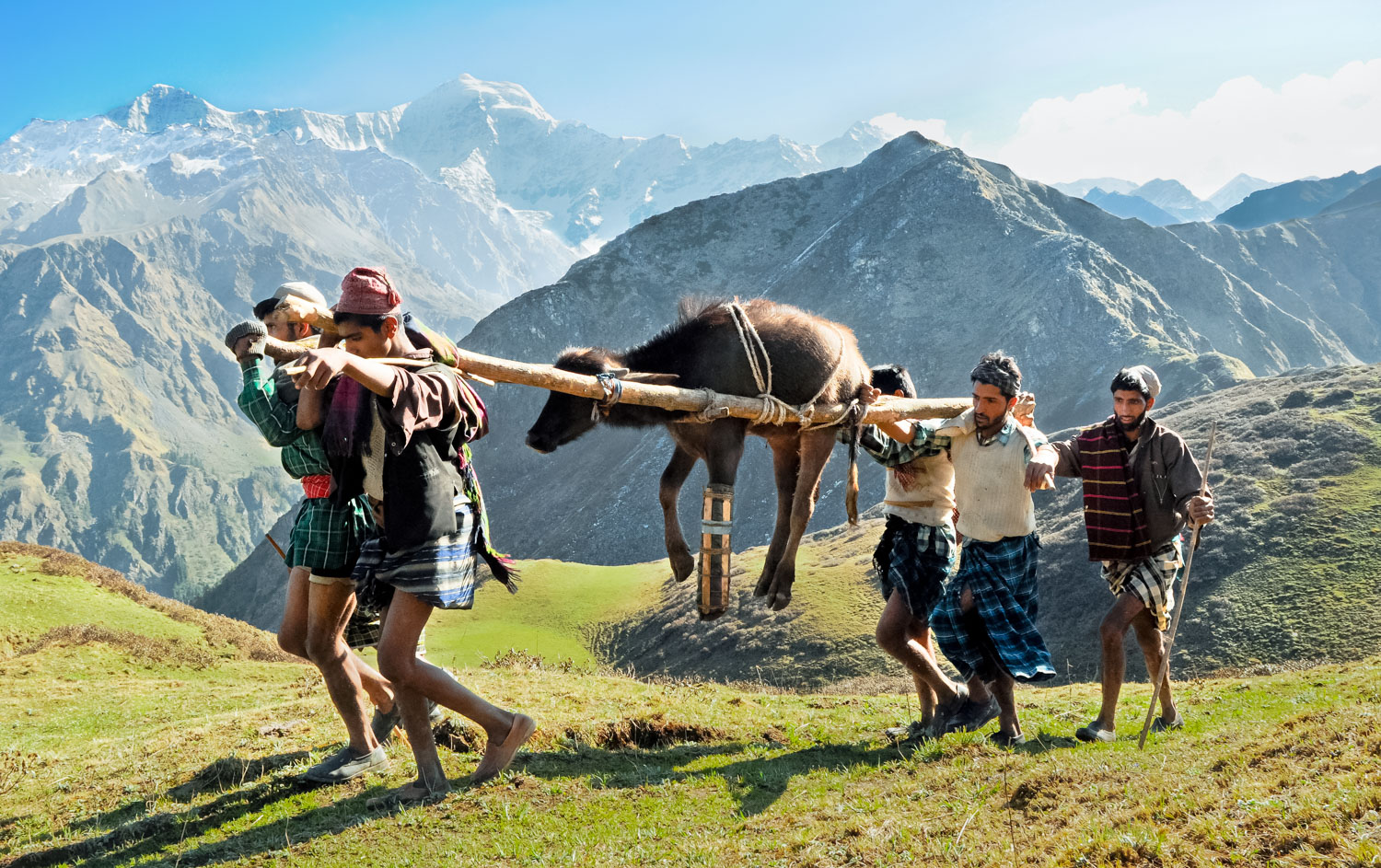 The Van Gujjars spend their summers in the Himalayan meadows practising seasonal and rotational grazing, which is generally regarded to be environmentally responsible. Since they only spend part of the year there, the land regenerates when they're gone, helped by the animal dung left behind that acts as a fertilizer for the meadow ecosystem.
The tribe knows that their own survival depends on the health of the ecosystems they live within and that they must use resources sustainably. Barefoot botanists, the Van Gujjars also know each plant and herb in and around their forest dwellings.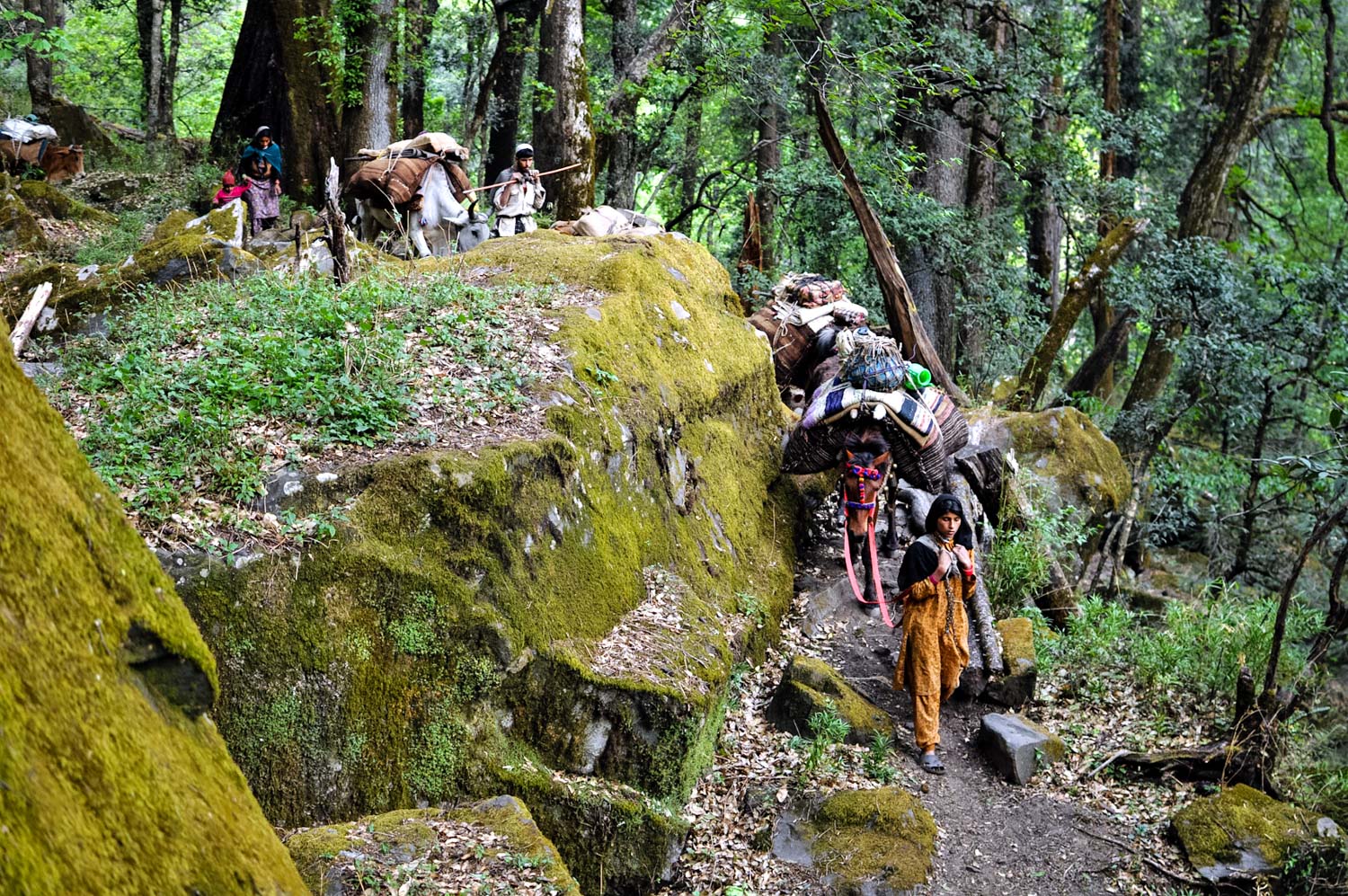 When the cold sets in at the end of September, the Van Gujjars head back down to the Shivaliks, where the forests have sprung back to life following the monsoon rains.
Mountain nomads in the truest of sense, this peaceful forest-dwelling tribe has followed this cycle of seasonal migration – shunning settled village life – for over a thousand years.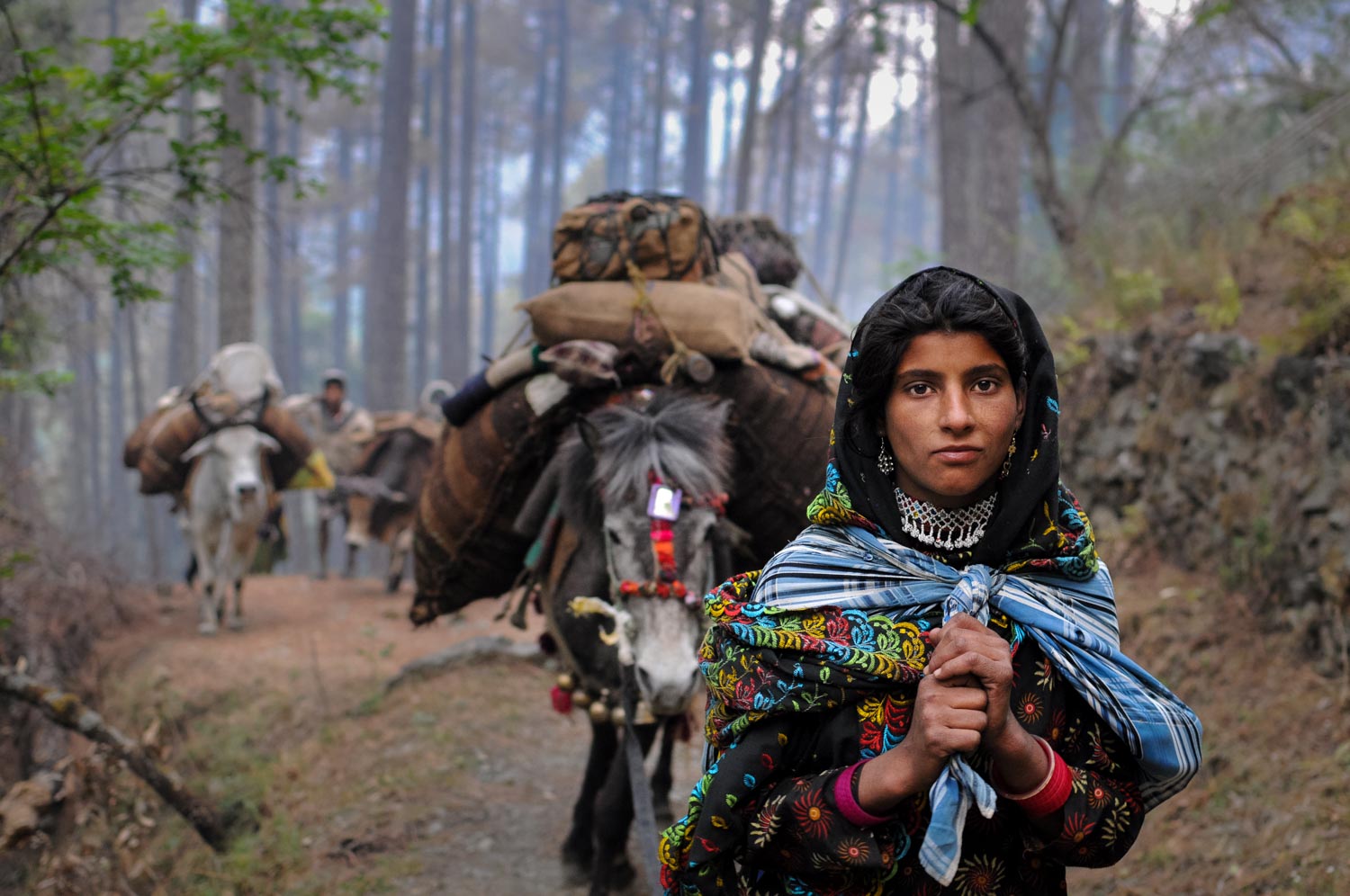 But things are changing now with the Van Gujjars facing serious challenges to their livelihoods, most of them stemming from a lack of forest rights, unrecognised domicile rights, illiteracy, and poverty. In recent years, many high altitude forest passes have become paved roads with heavy traffic, making walking with buffaloes hazardous. This has forced the nomads to cover certain stretches at night to avoid accidents. Climate change and indiscriminate deforestation has also led to less foliage and water in the forests.
And yet, for the Van Gujjars, staying in one place and saying goodbye to a life centred around mountain migration means bidding farewell to their beloved buffaloes, companions in their walks and way of existence. This, for them, is more of a threat than a promise of safety.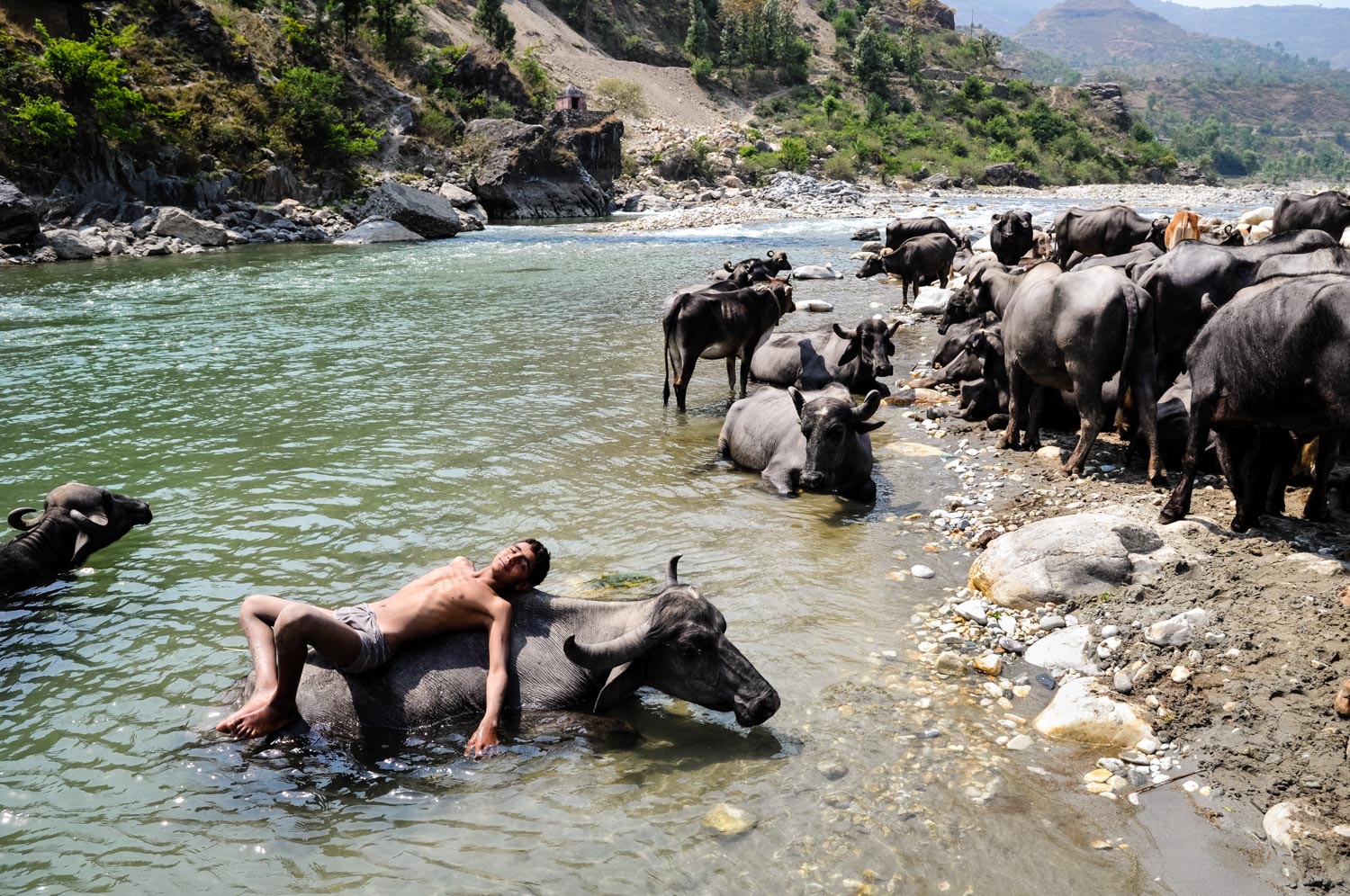 Under the aegis of the National Literacy Mission, Rural Litigation and Entitlement Kendra (RLEK) identified the lack of literacy among the Van Gujjars to be the root cause of their exploitation. To remedy the situation, it started a unique and innovative adult literacy programme – Teaching the Nomads in the Wild. To support this ambitious and innovative adult education programme, a forest academy of sorts was put in place with 350 highly motivated volunteer teachers. These teachers were trained and deployed in the Van Gujjar settlements to teach the tribals at their doorsteps.
The teachers trekked up and down with the community and their buffalo herds during their transhumance and also stayed with them in the highland pastures during the summer months. They would move back to the forests of Shivaliks for the winter along with the community. This ensured that there was continuity in the adult literacy programme, which laid stress on functional aspects of literacy, making the community reliant in keeping its accounts, lodging police complaints, petitioning the authorities for the redressal of grievances, and fighting for their rights. The community was also taught how to read and write Hindi besides being taught simple arithmetic.
American author and freelance photographer Michael Benanav is known for immersing himself in foreign cultures and bringing compelling images and stories back from distant places. He followed one family of the Van Gujjars on their annual spring migration into the Himalayas. Documented in his recently book, Himalaya Bound: An American's Journey with Nomads in North India, his story vividly illustrates the Van Gujjars' nomadic way of life, offering a fascinating glimpse into the rarely-seen forest world of this endangered tribe.
You can read more about the Van Gujjars here. 
---
Also Read: How The Bhil Tribe Is Moving From Starvation To Progress Through Entrepreneurship
---
Like this story? Have something to share? Email: contact@thebetterindia.com, or join us on Facebook and Twitter (@thebetterindia). To get positive news on WhatsApp, just send 'Start' to 090 2900 3600 via WhatsApp.
We bring stories straight from the heart of India, to inspire millions and create a wave of impact. Our positive movement is growing bigger everyday, and we would love for you to join it.
Please contribute whatever you can, every little penny helps our team in bringing you more stories that support dreams and spread hope.