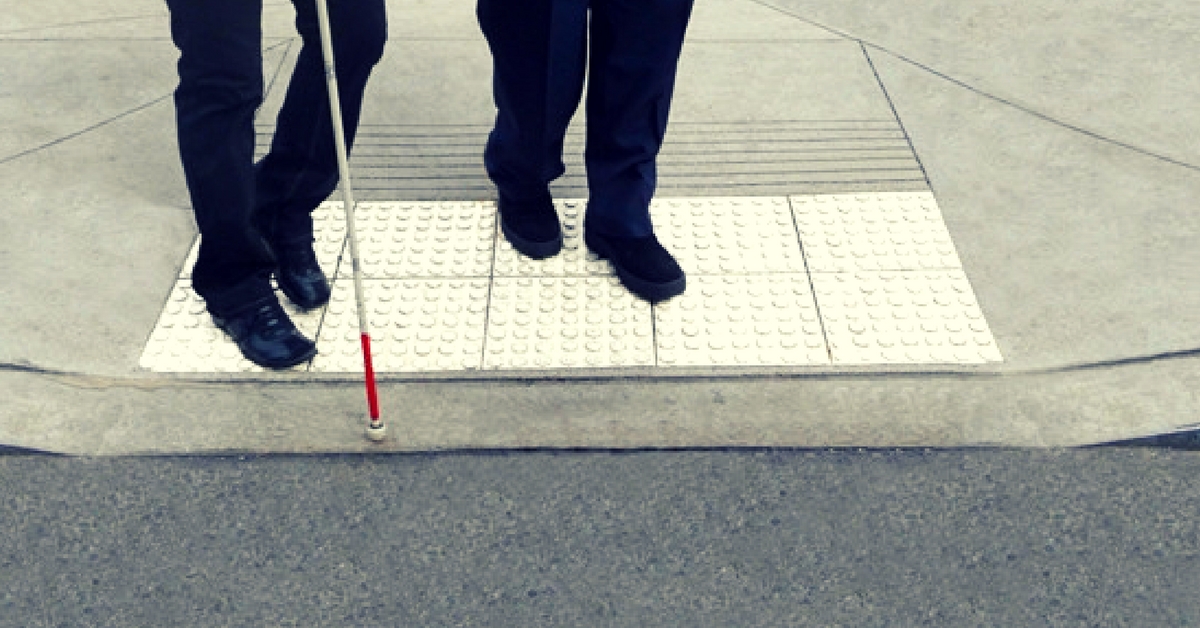 Travel is an essential element of the human experience, one that blind and visually impaired individuals have to often miss out of due to inaccessible monuments and tourist spots. Here's how that can be changed.
Travel is an essential element of the human experience, one that blind and visually impaired individuals have to often miss out of due to inaccessible monuments and tourist spots. Here's how that can be changed.
Close your eyes and imagine yourself on the lawns of India Gate, on a bright sunny day. What do you see? Groups of people with family and friends, picnic baskets in hand? Now imagine a blind person trying to find his/her way around the Amar Jawan Jyoti. He/she is likely to be lost with no proper markings or anyone to guide him/her.
Have you ever thought about the fact that the little pleasures we experience and take for granted as part of society might be closed to a section of our population?
Monuments hold stories of our rich past and give us a sense of the history of a particular place. But do blind and visually impaired individuals have easy access to these monument?
The answer, sadly, is 'no.'
Here are 7 simple ways to make monuments and tourist attractions around the country more accessible to visually challenged individuals.
Understand the needs of persons with blindness or visual impairment
It is important that one is sensitive to the needs of people with visual impairment as much as any other group of people in the society. The pleasure of going on excursions, travelling and exploring is an amazing part of our human experience. We get to stop and smell the roses, think and reflect, and of course, spend time with our loved ones.
Persons with blindness and visual impairment deserve to experience the delights that Indian monuments have to offer.  For this, we need to have discussions and conversations around empowering people with blindness and visual impairment to lead a more holistic lifestyle.
Urge the government to implement more well-researched policies and projects that ensure accessibility for the disabled
A substantial chunk of our population consists of people who are blind or visually impaired. As per the latest government census statistics, the number of visually impaired people stands at 5.03 million while according to the World Health Organization (WHO), it is at 62 million. Even the more conservative estimate is still a very significant number.
Taking cognizance of this statistic, the government under its Accessible India campaign, has decided to make 50 monuments accessible to persons with disabilities in its initial phase, 'Adarsh Smarak Yojana'. The Archaeological Survey of India (ASI) is the primary government agency involved in the process. To make this phase successful, the primary implementing agency needs to equip itself with adequate information about people's on-ground experience of these facilities. Based on these findings, measures need to be taken to turn these 50 monuments into a hassle-free experience for people with visual impairment or any other disability.
Make entry into monuments hassle-free and smooth
Entry to monuments is a troublesome and unsafe experience for people with blindness and visual impairment, especially in crowded areas. Thus, queues and ticketing processes at entry gates need to be monitored.
After going through the entry gate, visitors should be provided with immediate guidance to orient them to their surroundings.  Authorities assume that tactile pathways and Braille signage are sufficient to make a place accessible. That's far from the truth.
For instance, not all persons with visual impairment know how to read Braille. And even for those who can read it, locating the Braille signage is not an easy task. And the problem with tactile paths is that people don't know where they might lead, causing them to get lost on their way.
Ensure that toilets for the disabled, accessibility counters and other facilities are truly accessible and functional at all times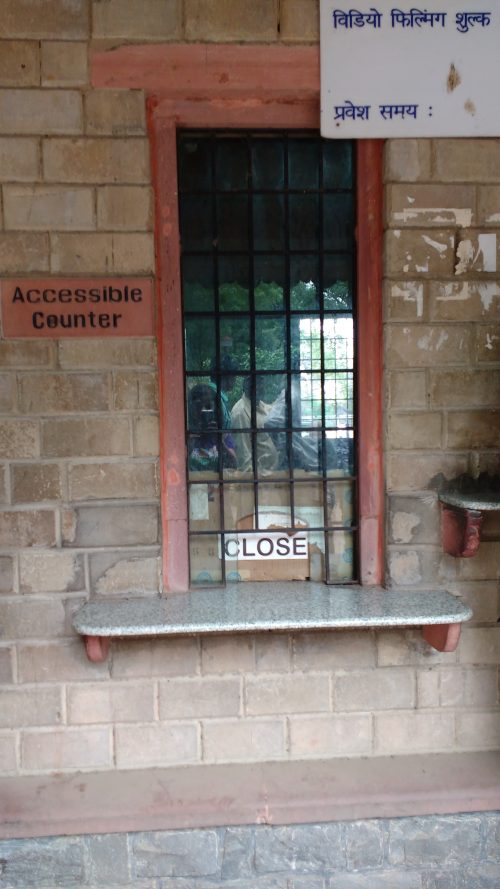 Neha Arora, founder of an accessible travel platform for the disabled, 'PlanetAbled' found that none of the accessible toilets in Delhi monuments had handle bars, which are the most basic form of support required by anyone with any sort of disability. On a visit to the Qutb Minar, she discovered that the monument's accessible toilet was locked. "It took me two visits to the place to get the authorities to locate the key to the washroom," she said.
Furthermore, accessible toilets should always be placed within the complex or compound of a monument.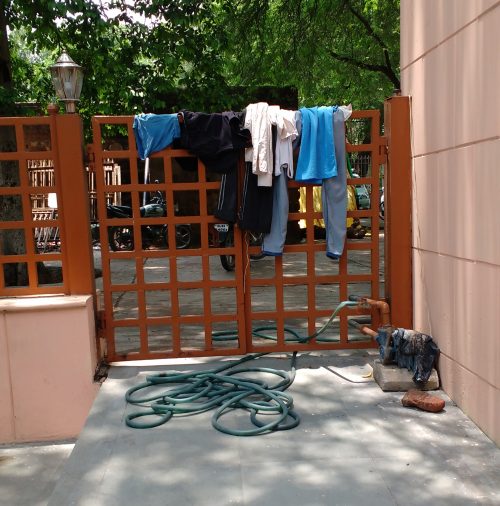 A gate blocking the path to the accessible toilet at Qutb Minar. Photo courtesy: Neha Arora
Arora also noted that in the past, monuments in Delhi were equipped with audio systems with buttons that were accessible to the visually impaired. These were later replaced by touch tablets, which were inaccessible. These days, audio systems have disappeared from most monuments. The monuments need to have these basic facilities for the visually impaired people to navigate easily, and be able to experience the monument and have access to all the necessary information associated with it.
Make monuments safe for persons with blindness or visual impairment
As intuitive as it may seem for safety issues to have been taken care of, many Indian monuments are unsafe to move around, especially for people with blindness and visual impairment.
Pranav Lal, 37, a visually impaired cyber-security professional who has travelled to many monuments shared his observations of the Taj Mahal. "The monument has a lot of unannounced drops. There is a lack of railings for safety assistance and support," he pointed out. Uncovered wells and water bodies like ponds or lakes within a monument's compound should be surrounded by strong railings and re-enforcements.  Wild, thorny bushes should be sectioned off, so that people do not fall into them and get hurt.
Make the experience special for the disabled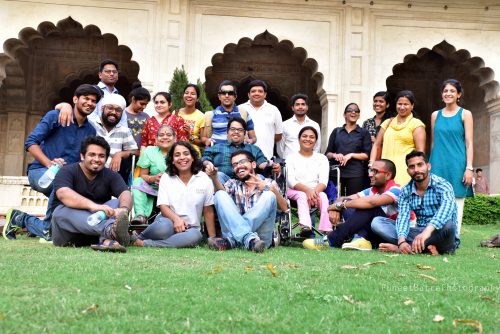 George Abraham, CEO of Score Foundation, a non-profit working for the blind and visually impaired, suggested escort and assistive services as a solution to make the experience of monuments a lot richer. "If they are trained to explain the history and interesting facts as well as introduce the artefacts exhibited in museums, it will add value to the overall experience," he adds.
He also shared the unique idea of introducing touchable miniatures of monuments inside museums. For a person with blindness and visual impairment, a touchable miniature will satisfy curiosity regarding a monument's architecture, shape, aesthetics and dimensions. On the note of satisfying curiosity, as we usher in the celebratory movement that is 'Digital India,' authorities are more than capable of providing information about monuments in an accessible format. This should be on important item on the planning agenda for various government initiatives.
Move beyond tokenism and make inclusion part of plans at the inception stage
Currently, most measures taken by authorities seem to be a form of tokenism, mere cosmetic compliance to acquire UNESCO World Heritage site status. Travel platforms such as 'PlanetAbled' are stepping in to fill the gap that exists. But such initiatives, while highly commendable, are not enough to address the large needs gap that currently exists in this space. The entire issue of accessibility needs to be re-examined from a wider perspective. Sensitization should be the most important principle directing the government's efforts. 
"Instead of segmentation, inclusion should be the key," insists Neha Arora of 'PlanetAbled.' Indian policy makers must incorporate accessibility into their work plans right from the inception stage, not as an afterthought. Accessibility planning and testing should be included as a highly critical exercise.
Only through such actions, will weighty words such as 'accessibility' and 'inclusion' transcend the status of entries in a lexicon and become the real, lived experiences of millions of people.
People who need help in living life with blindness can call us on our toll free number 1800 300 20469. People who would like to donate or volunteer with us, can write to us at scorefoundation@eyeway.org
About the author: Akansksha Sharma is Communications Executive with Score Foundation in New Delhi. Under its flagship project, 'Eyeway', the organization runs a national toll free helpline for the blind and visually impaired: 1800 300 20469
Featured image for representation only. Source: Wikipedia
Like this story? Or have something to share? Write to us: contact@thebetterindia.com, or connect with us on Facebook and Twitter (@thebetterindia).
We bring stories straight from the heart of India, to inspire millions and create a wave of impact. Our positive movement is growing bigger everyday, and we would love for you to join it.
Please contribute whatever you can, every little penny helps our team in bringing you more stories that support dreams and spread hope.