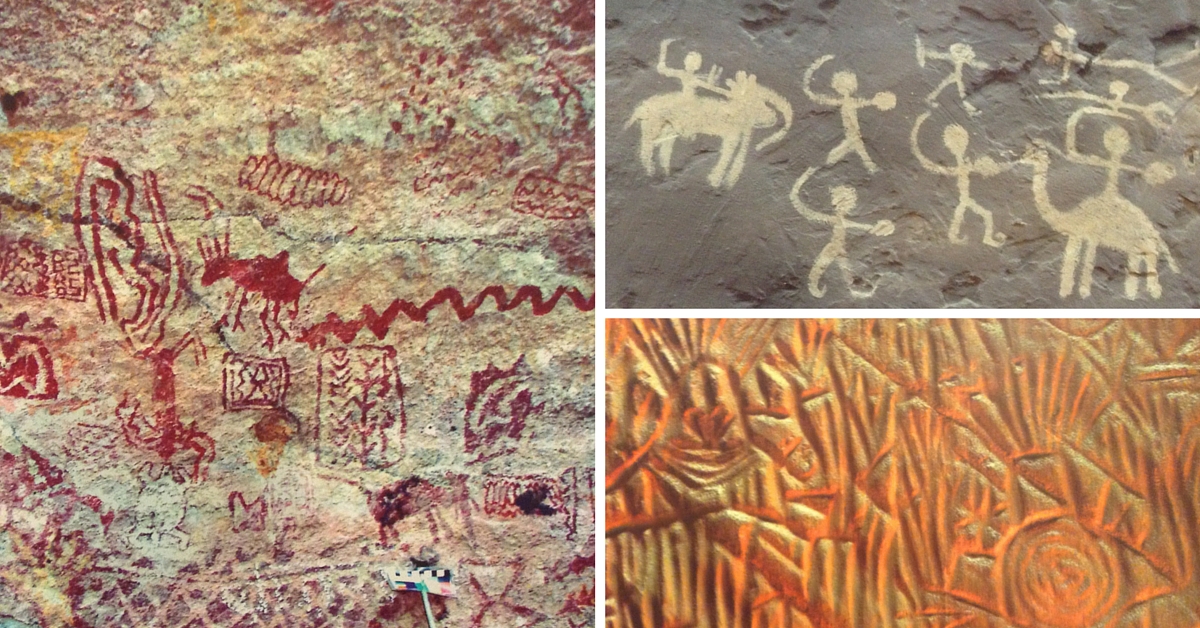 Indian conservationists are studying and preserving 'rock art', ancient paintings and engravings on the walls of caves scattered across the country.
The study of 'rock art', ancient paintings and engravings on the walls of caves, is a surprisingly recent phenomenon – just about 30 years old! But now that archaeologists, historians and anthropologists have begun to examine these ancient 'doodles' in earnest, we are being constantly enriched by their findings. 
People have been recording the world around them through paintings and engravings on the walls of their homes ever since the beginning of human habitation. Rock Art is the name given to these early petroglyphs and pictographs that were made mainly by cave people in their dwellings hundreds and thousands of years ago.
Rock art is found in almost every corner of the world except Antarctica. Asia has the most diverse rock art heritage.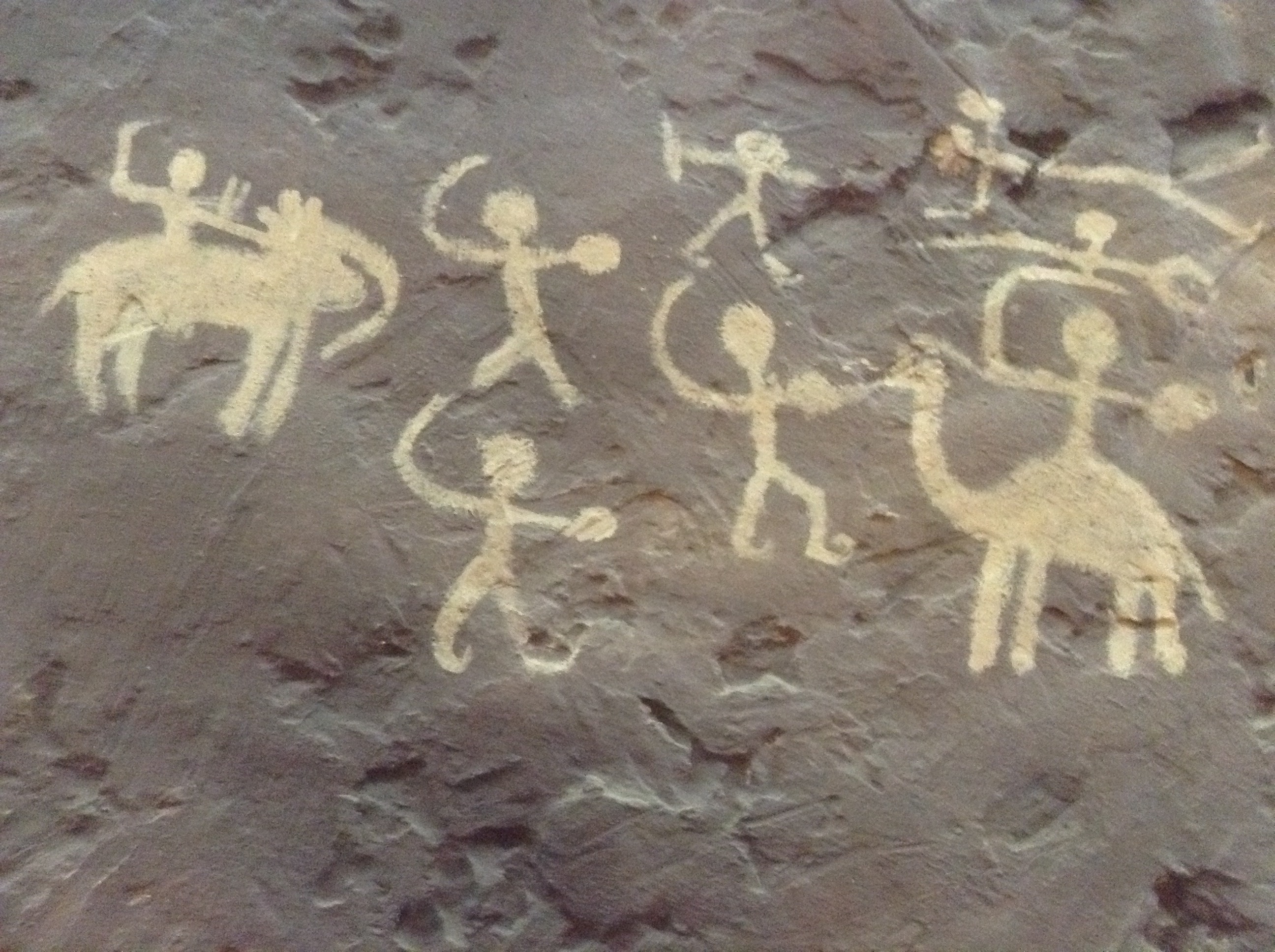 "The subject matter of art on rocks is varied. We have simple geometrical lines and complex geometrical designs being used very frequently. Animals are the most favoured subject especially in the earliest works, with wild animals and hunting scenes being really common. Representations of Anthopoes (half human and half animal features) are commonly found from the Palaeolithic period, which emphasis's the aspiration of possessing brute power," says Dr BL Malla, Director of the Rock Art Department, Indira Gandhi National Centre for the Arts (IGNCA)
UNICEF has given World Heritage status to 25 rock art sites across the world. Bhimbetka in Madhya Pradesh is the only Indian rock art site that has been honored with this status. The Zoo Rock at Bhimbetka is extremely interesting for the fact that it has 17 super impositions of artwork on it.
A super imposition happens when a painting or drawing from a previous era is covered with newer artwork from a later time period. This is very common and can be ascertained by carbon dating.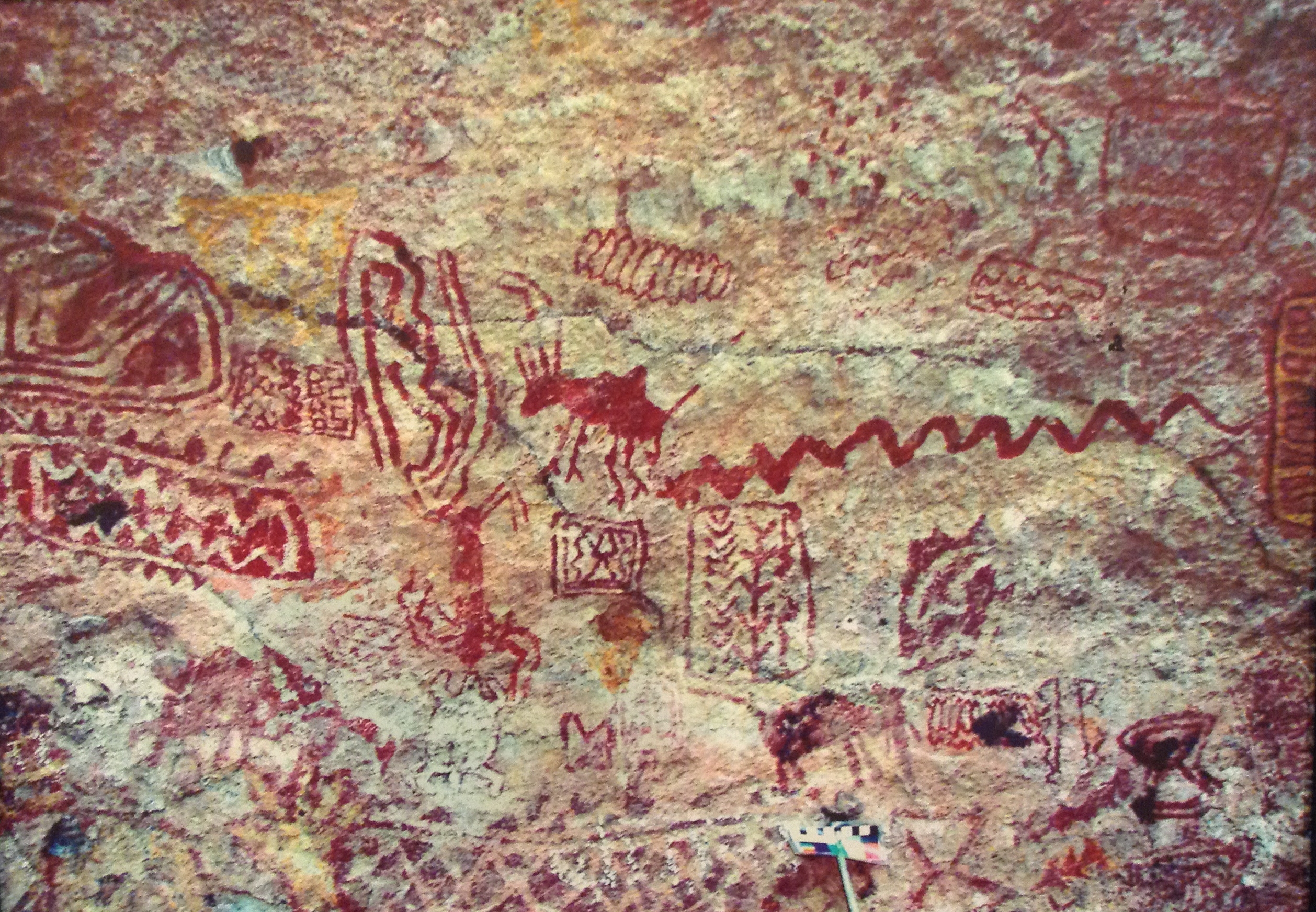 India houses one of the largest, richest and most diverse repositories of rock art. This art has been found throughout the length and breadth of the country. Central India has by far the largest concentration of painted rock shelters. In the central, western and eastern parts of the country, art work is found on the walls and ceilings of rock shelters.
"Thematically and stylistically different regions in the country have brought to light several regional patterns. In Jammu and Kashmir, Karnataka and Andhra Pradesh rock art is reported from boulders.  The Megalithic burials are the favored canvas in Tamil Nadu. The central and western zones have painted rock shelters where specific themes are drawn. In the eastern zone rock paintings show large number of decorative motifs," says Kisha Shanker, a project assistant at the Rock Art Department at IGNCA.
Kerala is notable for art work found in underground caves.
Art work in an underground cave in Kerala
Petroglyphs (engravings on rocks) depicting hunting scenes, processions of animals and dancing human figures are the main themes in the rock art of Jammu and Kashmir. In Uttarakhand, paintings of rows of anthropomorphic figures are a common motif. South India has both pictographs as well as petroglyphs. Petroglyphs are also seen in Karnataka where carvings depicting figures of humped cattle, deer and hunting scenes are found on boulders.
Petroglyphys are a novel feature in Odisha too.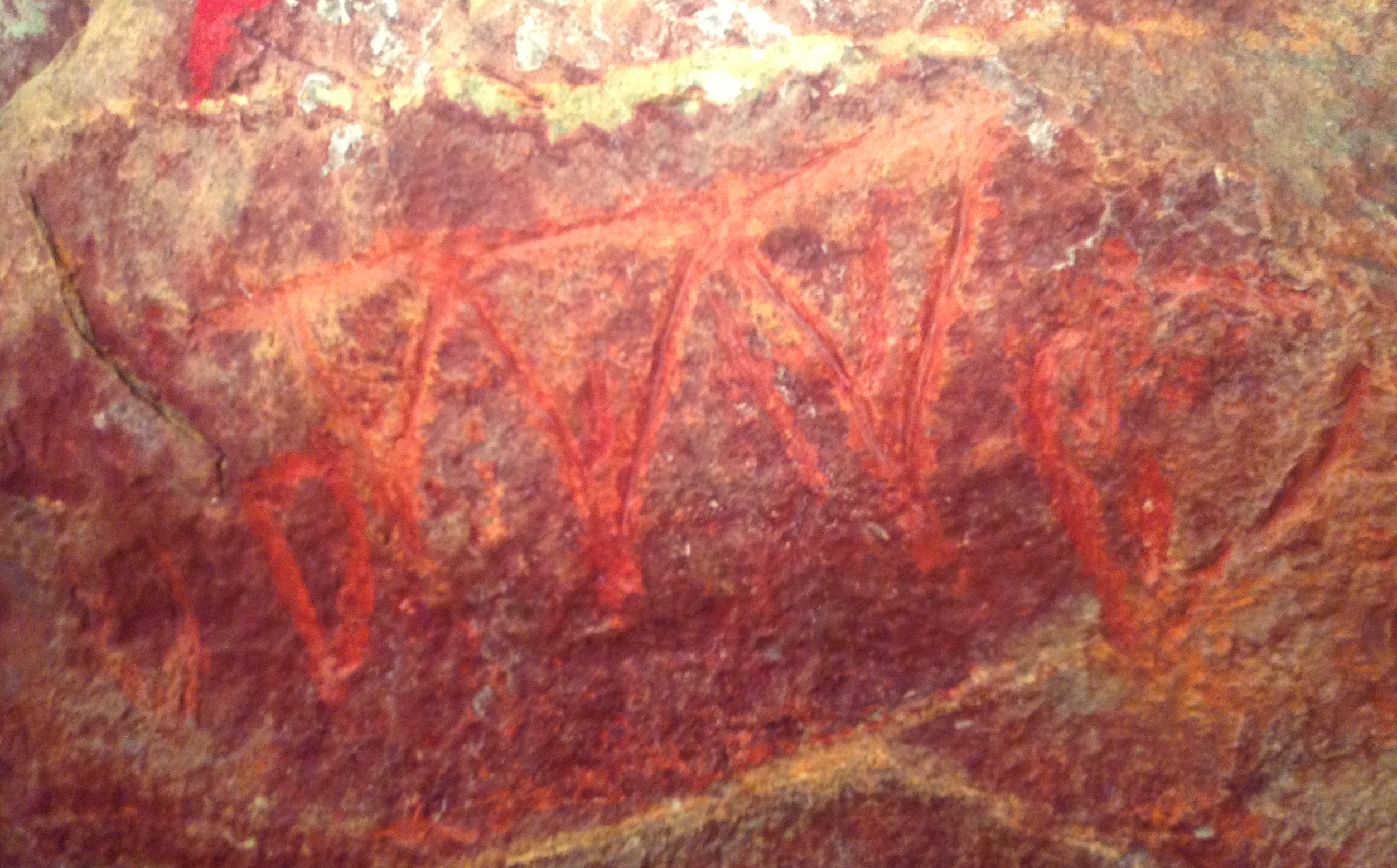 It is surprising that for so many centuries, rock art was never studied or researched. Australia was the first country to begin research in rock art, starting in 1983. In 1988, the country helped establish the International Federation of Rock Art Organisations. IFRAO started with nine member countries and today it has 54 members, which pans almost the entire globe.
The Rock Art Society of India was set up in 1990 at Agra. Work on research and learning about Rock Art has been going on at IGNCA but it was only three years ago that the Rock Art Department was officially set up.
IGNCA, is the only organisation in India that has a separate department solely working on Rock Art studies.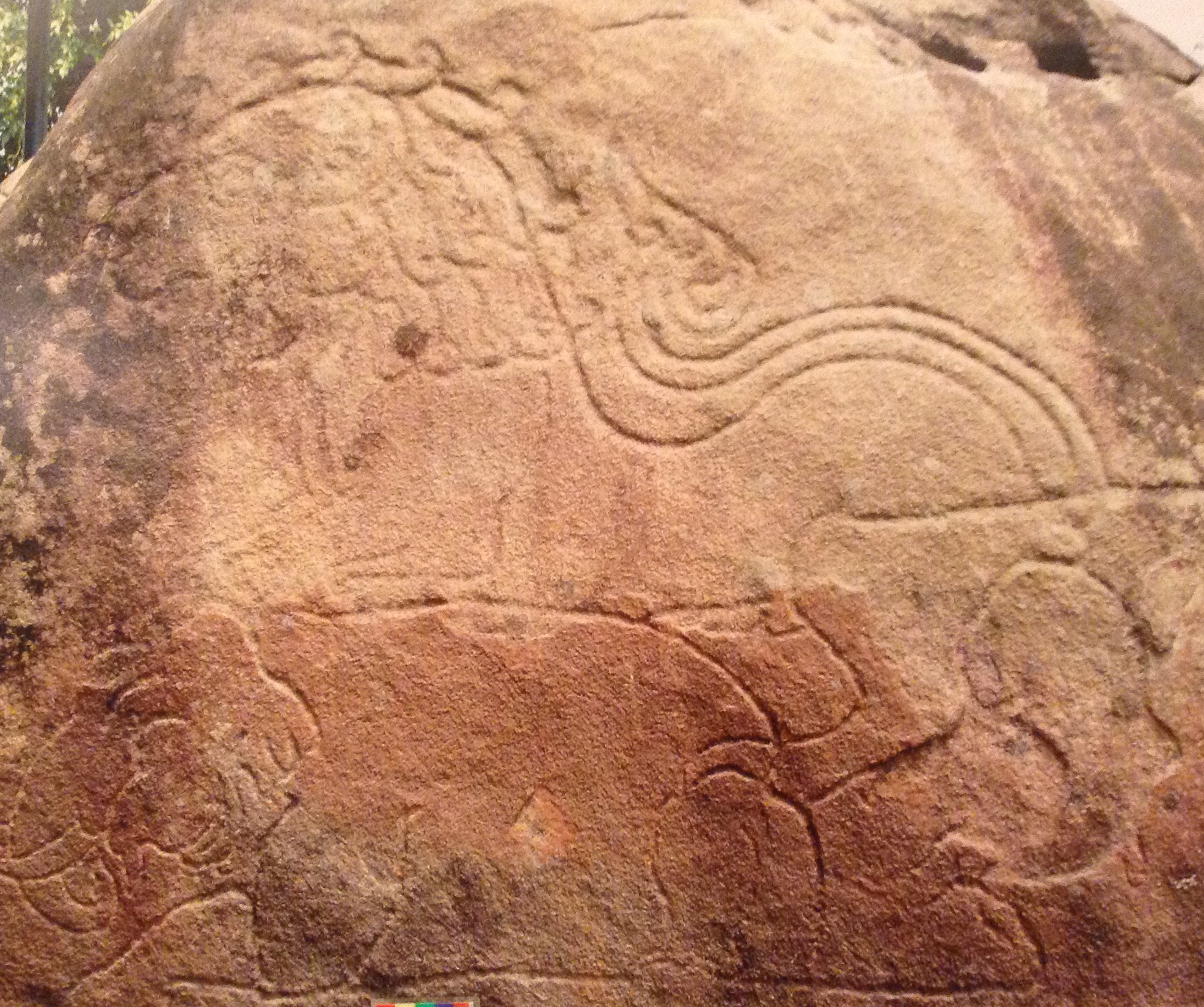 Initially, Dr Malla was conducting research in many parts of the country on a project basis. After the Rock Art Department was established, field documentation work is being done by multidisciplinary teams of scholars in almost every state. These teams comprise local experts, mainly from the fields of archaeology, anthropology, art history, geology, botany, zoology and experts from various local organizations who may be of valuable help.
"We organize mobile exhibition in three to four cities, every year, to sensitize and make people aware about our rich rock art heritage. To date, we have organized the exhibition in nine cities. The mobile exhibition, titled 'The World of Rock Art', is primarily about the rock art of all five continents, with special focus on the Indian art works. We also organize special lectures on rock art of particular regions by renowned scholars, to enlighten students and other interested people. During the exhibitions, children's workshops called 'Impressions', are organised too, "adds Dr Malla.
It is important for us to build awareness among children and to inculcate the feeling of ownership, to help curb vandalism in these sites.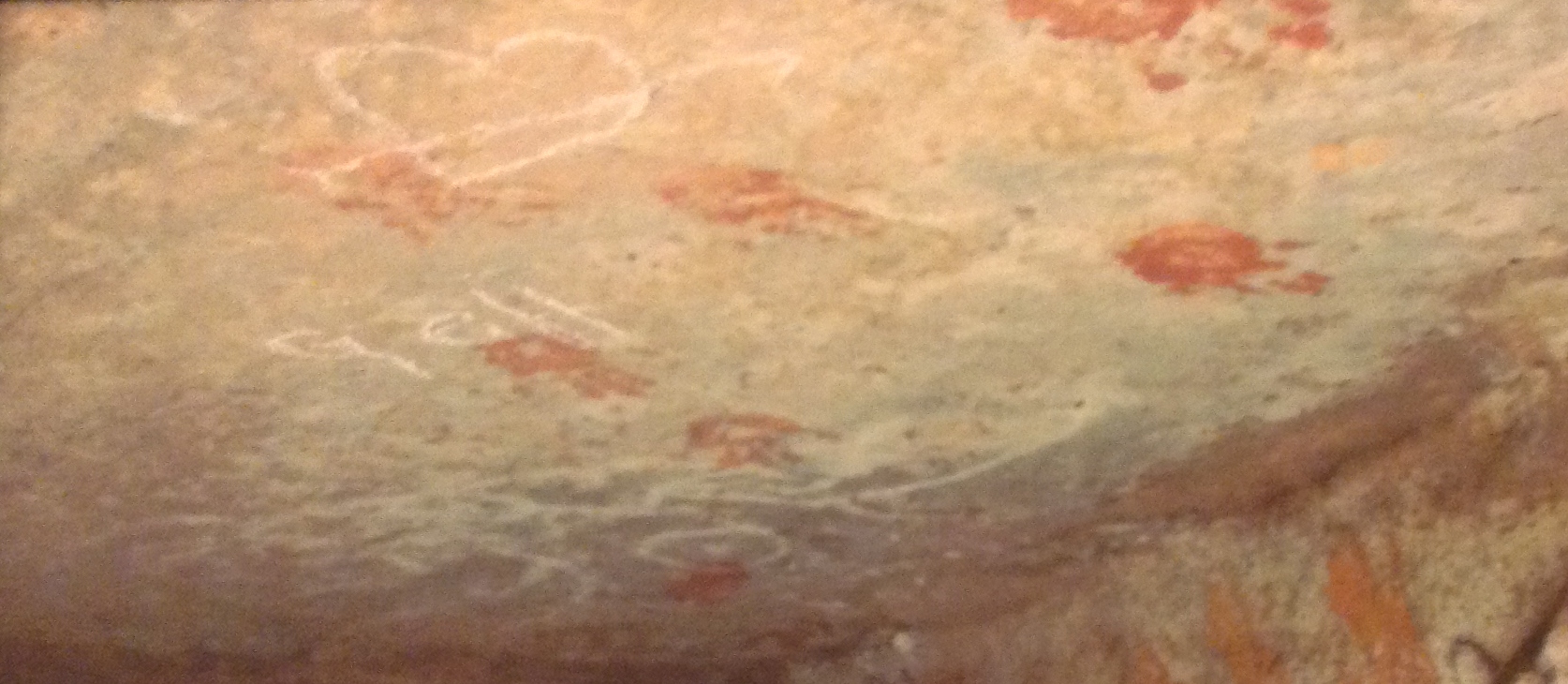 The Department believes that these interpretations and research should not be confined to the academic realm alone, but understood from the aesthetic point of view as well. To promote this, though this is still an emerging discipline in the Indian context, they hope to include rock art as a subject in the school curriculum soon too.
For more information, contact the Director of the Rock Art Department at IGNCA at – rockart@ignca.nic.in
About the author:
Aparna Menon is a freelance writer, writing for various newspapers for the past 10 years. Her main fields of interest are wildlife, heritage and history. A keen traveler, she loves to read and write and does a lot of art work too.
We bring stories straight from the heart of India, to inspire millions and create a wave of impact. Our positive movement is growing bigger everyday, and we would love for you to join it.
Please contribute whatever you can, every little penny helps our team in bringing you more stories that support dreams and spread hope.
Tell Us More