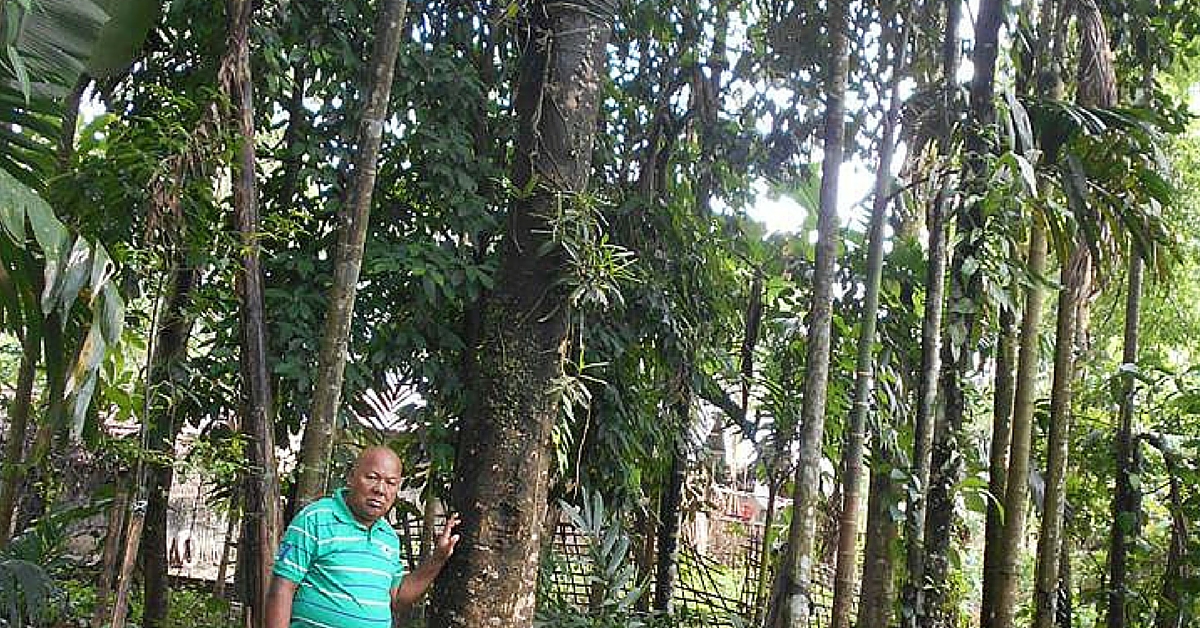 Agar oil and wood are highly sought after products around the world, and Agar tress can offer lucrative global trade options to locals in the regions where these trees are found. Here is the interesting process adopted for the production of Agar oil.
---
The views expressed in this article are that of the author's and do not in any way reflect the views of the organisation.
---
Agar oil and wood are highly sought after products around the world, and Agar tress can offer lucrative global trade options to locals in the regions where these trees are found. Here is the interesting process adopted for the production of Agar oil. 
I was traveling in the Lakhimpur and Dhemaji districts of eastern Assam recently – trying to explore the potential of Agar trade in the region. After all, Agar trees grows well in here and have great demand worldwide. I was also trying to understand why the local people who understand Agar so well, are not able to cash on its lucrative global trade options.
Aquilaria malaccensis, locally known as Xasi or Agar, acts as a world class perfumery fixative and is highly sought after and priced by European perfumers for making their best grade scents.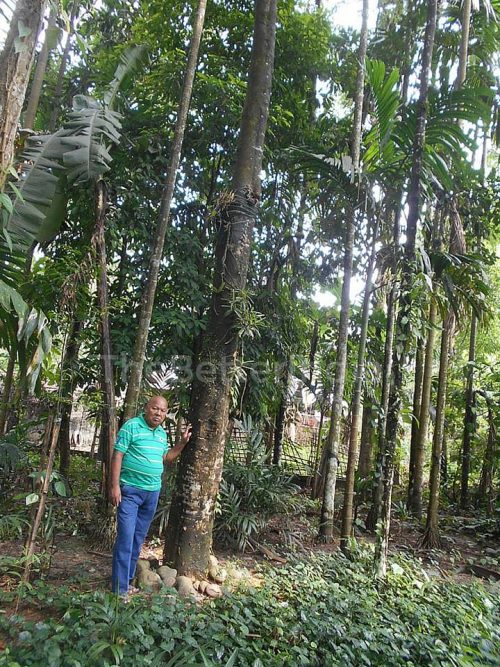 It acts as a stimulant, cardiotonic, carminative, aphrodisiac, alternative anodyne, antidiarrheal, antiasthamatic, astringent, laxative stomachic and tonic.
Local agar planters go for two species of Aquilaria agallocha. 'Bohla Sanchi' grows fast but its yield is less than that of 'Jati Sanchi'. 'A. agallocha' needs highly humid, sub-tropical climate with a rainfall of around 1800-3500 mm per annum. Agar tree also requires a lot of sunlight to attain a height of 40 meter. It can be profitably grown in marginal soils as also in shallow soils over rocky beds with cracks and crevices.
The process of Agar oil formation is rather interesting. Biren Doley, known as 'Agaru Guru' a local Agar planter from Telam, explains – stem borer Zeuzera conferta bores the Agar tree making hollow tunnels inside living tree trunks that are conducive for Agaru formation. Fungus enters the plant through the vertical hollow parts of the zigzag tunnels which act as the primary site of infection. Large wood volumes get infected and Agar wood formation depends on the intensity and frequency of insect infestation in the infected areas within 7-8 years after infection.
Agar trees produce resins as a part of their internal immunity mechanism against these fungal infections. The accumulated Oleoresins produce precious Agar oil and Agaru. Biren Doley says that such an infection mostly occurs due to natural or mechanical injury to the tree trunk but it's very localised. Oleoresins get accumulated in the affected wood in the wake of resistance against fungal infection. Later it becomes odoriferous.
Accumulation of Oleoresins gets deeper as per the intensification of the rate of infection as well as the aging of the infection, he says. As more Oleoresins are deposited, the colour of the infected wood gets intensified and changes from brown to black. If the fungal infection takes place at the age of five or six, 10 years are sufficient to access commercial Agar wood.
In a natural forest, only 20 to 25 %t of the Agar trees may become infected and productive. Based on the rate of infection, these trees are slightly infected, moderately infected and severely affected. Local private Agar planters apply mechanical injuries before the spring season by making a deep slanting cut with a sharp axe. Such artificial injuries provide an infection site for the stem borer and also to push the tree to undergo a stress condition. The 'Dum Type' of product obtained out of this treatment for oil extraction is locally popular as "Ghap Mal."
Though oil extraction takes place throughout the year, the conducive period of extraction is from February to May. However, oil extracted during the dormant period possesses the finest odour because it contains less waxy substances, says Biren Doley.
The oil thus produced is a sought after commodity but it does not seem to aid the local farmers. The small scale and medium sized private planters don't get the prices of Agar oil and wood in accordance with national and international prices.
A cost and benefit analysis of around 3,000 A. agallocha trees in two hectares of farmland over a 20 year time period adds up to a total expenditure of about Rs 7.5 lakh. Anticipated yield and income generally comprise two phases. As an interim yield, 40% of the selected Agar plants are harvested in the first phase. This is done with the objective to gain interim income and to reduce the density of Agar trees so that the rest can grow well over the next 10 years. The yield of distillable wood (Low quality Dum/Boya) from 10 years old tree (about 20 kg per tree) sells at about Rs 10 per kg. And the Dum quality wood from a 20 year old tree (about 50 Kg per tree) sells at Rs. 50 per kg. Batli Mal/kalagachi of a 20 year old tree (about 0.5 Kg per tree) sells at Rs. 2,000 per Kg. So the gross returns from a two hectare field over two decades is Rs. 65 lakh.
This rough cost and benefit sharing analysis as per the localised procurement pricing, shows that an exponential transition of rural economy within the paradigm of green economics is possible. It also refutes the claims that aboriginal communities need massive investments for increasing the per capita income as well as enhancing quality of life.
However, unsustainable logging and trafficking of Agar wood from the natural forest has forced the government to bring the international trade within sustainable limits. A. malaccensis and A. agallocha have therefore, been listed as critically endangered species in India under the Conservation on International Trade in Endangered Species (CITES 2009) and are almost extinct in the wild in Assam.
Besides, Agar entrepreneurs are exploiting the local growers. For over a decade, they have been offering minimum procurement prices to Agar growers and accessing a large share of the profit. Such middlemen could be removed if the government creates a transparent price regulatory policy for Agar.
The governments of the Northeastern states must ensure incentives to growers for plantation of Agar wood trees on private farm lands. Government must ensure sustainable utilisation of Agar wood including harvesting, processing, transit and trade. There is a need to develop suitable strategies to augment its natural regeneration, artificial regeneration and conservation. Addressing research and development for sustainable harvesting would propagate a better structure of Agar plantation. Besides, industrial units for Agar wood processing and marketing must also be regulated.
The Draft Policy for Sustainable Utilisation of Agar wood, 2014, Ministry of Environment, Forest and Climate Change, has set assigned management initiatives for the sustainable utilisation of Agar wood. These include documentation of information on geographical distribution and resource base; packages for cultivation, value additions, market status; domestic policies for growers by the concerned state government; and formation of rules and regulations for harvesting, marketing, industries and trade policies. It says that pricing pattern, social-economic dimensions as per requirement of the concerned state may be further supported by Minimum Support Price.
Agar could be the driver of an economic empowerment for the marginalised aboriginal, native, tribal communities in Northeast India. Such rural communities are exploring the green economic opportunities by planting Agar trees in their small, middle or large sized land holdings. Such plantation drives are not only working to combat climate change and pollution but ushering in a conducive atmosphere for rain as well as generating a healthy ecosystem. Exploring livelihood opportunities naturally would, one hopes, alleviate poverty by empowering marginalised communities.
Like this story? Or have something to share? Write to us: contact@thebetterindia.com, or connect with us on Facebook and Twitter (@thebetterindia).
About the author: Kumar Deepak is an environmentalist working with the United Nations Development Programme (UNDP).
We bring stories straight from the heart of India, to inspire millions and create a wave of impact. Our positive movement is growing bigger everyday, and we would love for you to join it.
Please contribute whatever you can, every little penny helps our team in bringing you more stories that support dreams and spread hope.