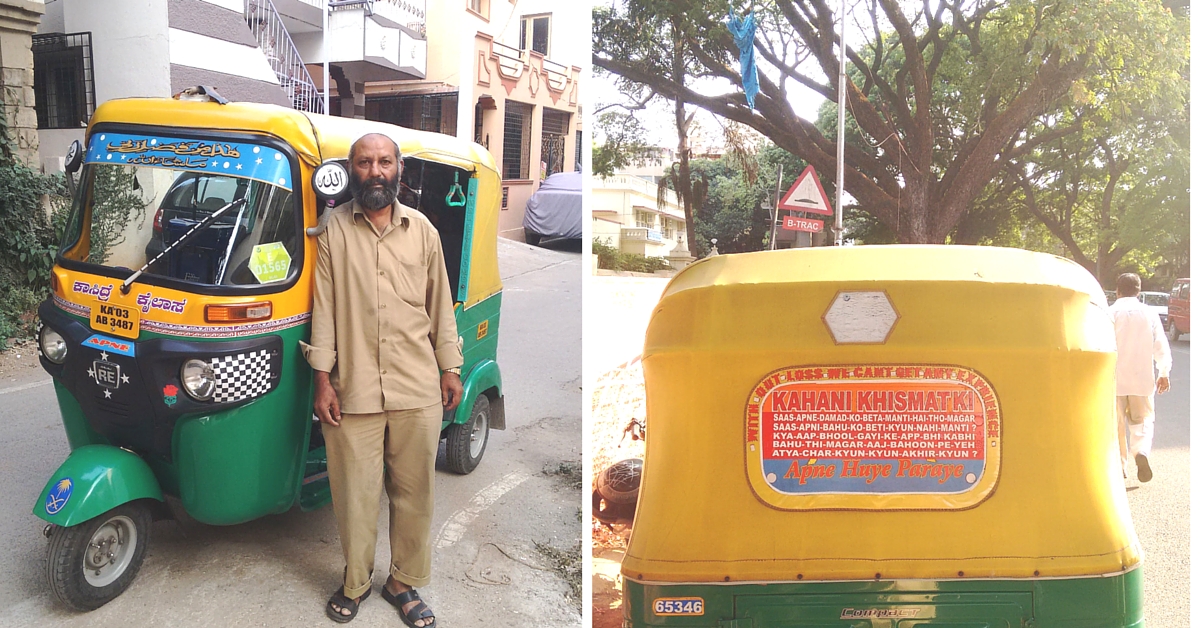 Meet Abdul Khader, whose thoughts and ideas, and auto rickshaw, will leave you amazed!
The humble auto-rickshaw has a cult status in Bengaluru. Many a film has an auto-rickshaw driver as the hero. The heroic auto-driver bashes up baddies, chases them on his auto and weaves in and out of traffic magically in a great rush to do good, all the time singing a peppy song.
In real life, I got into an auto recently, and the music did begin – popular patriotic film song Nanhe munne bachche tere mutthi mein kya hai…
"I can usually gauge within a couple of minutes what kind of music my passenger may like, and I play music accordingly," said the auto-driver, Abdul Khader softly.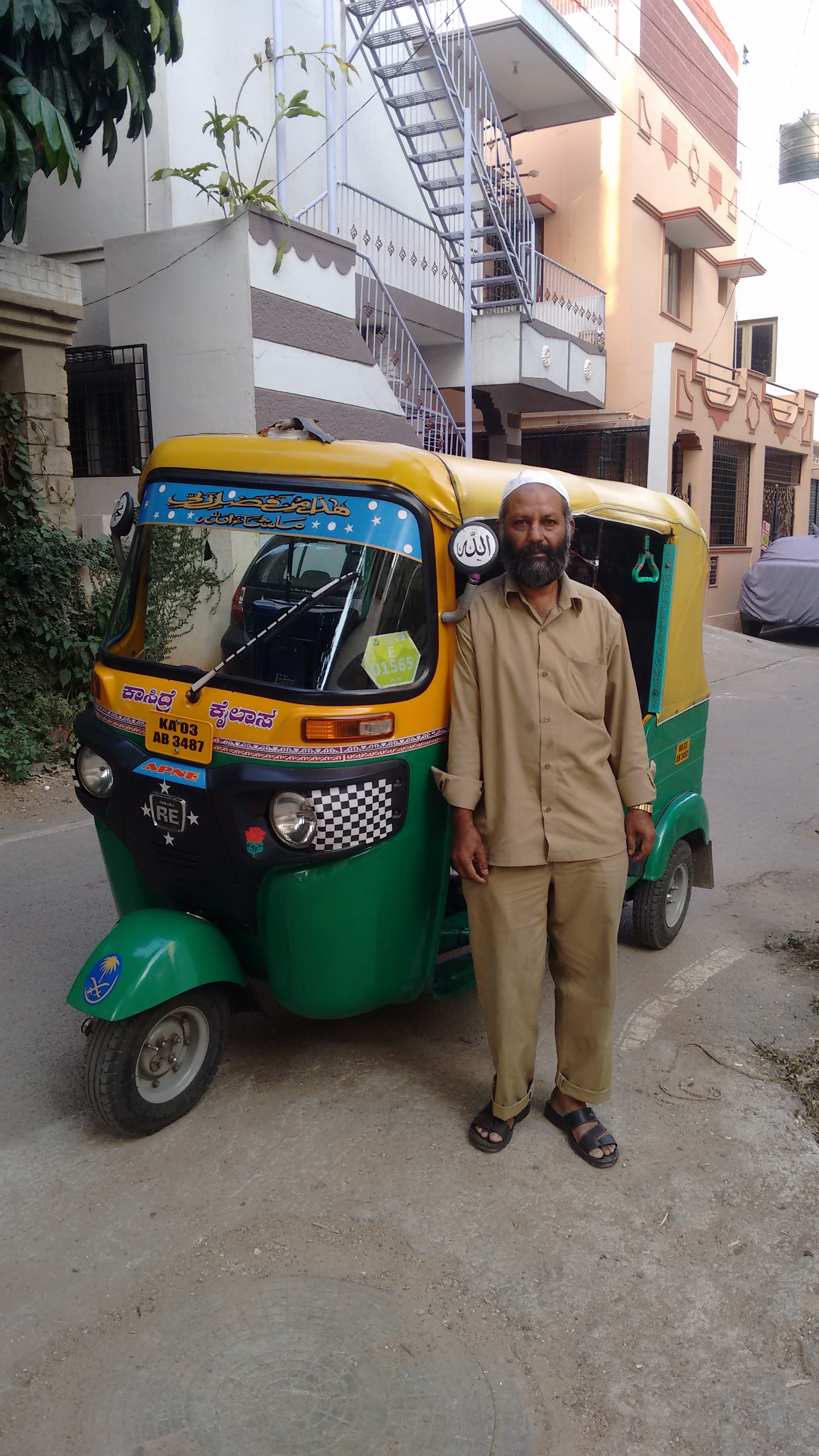 He had picked me up from outside an NGO doing work in the field of elementary education, and so he may have rightly assumed I was interested in children!
So, for the next hour or so, many child-centric songs played softly on his system while we talked, strictly only when he stopped at traffic signals. Clearly, no talking while driving for this gentleman!
Instead of looking out at the thick traffic on Bangalore's road, today I could let my eyes wander around the interior of the auto; there was so much to read there! Pithy sayings, SSLC exam schedule, helpline numbers, citizen awareness news, and much more.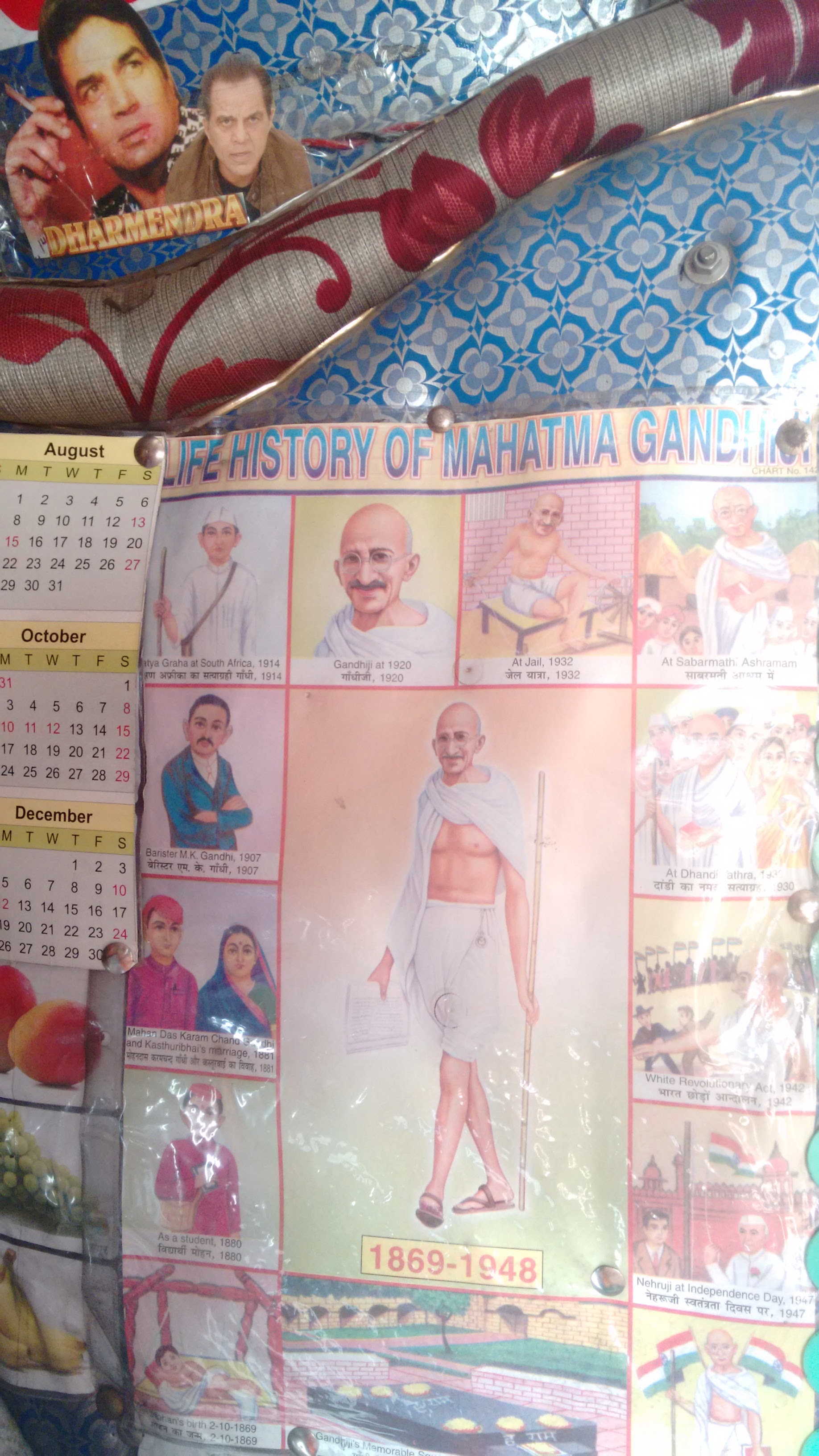 "I select songs in different categories, and save the collections on a pen drive – old hits, patriotic songs, inspirational songs, spiritual songs and Dharmendra songs," he said at the very first signal.
Why Dharmendra, I asked and had to wait till the next signal to hear the answer.
"Dharmendra has taught me a lot. The characters he played in films always inspired me. I wasn't very good at studies. When I was eight years old, my father died and I stopped studying. One day, in a spurt of naughtiness, a friend and I stole a couple of sticks of sugarcane from a roadside stall outside a theatre, and ran into the theatre to escape being caught. However, we were caught, and I said I just wanted to work at the theatre. So I started doing odd jobs there, and for 14 years, sold chips and popcorn. Apart from that, I worked at an embroidery unit in Shivajinagar. But always, my dream was to own an auto."
While Abdul plodded on through the traffic, I looked up; no Sistine Chapel this, but the 'ceiling' of the auto was still awesome; the sun and moon and planets, and dozens of cartoon characters from television serials looked down upon the passenger cheerfully. On one side was a poster showing various stages of Mahatma Gandhi's life, childhood onwards.
Another side had statistics about dowry. Why so many anti-dowry posters, I asked at the next stop.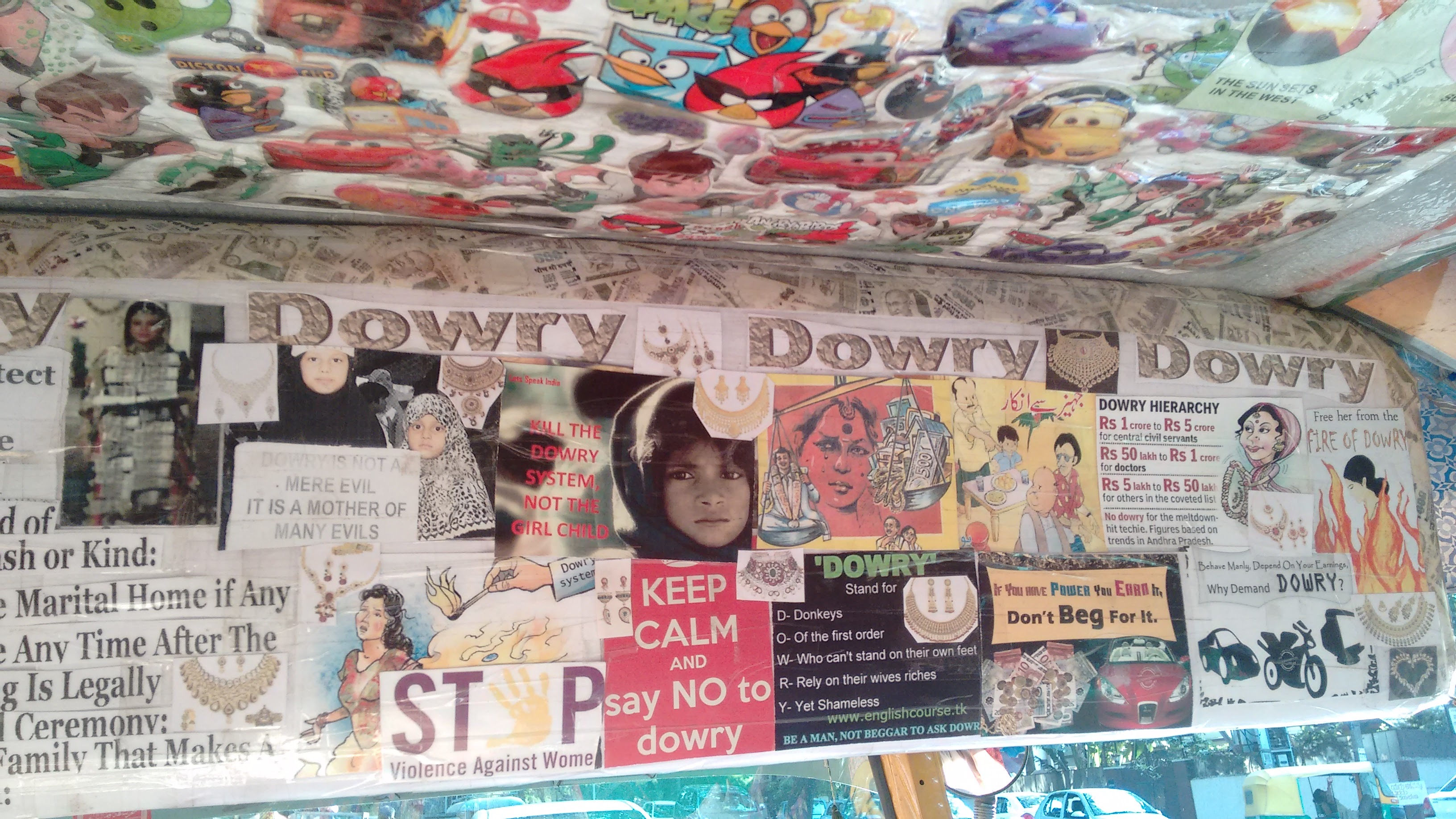 "So many people suffer because of this practice. A man has to be able to take care of his wife without having to take dowry from her family," said Abdul, talking shyly about the time he dipped into his savings to buy his bride-to-be a sari and desi-ghee-ke-laddoo.
After one failed attempt to go work in the Middle-east when he was duped by an agent, Abdul tried a second time and was successful. After working with an airline catering company for several years and earning not just decent wages but also a reputation for being extremely resourceful and honest, Abdul returned to Bangalore.
"Passengers used to leave their valuables in the plane. Mobiles, money, even jewellery, and I always used to return it to the authorities. We used to be rewarded for this," recounted Abdul.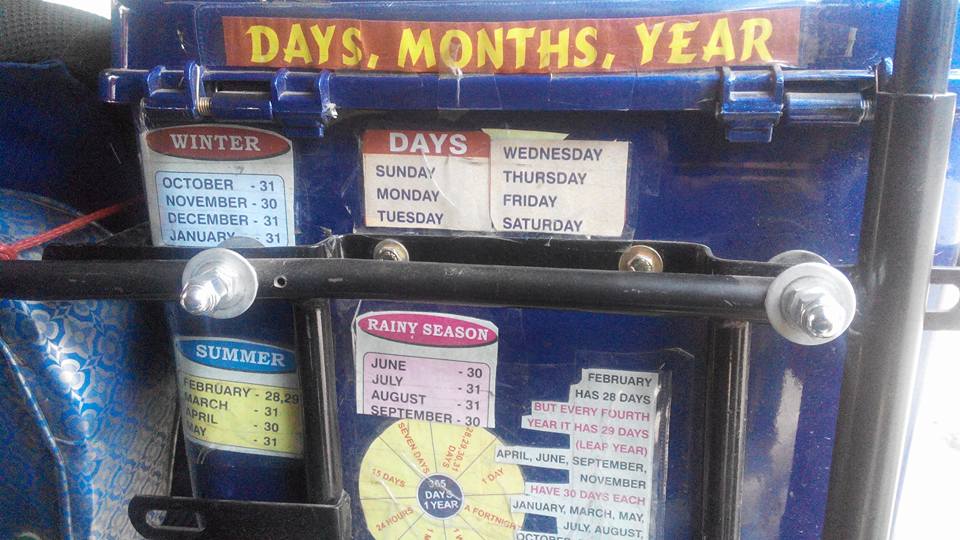 "The kids are very happy to come in my auto, and I feel happy about it. If a child has a birthday, I get them some chocolates, but always ask them to share it with others. Behind the passenger seat is a decorative branch of leaves. On each leaf, I'm planning to paint the name of each child I take to school on a regular basis," he said, "adding more leaves as the number of kids goes up."
Abdul has many ideas to make his auto as useful as possible to passengers. He has a mobile charger, a first-aid kit, and always keeps a bottle of water.
"I have many friends who work on computers. Whenever I come with an idea, I ask them to design a chart and get a printout, which I paste somewhere inside the auto."
Having run his 'campaigns' against dowry, against smoking, and against child marriages, he now wants to put up something about the importance of education for girl children.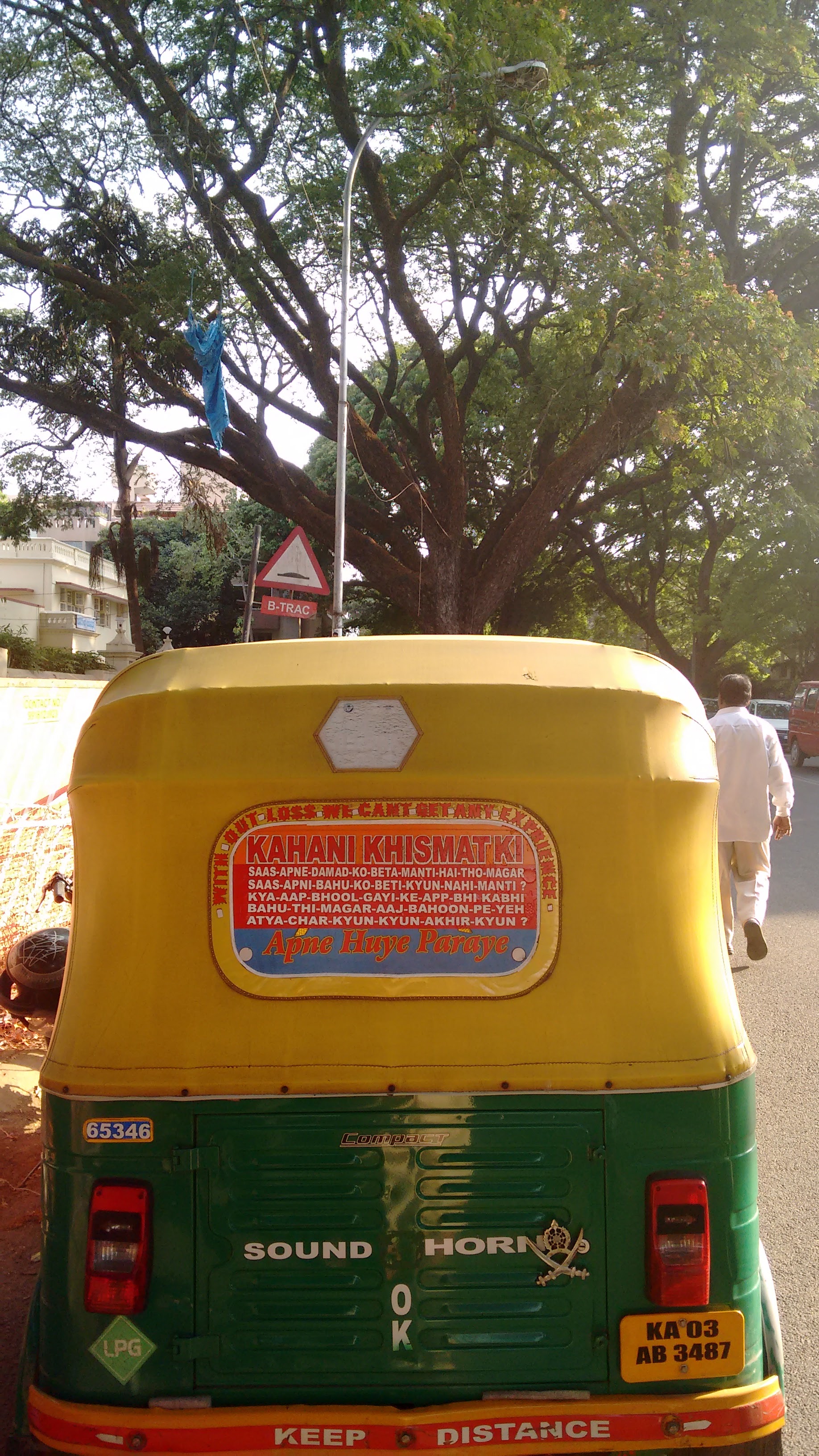 After he had dropped me home, I gave him a set of books to be given to his grandchildren. Abdul looked at the stack of books…and then at the interior of the auto. "I think I can fix a clamp here, and keep these books for passengers to read…"
This soft-spoken, auto driver is a hero to his regular passengers. Once their exam results are out, the kids are expecting gifts from Auto Uncle.
He sets aside a part of his earnings for his passion to educate the passenger, young and old, and to reward his bright little passengers.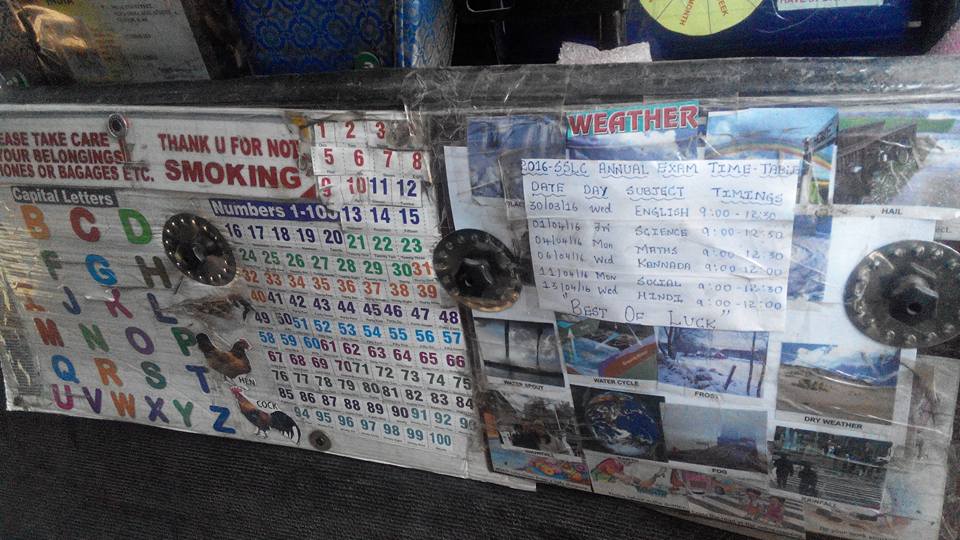 "I think I'll buy some school bags this year to be given away as gifts to the kid who do well in their school. I was not able to study much, but I want all the children of today to be educated well," he said, as he left.
Certainly, much to learn from this little classroom on three wheels!
All photographs, unless mentioned, by: Mala Kumar
Like this story? Or have something to share? Write to us: contact@thebetterindia.com, or connect with us on Facebook and Twitter (@thebetterindia).
About the author: Mala Kumar is a freelance journalist, author and editor with Pratham Books, a mutli-lingual publisher. She loves to play with words and children. She learnt a lot about money while writing the series of books called 'Rupaiya Paisa', including the fact that investing in every child's education today is a wise way to ensure a healthy society for all in the future.
Tell Us More
We bring stories straight from the heart of India, to inspire millions and create a wave of impact. Our positive movement is growing bigger everyday, and we would love for you to join it.
Please contribute whatever you can, every little penny helps our team in bringing you more stories that support dreams and spread hope.