Constable Kamal Das of Kolkata Police, posted at Tiljala Police Station, has become a hero on social media ever since he went out of his way to help three men who were stuck at E.M. Bypass with a broken car at three in the morning.
It was around 2:00 am when Diptanjan Chakraborty was returning home with two of his friends after attending a marriage ceremony in Dunlop area of Kolkata. However, their car hit a pothole in BT Road and started making some unusual noises. Diptanjan kept going because they were unsure about the problem and the area they were crossing was not very safe at night. Just as they climbed the Parama Island Flyover, the car's left mudguard fell apart, and, as Diptanjan wrote on his Facebook post – "the upper chunk of the tubeless tyre gave away".
They somehow managed to cross the flyover by driving very slow, only to realize that the spare tyre didn't have air and could not be used.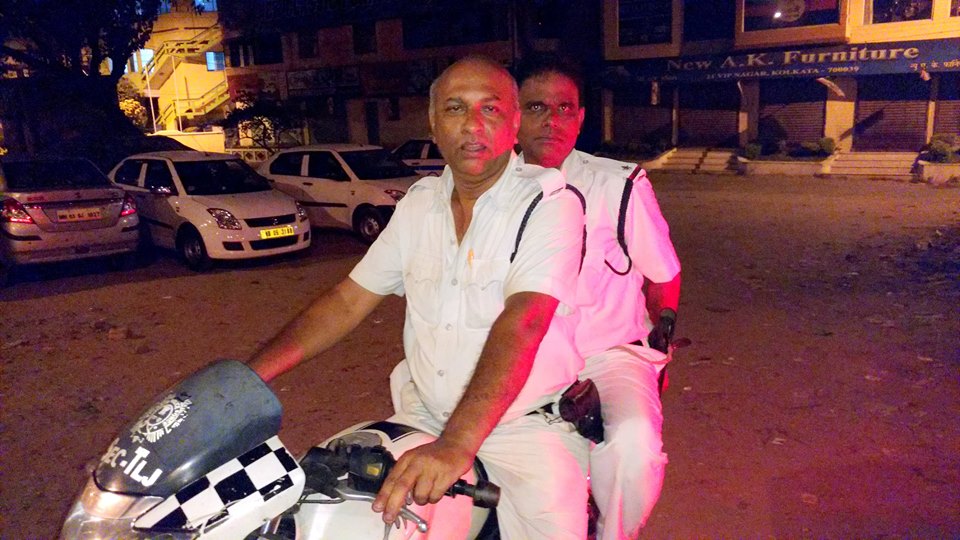 The three friends tried to seek help from cab drivers, but found that all service shops would be closed at that time. One of them then noticed a police booth nearby and went there asking for help. This is where they met Constable Kamal Das who instantly started his bike, asked one of the friends to sit on the backseat and went looking for a mechanic.
"I had just returned from our round at Picnic Garden when they approached us. I immediately removed the car from the central verge. I then offered one of them a lift in my patrol bike," he told The Times of India.
They finally found a mechanic in Anandpur. The constable woke him up and asked for help. But the mechanic was asking for Rs. 1000 when the friends had only Rs. 800 at that time. Kamal Das intervened again and told him that he will pay whatever extra money is needed, but the mechanic should help them because they are in so much trouble in the middle of the night.
Diptanjan and his friends were surprised by how the policeman was trying to help them in such a selfless manner.
"A very polite helping-hand, he rescued us at midnight. This is what Kolkata is known for. We felt safe even at 3:00 am…He took care of us like he had known us for years," Diptanjan wrote on Facebook.
"Dada, sob police kharap hoy na, Lok e onek kichu na jene amader ke aje baje kotha bole," (Brother, not every policeman is bad. People speak ill of us without knowing a lot of things)," Constable Das told him before going back to his duty. A resident of Raidighi in Sarsuna, the constable is known for his helpful nature in the police department. Just about 10 days back, he escorted a stranded Canadian citizen to his hotel on his patrol bike in the middle of the night. "We need men like him in the force," DC (traffic) Solomon V Neshakumar told The Times of India.
Read the Facebook post that Diptanjan wrote, thanking the constable and ASI Adhir Kr Roy, who was also there at the police booth – here.
Like this story? Or have something to share? Write to us: contact@thebetterindia.com, or connect with us on Facebook and Twitter (@thebetterindia).