Innovative measures by women farmers across India are helping several poor families adapt better to climate change and keep hunger at bay. As Sursati from village Janakpur, district Gorakhpur in
Innovative measures by women farmers across India are helping several poor families adapt better to climate change and keep hunger at bay. As Sursati from village Janakpur, district Gorakhpur in Uttar Pradesh, explains, "Earlier, we could not produce enough food for a year because our village would get water-logged by the flood waters. Now, using early maturing paddy varieties and organic manure to revive soil fertility, we can at least eat for all 12 months from the same piece of land."
Sursati is one of the many women being helped by a local NGO, Gorakhpur Environmental Action Group (GEAG), in the flood-prone areas of eastern Uttar Pradesh (UP), where climate vagaries have been impacting agricultural production for some years now. Many farmers in Gorakhpur district, for instance, have stopped growing pulses because "winters are so late and so short these days." Yet, there are some women farmers like Kamlavati, from village Janakpur, who now train other women in adaptation techniques. "I go as a trainer to the government's Agriculture Technology Management Agency (ATMA) farmer field school," she reveals.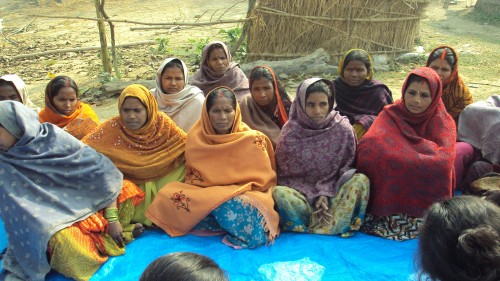 While world leaders at the December 2011 Durban meet may have postponed taking hard decisions, the impacts of climate change on farming activities and hunger and malnutrition levels in India has been significant. Take Peddaka, a woman farmer from village Chinnajalalapuram in Andhra Pradesh's Anantapur district. She has been wrestling with the changing pattern of rainfall. "It is some five years since we got a good crop because rains have got scattered and erratic," she says.
According to the Environment Ministry's Indian Network for Climate Change Assessment (INCCA) Report 2010, climate change impacts will lead to a reduction in the winter wheat, or rabi, crop production, lower yields from dairy cattle, a decline in fish harvests and quality changes in fruits, vegetables and even basmati rice. "With less food to go around, it is invariably the woman who gives up her share to feed the family," Harsh Mandar, appointed by the Supreme Court to advise it on the right to food, had once observed. A malnutrition report submitted to the Supreme Court noted that "women of every age have disproportionately higher rates of malnutrition than men. In India, two out of three women are anaemic."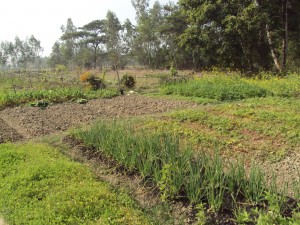 In May 2010, Mandar and Dr N.C. Saxena, Commissioner of the Supreme Court, both of whom are also members of the National Advisory Council (NAC), wrote to the UP Chief Secretary on the shocking findings of an inquiry in Shankargarh block of Allahabad district. The evidence included the chilling fact that 90 per cent of the children examined were suffering from acute malnutrition; and many were eating mud, probably to stave off calcium and other vitamins deficiencies arising out of living with starvation and hunger.
UP is one of the six severely affected states listed by the World Bank in its study on malnutrition in India. The other states where every second child is underweight – one of the indicators of malnutrition – include Rajasthan, Odisha, Maharashtra, Madhya Pradesh and Bihar. The World Bank report made headlines when it came out with the statement that India has the world's highest prevalence of underweight children, nearly double that of Sub-Saharan Africa. Four states – UP, Rajasthan, Bihar and Madhya Pradesh – account for more than 43 per cent of all underweight children in India.
The recent Rajasthan draft State-level Action Plan on Climate Change (SAPCC) recognizes malnutrition, especially among women, as a major concern in the wake of climate change. The SAPCC states that a third of the women in 2005-06 had lower than normal Body Mass Index (BMI); more than half of the married women between 15 and 49 years, and 80 per cent of children between 6 and 35 months, were anaemic; while about 44 per cent of children below 3 years of age were found to be underweight.
Again, in Odisha, protein consumption is as low as 48 gm per capita, compared to the national average of 57 gm. Not surprisingly, 61 per cent of the women in the state are anaemic, compared to 34 per cent of the men. The Odisha SAPCC predicts that "drier areas will become drier and flood-prone areas will be subject to more flooding." Agriculture production and dairy operations are also expected to be adversely affected due to pest and disease outbreaks following climate variability. All this will have decisive impacts on food production and people's nutritional status.
There is an urgent need to focus on sound adaptation measures, especially those that benefit women directly. With gram panchayats now made responsible for village development plans, they can, in the wake of climate change, make 'Local Action Plans on Adaptation', or LAPAs, to climate-proof their development plans, much like poor, developing countries are today making NAPAs – National Action Plans on Adaptation – as part of the UN climate agreements. The Madhya Pradesh SAPCC already mandates panchayats to include adaptation measures in their annual plans.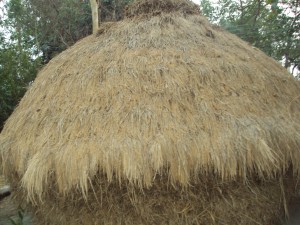 Some women-friendly adaptation measures that can be promoted as part of LAPAs include village-level grain banks, which have proved popular in disaster-prone villages across states, including in Bengal and Odisha. Run and managed by women self help groups, members store and borrow local millets and rice in times of need and repay in kind. Dakshin, a tribal woman farmer in the Kerandimal tribal area in Ganjam district, Odisha, puts it this way, "Grain banks mean our men will not migrate when the crops fail and that we will have enough to eat, too. We women have often starved because we preferred giving the available food to our husbands and our children." In many tribal areas of the state, grain banks have become the traditional coping mechanism and their recent revival has been welcomed by village women.
Grain banks today are supported by government agencies like National Bank for Agriculture and Rural Development (NABARD), UN organisations and other donor agencies as well as by local civil society organisations.
Other adaptation measures could include seed banks, fodder banks and inputs for kitchen gardens. The women of Bankra village in 24 North Paraganas district, West Bengal, emphasize that their families survived the worst impacts of cyclone Aila because of their kitchen gardens and poultry. Villages in this region have been facing multiple storm threats due to the increasing frequency of severe cyclonic episodes in the Bay of Bengal. Guided and assisted by a local organization, Development of Research and Communication Service Centre (DRCSC), women here are now slowly taking the lead to grow multiple crops in their kitchen, or 'nutrition gardens' as they call them, to ensure there is something to eat when cyclones destroy their farmlands.
Involving women in LAPAs maybe a challenge but it is not impossible. "It was only in 2008 in Bali, Indonesia (at the UN climate summit) that gender groups began to focus on gender and climate change," remakrs Govind Kelkar, well-known feminist with UN Women and author of a recent research report on how adivasi women are engaging with climate change. "Women's voices have to be heard and their ideas have to be incorporated in planning," she adds.
What has changed is greater awareness. Women, even in rural India, now understand better the larger issues like climate change that affect them directly, as is evident in this declaration adopted at a training programme on 'Gender, Climate Change and Food Security' on November 16, 2011, at Saharanpur in UP. It reads: 'We, the women farmers from Uttar Pradesh, West Bengal, Bihar and Uttarakhand, observe that the climate of North India is changing fast and this is adversely affecting our agriculture and food security. Women hold the key to food security, and it is important that women's contributions to agriculture and food security be documented, recognized and celebrated.'
Important sentiments certainly. The challenge is translating them into reality.
We bring stories straight from the heart of India, to inspire millions and create a wave of impact. Our positive movement is growing bigger everyday, and we would love for you to join it.
Please contribute whatever you can, every little penny helps our team in bringing you more stories that support dreams and spread hope.