Taru was young, well educated and very polite. A Bihari from a higher caste, she befriended the likeable Shashikant of a lower caste. Together they challenged many of the prejudices of in a society where caste and gender taboos were strictly enforced.
In rural Bihar, girl children are a cause for despair, family planning or sex is hard to talk about, and in the past, so called "untouchables" have been killed for allowing their shadows to touch that of higher caste people. But Taru and her friends inspired a real change in their community.
This is all the more remarkable because Taru and Shashikant were fictional figures, characters of a long running radio soap opera that started broadcasting in Bihar in 2002.
The Hindi speaking population of rural north India has a population topping 600 million people. And in the rural hinterland, radio is still the most accessible medium. Taru was one of the more popular radio dramas ever to be broadcast in India, with an estimated audience of 60-75 million people.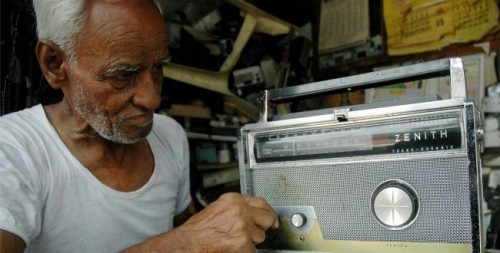 Soaps for Social Change
The idea of using the medium of soap opera – or serialized dramas – is not new. The first "soaps for social change" were pioneered by Miguel Sabido in Mexico in the 70's. He believed that radio and tv dramas potent enough to reel in a mass audience could do be harnessed to do some social good. But he claimed, "it was not enough just to change people's attitudes, but you have to change how they behaved."
Since then, the "Sabido method" has been implemented around the world, embedded with messages about community health or gender and class equality. The formula calls for sympathetic characters like Taru, but also "villains" engineered to provide the plot obstacles that often mirrored the mindset targeted for change. And most importantly, these soaps need a "transitional figure" who's going to change in the arc of the serial, hopefully taking along the listener in their struggle to behave decently.
Professor of Communication Arvind Singhal from the University of Texas at El Paso is one of the gurus of soaps for social change. In 1996 he led the research evaluation of "Tinka Tinka Sukh" ("Happiness comes from small things"), a popular radio soap opera. Its heroine was a village girl with a drug addict brother. Like so many Indian women, she and her friends faced obstacles such as the dowry system, the bullying of in-laws, and so on.
A community transformed
The series was an immense success, and Singhal, on a return trip to India decided to follow up a fan letter the producers had received. He visited the fan's village and found it to be much like the fictional village of his soap. He found a community transformed by the serial: Young men refusing to take dowry, the establishment of a child care centre so young girls could go to school instead of having to babysit the younger siblings, and the increase by 30% of girl attendance at the village school.
Francis Rolt, director of Radio for Peace Building, has spent years travelling around the world, training people to write soaps aimed at conflict resolution. But it's not easy. Those in power in conflict or post conflict situations are not always receptive to the idea of dramas which may portray them in a negative light.
Kannagipura-Kannagipuram, a popular soap in Sri Lanka is now in its third year and has broadcast more than 250 weekly episodes in both Sinhala and Tamil on several country wide government channels. The plot, which started with an across-the- ethnic- lines love story, is a collaborative effort of a team of Sinhala and Tamil writers, mirroring the kind of issues most relevant to Sri Lankan society.
Sharmini Boyle has been with the soap from the start, and says that its storyline has moved from the war to the post war situation, with an underlying message of tolerance and respect for other communities. "Over the years, there's been minimal contact between the two communities so often they don't speak each other's language, don't know very much about the other." Boyle says, that "the soap features characters that change by interacting with the other community and they're the ones we hope that people are relating to." Research has shown that the soap's listenership reaches some two million people, in all parts of the country, including very remote rural areas, but Boyle says that the idea is to do more than "reach them, but to bring about some transformative change.''
Lucy Hannah has trained soap writers and producers, working in Pakistan and Afghanistan, focusing on issues like radicalization, rural migration and displacement. She acknowledges that after broadcasting soaps aimed at conflict resolution it's hard to quantify their success. "With health issues, you can go back and find out if people are using condoms more often, or have got their polio vaccines, but it's harder to see if the conflict resolution stuff is working. You can't really go and ask people if their prejudices are changing."
But Sharmini Boyle says that they've received many "feel good" letters that could herald a change in mindset. She remembers a young woman writing in to say that she used to hate Tamils, but after listening to the soap, she found herself one day sitting next to a Tamil in the bus, and suddenly realized that she didn't hate him after all.
Written by Dheera Sujan for Radio Netherlands Worldwide (RNW) and republished here in arrangement with RNW. Photo: courtesy Flickr
We at The Better India want to showcase everything that is working in this country. By using the power of constructive journalism, we want to change India – one story at a time. If you read us, like us and want this positive movement to grow, then do consider supporting us via the following buttons.
Please read these FAQs before contributing.