Sparrow. The ubiquitous bird of India. The name brings back memories of grandmother's stories and folk tales we heard long, long ago. But when was the last time you saw
Sparrow. The ubiquitous bird of India. The name brings back memories of grandmother's stories and folk tales we heard long, long ago. But when was the last time you saw that little bird hopping on your window sill? When was the last time you heard its sweet voice calling out? A couple of minutes ago? A few days ago? Some weeks ago? Chances are, it's been a while.
Mohammed E. Dilawar. A nature conservationist with a difference. A man who has taken the plight of the tiny bird to heart. A man who dares to think beyond the tiger and other glamorous species to the smallest and what many people would consider, the most inconsequential species to protect. This is a story about one man's efforts to change the urban landscape and bring back the common house sparrow.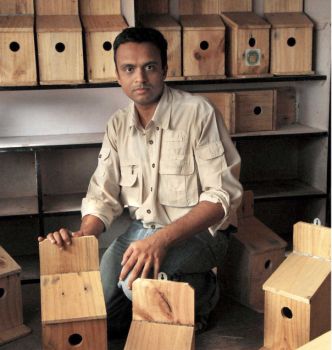 Six years ago, when Dilawar saw a report from an organization in the UK that deplored the state of the house sparrow in that country, he knew India was headed the same way. "The rapid decline in urban open spaces and greenery, combined with modern architecture and the use of pesticides that kills bugs the sparrows need to feed their young has led to the steady extinction of the bird in these spaces. With the disappearance of its natural habitat, the bird cannot be expected to survive for very long."
But six years ago, when Dilawar expressed his concern about this, nobody took him seriously. "When I spoke to people about it, they laughed at me. Government and private organizations have their own research mandates and these generally revolve around threatened or critically endangered species. I used to ask people if they want to wait for the sparrow to make it to that list before they act. I wondered why we could not have an organization that was dedicated to save common flora and fauna, many of which we probably would not even recognize if they were on the brink of extinction."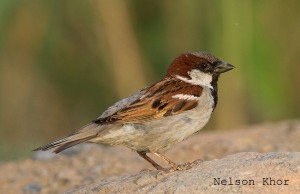 "After setting up the Nature Forever Society, we got a lot of feedback from people telling us how useful this was. Urban flora and fauna was something not many people were aware of at the time. We realized that the effort to save the sparrow helped people understand the common species all around them. The protection of the sparrow got directly related to the protection of its urban habitat, which made people naturally think of conservation methods. Thus, the sparrow acted as an ambassador and facilitator for the protection of the common flora and fauna."
Today, after reaching out to thousands of supporters with his efforts, he has managed to bring a change in the way people view the concept of conservation in India. The Nesting Boxes and Bird Feeders that he sells on a non-profit basis have gained immense popularity and helped people become conservationists in their own homes. It has helped people address the main problems of the sparrow – that of shelter and food – and find an emotional connection with the birds they have always been familiar with. These items have also helped the Nature Forever Society manage to raise funds for their activities without the help from any governmental or non-governmental organization.
But this was not enough. Mohammed says, "I wanted to remove any negative emotions attached to the protection of the sparrow and wanted to celebrate the 10,000 year old relationship we have with the bird. I believed that the sparrow deserved a day dedicated to it." From the past 3 years, March 20th has been assigned World Sparrow Day in commemoration of people's efforts to save this bird from extinction. This has received immense support from various conservation organizations, and is now a hugely popular event all across the world.
How can you become a part of this conservation movement? You can participate in any of the several events and activities conducted by the Nature Forever Society:
• Adopt Nest Boxes and Bird Feeders – These not only help you connect with the birds in your vicinity and provide them food and shelter but also helps you get attached to the initiative and contribute to its sustainability.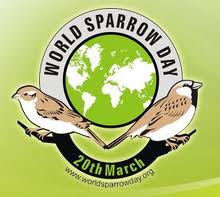 • World Sparrow Day – NFS had chosen March 20th as World Sparrow Day and in 3 years this initiative has gained immense popularity being celebrated in more than 30 countries across the world. There is a dedicated website for this at www.worldsparrowday.org which also contains information about more than 22 species of sparrows along with an eclectic collection of photographs.
• Sparrow Awards – Launched to commemorate people who have been silently making an effort to save the environment over the years.
• Biodiversity Photo Competition – An effort to take the focus of nature photography away from glamorous species, costly cameras and traveling to exotic locations. Instead, NFS wishes to encourage common people to get involved by using ordinary and even phone cameras to capture and help document the common flora and fauna of our country.
• Project Save Our Sparrow (SOS) – In association with Burhani Foundation, NFS distributed 52,000 bird feeders across the world and got recognized by Guiness Book of World Records as the largest distribution of bird feeders.
• Help Birds in Summer Campaign – An initiative that is started at the onset of every summer, it sends out an SMS request urging people to provide water for birds.
• Ban the Catapult – An attempt to curb the use of the catapult in the country by getting it tagged a weapon in the Wildlife Act of India
• Common Bird Monitoring of India (CBMI) – An ambitious project launched yesterday with the mission to involve citizens in monitoring and providing information about the common bird species of India. Learn more about how to get involved at their website: www.cbmi.in
After stealing almost all of the sparrow's natural habitat and food sources, it is time we did our bit to make amends.
We bring stories straight from the heart of India, to inspire millions and create a wave of impact. Our positive movement is growing bigger everyday, and we would love for you to join it.
Please contribute whatever you can, every little penny helps our team in bringing you more stories that support dreams and spread hope.
Tell Us More