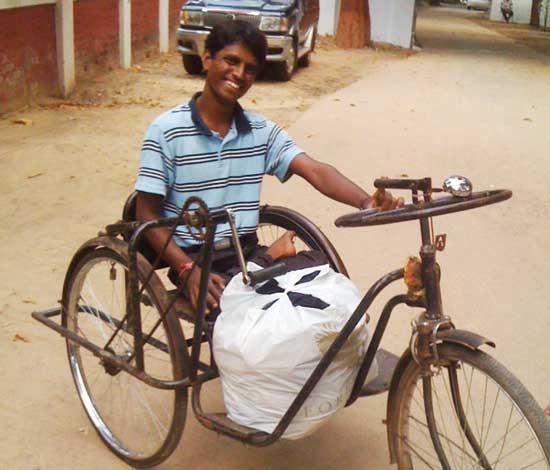 The day I met him, it reminded of a video I saw some time back on YouTube. India is the country with the largest population of beggars in the world
The day I met him, it reminded of a video I saw some time back on YouTube. India is the country with the largest population of beggars in the world – some of them young, some of them handicapped and many of them aged. But a physical disability or age is not necessarily a barrier for people to find work for themselves. Raghu is an example to follow for all of them.
Having lost his legs in his childhood due to polio, and living in a slum area of Ahmedabad with very limited future prospects, Raghu had all the reasons to live an average life of a huge majority of Indians. Instead, he chose to live life differently.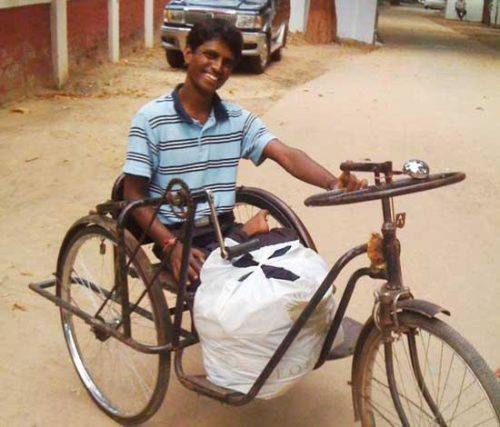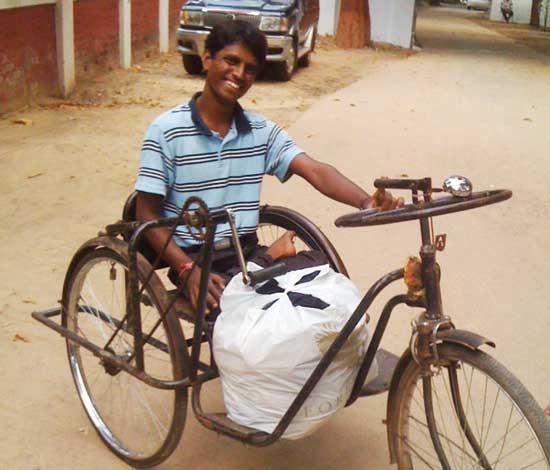 Tulsi Project:
Tulsi Project was one of the first initiatives from Raghu, intended to spread love, peace and harmony in the society, something which the Tulsi (Basil) plant symbolizes in the Indian culture. Whenever Raghu came to know about a dispute in any family, he would simply go there and gift them a Tulsi plant. The attempt was to show people a way to resolve the family differences in a peaceful manner and spread love instead of hatred. The project received overwhelming response from not only the receivers of the Tulsi plants but also from philanthropists who extended their hands to support Raghu in his initiative. To date, Raghu has distributed more than 600 Tulsi plants in various houses in Ahmedabad.
"Tyaag Nu Tiffin" (Food of Sacrifice):
Last year, Raghu took up another initiative – Tyaag nu Tiffin – for those among the lesser privileged who are not capable enough to feed themselves. The idea of Tyaag nu Tiffin took birth when Raghu witnessed one such poor old couple and decided to do something for them. The idea played around his mind for about a month but financial constraints held him back. However, he persisted in his efforts, and once Raghu received the seed funding for the initiative, there was no turning back. He quickly made a team of five individuals (one of them handicapped as well) who devoted some time from their everyday lives to deliver hand-cooked meals to some of the most underprivileged people on streets.
Once the word spread about the initiative, monetary and non-monetary help started pouring in from all the sections of the society – NGOs to individuals to NRIs. However, at times, when there is shortage of funds, he himself contributes in order to make sure that the objective is not missed. To date, Raghu distributes about 14 tiffins daily to the needy people.
Inspiration to Abdul Kalam:
Raghu has also attracted a lot of attention from famous personalities, most notably, honorable former President APJ Abdul Kalam. While Raghu was completely amazed by the simplicity of the Missile Man of India, the honorable former President was also very inspired by the story of the courageous young man and more than that by his dream of seeing every women and children of India – HAPPY.
In addition to his own initiative, Raghu also devotes his time and efforts to various other institutions and initiatives like GramShree, MovedByLove, Manav Sadhna, ESI, Yuva Unstoppable, Sabarmati School and so on. His ambition to spread his thoughts as much as possible and do his little to motivate people in their lives is what drives him.
Going ahead, Raghu wants to spread as much love as possible in the society which is more important for him than the project itself. "If I expand the reach of the project, then there will only be project and no love. I do not want that". His priority is to spend enough time with each and every individual touched by his project and make sure that the beneficiary not only receives food but also well deserved love and sympathy.
For himself and others like him, he proved that one is disabled only till one does not use his/her abilities.
Jay Mehta is an industry analyst, freelance writer and active blogger. Inspired by the concept of The Better India, his passion for writing and a desire to contribute his little to improve the society, he expressed his interest to author articles for us. Before his stint with the corporate sector, Jay completed his management education from Management Development Institute, Gurgaon.
Tell Us More
We bring stories straight from the heart of India, to inspire millions and create a wave of impact. Our positive movement is growing bigger everyday, and we would love for you to join it.
Please contribute whatever you can, every little penny helps our team in bringing you more stories that support dreams and spread hope.