Project Akshar was started in 2011 when the students at SIFE SSCBS saw bundles of sheets getting wasted and dumped in the landfills. Their vision of providing affordable educational resources
Project Akshar was started in 2011 when the students at SIFE SSCBS saw bundles of sheets getting wasted and dumped in the landfills. Their vision of providing affordable educational resources to the economically backward (underprivileged children), while empowering a marginalized community (hearing impaired women), in an eco friendly way, was fulfilled when they started working with the Delhi Foundation of Deaf Women.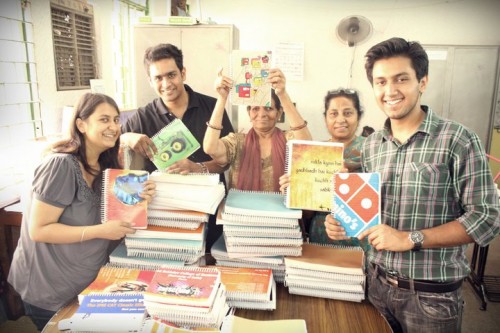 Project Akshar works in a beautiful cycle creating a win-win scenario for all the people involved. The idea is to collect one-sided used sheets, which are otherwise thrown away and increase waste, on a massive scale. These sheets are then sent to the hearing impaired women who have been imparted binding skills to help them transform these loose sheets into low-cost and eco-friendly notebooks. These books are in turn sold to schools and colleges and sent to rural schools, slum sectors and NGOs for distribution to underprivileged school children at minimal cost thus reducing their overall expenditure on education and making it more affordable. Another important aspect of the project is the sensitization of urban folk to the reduction of their carbon footprint and the advantages of recycling waste paper by providing an easy and attractive alternative.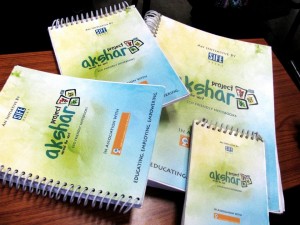 With standardized Akshar covers, the notebooks are sold across in 31 colleges of Delhi as well as schools. These notebooks are also sold to slum children at a nominal rate. For every notebook that they sell at a premium to a corporate house, they sell one notebook to slum children at Re 1. So far, they have been able to help around 200 underprivileged children. An NGO called Butterfly has helped them distribute the notebooks to these children.
We spoke to Rochita Dua, SIFE SSCBS Associate,Communications, to know more about the project.
TBI: Can you tell us about your initiative "Akshar" and how it came about?
Akshar was started in April 2011 with a three fold aim to reuse one side used sheets, to create entrepreneurial opportunities for a community of hearing impaired women and to provide affordable educational aids to economically backward students. After extensive research, we came across the fact that unemployment rate of hearing impaired women in India is more than 50 percent. The project helps create extremely affordable, eco-friendly notebooks for children in need, by reusing one side used sheets that are discarded as waste by corporates, organizations and institutions. These notebooks are created by a financially backward group of deaf women in Delhi, in collaboration with the Delhi Foundation of Deaf Women, who have been imparted book binding skills by us, to ensure a sustainable source of income for them.
TBI: How do you facilitate the collection of waste paper for the project? Who all do you include in this collection drive?
Following the policy of reusing waste, we place our drop-boxes at all the colleges, schools and corporate offices where regular collection of paper takes place. The school and college projects are a major source of one sided used paper. After 3 weeks of collection, the paper is delivered to DFDW either by the SIFE members or the college leaders, where the production of notebooks is carried out. Apart from 31 colleges including Faculty of Management Studies(FMS), we have also collaborated with 8 schools across Delhi and NCR which are a part of our collection drive.
TBI: What has been the impact of your project so far? Where do you plan to take it in the future?
The total increase in income for each hearing-impaired woman at DFDW has been from INR 300 to 3000, who otherwise witness unemployment as high as 50%. Since April 2011, 320,000 sheets have been collected from colleges and corporates which has prevented a carbon footprint of 8480Kg. Apart from this, 200 economically backward students have been benefited under our corporate buying scheme.
By December 2012,we plan to collect 2,30,000 sheets per month and prevent a carbon footprint of 5387Kg per month, thereby employing 8 hearing impaired women with a monthly income of INR 40,000. We also plan to begin with a new production center and impact another community in need.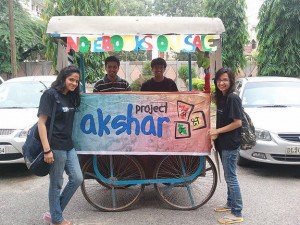 TBI: Have you faced any challenges so far? How do you sensitize the stakeholders to recycle the waste paper and make better use of it?
One of the major challenges we faced was the sustainability of our project. The demand for notebooks and the supply of raw material (one side used sheets) was to be kept in mind when we initiated Project Akshar. With extensive market research and sensitization of our project, we were able to overcome this challenge and make Akshar sustainable.
Organizations such as IMS, Vialle Alternative Fuel Systems, Praja, SMR Solutions, Dhanpat Rai Publications are among our partner organizations, who work with us to sensitize their members to segregate their waste paper, which is then plugged into the reuse cycle.
TBI: Can you tell us a little about SIFE SSCBS and the kind of work it undertakes?
SIFE at SSCBS was started in January 2009 as an attempt to reach out to the underprivileged based on fundamentals of entrepreneurship and philanthropy. Our first project, Sanitation Solutions began in 2009 which aimed at ensuring the use of hygienic sanitary napkins by women in slums across Delhi, while providing them a sustained means of livelihood and better standard of living at the same time and our second project is Project Akshar.
TBI: How can the readers of The Better India participate in your efforts?
The readers of Better India can be a part of our collection drive and contribute one side used paper as well as give their suggestions and add value to our projects.
TBI: How does the team feel about being a part of this project?
It's not about working. It's not about winning competitions. It's a feeling of satisfaction to observe, act, change and do something noble. That's the motto we follow. The team's passion is driven by doing what you love to do. This gave all of them a reason to look forward to each day at college.
Let your one side used notes be someone's source of income and education. Let your assignments and projects bring about a change is someone's life. Every life we touch is much more than a small success. It's our motivation, our drive, and our awakening. Contribute to Project Akshar today. For more information, you can check out their facebook page.
We bring stories straight from the heart of India, to inspire millions and create a wave of impact. Our positive movement is growing bigger everyday, and we would love for you to join it.
Please contribute whatever you can, every little penny helps our team in bringing you more stories that support dreams and spread hope.