When her parents left her in a residential school for poor children, she was just five. But Jyoti, one of seven siblings, didn't cry over being 'abandoned'. Even when many
When her parents left her in a residential school for poor children, she was just five. But Jyoti, one of seven siblings, didn't cry over being 'abandoned'. Even when many other girls her age ran away from this 'Home', unable to adjust to the rigours of a spartan life there, Jyoti hung on. For she had realised that this school was her only chance to gain an education that would lead her to a better future. And it has.
Today, her resilience and wisdom – traits she developed early in life – have opened doors to immense opportunities and catapulted her on to the political centrestage. In Bapu Gram, a remote village in Gaya district, members of the Musahar community, to which Jyoti and her husband Baleshwar Bhuyian belong, were not surprised when the 45-year-old mother-of-five received a call from Bihar Chief Minister Nitish Kumar's office to set up a meeting with him. Neither were they astounded when she was made the Janata Dal (U) candidate from Barachatti in Gaya for the assembly polls. After having seen her from close quarters since 1981, when she and her husband began working in Bapu Gram, they were witness to the change she had brought into their lives by fighting for their rights. Now they expect big things from her in the state assembly – in the 2010 Bihar elections Jyoti was elected as a member of the legislative assembly (MLA) from Barachatti.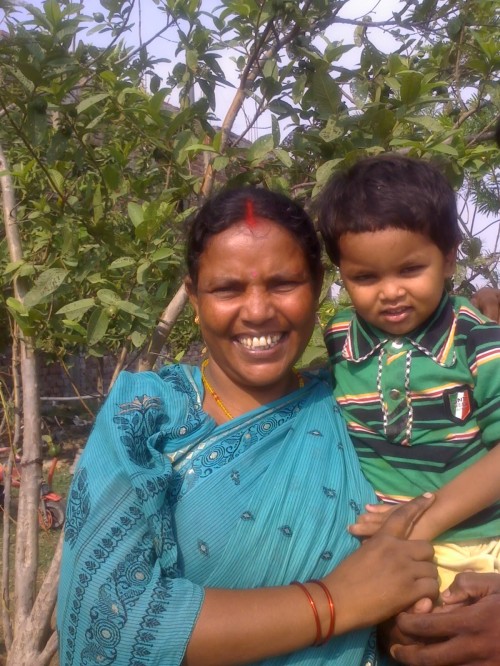 Raising her voice against injustice comes naturally to Jyoti. Even while she was living at the Home, when the quality of food and clothing given to them suddenly dropped, it was she who got other girls together to complain. "All of us there were adopted. I knew that my stay was being paid for by an Indian couple. So there were no financial hitches in providing us with new clothes or edible food. I also knew that if I protested alone, it may not have the right impact. So I talked to the other girls and we went as a group to demand better services. This strategy worked and the quality of both food and clothing did improve," she remembers.
In 1980, Jyoti married Baleshwar, her senior at the Home. The couple went off to teach at the Home's branch in Bapu Gram. Although their salaries were meagre – her husband received Rs 110 while she got a princely Rs 90 – they were content, for they saw this as an opportunity to give back to their Musahar community. After the birth of their son, though, the couple realised they needed more money. Fortunately, Jyoti's sewing skills learnt at the Home came in handy, as did the sewing machine given as wedding gift by the institution. She even taught her husband who pitched in by stitching garments for men. "He was quite good and it helped in improving our finances," says a smiling Jyoti.
When they moved to a more backward block, Fatehpur, in the same district subsequently and found there were no schools, they decided to open one so that more children from the Musahar community could be educated – even today the literacy level of this community is below 10 per cent. Classes began under a tree until the village gifted the school some land. The community pitched in by donating labour for the construction of a modest building. Since then, all children go to school. In fact, 10 neighbouring villages were so inspired by this community effort that they too got together to do the same.
In 1986, the state government opened a primary school and an anganwadi in Fatehpur block in Gaya. Being the only active woman around, Jyoti was the natural choice for becoming an anganwadi worker. That she was the right person for the job was proved when Jyoti inspired women of the community to bring their children to the anganwadi, thus helping to increase awareness about child care. "When I gave birth to my first child, there were no health facilities. The dai (midwife) used a sickle to cut the cord and sewed it with a needle. But women are not really aware of the hygiene aspects. I encourage them to go for institutional deliveries accompanied by a dai. Midwives are very important because they know the mother and can stay with her in the hospital. Also if there is any complication, she will know about it and take care it after she is discharged from the hospital," feels the first-time MLA.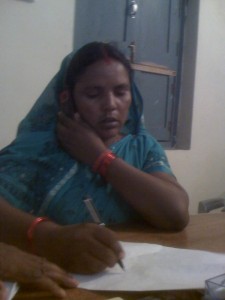 During her anganwadi days, Jyoti was also able to debunk several myths related to maternal and child health including those about recording the weight of their babies and the importance of immediate breastfeeding. "Women did not have access to information. So they believed in and followed old customs. There was a need to change all these misconceptions. They were also afraid of immunisation. So I got my children immunised and then asked other women to follow my example," she recalls.
Jyoti also introduced the women to the concept of self help groups (SHGs). Realising that women's empowerment was the key to improving maternal and infant health, she began organising them into SHGs. From 10 groups in 1997, their number increased to 100 in 2002 and 350 in 2007.
But it was not just the number of SHGs that were increasing here; a quiet change was also taking place simultaneously. As women stepped out of their homes to discuss their SHG activities, they started to meet government block development officers and bank officials to ask for loans and demand development. This gave them confidence and a feeling of self worth. So when a member of their group was beaten by her husband, all the groups got together and demonstrated in front of his house until he apologised.
Jyoti has advised all SHG women that if anyone, including their husbands, uses violence, they are not to take it lying down. "I have told them that if anyone beats you, hit them back. I strongly believe women must be given dignity and respect. I want to secure their right to education and health," she contends.
That she is not your regular MLA is clear. Even when it comes to the tradition of women eating last and the least, her views are not at all politically correct. "How can women work if they don't eat? I feel women must eat first after cooking if they are hungry. They should not wait for the whole family to eat before them. I, too, don't wait. After all, we are working for ours families and need to be healthy," says Jyoti.
To a large extent the Musahar women owe their improved health and incomes to Jyoti and her husband. A new farming technique, system of rice intensification or SRI, that the duo introduced to the marginalised community, having learnt about it from Pradan, a Gaya-based NGO, is responsible for this prosperity. When the community, comprising about 300 Musahar families, saw that the rice yield on one katha of land (1 katha=66.9 sq. metres) increased from 30 to 150 kilograms through the new technique, they adopted it immediately. It was Jyoti's success in turning vast barren lands into green belts with the SRI technique and other indigenous methods that caught the attention of Chief Minister Nitish Kumar. And it was these efforts that have contributed to her victory in the polls – she defeated her opponent by a margin of over 24,000 votes.
Says Jyoti, "My life is an open book. I have always wanted to work for the people and I have done that in the past 25 years. The only difference now is that, as an MLA, I have more power and authority to help people."
We bring stories straight from the heart of India, to inspire millions and create a wave of impact. Our positive movement is growing bigger everyday, and we would love for you to join it.
Please contribute whatever you can, every little penny helps our team in bringing you more stories that support dreams and spread hope.