I reached there at around 5:30 in the evening. The place – 133/134 Sector 12, Noida – was buzzing with activity. And why not? There were kids, kids and more
I reached there at around 5:30 in the evening. The place – 133/134 Sector 12, Noida – was buzzing with activity. And why not? There were kids, kids and more kids! Some came running to me, greeted "Hello, Didi" and led me to their "Mummy". Mummy must be in her late 50s. She nodded at me and we walked towards the living room. It was a mess, thanks to the pile of warm clothes and books everywhere. I had barely introduced myself, when a girl came and started showing the lehengas to Mummy. She approved and told her to get the green ones completed before noon the next day. She wanted the girls to try their lehengas before they go up the stage and dance for the upcoming function at school. Meanwhile, a little girl named Tanya started playing with me. Before our game ended, there was another boy who showed me his Science book and asked me all kind of "who is that" and "what is that" questions. I answered as best as I could and then a young girl came to show me her flag. I was trying to answer and recall the names of all the children I had met when I walked and sat besides Mummy. I introduced myself and was fumbling to find the right questions when a young man entered the room with a cup of tea in his hand. He couldn't talk as he was challenged but he smiled gracefully at me. Mummy told me that he goes to a special school and makes beautiful frames and jewellery boxes. It was a humbling experience to begin with, what can I really write about – about mummy, her commitment, her cause, which would do justice to the nature of work she has been doing.
Anjina Rajagopal was vibrant and bright, with a career spanning 10 years with the Times of India and there seemed no looking back in life. But even at that young, heady age, children begging on the road, getting exploited, without proper shelter or food would bother her endlessly. This forced her to think, to take a step, to go beyond her happy comfortable life and so was born "Saikripa".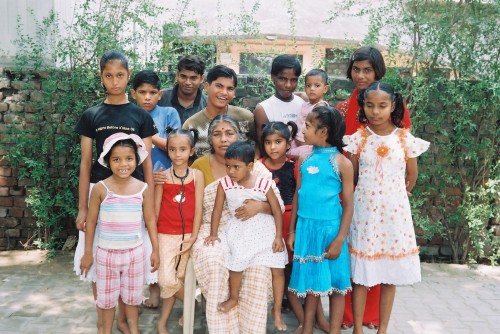 Saikripa's first initiative: "Bal Kutir" was a dream close to Anjina's heart. She wanted to provide shelter, love and care to the needy and homeless children. Thus, in 1990, "Bal Kutir" was started with one child who got a home and a mother in Anjina. From that day onwards, her dream started taking shape. Anjina visited various childcare homes in India to understand the functioning and modalities which are involved in running a children's home. There were, of course, hiccups, but nonetheless, Anjina went about relentlessly to spread the wings of "Bal Kutir". Today, with her single minded devotion and countless efforts, "Bal Kutir" houses 45 kids, aged 1–22 all of whom call Anjina, mummy. These children usually have been handed over by police or are brought home from the streets. They were either lost, abandoned or orphans by birth. Anjina takes care of their entire upbringing and well being. They are fed, clothed, provided formal education, pampered and reprimanded. She takes special care to ensure that these kids are brought up like other more privileged kids. They are emotionally attached to the family, are free to make their own choices and can move out as and when they are independent or ready to start their own families. There are a number of young kids who grew up, got married, started working or were reunited with their families. The total number of children who have been touched by "Bal Kutir", today, stands at 112.
Though the journey has been satisfying, it has been a long and arduous one. Being a woman with a social mission doesn't come easy, there were only a handful who encouraged and believed in her. She had to be on her toes all the time, managing expenses, school fees, health checkups and general well being of kids. Finances have been a challenge many a times but she fully acknowledges the contributions made by people from all walks of life. She only feels that donors, these days, like to give material things, and hence, there is an excess of material and crunch of money. In fact, there have been various NGOs that have, at some or the other point of time, supported Anjina and her cause. However, sustainability has been a cause of concern.
With "Bal Kutir" taking a formal shape, Anjina eyed many more initiatives under Saikripa. She started the "Sai Shiksha Sansthan", in the year 1991, which is an English Medium school for rural children in the village Vazidpur, Noida. This school is a co-educational school and has about 300 students enrolled. The fee is nominal (Rs.200) and thus, attracts many students from the village itself. "Sai Bal Sansar" is another initiative undertaken by Saikripa where street children are provided with mid day meal and an informal education. The aim is to engage them in meaningful activities and distract them from begging. When these children are ready to enter the mainstream schools, they are sent to "Sai Shikha Sansthan" or any other school of their preference. Saikripa also has made inroads in establishing a school for children with special abilities where in their potential is recognized early on and given a right direction.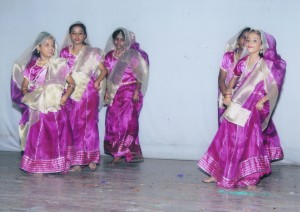 With so much and more under the umbrella of Sai Kripa, Anjina feels she hasn't reached her destination as yet and that there are many more things which need to be accomplished. She specifically wants to get Sai Shiksha Sansthan affiliated to the Central Board of Secondary Education and provide integrated facility for basic education. The major challenge at hand is to get land for setting the school campus. Saikripa also aims to provide vocational training to children enrolled in schools so that they could be employable. Last but not the least, Anjina wants to set up a home for senior citizens who could take shelter without having to pay a penny.
Saikripa's official website is: www.saikripa.org where the developments and initiatives are being constantly updated. Any person who may wish to contribute/donate may also do so through the website.
It was heartening to see how one's woman's heart expanded and her house became a home for many. So much and more for The Better India.
Neha Dua is a graduate from St Stephen's College, Delhi and completed her MBA degree from MDI, Gurgaon. She is currently working with a large Indian MNC bank. She is an avid reader, dance enthusiast and likes to write. Her personal blog can be accessed
here
. In her pursuit to write beyond her personal experiences, she has volunteered to be a writer of happy and inspiring stories of The Better India.
We bring stories straight from the heart of India, to inspire millions and create a wave of impact. Our positive movement is growing bigger everyday, and we would love for you to join it.
Please contribute whatever you can, every little penny helps our team in bringing you more stories that support dreams and spread hope.