This couple went searching for furniture for their new home and ended up making bamboo houses for others. Now, Prashant and Aruna have moved on to manufacturing all things recyclable.
This couple went searching for furniture for their new home. And ended up making bamboo houses for others. Now, they have moved on to manufacturing all things recyclable.
Newlyweds Prashant Lingam and Aruna were out shopping for furniture to set up their new home when they realised the market is inundated with plastic, iron, and steel furniture. They decided they weren't going to succumb to buying something commercial but would look for eco-friendly products.
So, the Hyderabad-based couple did some research and found that bamboo furniture was very common overseas, although it wasn't very popular in India as yet. Attracted by the idea, they started looking for manufacturers of such furniture – their search eventually took them to a far-off village in Tripura called Katlamara, on the Indo-Bangladesh border.
"This sleepy little village surprised us. There were artisans in this village who were highly skilled in working with bamboo. Though they had the skills, they were finding it difficult to sustain their trade due to lack of buyers," says Prashant.
Sensing a future in the bamboo business, the couple decided to undertake an extensive tour of places where artisans make handicrafts and furniture from bamboo.
"Our family and friends thought we were crazy. We had just been married for a year. Aruna dropped her PhD plans while I decided to take my focus away from my business. It was a big risk. But our hard work and research eventually paid off," he adds.
In May 2008, the couple started Bamboo House India – a social enterprise that provides livelihood opportunities to marginalised communities working in the bamboo sector.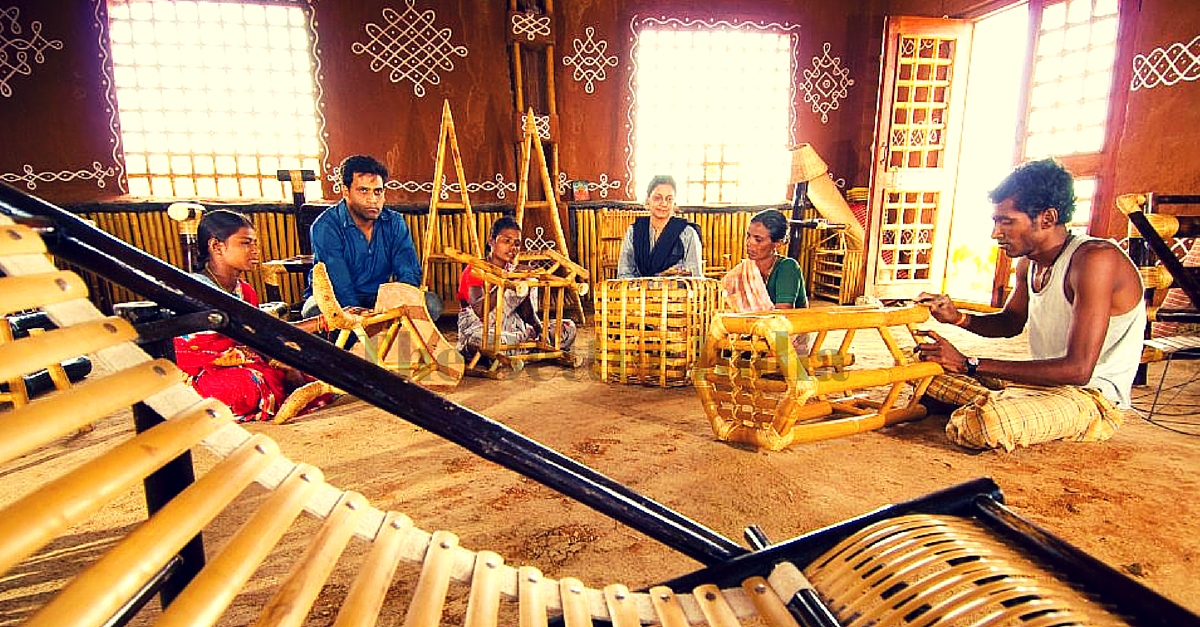 The organisation practises fair trade and ensures artisans are adequately compensated for their time, labour and raw materials used in making each product.
India is well-endowed with bamboo. It grows on millions of hectares of forest as well as private land. Since it is a grass, the plant is not killed when it is cut. Instead, it grows back. Bamboo can be harvested thrice a year. Because most bamboo grows in forest areas, Prashant and Aruna faced constraints in sourcing and transporting the raw material. But the couple overcame these barriers slowly. They funded their venture from their own personal savings and some money borrowed from family and friends.
Today, Bamboo House India is supported by the National Mission of Bamboo Applications, Andhra Pradesh Technology Development Centre, IIT-Delhi, and others.
After successfully creating aesthetically appealing houses, furniture, and other products made with bamboo, Prashant and Aruna decided to venture into making other eco-friendly products as well.
"Customers for whom we were building bamboo huts started requesting us to provide them with furniture also. We were wondering what new innovation we could come up with. This is when we hit upon the idea of using tyres to make furniture," says Prashant.
This was again a challenging time for the couple. They had no idea as to how to use tyres as raw materials.
It took their research and development team almost a year to come up with the first prototype of a product.
During the process of studying tyres, Aruna and Prashant landed up at the municipal dump yard in Secunderabad. "There were acres of end-of-life tyres just lying around. We were stunned at the sheer volume. Because tyres hardly fetch any money, the authorities wouldn't even auction them regularly. It was a breeding ground for mosquitoes as well," he adds.
After seeing the pathetic state of the dump yard, the couple became firm in their resolve to do something with tyres. Initially, there were accidents in their workshop as nobody had any clue about cutting tyres. But they managed to put a safe system in place finally.
Bamboo House India now makes furniture, flower pots, etc., out of these recycled tyres. And the best part is the company sells these products back to the municipal authorities.
After teaming up with the Greater Hyderabad Municipal Corporation (GHMC), the company first provided furniture to the North Zone GHMC Office. There has been no looking back since then.
Today, Bamboo House India's goods made from recyclable materials like tyres, drums, PET bottles, etc., adorn government offices, bus stops and parks in Hyderabad.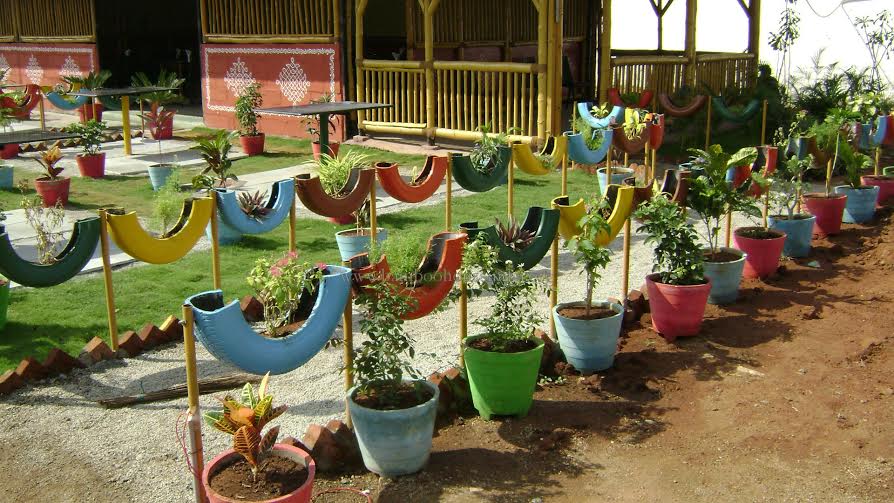 "The government officials are so happy with the development that they want to replicate this practice across Andhra Pradesh and Telangana. The State Bus Corporation has asked us to design furniture for bus stands. For the authorities it is a win-win situation actually. We use junk from their backyard and sell products back to them. They are also saving on a lot of money. The tyre pots last a long time compared to the cement pots they buy every year," says Prashant.
The products are reasonably priced and cost between Rs. 500 and Rs. 1500. Bamboo House India has a margin of only 15-16% on these products.
The couple is now looking for social investors to scale up the business.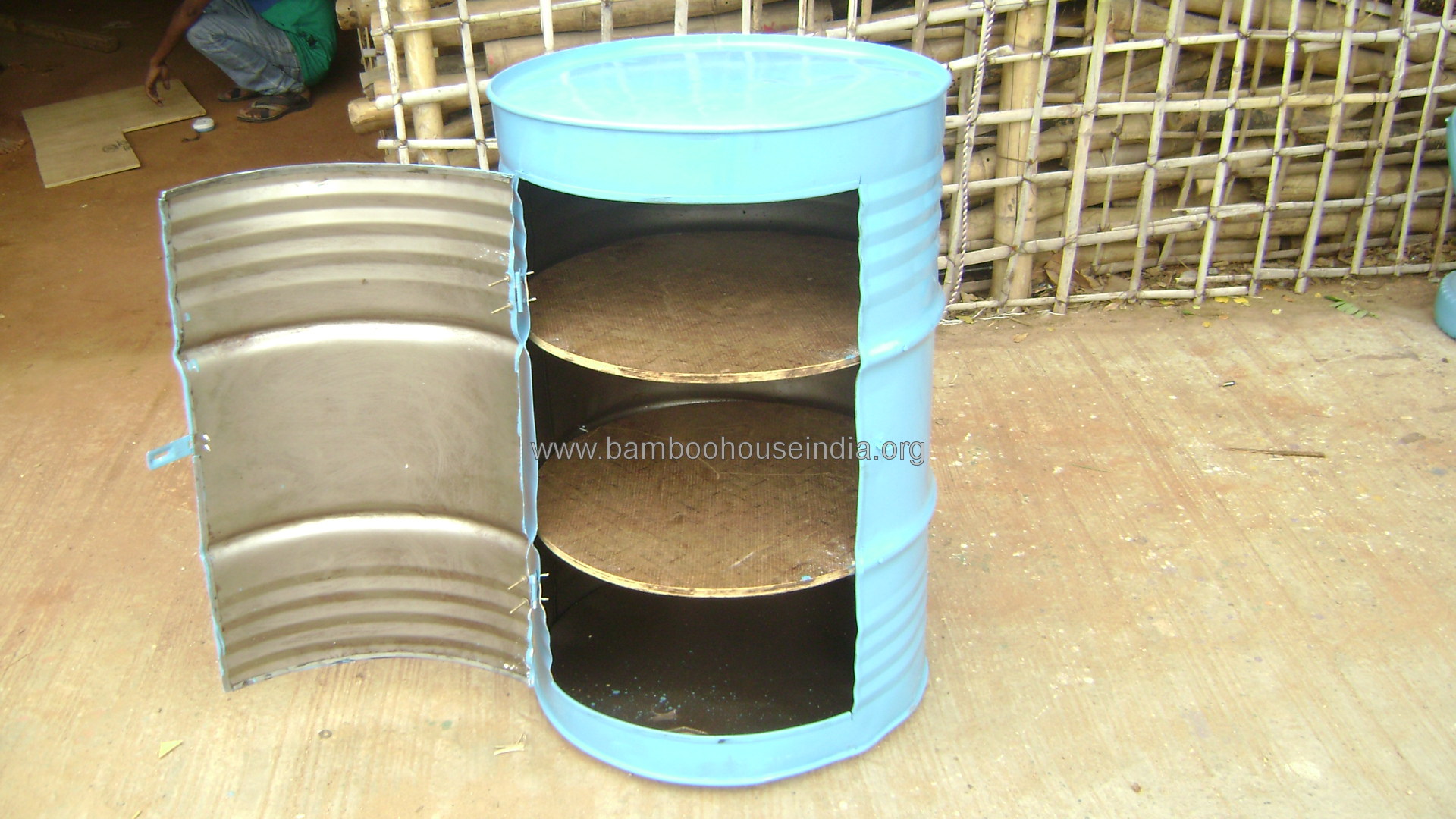 "The satisfaction we get ultimately is not only from using eco-friendly products but also from providing employment to the men and women from underprivileged backgrounds who work with us," Prashant says.
When asked about his vision for the company, Prashant says it would be great if other social entrepreneurs across India get inspired by this model and replicate it in different parts of the country.
For more details, visit their page on Facebook.
Like this story? Or have something to share? Write to us: contact@thebetterindia.com, or connect with us on Facebook and Twitter (@thebetterindia).