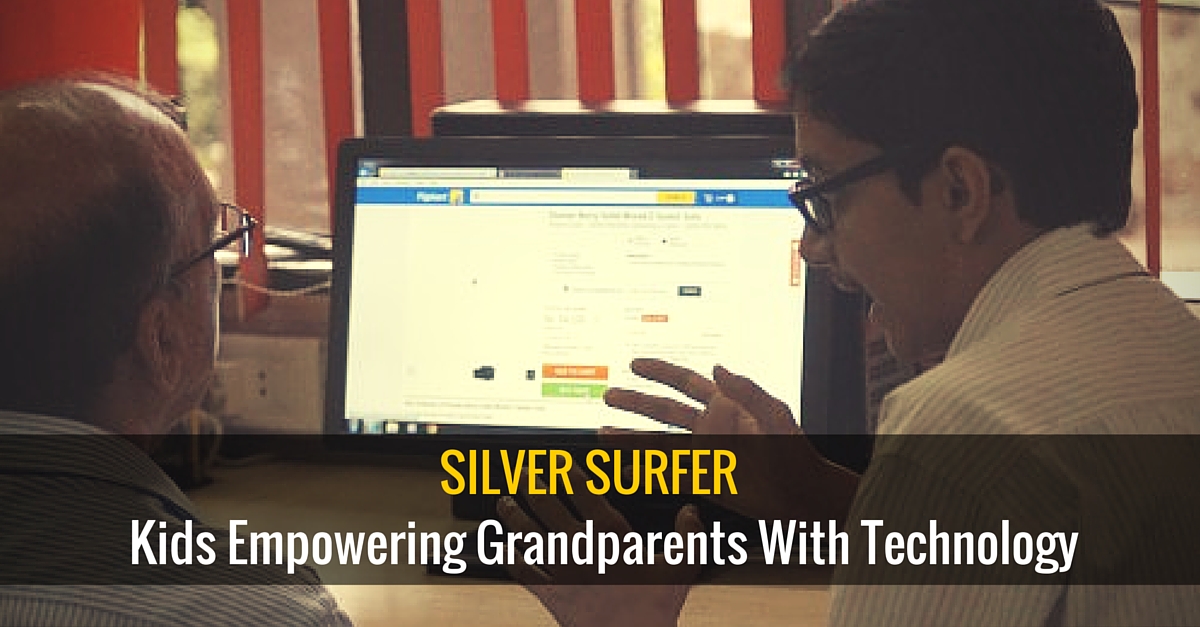 These high school students are introducing technology to senior citizens in an effort to help them overcome loneliness and social isolation – all because of respect and love for their grandparents, who they consider their superheroes.
These high school students are introducing technology to senior citizens in an effort to help them overcome loneliness and social isolation – all because of respect and love for their grandparents, who they consider their superheroes.
The 2001 census of India showed that the population of senior citizens in India has crossed 100 million. Today, India is home to one out of every 10 senior citizens in the world. Yet, very few in the country are looking into the problems faced by this ageing section of our society.
An emotional and psychological problem tormenting elders in our country is loneliness.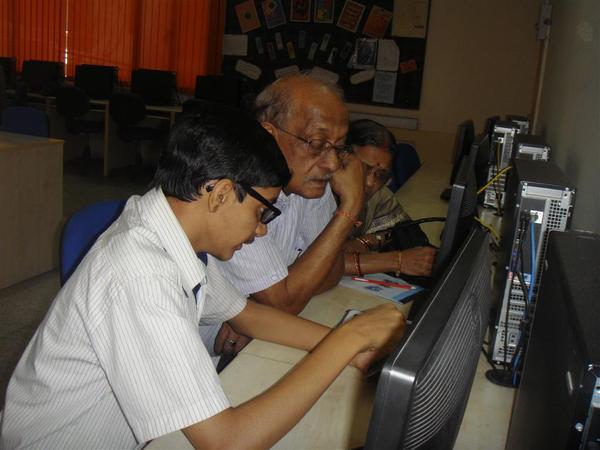 This is due to the growing 'empty nest syndrome.' Children go away to far-off countries in search of economic betterment. Even if they live within the country, due to the spread of western ideas such as 'space, privacy, individualism and non-interference,' nuclear families are becoming the norm even in villages.
Poor social interaction with family and friends, poor social networks, and lack of family support are some of the difficulties faced by senior citizens. At the other extreme is the young generation today, highly dependent on social networking to stay connected with family and friends and build connections. Two high school students from Delhi are helping bridge the gap between the two generations.
Vibhor Rohatgi and Suyesha Dutta were in their 11th grade in Shri Ram School Mouslari, Gurgaon, which follows the International Baccalaureate (IB) board.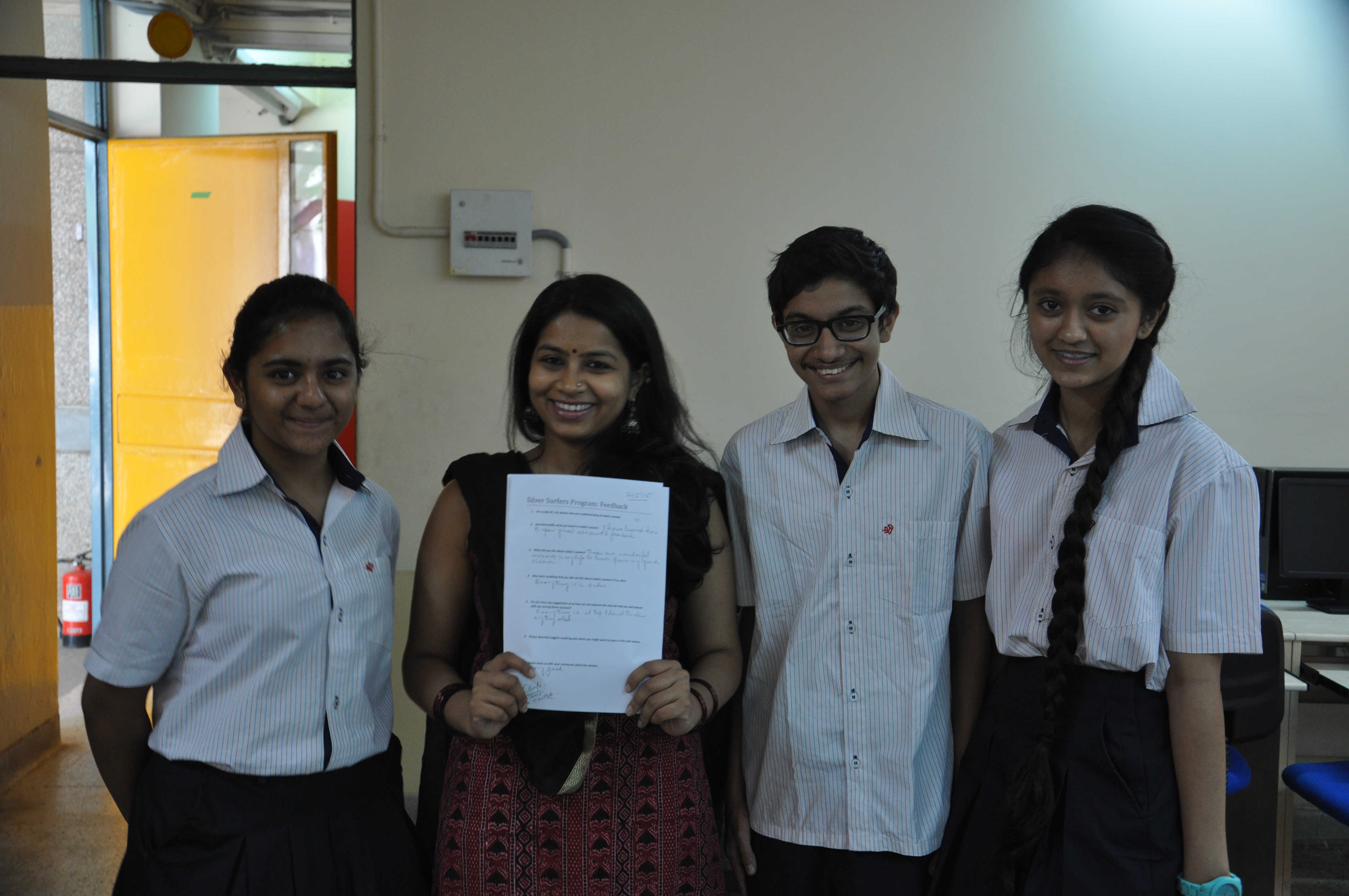 Creativity, activity, service (CAS) are the three essential elements of a CAS project that every student must complete as part of the Diploma Programme (DP) in the IB board internationally. For many students, these projects provide experiences that are profound and fulfilling.
Vibhor and Suyesha decided to take up a CAS project that would prove to be not only life changing for them but also for a much ignored segment of our society –senior citizens.
"When CAS is discussed in school, most students think of helping the underprivileged, the needy or the slum kids. We have this belief that only those who are deprived of money need help. But there are people who have it all but still feel emotionally empty. We wanted to help them – our grandparents," says Suyesha.

Bridging the generation gap – senior citizens with students.
Suyesha, who had spent a lot of time with her grandparents till she was in her teens, lost her grandfather three years ago. She saw her grandmother spending most of her days alone after that. So she decided to connect her to technology to help her overcome her loneliness. Once she saw how successful that experiment was, she wanted to gift technology not just to her own grandmother but to as many other grandparents as she could as a tribute to her grandfather.
Suyesha and her friend Vibhor are great fans of the comic superhero Silver Surfer, a humanoid with metallic skin who can travel space with the aid of his surfboard-like craft. Since this superman is an icon of technology himself, they decided to name their initiative the Silver Surfer Programme.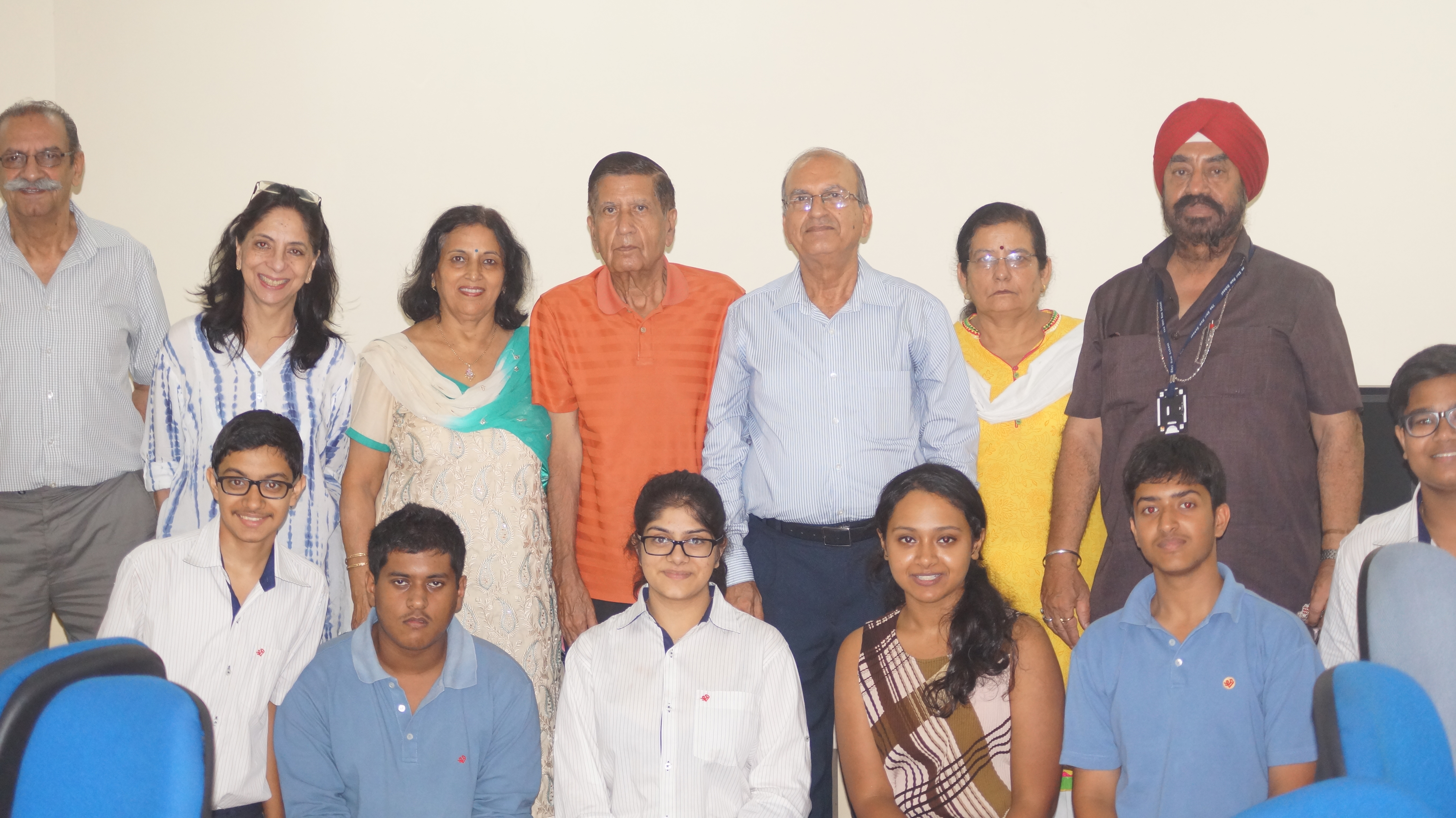 "The Silver Surfer Programme (SSP), a social initiative started by us, is the epitome of the maxim 'age is just a number.' Age is a measure of experience, inefficiently gauged by how many candles one blows out every year. To this plenitude of experiences, we, looking to bring about a social change in society, decided to add one more…the experience known as technology," says Vibhor

"We called it the Silver Surfer Programme because Silver Surfer is a superhero and we consider our grandparents to be superheroes. His senses enable him to detect objects and energies light years away. Similarly, grandparents have strong intuition and can detect any problem or trouble in their children's and grandchildren's lives. He has even proven capable of time travel on occasions, just like our grandparents take us back to their times by narrating stories from their childhood," adds Suyesha
The Silver Surfer Programme is an effort to better acquaint grandparents with the delights of modern day technology.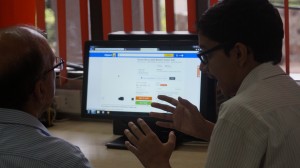 SSP aims to make the lives of grandparents simpler, faster and efficient. The programme includes two hour modules on three Saturdays every month for the grandparents. The programme, which began in May 2015, includes the following learning sessions:
Introduction to the programme and its aim.
Introduction to email – how to write an email.
Introduction to Facebook and Twitter – how to open and set up an account, send requests, etc.
Familiarization with smart phones and tablets and an introduction to WhatsApp – how to set up an account, send and receive messages, etc.
Introduction and use of specialist apps, such as, Grofers, Flipkart, BookMyShow, News InShorts/ Times of India, Ola and Meru Cabs, etc.
Net banking through HDFC, SBI, etc.
Paying utility bills such as electricity, phone bills, etc.
The programme, which started with the help of a few volunteers and their teacher Amrita Sai Marla, became so close to their hearts that they decided to continue it even after the CAS project was over.
The classes were conducted in the computer hall of their school, so they took special permission to continue with the classes. Now, as they have graduated from school, they plan to hand it over to their juniors.
Suyesha and Vibhor do not want to stop getting the blessings of grandparents even after they bid farewell to school. They are now planning to take the initiative forward by going to old age homes and teaching the grandparents who are staying there.
"We raise concerns over environmental degradation or the lack of education of the underprivileged, but seldom have we ever touched upon the most experienced in our society, the grandparents. As we feel that grandparents are the cornerstones of our lives, this is how we've decided to do something for them, show them our love and support. We work really hard towards our modules, undertake new challenges and come up with some interesting and essential things for the grandparents to learn, while constantly keeping them engaged. The blessings that the grandparents shower upon us make us feel accomplished and we don't want to miss a single chance to keep those jubilant smiles on their faces," says Suyesha
One of the defining moments of the Silver Surfer Programme came when a grandmother from a foreign country came to learn about Facebook from them.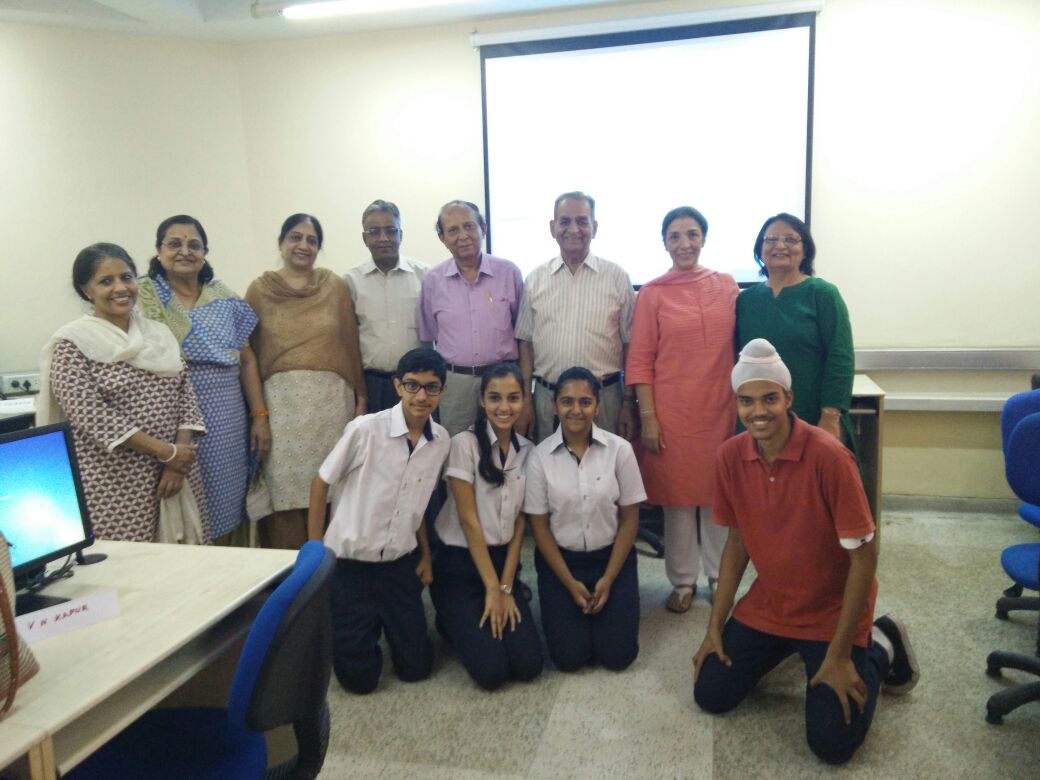 Now in her 70s, this grandmother had not seen her friends ever since she was in her 2os and had to leave her country due to political instability. The prospect of even getting a glimpse of her school friends made her so eager to learn that within minutes Vibhor and Suyesha helped her set up her very own Facebook account. After intensive searching for an hour, they finally found her old friends.
"Never did a click ever make someone this happy. Overflowing with emotion she was as she got to speak to her friends, her smile radiating light on a cloudy, rainy day. It is for moments such as this that we had started this initiative," says Vibhor.

"The journey of the Silver Surfer Programme has instilled in me vital life lessons that have helped me develop and grow as a person. For instance, I have learned that learning, in its candid, most humble form, is not bound by time but that it is in fact imperishable. Learning is a well-oiled machine that never stops, a beating heart that gives life. I have learned that there is no 'right' age and it is never 'too late' to learn," adds Vibhor.
Suyesha narrates another happy moment when one of the grandmothers came to her after the class and requested that she teach her how to download songs. Initially, Suyesha was reluctant to do so. She explained to her how it would be an act of piracy. However, the grandmother insisted by saying that it was her favorite song and no one was helping her download it, even though she saw her grandchildren doing it all the time.
"It was an Atif Aslam song, Jiya re Jiya re! I can't describe the glow in her eyes after it downloaded. She left me with numerous blessings that day," says Suyesha
The Silver Surfer Programme has now evolved to also start providing the benefits of technology to workers and guards of their school. Their next series of modules is aimed at computer literacy, wherein they will teach the guards and workers everything about the basics of using computers – using the mouse, keyboard, internet, etc.
Like this story? Or have something to share? Write to us: contact@thebetterindia.com, or connect with us on Facebook and Twitter (@thebetterindia).
About the author: A mechanical engineer, Manabi Katoch has been brought up listening to Tagore's poems and stories, so she is kind of an emotional person within. She loves writing poems and stories on social and political issues. Few of her poems can be viewed on www.poemocean.com and satires on www.mindthenews.com. She has worked with Wipro, Frankfinn and Educomp in the past.