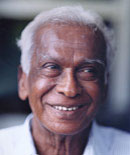 When you think of eye care and restoration of sight, the first thought that comes to mind is of Aravind Eye Hospital in Madurai and its founder Dr. Govindappa Venkataswamy.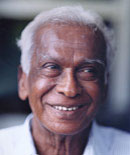 When you think of eye care and restoration of sight, the first thought that comes to mind is of Aravind Eye Hospital in Madurai and its founder Dr. Govindappa Venkataswamy. The largest single provider of eye surgery in the world, Aravind has given sight to more than a million people in India since its inception in 1976. Having perfected the art of treating cataract and other eye problems to the point where any further improvements would necessitate a revolution in the field, the hospital and its team of dedicated surgeons and staff has achieved unimaginable economies of scale. A cataract operation that would cost $1,650 to perform in the US takes them about $10. Harriet Rubin has profiled the life and work of 'Dr. V' beautifully in his article published in FastCompany, from which here are a few excerpts:
How do you achieve perfection in the never-perfect and always-compromised world of business? It helps to have a service that you can't sell. That way, you have to give it away. Your toughest customers are always the people who don't need you. Many of Aravind's patients can't afford cataract surgery. Most don't remember what good vision is — and don't understand why it would offer any benefit. So Aravind has to keep educating them — and perfecting its own service.
On a slow day, Aravind treats 400 patients. Offering free services to all who need it, with absolutely no criteria for availing for free service, the hospital still manages a gross margin of 40%. This is despite the fact that almost 70% of its patients paying nothing, and it does not depend on donations or government grants. It has been achieved by constantly cutting costs, increasing efficiency, innovating and building a market. Most of Aravind's potential beneficiaries are not even aware of such a service or their need for it.
"In the third world, a blind person is referred to as 'a mouth without hands,' " says Dr. V. "He is detrimental to his family and to the whole village. But all he needs is a 10-minute operation. One week the bandages go on, the next week they go off. High bang for the buck. But people don't realize that the surgery is available, or that they can afford it because it's free. We have to sell them first on the need."

Aravind has managed to beat costs in every area of its service: The hospital's own Aurolab, begun in 1992, pioneered the production of high-quality, low-cost intraocular lenses. Aurolab now produces 700,000 lenses per year, a quarter of which are used at Aravind. The rest are exported to countries all over the world — except to the United States. (In order for Aravind to get its lenses approved for sale in the United States, it would have to pay for an FDA study and a clinical study, which the hospital cannot afford.) Aravind even has its own guest house, and students and physicians from around the world come to teach, study, observe, practice — and boost their training. Poles for stretchers? They're made from bamboo that grows in Dr. V.'s garden. "We also have the $5 pole, which is bright and shiny," says Dr. Natchiar, "but we prefer these bamboo poles."
How many people knew that Dr V had studied to become an obstetrician but a crippling rheumatoid arthritis forced him to take an alternative path. If anything confirms the saying that 'everything happens for the best', this would be it. Rubin talks about the passion and leadership qualities of the humble man who has been inspired by Gandhi and Sri Aurobindo, but set his own standards.
You know he knows. He's an eye surgeon — a man of vision. He has learned how to deliver perfection, and to do it despite crippling obstacles. As a young man, a brand-new obstetrician, he contracted rheumatoid arthritis and watched helplessly as his fingers slowly twisted, fused, and grew useless for delivering babies. So he started over, this time studying ophthalmology. He managed to design his own instruments to suit his hands, and these tools enabled him to do as many as 100 surgeries a day. He became the most admired cataract surgeon in India.

Twenty-five years later, he confronted another potentially crippling obstacle: retirement. In 1976, facing the prospect of social shelving at age 57, he opened a 12-bed eye hospital in his brother's home in Madurai, India. Today, he runs five hospitals that perform more than 180,000 operations each year. Seventy percent of his patients are charity cases; the remaining 30% seek him out and pay for his services because the quality of his work is world-class. He is a doctor to the eyes and a leader to the soul.
Tossing all market intelligence to the wind, Aravind Eye Hospital has managed to create a huge demand by the quality of its service and the education its customers. This is one of the lessons that Rubin takes away from Aravind:
Give people a new experience, one that deeply changes their lives, make it affordable, and eventually you change the whole world. And your customers become your marketers.
In the end, to get more insight into the ideals of a great man, read Dr. V's response to Rubin's question:
I ask Dr. V. a simple question designed to get him to talk about his unique vision: "What are your gifts?" I ask him. Dr. V. replies, "People thank me for giving them sight." This is no error of translation, no slipup of English. Dr. V. considers his gifts to be the things that he has given others, not what he possesses.
There are many lessons to be learnt from this single man and his shared vision.
Find the rest of the must-read article here.
Image Courtesy: World People's Blog
We bring stories straight from the heart of India, to inspire millions and create a wave of impact. Our positive movement is growing bigger everyday, and we would love for you to join it.
Please contribute whatever you can, every little penny helps our team in bringing you more stories that support dreams and spread hope.