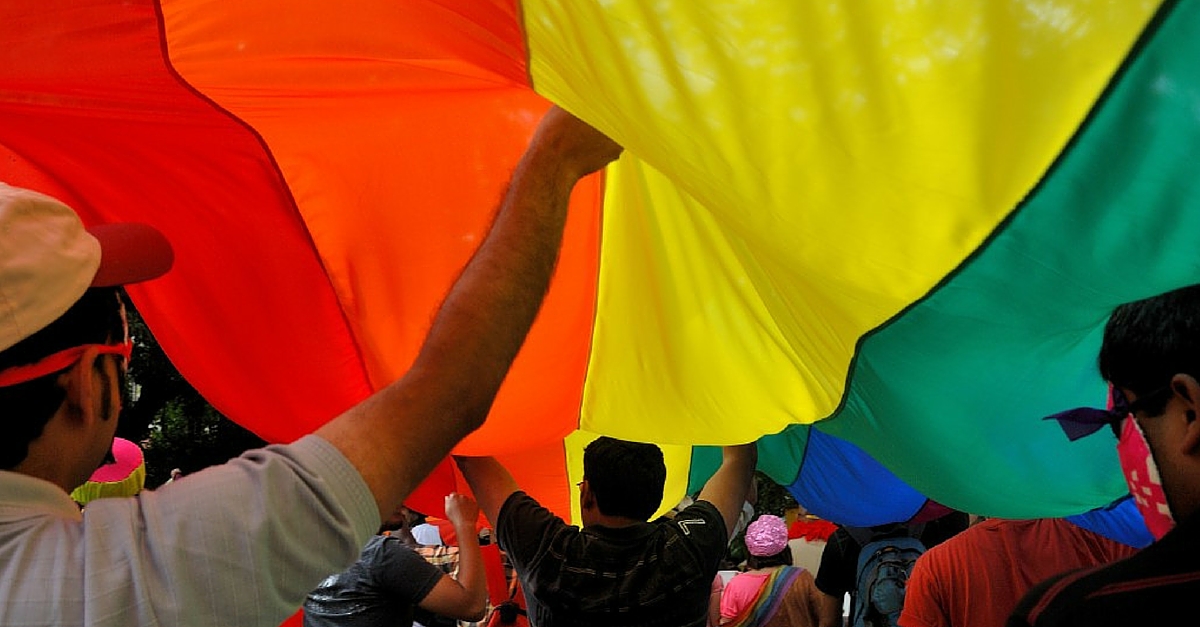 When a 21-year-old IISc student was being blackmailed by an unknown person who threatened to reveal his sexual preferences, the student responded in a brave way. And now, IISc authorities have also come up to support him.
Tushar, a 21-year-old student from Indian Institute of Science (IISc), Bengaluru, was being blackmailed by an unknown person. The blackmailer was demanding Rs. 5,000, while threatening that he would expose Tushar's sexual preferences if he did not get the money.
But instead of being threatened, Tushar responded in a brave way.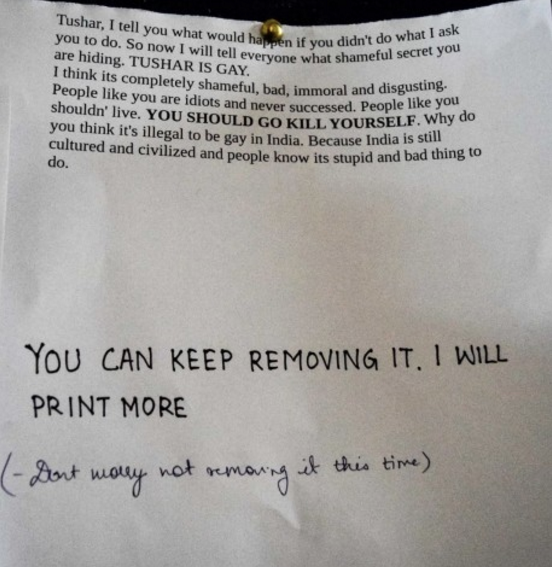 The whole incident started on October 11 when he received the first note from the blackmailer in his hostel room. The matter became serious when he received the second note that read:
"I am not joking…this is important for both of us as I need the money and your secret won't get out. If your secret is leaked you will be hated by everyone and your career will be ruined in IISc."
Tushar kept receiving such notes for nine days. When he did not respond, the blackmailer put up a similar note on the hostel's notice board, which was later removed by Tushar's friends.
But when the blackmailer put up another one, Tushar decided to end the whole thing by putting a note that said – "I don't care anymore", on the hostel's notice board.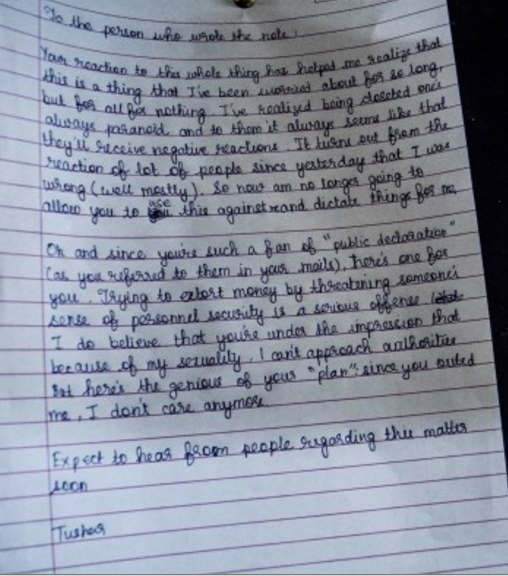 His response was: "Your reaction to this whole thing has helped me realise that this is a thing that I've been worried about for so long, but all for nothing. I've realised being closeted and always paranoid invites negative reactions. It turns out from the reaction of a lot of people since yesterday that I was wrong (well mostly). So now I am no longer going to allow you to use this against us and dictate things for me. And since you're such a fan of 'public declaration' (as you referred to them in your mails), there's one for you. Trying to extort money by threatening someone's sense of personal security is a serious offence. I do believe that you're under the impression that because of my sexuality I can't approach authorities but here's the genius of your plan, since you outed me, I don't care anymore."
The blackmailer's plan further backfired when Tushar approached IISc authorities for help, and they responded in a positive manner. The authorities have taken up the issue seriously and assured him that a committee will be set up to look into the issue.
Orinam, a Chennai-based all-volunteer unregistered collective of LGBT people and allies, wrote about the incident and the post went viral on social media.
While educational institutions do not have any rules and regulations set up for such cases, the crime comes under anti-ragging rules. With IISc's positive response, the student has received the much needed support and is ready to take on the blackmailer.
Featured Image: Vinayak Das/Flickr
Like this story? Or have something to share? Write to us: contact@thebetterindia.com, or connect with us on Facebook and Twitter (@thebetterindia).