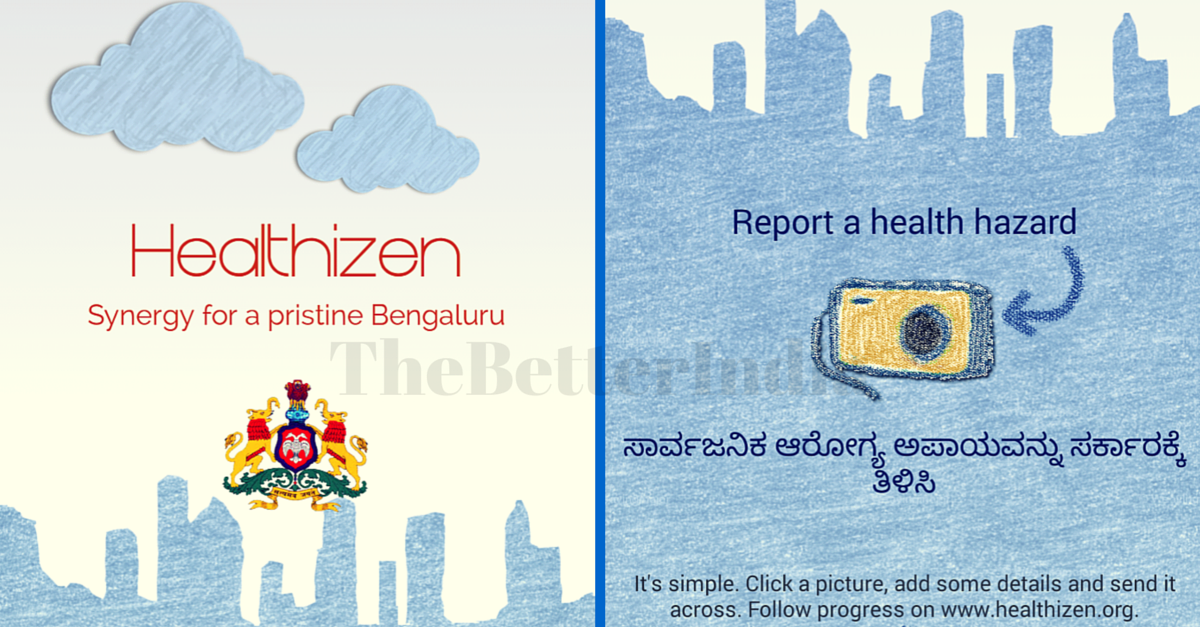 You spot an open drain in your neighbourhood, or a garbage pile that is slowly growing to be the breeding spot for disease-spreading mosquitoes. What do you do? Where do you complain? A group of friends from Bangalore has developed an app that connects people with the Karnataka government to address such health hazards. And it is already yielding results.
---
This article on using mobile technology for social good is part of the
#Mobile4Good
series & is made possible by Vodafone India.
---
You spot an open drain in your neighbourhood, or a garbage pile that is slowly growing to be the breeding spot for disease-spreading mosquitoes. What do you do? Where do you complain? A group of friends from Bangalore has developed an app that connects people in Karnataka with the government to address such health hazards. And it is already yielding results.
It was right after their college days came to an end that Anindita Ravikumar and her friends sat together to plan the summer. One topic led to another and a random conversation ended up taking the shape of a very useful and important idea. "Where do people go when they want to report issues related to health and sanitation?" wondered the group of friends from National Institute of Technology, Karnataka (NITK), Surathkal. And for the most part, the answer was – nowhere.
"We realised that there is no clear way for the people of Bengaluru to communicate about issues that can have an adverse effects on their health. So we tried to speak with some people to find out how they register complaints in case they spot open drains or garbage littered in their neighbourhood. We conducted a small survey among our family members and friends, and it was clear that nobody knew what should be done about such issues. That's when we decided there is a legitimate need for a solution," says 23-year-old Anindita, who is a chemical engineer from NIT Surathkal.
About a year ago, she, along with some of her friends, came up with the idea of Healthizen – an Android based mobile app meant for people to register complaints related to public health hazards.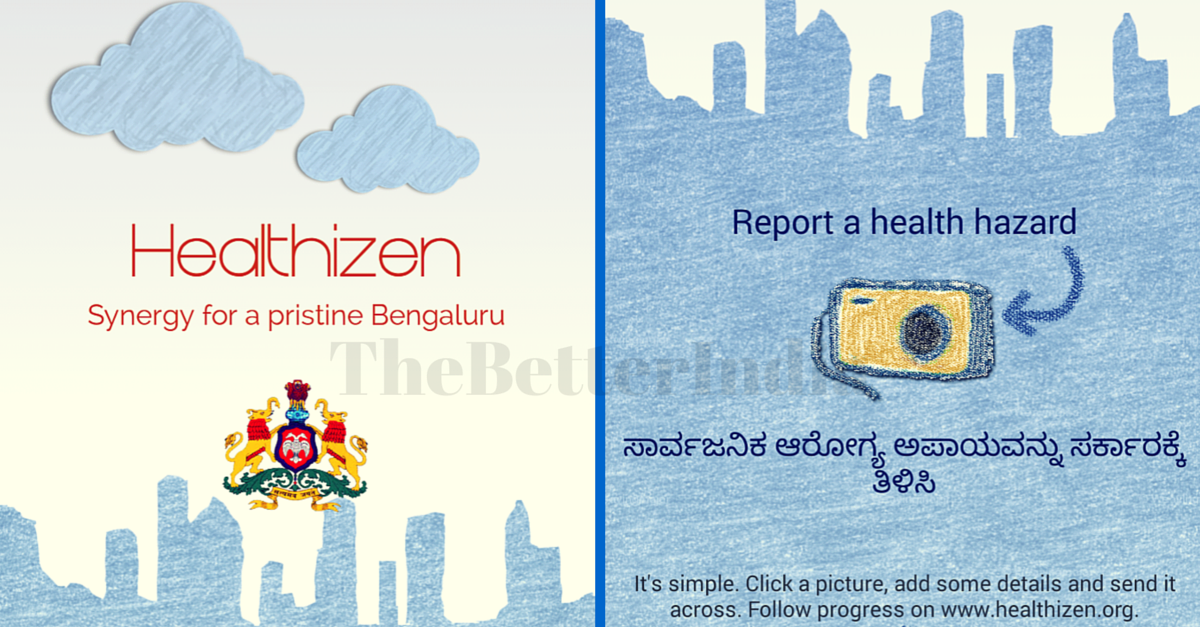 And it does not just end there. The app is basically a channel for the residents of Bengaluru to send their complaints directly to the health department of the city. It allows people to take responsibility and action to help the government make the city healthier, cleaner and safer. "They are all very common problems that people don't know what to do about."
To begin with, the team developed a prototype and approached Dr. Sadhana, the Executive Director of Karnataka State Health System Resource Centre. "She played the key role in driving the project internally within the government," says Anindita.
The Karnataka government liked the idea, accepted the app and funded the team for its development.
'Healthizen' app another feather in IT city Bangalore's cap.Launched it yesterday.Hope it fosters positive citizenship on Swachh Bharat.

— Dr. Harsh Vardhan (@drharshvardhan) October 18, 2014
Dr. Sadhana helped them make the app more comprehensive, ensuring that different possible situations, which can be potential health hazards, are brought to the government's attention.
This is how the app works: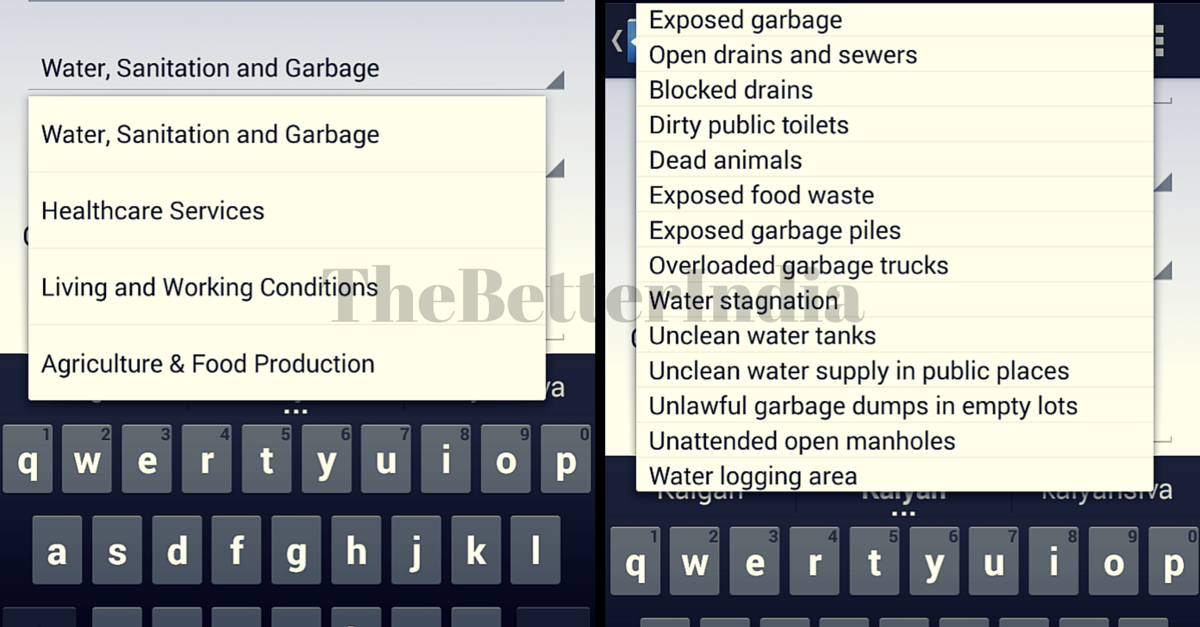 On opening the app, people get to choose between making the complaint in English or Kannada. After this, all one has to do is click a picture of the place one wants to complain about. For example, someone recently spotted open drains and sewers in the Jeevanahalli area. He/she opened the app, clicked a picture of the drain, wrote about it, and hit send. That's it. A flag about the complaint was raised on the Healthizen website, where different flags are displayed on a Google map.
If the users have GPS activated on their phones, the locations of the flags are uploaded automatically. Otherwise, there is also the option of manually entering the address. Apart from this, people also get the option to select the category that best describes the flag they are raising, and write something about it for the authorities to understand the complaint better.
So, this person from Jeevanahalli filed the complaint under the 'Water, Sanitation and Garbage' category, and wrote: "It has been more than a week since the entire street was dug for drainage repair and it has still not been closed…huge danger of people and kids falling into the pit. We are also not able to take our cars out."
The other categories include healthcare services, living and working conditions, and agriculture and food products.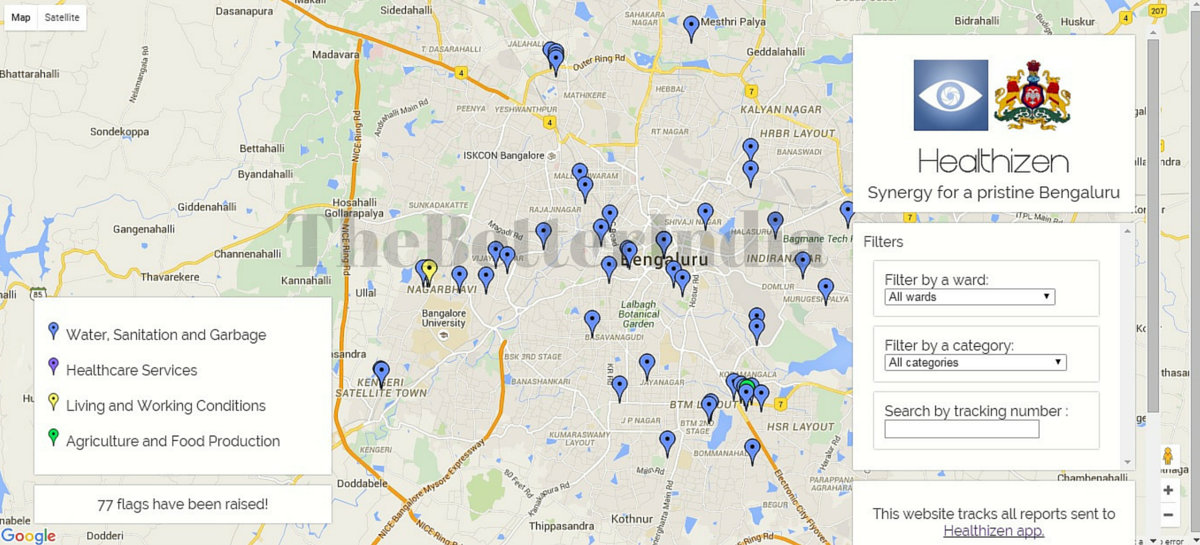 What happens to the flags? They are sent to the concerned authorities in the form of emails. Once a flag is raised, the user gets a tracking number to track the status of the flag on the website. He/she is also provided with the contact details of the officer in charge of that particular flag. There are two categories of complaints. Those that are directly related to health issues are sent to the health department of Bengaluru, and others, like those about potholes and open sewers, are sent to BBMP (Bruhat Bengaluru Mahanagara Palike) officials.
While it is not completely in the hands of the developers to make sure the complaints are resolved, they have a system in place to try their best.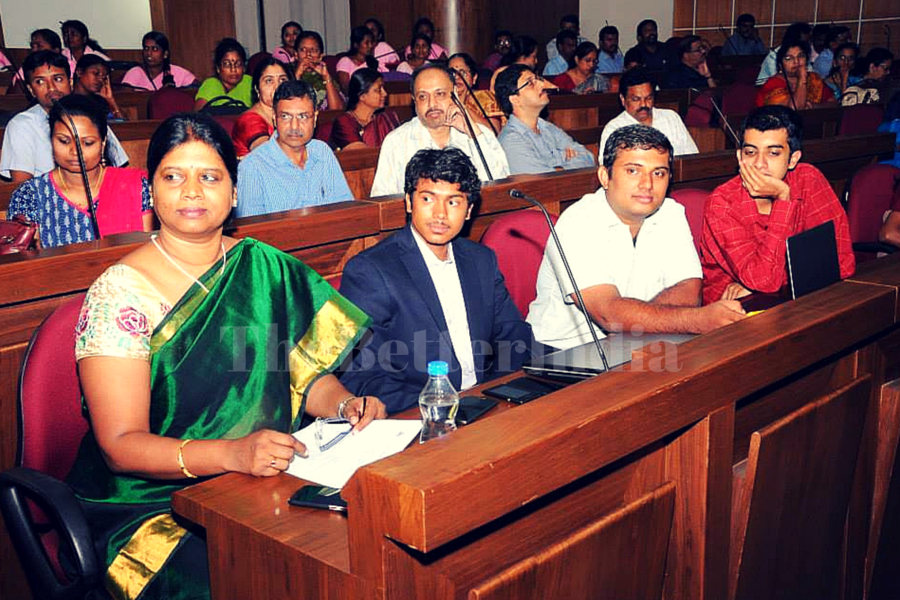 "This is a grievance redressal system. We have created the interface for the complaints to reach the eyes of those who can resolve them. And for this, along with the health department, we have integrated with BBMP as well. So, these flags will be recognised as official BBMP complaints now. We have one person who sits with the department people to make sure that the flags get addressed by the right people. The officials get a direct email when a flag is raised, and there is also a person from the team who goes to the department office frequently to ensure that the complaints are not being ignored. So far, about 25 percent of the complaints have been resolved," says Anindita, who is currently working in the development sector. Other members of the team are also employed with different organizations.
Here is another flag raised under the 'Living and Working Conditions' category: "This road leading to Mallathahalli Lake from the busy Ambedkar College signal is full of potholes and unscientifically placed speed-breakers. They pose a clear traffic hazard to all motorists and pedestrians, especially during peak hours. Request immediate attention by concerned civic authorities."
Some of the most common complaints are about piles of garbage on the road, lack of adequate number of dustbins, open drains, and potholes.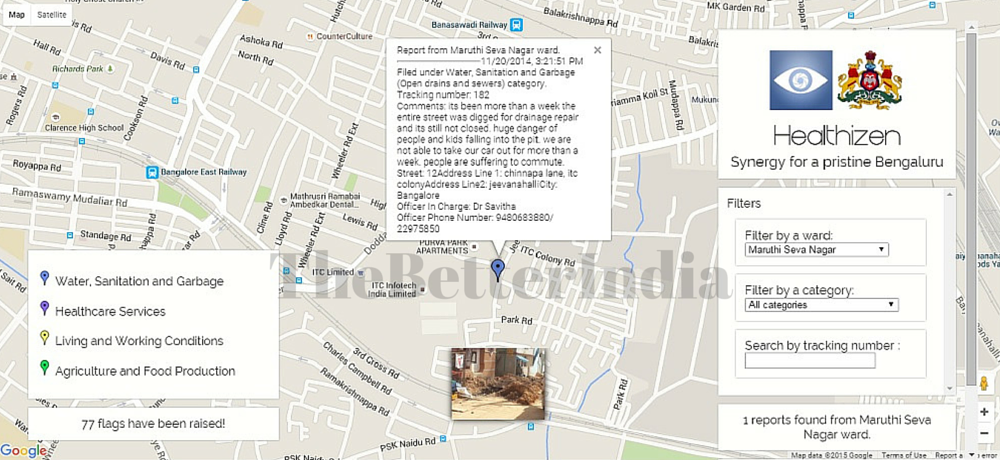 "It is such a simple way to create impact. A lot of people keep saying that the government should be accountable for their problems. We just created a platform for that," concludes Anindita.
Healthizen is the official mobile app of the Government of Karnataka and is supported by the Principal Secretary of the Department of health and family welfare, Sri. Atul Kumar Tiwari, and the Commissioner for Health and Family Welfare, Sri. P S Vastrad. The team members other than Anindita include Dr. Sadhana, Kalyansundaram S, Kartik Sreenivasan, Siddhartha R Thota, Rohit Varkey Thankachan, Advait Deshpande, Arka Rai Chaudary, and Mohit.
The app can be downloaded here.
Like this story? Or have something to share? Write to us: contact@thebetterindia.com, or connect with us on Facebook and Twitter (@thebetterindia).