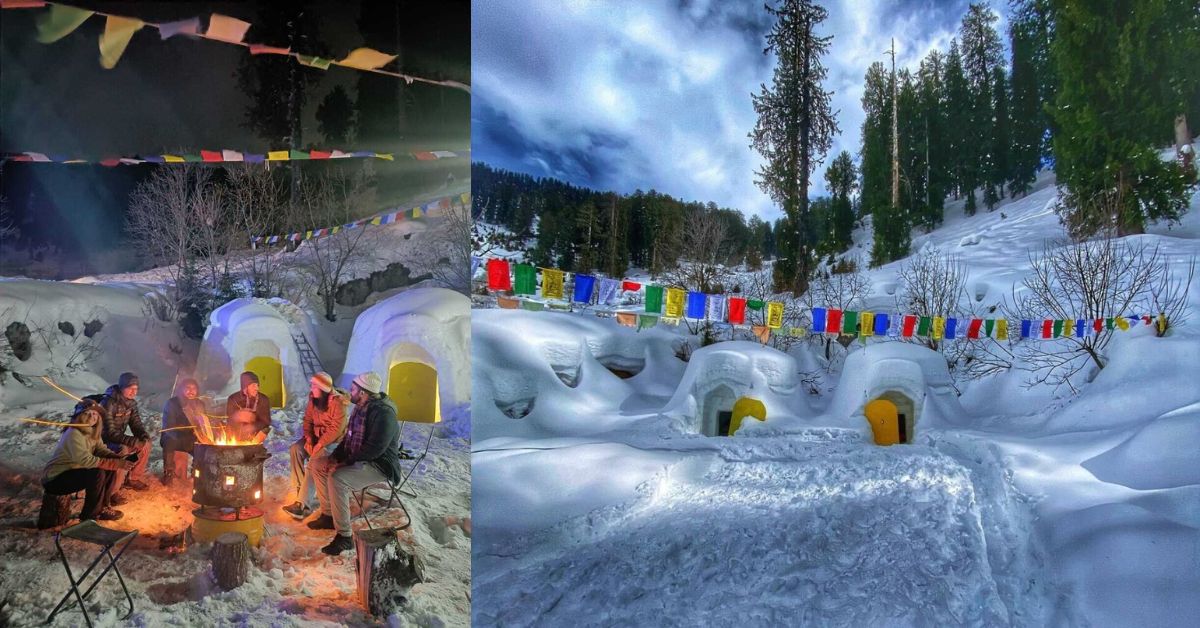 Inspired by Eskimos, Vinod Bodh set up the unique Sethan Igloo Village near Manali in Himachal Pradesh.
You might label me as a nerdy kid for admitting this, but I genuinely relished watching Discovery Channel documentaries. I remember, during my summer vacations, I'd eagerly plant myself in front of the TV, absorbed in these shows.
Armed with my thick glasses and a bottle of Rasna in hand, I would immerse myself in documentaries showcasing different parts of the world. Among them, my absolute favourite was watching documentaries about animals and people inhabiting the polar regions.
The harsh beauty of the Arctic and Antarctic, along with the animals that had evolved to survive these extreme environments, fascinated me. I was particularly intrigued by how people lived in Igloos, the traditional snow homes. My young mind was consistently captivated by the breathtaking blend of nature and science.
Living in an Igloo would have been a dream come true for me. If you share that sentiment and have always yearned to experience life in a snowy home, worry not, because I've got you covered.
In Himachal Pradesh, there's a gentleman turning our dream into reality. Vinod Bodh, the founder of Igloo Sethan Village has been making Igloos in Sethan village in Himachal Pradesh.
"I wanted to do something different for the people that employ the people from my village. This is where Igloo Sethan Village was born," he tells The Better India.
The Igloo Man of Himachal
Vinod, much like us, harboured a fascination with Igloos and the way Eskimos lived, but the compelling need to generate an income in his village propelled him to embark on the journey of crafting these snow structures.
"The location is just over 15 km from Manali, in close proximity to Hampta Pass. Tourism was the primary source of livelihood in this area. While we had a summer home there for our family retreats, the construction of highways and overall development in 2005 posed challenges for tourists to access the region," he explains.
"After 2010, things began to stabilise, but the influx of tourists witnessed a decline. It wasn't until 2015 that we observed a resurgence in the number of visitors," he notes.
In 2016, Vinod made the decision to initiate a homestay business. "But I always wanted to do something different to attract more people. I started to brainstorm ideas, and that's when I thought of making Igloos," he says.
The ideal temperature for an Igloo to be made is -20 degrees Celsius. "The temperatures at Manali are not ideal for an Igloo to survive, so I decided to make them in Sethan Village where the temperatures go as low as -12 degrees," he explains.
While Vinod was excited about making them, the challenge was a lack of knowledge. "No one really knew how to make them back then; I was not sure how to proceed. My initial plan was to make a steel frame for the Igloo, but in my research, I found that the metal would melt the snow," he says.
It was in 2016 when he met an Australian man who had settled in the area. "He had spent some time in Alaska and knew the way an Igloo is made. He gave us an idea of how the science behind the construction works," he says.
"Furthermore, we used the internet extensively to understand the process. I also used YouTube to see how people live in them and how sustainable they are with respect to the climate of India," he says.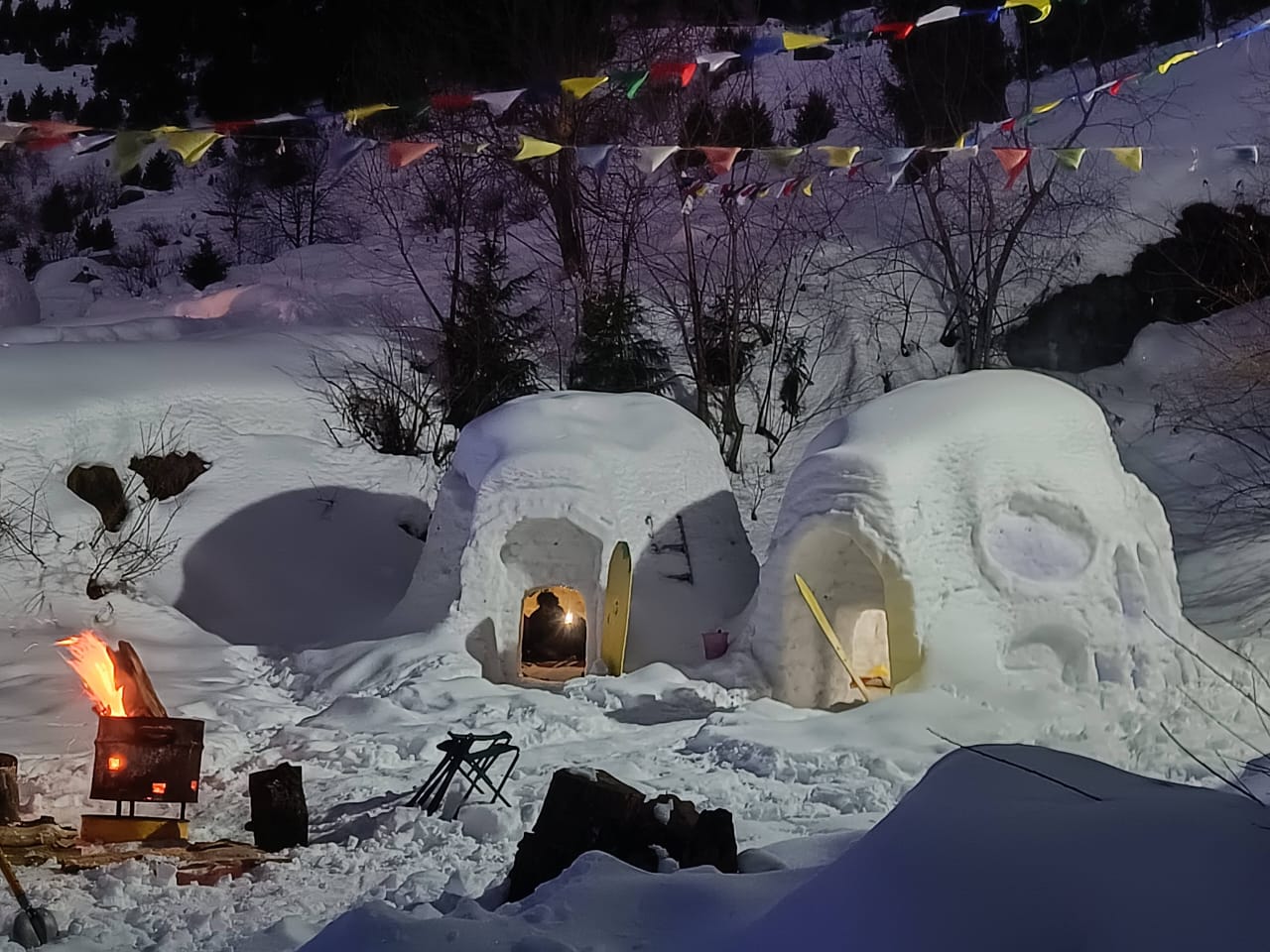 By 2017, the Igloos were up and ready to use. "I named them Igloo Sethan Village because I felt like it was a tribute to my childhood summer home and a tribute to the people of the village," he says.
Live like the eskimos
Speaking about the initial reaction of the people, Vinod recalls, "People were elated. There's a fascination with snow, and they responded very well to the Igloos. Of course, they had a few doubts, and some would ask me if it would fall. I would sometimes explain to them the construction process to assure them that they are safe."
Talking about the process of making an Igloo, Vinod explains, "In terms of time, construction and the size of the Igloo, it all depends on the ice. The snow that falls in December is powder snow and it does not stick easily. We have to water it to make it stick and it takes longer for us to make the Igloo," he says.
"While the snow in the later days is thicker and more stable, it only takes a day to complete the construction," he says.
"The shape of the Igloo is oval because it distributes the weight into equal parts. As the temperature drops, the ice crystals begin to cement. Eventually, they become so crystallised that the structure becomes rock solid," he adds.
Up and running since 2017, Vinod has hosted hundreds of guests. "I plan getaways for the guests. We offer them good food and activities such as a bonfire, and ice skating, and we also encourage the guests to explore the nearby woods to enjoy the snow," he says.
The business runs from the end of December to March's first week when the temperatures start to rise.
"The days start to get hotter and we stop accepting guests. There have been a lot of inquiries so far for this year too but we are unsure of when the first snow will fall," he says, adding that he is excited to host new guests this year.
If you wish to stay in an Igloo, you can reach Vinod here.
(Edited by Padmashree Pande)
Tell Us More
We bring stories straight from the heart of India, to inspire millions and create a wave of impact. Our positive movement is growing bigger everyday, and we would love for you to join it.
Please contribute whatever you can, every little penny helps our team in bringing you more stories that support dreams and spread hope.