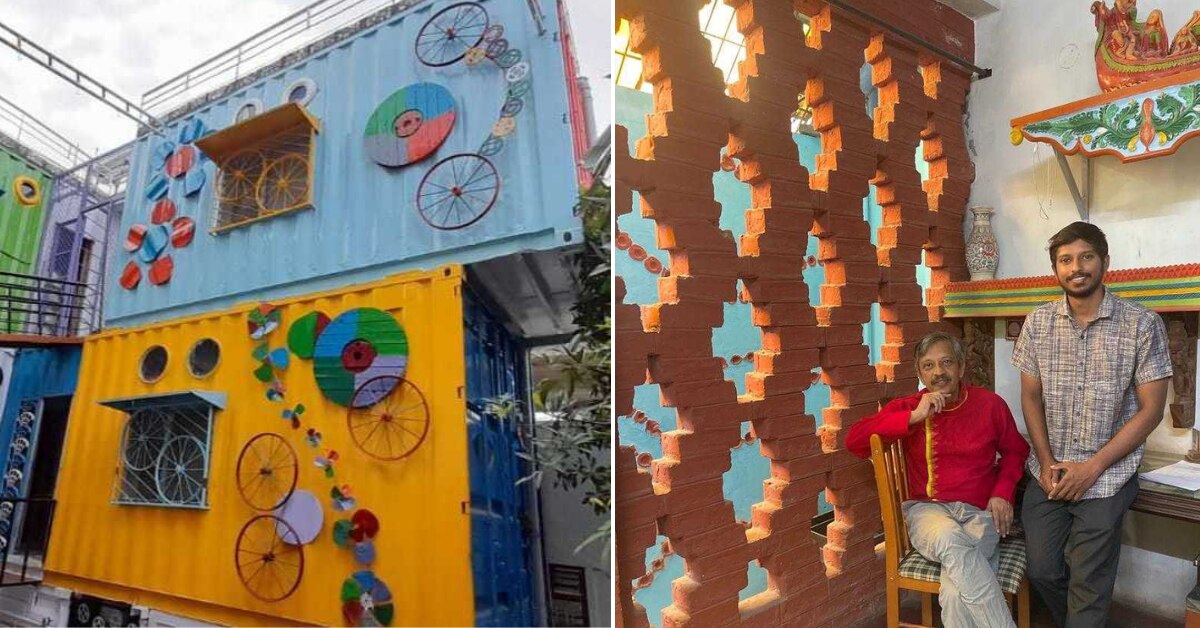 Located in Hyderabad, father-son duo M V Ramachandradu and Bharani have built a solar-powered sustainable home out of shipping containers.
Having dedicated close to 30 years to talking about the environment and sustainability, Hyderabad-based M V Ramachandrudu wanted to lead a sustainable lifestyle and be a responsible citizen.
"Since finishing my studies in 1990, my work has revolved around environmental planning and implementing methods to reduce carbon footprint, advocate for water conservation, and encourage living life in greener ways. I have contributed to several non-profits across the country by talking about eco-friendly ways of living," the civil engineer tells The Better India.
"However, at a personal level, I always experienced a gap between preaching such practices and implementing them," he adds. So when presented with the chance to materialise his vision, the 57-year-old dedicated his efforts to building a home that embodied his principles of responsible citizenship and sustainable living.
More than a decade ago, in 2011, Ramachandrudu bought a piece of land and constructed a home spanning 2,700 square feet. Within the open area, he cultivated 40 varieties of trees — including mango, orange, papaya, chikoo, banana, and jackfruit, as well as 10 types of hibiscus.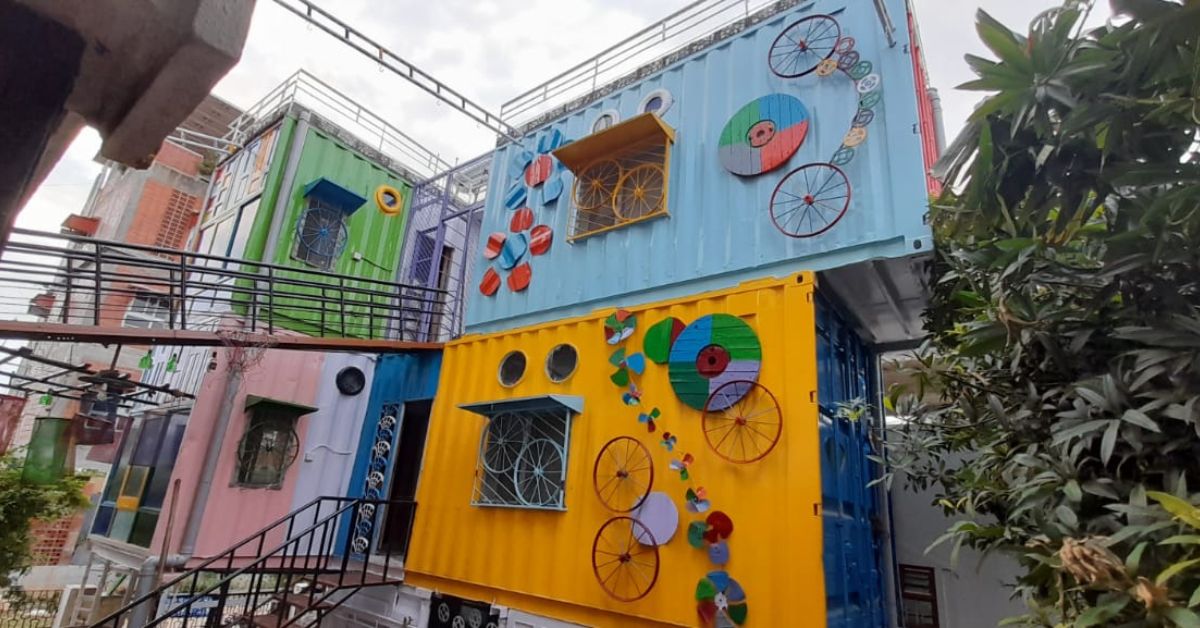 What sets this house apart is the innovative construction techniques employed by him and his son Bharani. They implemented a range of eco-friendly practices — such as rainwater harvesting, utilising greywater for gardening, producing shampoo from garden waste, and crafting the house from shipping containers and styrofoam.
The father-son pair elaborate on the diverse methods they adopted to embrace an eco-friendly lifestyle.
'Our home is built using shipping containers'
The most striking feature of this home is the construction of a two-storey house spanning 675 square feet using shipping containers, adjacent to their main RCC residence. What's noteworthy is that the entire structure is crafted from recycled materials.
To achieve this, the duo procured shipping containers from cargo companies and repurposed old steel pipes, typically employed in borewell excavation, as supporting columns for the containers. Additionally, Ramachandrudu shares their innovative use of broken ceramic pieces, transforming them into exquisite mosaic art for the bathroom's flooring.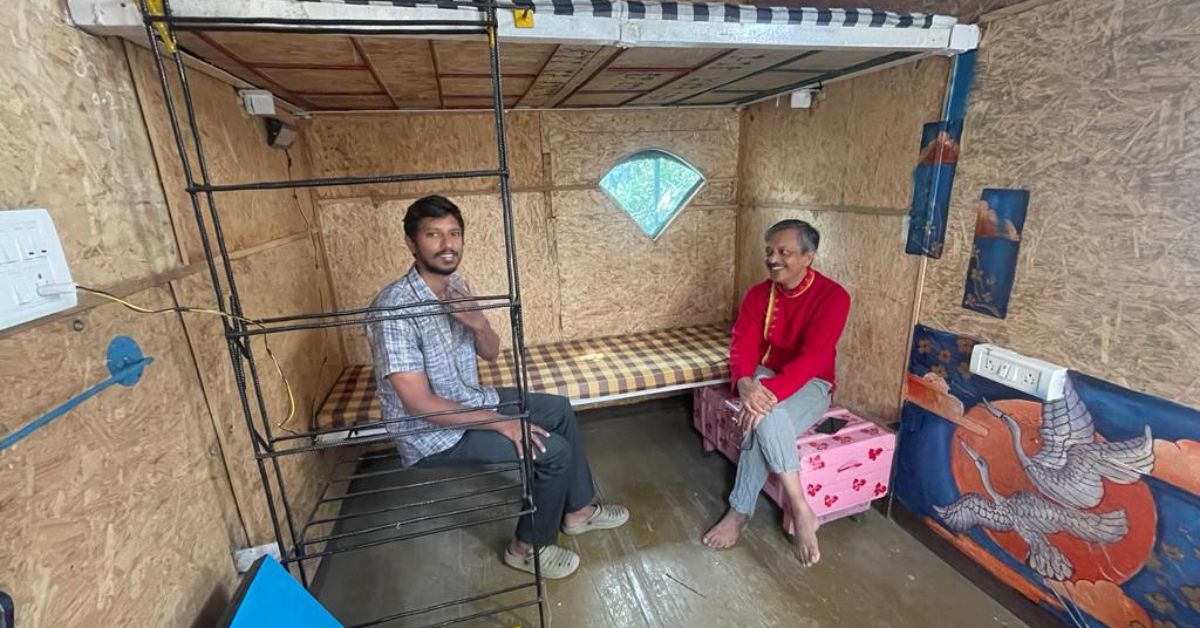 The container house boasts two bedrooms, a drawing room, two bathrooms, and a staircase. Also, they opted to use styrofoam as an effective insulating material for the containers.
Interestingly, Bharani has also made a shed from styrofoam. "We first crushed styrofoam and mixed it with cement to make bricks. If the red brick weighs 3.3 kg, the styrofoam one would weigh nearly 2.5 kg. The advantage of using such bricks is that close to 70 percent of the brick is made from scrap; this saves top soil which is usually exploited during construction," the 29-year-old tells The Better India.
Talking about his decision to join his father's initiative, Bharani says, "Youngsters are still not completely aware of the nitty-gritty of sustainable living and mostly find themselves engrossed in a fast-paced lifestyle. Nonetheless, everyone should be encouraged to live a green life. I wanted to be free from the rat race and lead a sustainable lifestyle."
Today, individuals prefer eco-friendly homes to lower their carbon footprint, minimise energy usage, cut long-term costs, reduce waste, and promote healthier living.
"Anyone can construct an eco-friendly home by first understanding the qualities of the scrap material used for construction, engaging in collaborative brainstorming sessions with skilled tradesmen, and cultivating a diverse capacity for design thinking," he adds.
The duo also shares that they are planning to register their container home on Airbnb.
'We don't need ACs or coolers to regulate temperature'
A Sustainability Considerations of Green Buildings 2022 report mentions that sustainable buildings can conserve 40 percent more energy compared with traditional buildings, increasing energy efficiency and decreasing carbon emissions. Additionally, the low-carbon materials in green buildings reduce lifecycle emissions of buildings by up to 30 percent.
To conserve energy in their unique sustainable home, the father-son pair have employed an innovative masonry technique, the 'Rat Trap Bond', which was popularised by renowned architect Laurie Baker for passive cooling.
Unlike traditional methods, this technique involves placing the bricks vertically rather than horizontally, aiding in temperature regulation and energy conservation within the structure. It creates a cavity in the walls and allows the thickness to remain the same as a conventional brick masonry wall.
"The cavity helps cut down the number of bricks and mortar used by up to 30 percent. This further reduces carbon footprints and costs," says Ramachandrudu.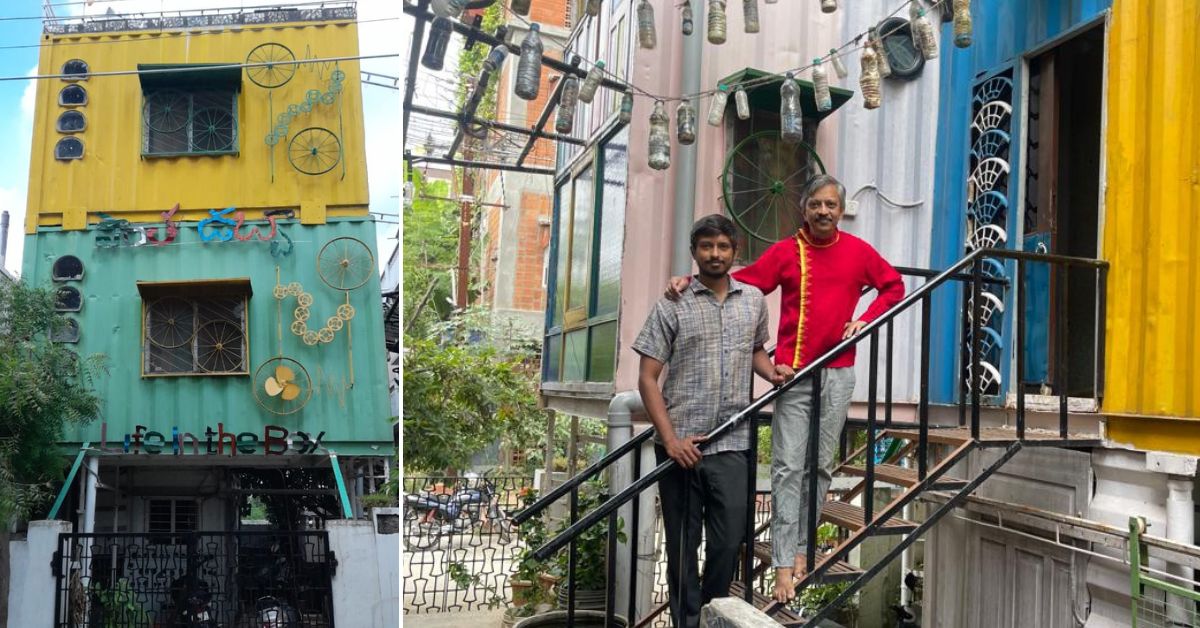 Besides being a treat for the eyes, the walls promote natural light and ventilation in the house as cavities act as thermal insulators providing warmth in winter and cool air in summer. "We do not have ACs or air coolers. During summers, usually, the interior temperature is at least seven degrees cooler than outside," he says with pride.
'We repurposed old wood for haveli-type ambience'
Rather than buying new wooden furniture, Ramachandrudu opted to source antique wooden doors, planks, and staircases from demolished homes within the city. Additionally, they repurposed old glass doors from restaurant refrigerators to craft elegant glass window doors. Furthermore, they used cycle rims to create unique window frames — showcasing their commitment to sustainability and resourcefulness in every aspect of the construction process.
"We reused two truckloads of old wood in the construction. The old wood gives a typical old haveli-type ambience to our home," he shares.
'We harvest sunlight and rain'
Two years ago, Ramachandrudu installed an off-grid solar power system with a capacity of one kilowatt to fulfil the household's essential energy requirements. As a result, the family has successfully reduced their monthly electricity bill from Rs 800 to a mere Rs 80.
Moreover, he annually collects 40,000 litres of rainwater and redirects an excess of three lakh litres to recharge the borewell. After filtering water through sand filters, the family ensures the water's purity, allowing them to use it for drinking purposes.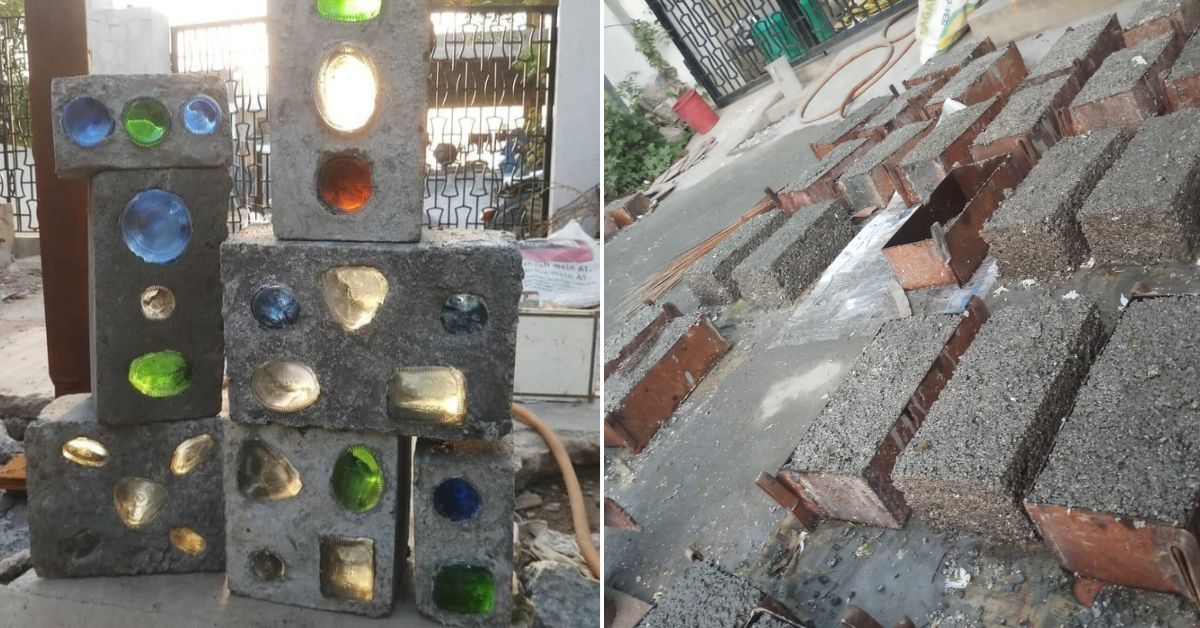 'We make our own chemical-free home products'
In addition to rainwater harvesting, Ramachandrudu has implemented a greywater treatment system, which effectively repurposes treated greywater from kitchen sinks, basins, and bathrooms for watering the plants in their garden.
"However, we encountered a foul smell coming from nearby tanks, mostly from the accumulated dirty water. We realised that the smell was mostly because of the various oils and chemical detergents we used, which polluted the water," he says adding that this set them to start another exciting experiment.
Instead of chemical cleaners, Ramachandrudu started making natural cleaners using a blend of bio enzymes, cow dung, and wood ash. To create bio enzymes, he collects flowers and lime waste, adding natural ingredients such as fenugreek, coconut, rice, aloe vera, black seeds, and hibiscus. These elements are combined to make powerful shampoos, body washes and liquid cleaners for washing clothes.
"We completely stopped purchasing detergents from the market," he says.
Throughout these years, the father-son duo embarked on their transformative journey without a clear plan. Rather, each experiment served as a catalyst for the next, leading to several compelling and innovative projects.
Ramachandrudu says, "I am glad my home gave me an opportunity to implement my ideas and transition from advising others to actually doing something. Although physically exhausting, it has brought a lot of satisfaction my way, both at the professional and personal levels."
(Edited by Pranita Bhat; All photos: Bharani and Nemani)
Source:
Tell Us More
We bring stories straight from the heart of India, to inspire millions and create a wave of impact. Our positive movement is growing bigger everyday, and we would love for you to join it.
Please contribute whatever you can, every little penny helps our team in bringing you more stories that support dreams and spread hope.