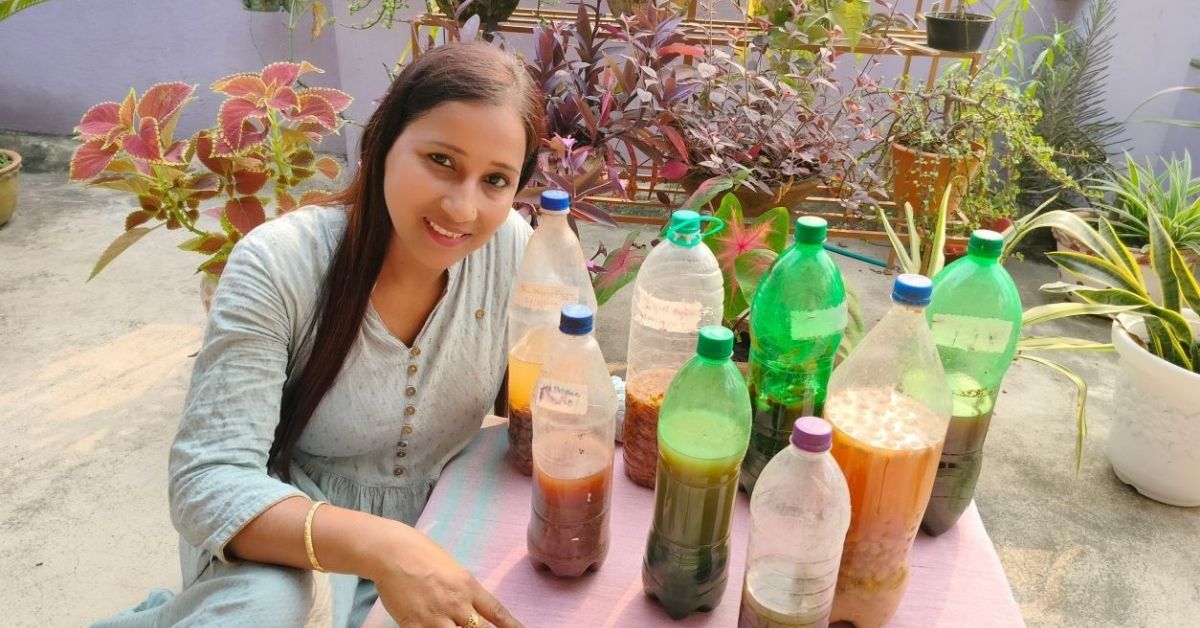 Kolkata resident Nita Singh started gardening to relive childhood memories of her grandma's garden. Today, she grows over 500 plants of diverse varieties and even prepares her own bio enzymes at home.
As a child, Kolkata-based Nita Singh would spend all her summer vacations in her hometown Deoria in Uttar Pradesh. Away from the bustling city life, she would swim in the nearby river, pluck mangoes from trees, and run on her grandpa's farm surrounded by peacocks.
"It felt like we have come to a hill station," she recalls in a conversation with The Better India.
She also reminisces about helping her grandma pluck homegrown vegetables in small baskets. "My dadi grew so many vegetables at home. We would see green bitter gourds and bottle gourds hanging from its branches," she adds.
However, back in the city, her father would purchase vegetables from the market, which lacked the taste and aroma of the produce from their hometown.
Nita further says, "I remember my mama ji would always complain about the food my mom offered to him. He would say that we do not cook tasty food. One day, he himself went to the market, bought vegetables and cooked curry. He too was not able to make the food tasty. Then he realised there is a difference between the vegetables in the city and the village."
In fact, now that Nita grows her own vegetables, she herself observes the difference. She says she took to gardening as she missed the open land of her grandma's garden. So in 2001, along with her husband who worked with the Air Force, she moved to small service quarters.
It was difficult to plant trees here, but she began by growing some plants. She planted flowering plants in the front yard and set up a kitchen garden in the backyard where she grew vegetables like cauliflower, brinjal, and tomatoes.
After her husband's retirement, the couple built their own house on a four kattha (nearly 3,000 sq ft) land.
For the past 10 years, Nita has been growing her own lush green urban jungle at home. Today, she grows 500 plants of diverse varieties — such as drumsticks, grapes, guava, litchi, corn, pineapple, dragon fruits, and seasonal vegetables such as tomatoes, cauliflower, okra, chillies, brinjals, pumpkin, and many more.
How to make bio enzymes from kitchen waste?
What's more, Nita utilises recycled plastic containers, coconut and egg shells, and PVC pipes to grow plants. She also makes organic fertilisers and fungicides from kitchen waste.
She makes bio enzymes from neem leaves, marigolds, orange peels, lemons, and bananas. "Three years ago, I saw a programme on DD Kisan that highlighted the importance of using bio enzymes. I realised these are easy to make and have numerous benefits like boosting plant growth and protecting plants from insects and fungus attacks. Enzymes act as both fertilisers and insecticides," adds the homemaker.
Nita shares five easy tips on how to make bio enzymes from kitchen and garden waste at home.
Follow the 3:1:10 formula
The main ingredient needed to make bio enzymes can be neem, lemon peels, banana peels, etc. Apart from that you would need jaggery and water.
"Cut the main ingredients into small parts, then mix 300 grams of this with 100 grams of jaggery in 1,000 ml of water. Mix the contents well. Irrespective of the main ingredient, one should add contents in their respective ratio," she says.
Nita adds that marigold enzyme enhances flowering growth, while orange and lemon peels aid the growth of plants like roses and lilies in acidic soil. Neem enzyme, on the other hand, serves as an insecticide or fungicide.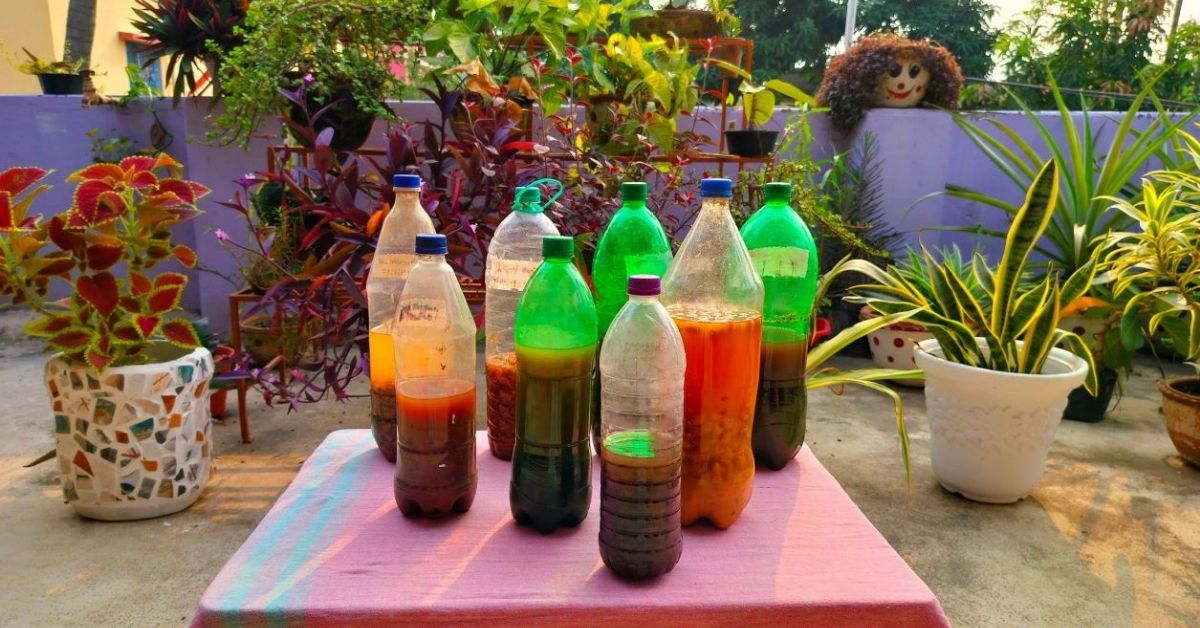 Store in plastic containers
Nita advises that the mixture should be kept in plastic bottles.
"Do not store the contents in a glass bottle as the mixture releases ample amounts of gases. If you keep it in a glass bottle, it will explode and might cause harm. Even when kept in plastic bottles, one needs to loosen the cap in a few days," she says.
She notes, "Also, one must take a two-litre bottle to store one litre of mixture as it will allow some space for fermentation."
Keep in the dark
Any fertiliser must be stored in a dark place, says Nita. "The good bacteria in the fertiliser will die if the containers are kept in sunlight."
How to spray the enzymes?
Nita says it takes three months to ready the enzymes. It has the aroma of a vinegar. After the batch is ready, gardeners can mix 1-2 ml of enzyme in a litre of water. "If the insect attack is severe, then up to 5 ml of enzymes can be mixed in the water. Spray this mixture onto plants," she says.
How to make the second batch?
Nita says that these enzymes can be stored for as many months as it has no expiry date. And to make the second batch process faster, one can add roughly 5 ml of enzyme to the new batch, so it will then be ready in one month!
Edited by Pranita Bhat
We bring stories straight from the heart of India, to inspire millions and create a wave of impact. Our positive movement is growing bigger everyday, and we would love for you to join it.
Please contribute whatever you can, every little penny helps our team in bringing you more stories that support dreams and spread hope.
Tell Us More