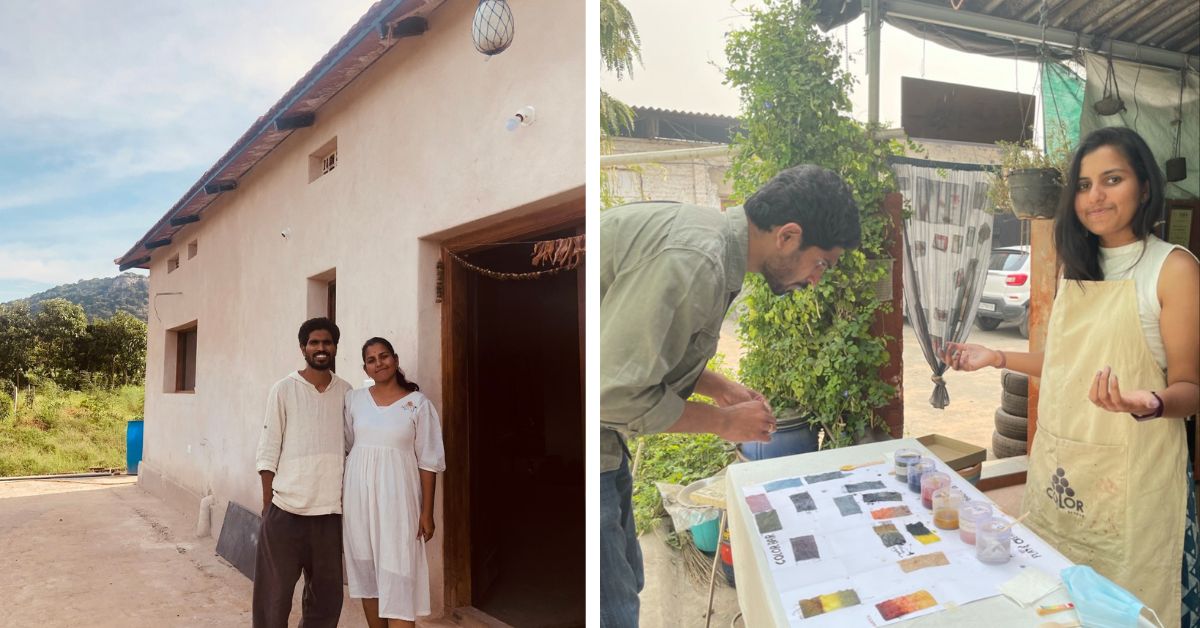 Alankrutha Chandra and her husband Meher Gundavarum decided to embrace a sustainable lifestyle. They quit their jobs and started 'Elephant In You', a Hyderabad-based brand that covers three essentials of living — food, clothing and shelter.
Working in the United States as a software developer for several years, Alankrutha Chandra and her husband, Meher Gundavarum, yearned to live a toxin-free life.
"I was always inclined towards living a chemical-free and sustainable life. However, it was tough for me to build that life in America," recalls Alankrutha in a conversation with The Better India.
The tipping point came during the COVID-19 pandemic when the world was shut down. "It made me realise a lot of things but mostly how important it has become to live an organic life," she says. Wanting to come back home and take a step towards their dream of living sustainably, the couple returned to India in 2021.
They co-founded Elephant In You – Farm, Clothing and Stay, a sustainable brand based in Hyderabad. Their brand is all things sustainable from food and stay to clothing.
"The basic needs of humans are shelter, clothing and food. Our brand provides these three essentials grown sustainably and organically," she says.
Back to their roots
"While we were holed up in our homes during the pandemic, I brainstormed ideas. I was sure that I wanted to create a wholesome brand that helps people live a more sustainable life," recalls Alankrutha.
For her research, she decided to start with clothing.
"I used to get skin allergies. When I wore certain clothes, I would get this red rash. I never took it very seriously as it would vanish as soon as I took a bath or removed the garment," she recalls.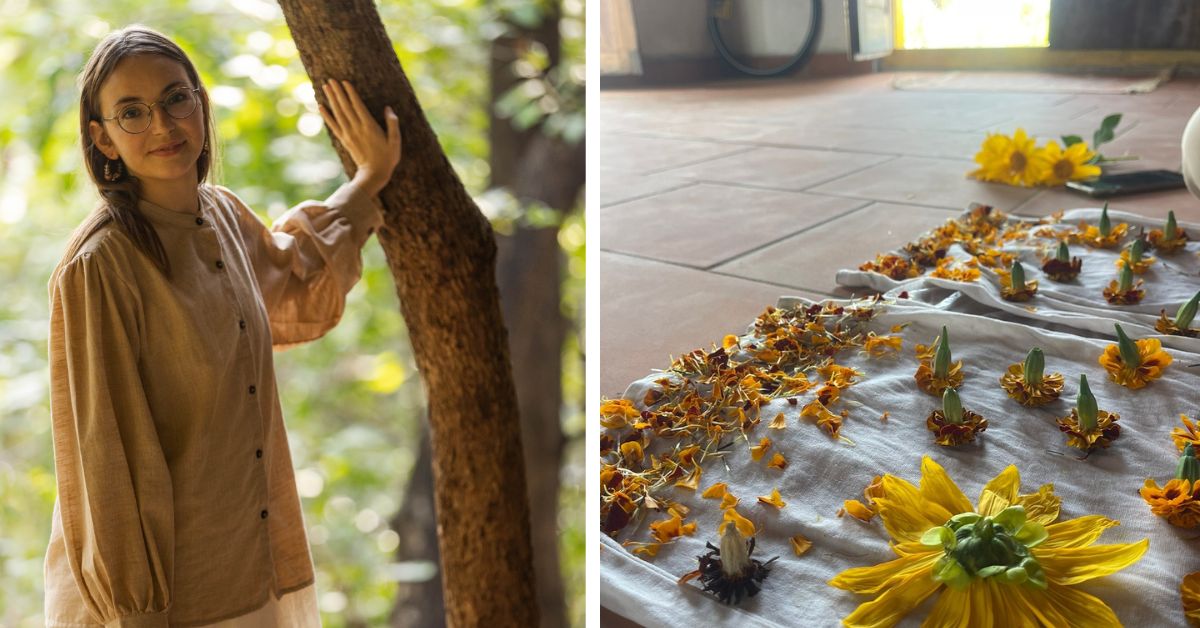 After researching, she found out that such allergic reactions are mostly caused by chemical dyes. "I was getting more and more sensitive to many clothes. I found about the process of natural dyeing online and that it originates in India," she adds.
Alankrutha decided that she wanted to learn the art of natural dyes and returned to India in 2021. "I found a natural dyer in Ahmedabad who offered me an exciting barter. I would develop a website for them and in turn, they would teach me how to dye clothes naturally," she says. 
Within a month of training, Alankrutha was able to understand the basics of natural dyes.
"One thing that was clear to me was that natural dyeing is an art. It is not something mechanical that any person can do. It has its own beauty and I wanted to engage the small community of natural dyers present in the making of my brand," she says.
"I am collaborating with NGOs and farmers that send unbleached organic fabric to make the garment and dye them naturally," she says.
Organic food, natural clothing and farm life
With Elephant In You, the couple sells a ready-to-wear collection such as shirts, dresses, hoodies and bottoms in unbleached organic cotton, linen and hemp fabrics that use natural dyes. However, clothing was one part of a lifestyle, and Alankrutha wanted to create something that helps people live sustainably.
"I wanted to cover the three essentials of living sustainably. Food was my next target. For this, my husband's family farms came in handy," she says.
A farming enthusiast, Meher, informs that he had always wanted to try organic farming. While Alankrutha quit her job and moved back to embrace the farm life, Meher followed suit a year later.
"His family has an 8-acre farm and it was the perfect place for us to try out organic farming. We asked for 4 acres of the farm to switch to natural and organic farming," she says.
The farm now has 40 varieties of fruit trees (10 varieties of mangoes, three varieties of guava, pomegranate, sapodilla (sapota), sweet lime or mosambi, Java plum, lemons, star fruit, avocado, Singapore cherry and more, pulses such as pigeon pea (toor dal), green gram (moong dal), black gram (urad dal), Bengal gram (chana dal), legumes like cowpea, (lobia), peanuts, and the oilseed sesame as well as seasonal vegetables and three varieties of indigenous rice.
The farm is open for visitors to go and learn organic farming and enjoy farm life. "They can get a glimpse of farm life and also learn how to make organic compost and manure and grow their own food naturally," says Alankrutha.
After conquering the food and clothing aspect, the couple is now ready to move on to the 'stay' part of their brand.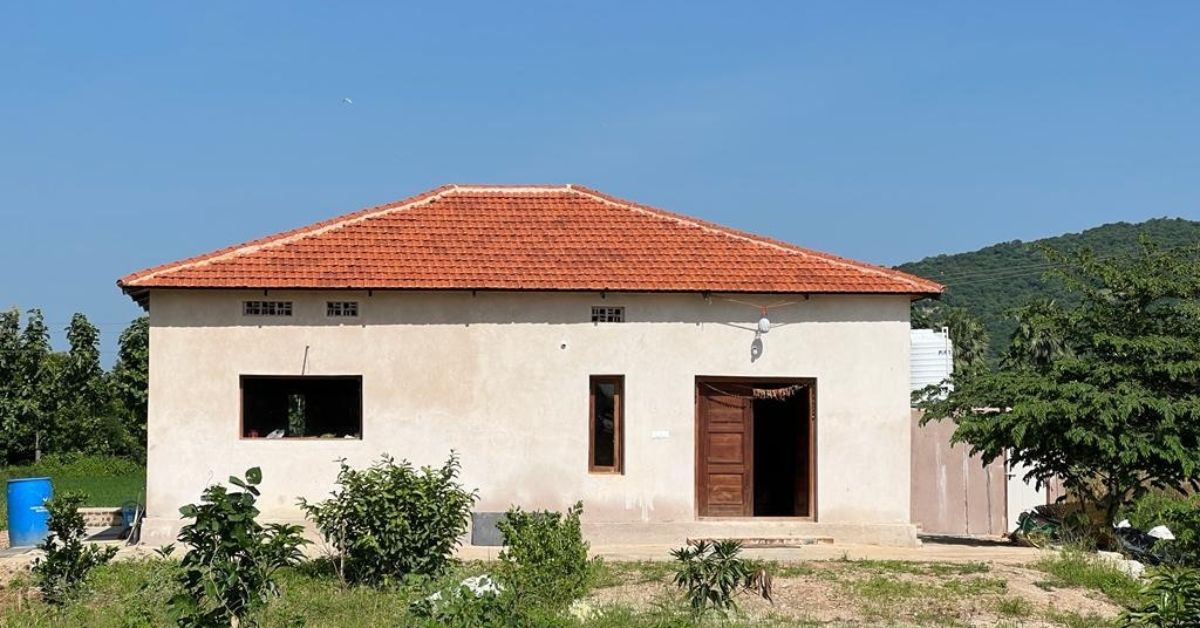 "On the farm, we have built a limestone home for ourselves. "The house keeps the house cool during summer and hence we save a lot on electricity. Our next step is to build a mud house with eco-friendly materials for people to experience true, authentic farm life," she says.
'Be the elephant of the society'
Acknowledging that moving to India and quitting her job was a major step in her life, she says, "It was because of my partner's support that I was able to take this step. To everyone else, it seemed crazy to leave our lives in the US and come back," she says.
"For me, I was not happy with my job and I knew I wanted to create something of my own. The pandemic made the need to move urgent for me. I felt like it was the right time for me to transform our lives and live sustainably," adds Alankrutha.
Talking about why she named her brand Elephant in You, she says, "During a conversation with a friend who makes handmade paper, she started to talk about elephants. It was a fascinating conversation as she told me how elephants, although the biggest animals in the jungle, never bring an imbalance in the ecosystem."
"They feed on large amounts of veggies but keep moving to different areas so that they do not exhaust one area's resources. Their excreta also nourishes the ground and acts as a natural fertiliser for plants to grow," she explains.
This is how she believes humans should live in society. "Whatever you take from nature, take it in a reasonable way and do not destroy it in the process. The idea that humans should live in harmony with nature just as elephants do in a forest is what gave the brand its name."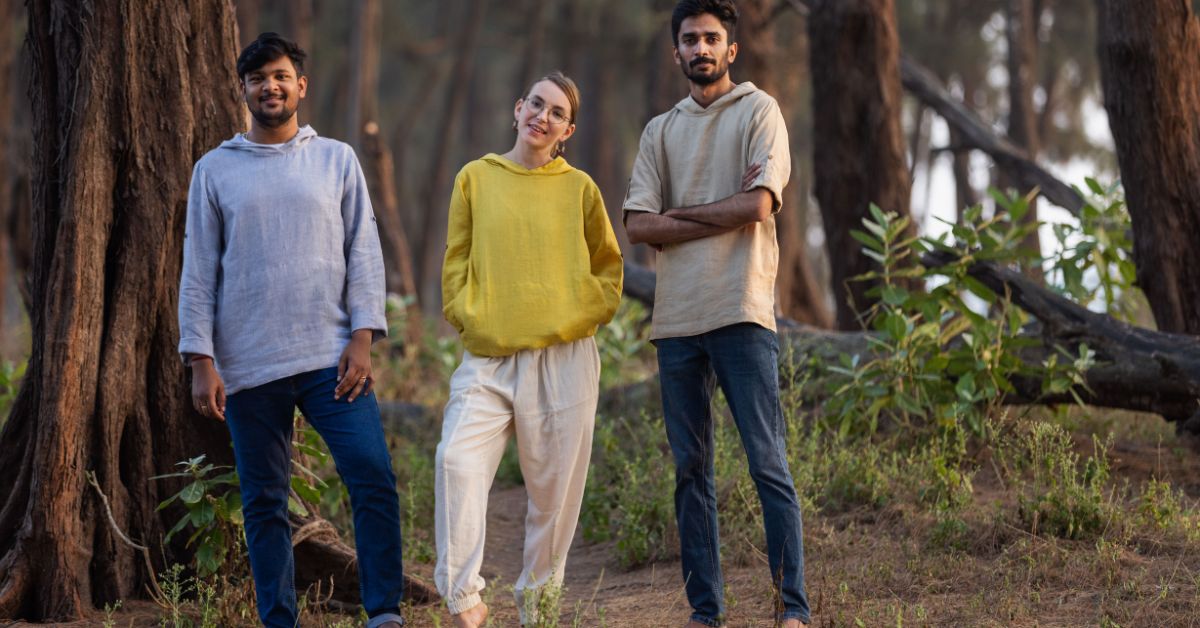 One of their customers, Mahima, who recently purchased a dress from the brand, says, "I have been a fan of organic cotton and khadi for a long time. It is mainly for two reasons, they are environmentally-friendly and it supports the livelihood of farmers. While I love the fabrics, I could not find brands that have trendy designs. Most of them looked old-styled and out of fashion."
"My search ended when I found Elephant In You in an exhibition. Alankrutha's designs and clothes are very good and trendy. They are all organic and sustainable. The material and tailoring feels good on the skin. The best part is that they not only deal in organic cotton but also hemp and linen," she adds.
The past three years of moving to India and setting up the brand have been transformative for the couple. Looking back, she says, "The brand is a reminder to society that we need to give back to nature as well. We have to stop producing waste and try to live a slow and sustainable life. If we don't start living sustainably now, we will lose the amazing resources that nature has to offer."
(Edited by Padmashree Pande)
Tell Us More
We bring stories straight from the heart of India, to inspire millions and create a wave of impact. Our positive movement is growing bigger everyday, and we would love for you to join it.
Please contribute whatever you can, every little penny helps our team in bringing you more stories that support dreams and spread hope.