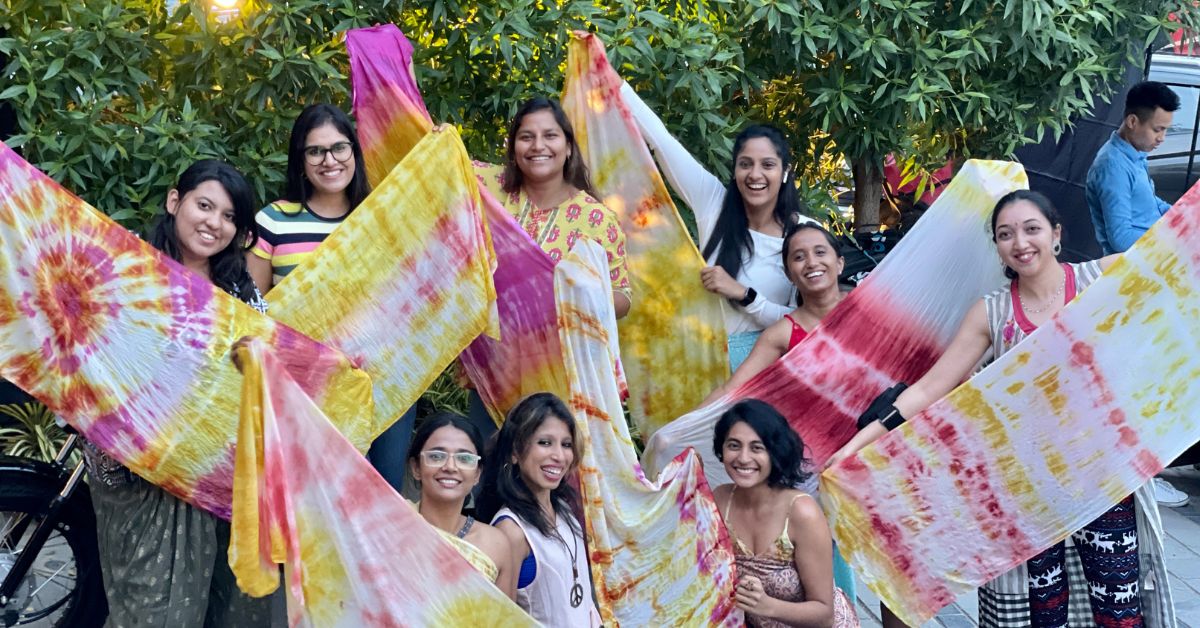 Hyderabad's Manya Cherabuddi combined her love for nature with her business sense to conduct natural dye workshops and sell hand-dyed sustainable baby clothes. Today, she has conducted over 150 workshops in major Indian cities and taught over 5,300 people so far.
Shades of bright pink, yellow, orange and blues always attracted Manya Cherabuddi as a child. She would spend hours in her mother's garden admiring the beautiful colours and shapes of the flowers.
Always been attracted to creating art using nature, Manya found being in her mother's neatly kept garden both therapeutic and inspiring.
"Nature was my inspiration. I would always be picking different flowers and leaves as a kid. Back then I did not know how my love for nature would turn out to be my profession," tells 30-year-old Manya, a natural colourist, to The Better India.
In 2019, she left her career in a design company to follow her heart. She started experimenting with colours and nature, and the result was — a beautiful art form. She uses natural ingredients like fruits, vegetables, flowers, leaves, etc to make natural dyes and colours.
Manya did not keep the art to herself and started to hold workshops to teach people the art of making natural dyes and dyeing their clothes. She has taken over 150 workshops and taught over 5,300 students from all over the world including both adults and kids.
Therapeutic, natural and sustainable
Born and bought up in Hyderabad, Manya holds a dual degree in arts and business from the University of Virginia.
"I worked for almost six years in different companies before I started to make natural dyes. The path that led to this was not at all linear. But, my family has always had an entrepreneurial mindset, and my business mind came from there. I wanted to combine art and business in a profession," she says.
It was in early 2019 that Manya started to read up about natural dyes.
"I started to teach myself the different ways of making natural dyes through online tutorials and blogs. While doing that, I realised that most of those tutorials and blogs were more western-centric. It is sad because India has many techniques of dyeing that are very old but they have not been documented very well," she informs.
"There were many errors on the way, but I mostly taught the art to myself. I wanted to make it easier for other people to learn by having workshops," she adds.
Later in 2019, she took a natural dyes workshop called Colour Ashram in Goa which made her resolution to make a career out of it stronger.
"In the workshop, I looked at the whole concept from a different perspective. I discovered the sustainability side of dyes. The chemical dyes that people use are harmful both to the skin and to the environment. We don't really think about how or from what the colour of our bedsheets, curtains and clothes come. Most people don't have a lot of time to think about this, but the chemical dyes are cancer-causing and harmful to the environment. While making natural dyes involve a sustainable process, even the residual water can be given to plants, so nothing goes to waste," she explains.
"People who work in the [chemical dye] industry have health issues, and the land where it's produced becomes infertile; the water bodies are polluted too. It is a whole cycle, and while it is hard to come out of it, it is not impossible," she says.
Manya informs that she has not worn or bought anything dyed out of chemical dyes ever since.
"Colours are all around us, from our clothes to handkerchiefs. I know that it will be hard for people to change it overnight, but I believe that it is possible. I always question, 'Why do you have to use something full of chemicals when you can use natural instead?'," she says.
"The process of making the dyes is very exciting and fun. And if enough people start using it, it can reduce the massive amount of pollution and carbon emission that goes into making chemical dyes," she says, adding that while this started as a hobby, after fully learning the art form, she knew she would have a career in it.
Finding your calm in nature
Manya started hosting workshops under the name 'Treehouse' for people eager to learn natural dyeing in 2020.
"Due to the pandemic, we moved [the workshop] online, and I realised that people, not only from India but abroad also, wanted to join. It was during these sessions that I realised how the process of making colours also has therapeutic benefits," she says.
"The dyes made out of natural materials, say haldi (turmeric) or a flower, has healing properties. But the process of making them while playing with the colours is incredibly calming. I started a program called 'Find Your Calm' which consisted of destressing activities along with making natural colours. The pandemic had made people really anxious, so this program was very well received."
For Manya, watching people enjoy the process kept her motivated throughout.
"People enjoy going to the park, picking up flowers and then making colours with their friends and family. All the adults who joined my workshops became kids in the process. They would giggle and be so happy, and enjoy," she says.
Besides hosting workshops, she also started making baby clothes. "I made baby clothes with natural dyes because I felt that babies should not wear synthetic clothes. There were nearly no brands making baby clothes with natural dyes, so I started doing that," she says, adding that the workshops keep her so busy that she only produces baby clothes on demand now.
This Holi, she made natural colours and taught people how to make them too. From turmeric, beetroot and spinach, to red cabbage, tomato, and various flowers, Manya uses everything from the kitchen and garden to make colours.
Anitha Hegde, a participant in Manya's workshop, says, "I love how Manya includes lessons on sustainability while teaching us to make dyes. How we can use nature and its resources without causing any harm is the key lesson to take away. The process is fun and interactive," she says.
Preetam Thakur, another workshop participant, says, "I cannot thank her enough to introduce me to the world of colours. I just loved everything about the workshop. From Manya's way of teaching to her in-depth knowledge of the subject. I can't wait to learn more about natural colours and dyes."
With over 150 successful workshops held in Hyderabad, Bengaluru and online, Manya has more workshops coming up in Mumbai, Pune and Goa. Her workshops are priced anywhere between Rs 500 and Rs 2,000 depending on what is being taught. Usually, she teaches the participants the process of making natural dyes out of fruits and vegetables, food dyes, natural paints and/or dyeing clothes.
She has taught nearly 5,300 people and looks forward to teaching more. She has over 30,000 followers on Instagram (@manya_cherabuddi), where she teaches some of the techniques through reels and posts.
"My greatest motivation is to see how people react when I introduce the sustainability part of making these dyes. With our lives centred mostly around concrete buildings and technology, it is hard to find yourself in tune with nature. But as humans, it is our responsibility to give back to nature as much as we can. If we harm it today, be it in any form, tomorrow it will come back to us," she says.
"I don't teach people this by preaching it but by introducing it in a fun and interactive way while they play with colours. Though there is a long way to go, I can only hope to aspire more and more people to switch to natural dyes," remarks Manya.
For more details, you can visit her Instagram page.
Edited by Pranita Bhat