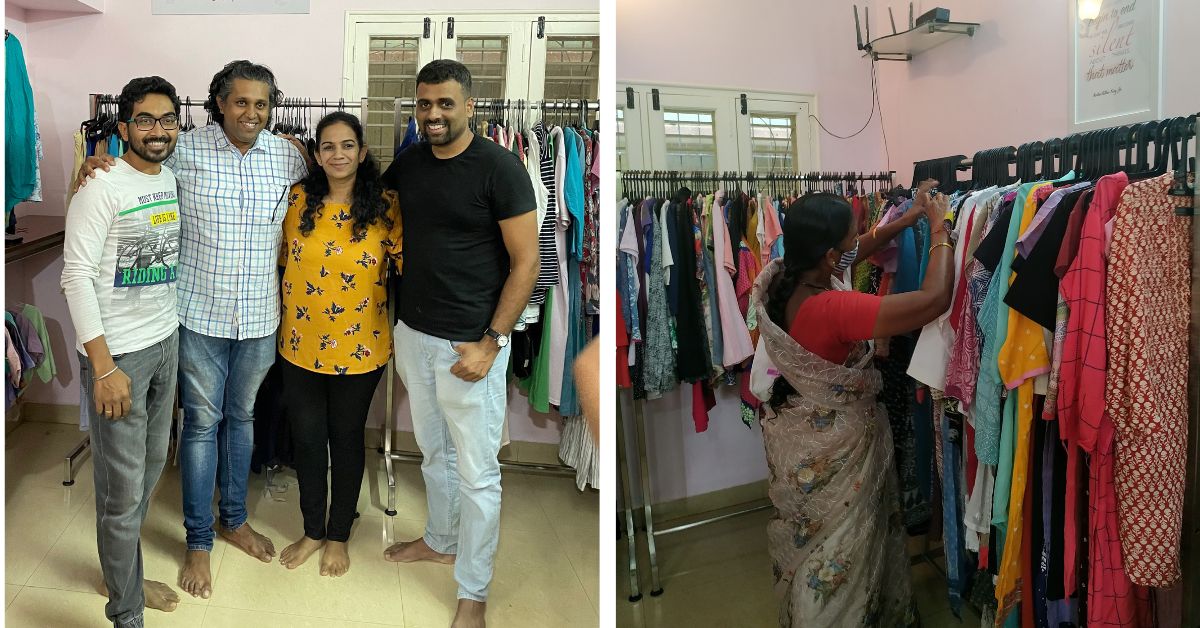 Inspired by John Lennon's song Imagine, four Bengaluru friends launched Imagine Trust, which donates pre-loved clothes to the poor every week.
The song Imagine is often touted as the best-selling single of John Lennon's solo career. But surely, he would have never estimated that the impact of this song, which pushes the world to envision a peaceful future, would reach far across continents and to the city of Bengaluru, India.
With a dream to create this utopia that Lennon envisioned in the 70s, four city residents launched the Imagine Trust, with a focus to promote sustainable living, environmental protection, and reduce the gap for those from underprivileged backgrounds. This is helmed by friends Melisha Noronha, Vinod Lobo, Nitin Kumar and Vignesh, and was launched in 2013.
"Lennon dreams of a world where everybody shares and everybody is there for all. We draw our inspiration from the song. We just want to reduce the gap, bring people closer, even if it is a small change," shares Melisha, the founder of Imagine Trust to The Better India.
With their initiative Imagine Clothes Bank, they collected pre-loved clothes from people willing to donate, sort them out as per size, colours, and usability and display them in their showrooms. The clothes are sold just for Re 1, and the trust has benefited nearly 10,000 families so far.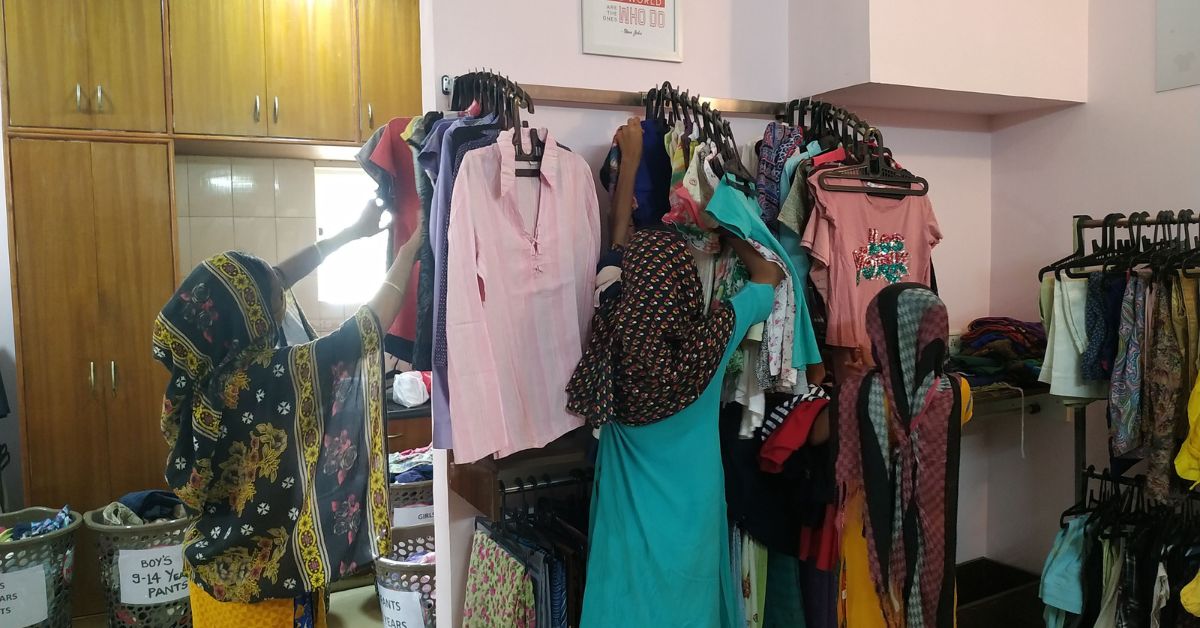 Giving away with dignity
The group were college friends who had always had the urge to "do something for society".
"Vinod, Vignesh and Nitin were college buddies who had tried the clothes bank idea in Mangalore. They ran it for about two years and had to close it as they had to move. They had wanted to replicate this in Bengaluru for a while, and then finally we decided to do it a decade ago. I decided to join my husband (Vinod) and his friends in their cause too," says the 38-year-old.
"All four of us are like-minded people who wanted to create something which is of high impact, so we decided to put together our ideas and money resulting in the foundation of the trust," she adds.
While the trust was working in various fields of sensitising people about the environment and sustainable living, it was during the pandemic that the group decided to start the clothes bank.
"During the [peak of the] pandemic, we could see the impact it had on the lower middle-class and poor people. People had lost their jobs, they were struggling for food, clothing, money, etc," she says.
"We realised that there is an excess of everything around us. Some people live in excess of everything, while some do not have basics. We wanted to address this issue," she adds.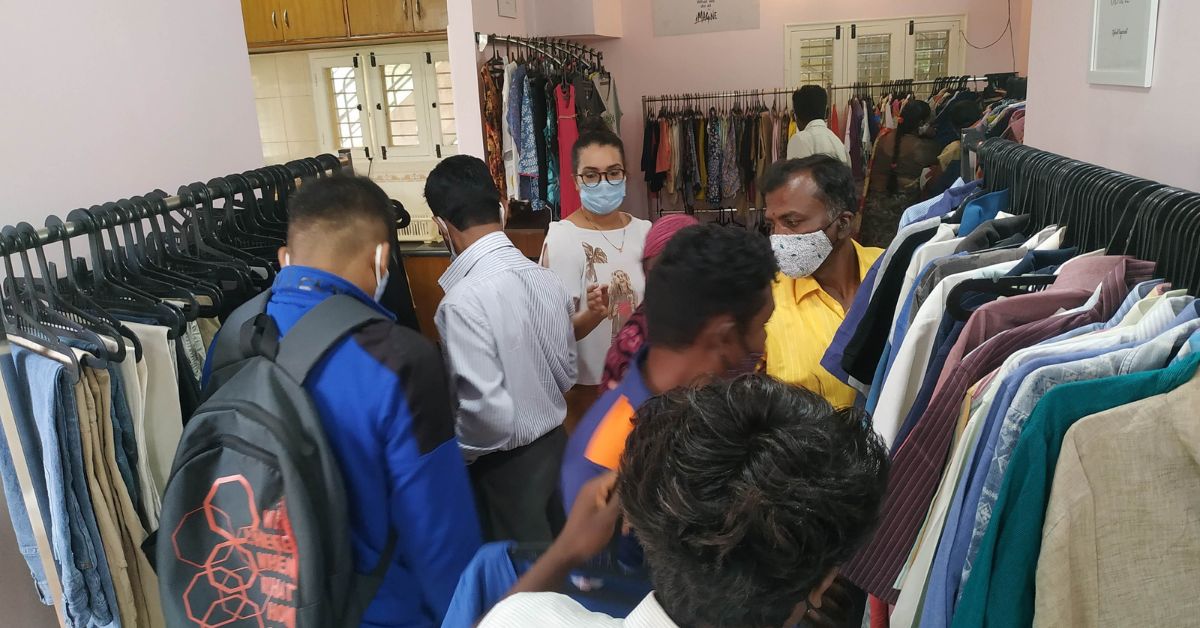 Melisha says they do not just collect clothes and give them to those in need. Instead, they segregate them and pick out those that can be used.
"People want to do charity, but they do not understand who needs it. They would have an idea of this noble act, that they are doing their bit by giving their old clothes to the maid. How can I expect my maid to wear, say, a jumpsuit? We realised that there is a demand and supply, but we needed to bring them together in a way that the right things ended up in the right hands," she says.
She further continues, "We wanted to give the people charity, but with dignity. We tell people — 'Give us your clothes, but make sure that they are in good condition and are not overused'. We have a parameter with which we identify the best reusable clothes and segregate them," she says.
The parameter for the segregation of the clothes is simple. Melisha asks her volunteers to see if they would ever wear those themselves.
"Once the segregation is done, the clothes are taken to our centre located in Electronic City, Bengaluru and the beneficiaries are welcomed on Sundays to buy whatever they want for just Re 1," she says.
Explaining the reason behind charging one rupee for the clothes, Melisha says, "We want to create a space where people give and receive with dignity. Dignity on both the donor as well the beneficiary's part. We promote our donors to donate with dignity and not because they want to get rid of something. When the beneficiaries pay for the clothing they buy, they also feel good about it," she says.
"The beneficiaries can get the clothes of their choice, the colour they like, and the clothes that fit them," she says, adding that any piece of clothing that is not wearable or torn is converted into pillows, and doormats to avoid wastage.
"We are a zero wastage organisation. It is on rare occasions that we have some waste produced. We give those waste clothes to recyclers to be recycled," she adds.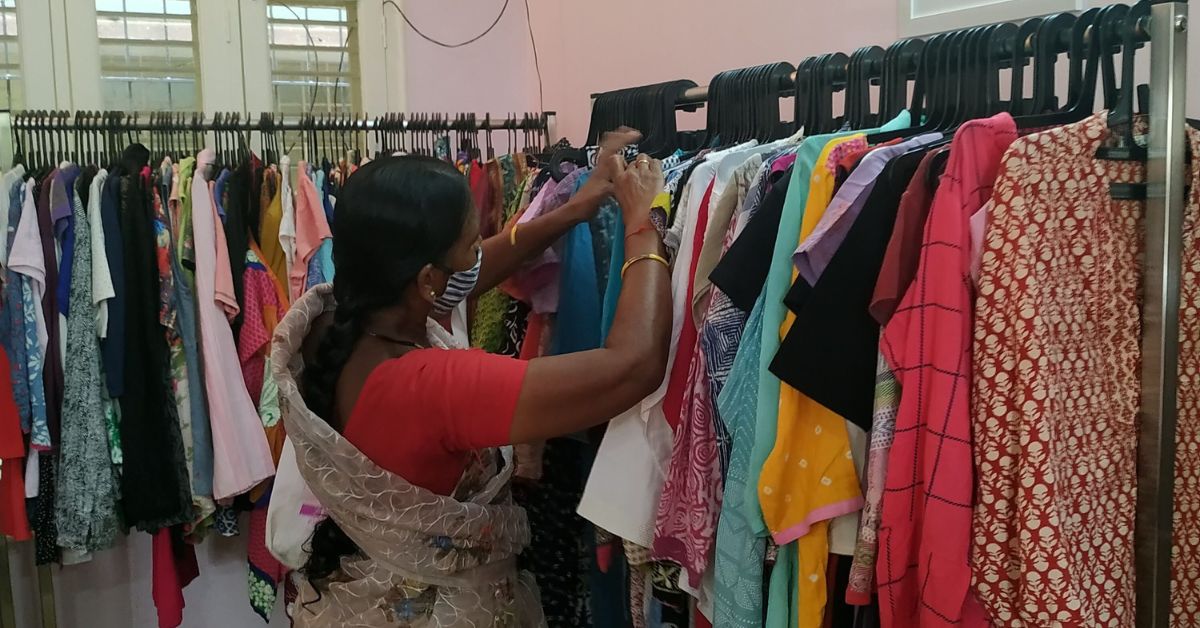 '…But I'm not the only one'
The trust is self-funded by the founders, and with the help of occasional donations, they are able to sustain it.
"We all have full-time jobs. Nitin and I are HR professionals, while Vinod is a corporate communications expert, and Vignesh is a UX and product designer. We have volunteers and staff who help us run the organisation," she adds.
Talking about her motivations, Melisha notes, "The most important idea behind our work is to help people find what they need. We visited some slum areas where some NGOs were providing free vegetarian lunches and then later, they would give chicken biryani. People would not eat vegetarian lunch so that they can eat more chicken biryani. We realised that day that to do this we need to give people what they really want and need."
"We all have this idea that one day we will do something for society. That one day will never come if you don't start today. Many people have tried to replicate this idea, and while many could not sustain themselves, it was the step that is important. By making pre-loved clothes available, we also promote the idea of sustainability and reusing things," she adds.
Every week, the trust caters to more than 150 families who come to buy clothes. The showroom is open for people to buy on Sundays only.
"The clothes are displayed according to their sizes, and styles and segregated in terms of age. We display them on hangers for people to buy. We accept all kinds of clothes, blankets, and toys from donors."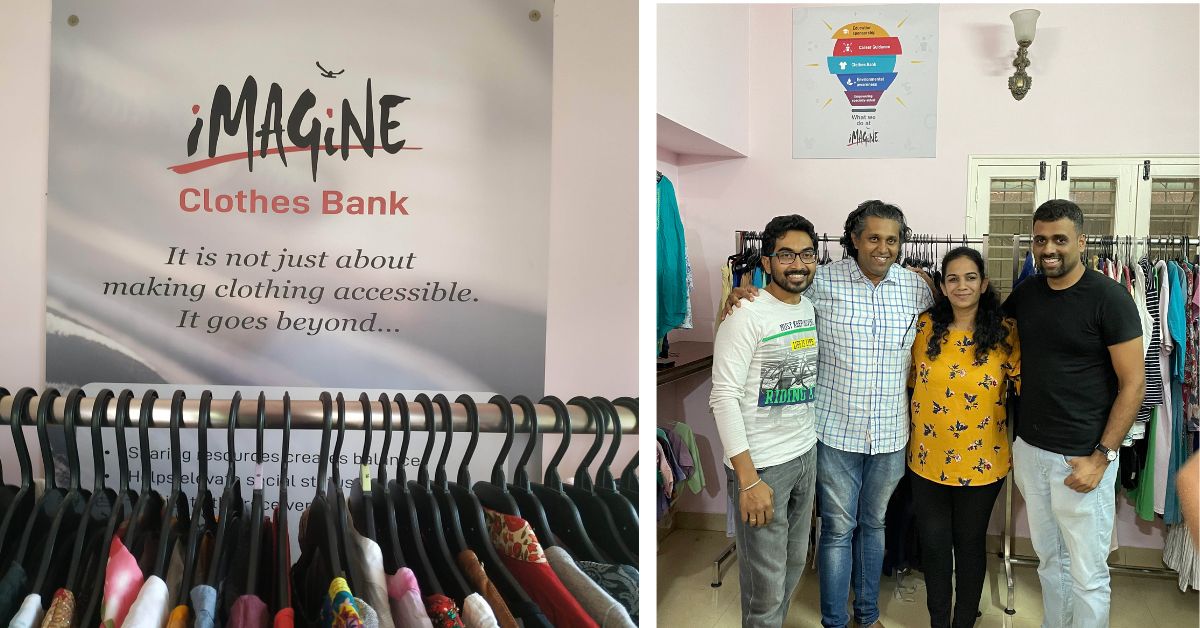 Amritha PV, who volunteered for Imagine Trust, says, "It was a great experience volunteering at Imagine Cloth bank. It is a wonderful initiative and a great step towards helping those in need," said Amritha PV who volunteered for the NGO.
"In his song, John Lennon said, '[You may say] I'm a dreamer, but I'm not the only one'. These lines inspire me, and as a trust, we also want to tell people that if you have the ability to dream, then you can make it work too. If you feel like doing some good work, you are not alone. You will find people who will support you and follow you," she says.
If you wish to donate or volunteer for Imagine Trust's cause, you can reach them at 9916404003.
Edited by Divya Sethu
We bring stories straight from the heart of India, to inspire millions and create a wave of impact. Our positive movement is growing bigger everyday, and we would love for you to join it.
Please contribute whatever you can, every little penny helps our team in bringing you more stories that support dreams and spread hope.
Tell Us More