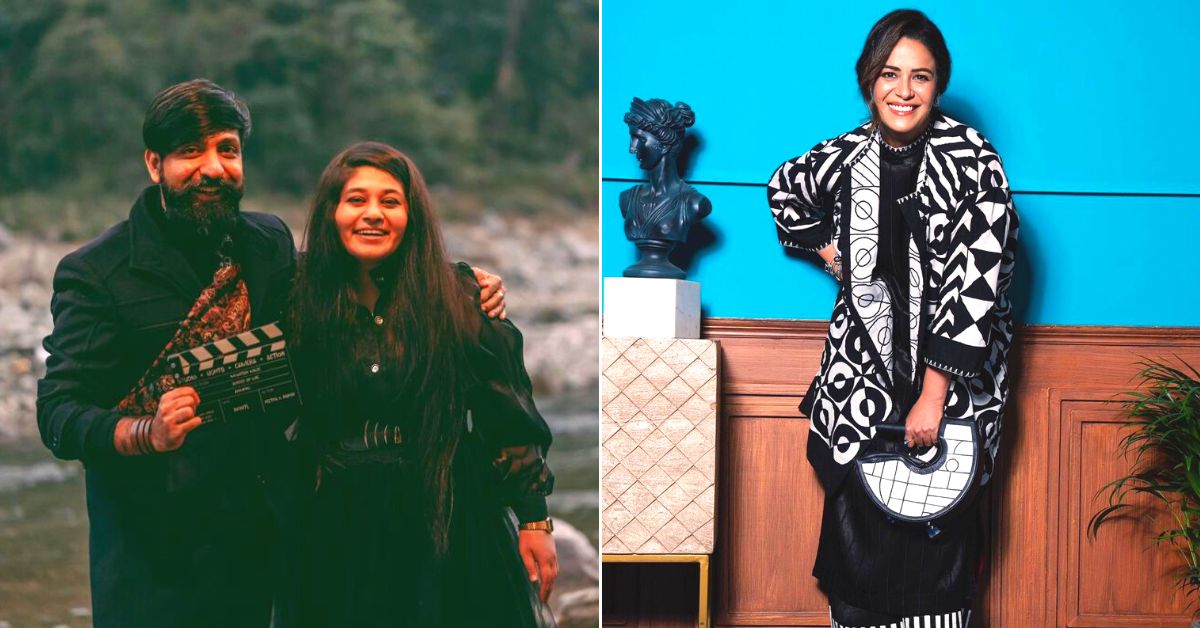 Econock, a Delhi-based startup founded by Ribhav Kapur, creates luxurious accessories through upcycling materials like scrap leather.
Ribhav Kapur, the 38-year-old founder of Econock — a Delhi-based luxury brand which makes sustainable accessories — has always been inclined towards eclectic yet functional things.
His training in fashion technology at the National Institute of Fashion Technology (NIFT) in Mumbai equipped him to deliver efficient outcomes. For over a decade, this training came in handy in the world of 'high fashion' working under renowned designer Manish Arora.
Everything, however, changed for Ribhav in 2017 when he was working on a collaborative project between Manish Arora and Swarovski, the legacy Austrian jewellery brand.
Speaking to The Better India, Ribhav recalls, "We had to do window installations for Swarovski using their crystals and beads. Due to unforeseen reasons, a lot of beads and crystals which were to be shipped by Swarovski got stuck in transit. We had to improvise to meet the deadline for the installations. So, we contacted Swarovski and got to know about the crystal dust (a byproduct of making crystals) which was available in various colours and sizes as well."
"We made the installations using some beads and a lot of crystal dust from Swarovski besides old materials and unused fabrics in-house," he adds.
Having led operations for a major designer label for over a decade, Ribhav understood that optimising time and design quality were the primary production parameters. A clear focus on design, quality, cost and time left little room to optimise wastage.
"It was only this Swarovski project which required us to work with limited resources, for whom we curated an installation. This was truly a eureka moment for me. It gave me a perspective of how limited resources can empower creative designing," he recalls.
This curiosity led him away from the world of traditional high fashion to pursue a master's degree in sustainability from Malmö University in Sweden, where he was exposed to "newfound knowledge on sustainable business practices, the circular economy, and upcycling".
"Combining my love for adventure and innovation, I set out to build my dream project — Econock, a brand that creates luxurious accessories through upcycling," he adds.
Ribhav's dream project began with upcycling scrap leather to make accessories. Established in 2020, Econock makes a range of accessories comprising bags, satchels, wallets, bracelets, phone slings and passport cases, among others, largely made of scrap leather.
At the heart of their brand is sustainability, functionality and durability. As their website notes, "By making the best use of discarded leather, fabrics and threads, we eliminate the initiation of raw material processing, resulting in upcycling the existing material towards a functional cause."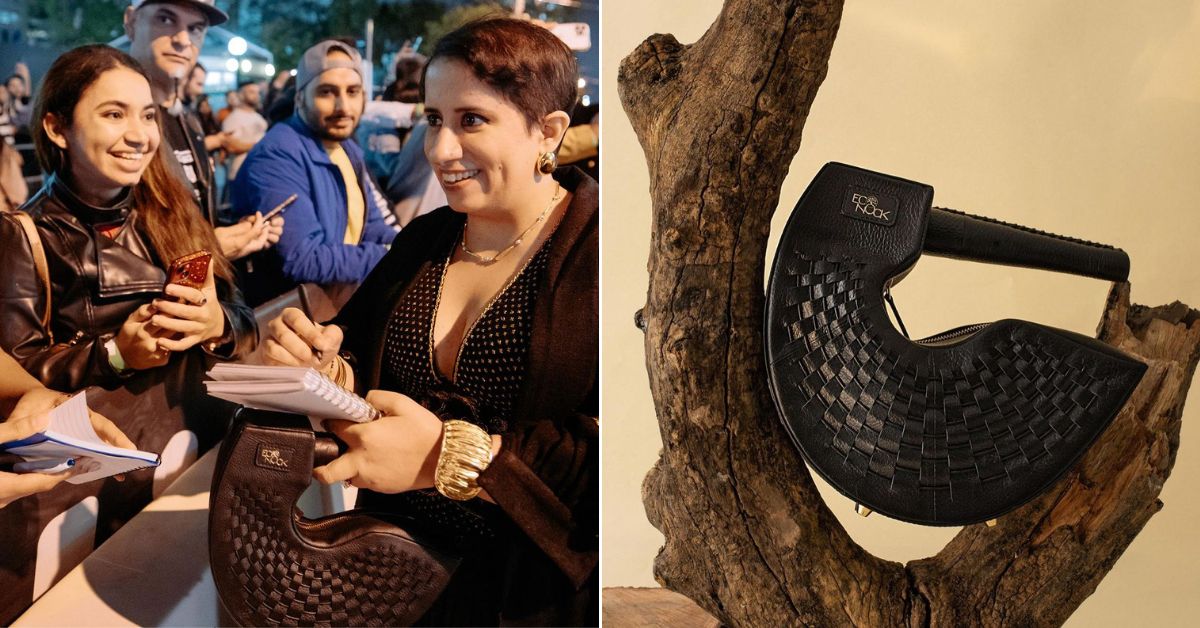 Working with scrap leather
According to a Government of India website, "The leather industry in India accounts for around 13% of the world's leather production of hides/skins and handles robust annual production of about three billion square feet of leather." When employed in the textile, garment and footwear industry, however, a lot of scrap leather is generated during the production process.
In the fashion industry, Ribhav notes that wastage exists at each stage from product designing to development and scaled production. Huge proportions of waste are generated to maximise profits, particularly during scaled production, to save time and costs per unit.
"We know leather is infamous for being bad for the environment. But what about scrap that is already present and available? My vision was to use this waste leather to make luxury products, and after a lot of brainstorming, we came up with our first collection — Sophisticated Survivor — which marked the start of Econock's journey," says Ribhav.
The main source material Econock employs is leather scraps which are oddly shaped and sized. They are mostly remains and cut-outs of larger leather skins.
"Take the example of the Nora Tote Bag from our Sophisticated Survivor collection. The base is made out of waste leather. Meanwhile, the two halves on the surface are created from a single sheet of leather with the positive part placed on the upper panel and the remaining waste utilised in the bottom sections so that there is zero wastage," explains Ribhav.
"We believe that the fashion industry needs to be mindful while creating new products and designs and be conscious of the wastage that is generated. Our goal is to create a world where high fashion is synonymous with sustainability, where each piece is thoughtfully crafted to minimise waste and be environmentally conscious," he adds.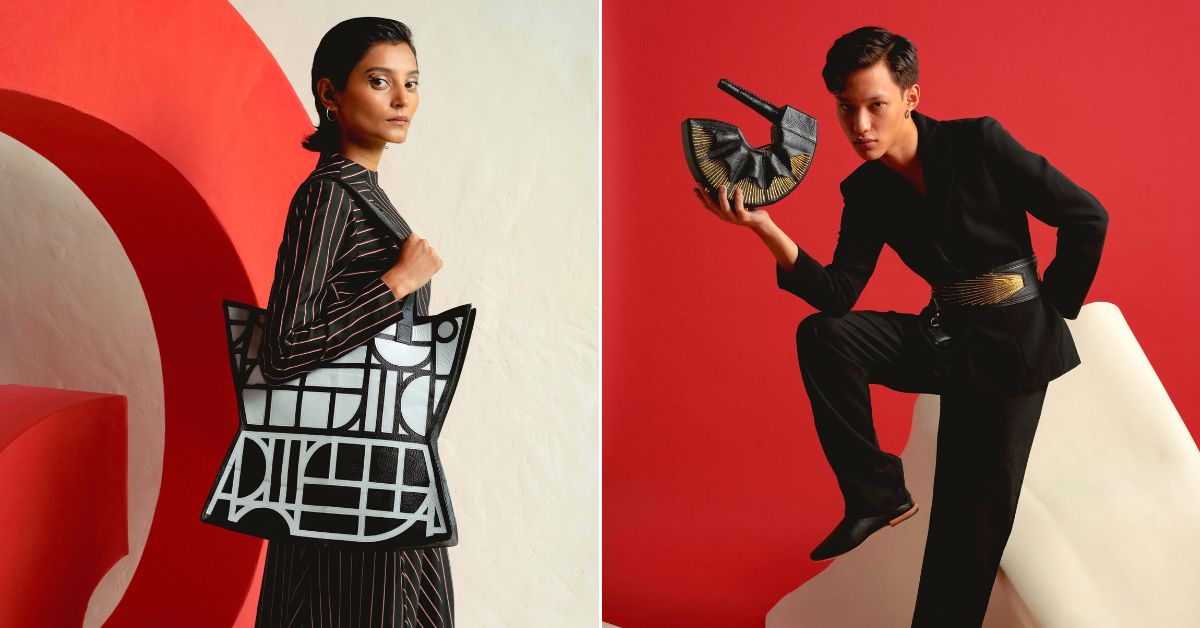 Speaking to The Better India, Gouri Rawat, the creative head at Econock, talks about the choice of working with scrap leather and why their brand went ahead with it.
"When we first worked with scrap leather, a lot of times people questioned our choice of material. They asked us why we couldn't use more vegan materials. We do not endorse the use of leather but scraps (waste) exist. Even with new-age materials like cork, we can't overlook the aspect of scraps being present because they're harming the environment as well. Our work is to upcycle these scrap materials and eradicate waste that ends up in landfills," explains Gouri.
She goes on to add, "With scrap leather, we've started reinventing surface embellishments and techniques to find ways of upcycling this waste."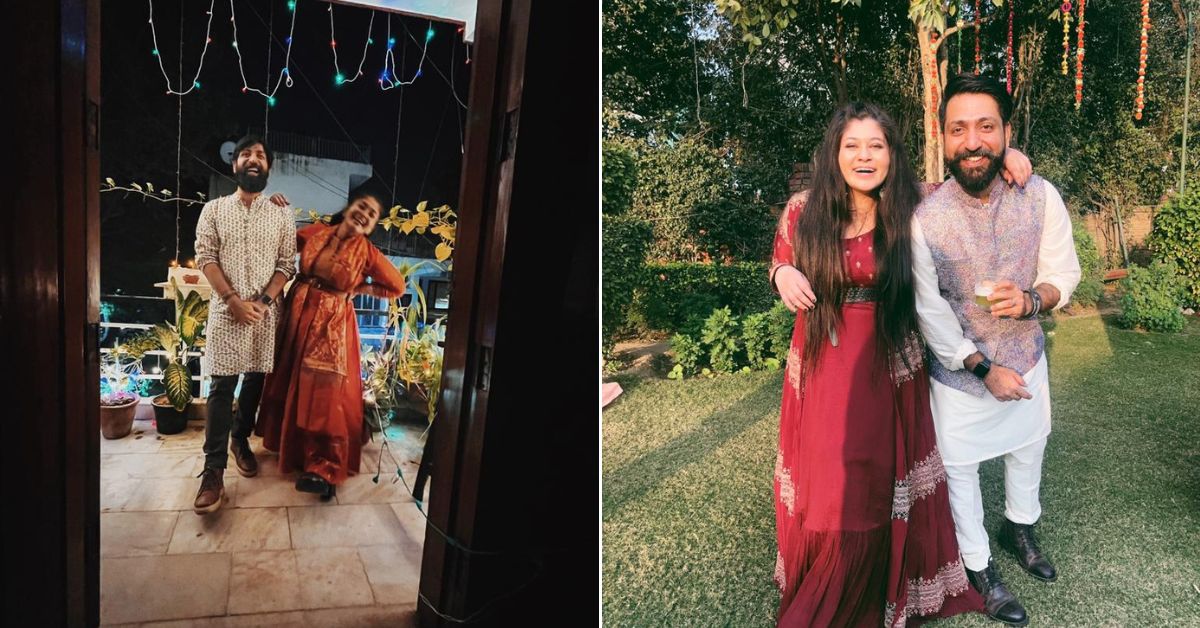 But not all scrap leather is the same, and given the fact that they're a luxury brand, a certain degree of quality is expected. To ensure quality, Ribhav notes that Econock sources scrap leather from renowned leather traders for export and industry suppliers in Paharganj and Noida.
"We have built mutually beneficial relationships wherein we have monetised their discards, thereby establishing a reliable and sustainable supply chain. As of now, we only use leather scraps. We do not recycle old leather to make new products because that requires an extensive [chemical] treatment process. However, we do offer customisation of old leather bags for our customers so that they can reuse them in new avatars," he claims.
Sourcing scrap leather, however, is a challenge. The primary challenge, according to Ribhav, is finding high-quality scraps and industrial byproducts to ensure the durability of their products.
As he explains, "Additionally, we face challenges in sorting and utilising the diverse scraps, which often come in various sizes and irregular shapes."
"We meticulously sort these materials, using larger panels for bigger silhouettes and medium ones for smaller bags. Even the tiniest bits of waste generated during our production process are repurposed as surface embellishments, thus ensuring zero wastage," he adds.
No Econock without traditional artisans
A standout feature of Econock is its ability to marry sustainability with a rich tapestry of traditional craftsmanship and expertise.
As Ribhav notes, "At Econock, our artisans play a pivotal role in infusing our products with a rich tapestry of traditional craftsmanship and expertise. They specialise in various traditional crafts, with a particular focus on leather craftsmanship. Our skilled leatherworkers transform leather scraps into exquisite accessories, employing their expertise in cutting, stitching, and embellishing to ensure quality and durability."
"Beyond traditional crafts, our artisans also embrace upcycling innovation, finding creative ways to repurpose even the tiniest waste materials, resulting in unique surface embellishments and details. Their diverse skills and creativity are instrumental in making our offerings distinctive, authentic and sustainable," he adds.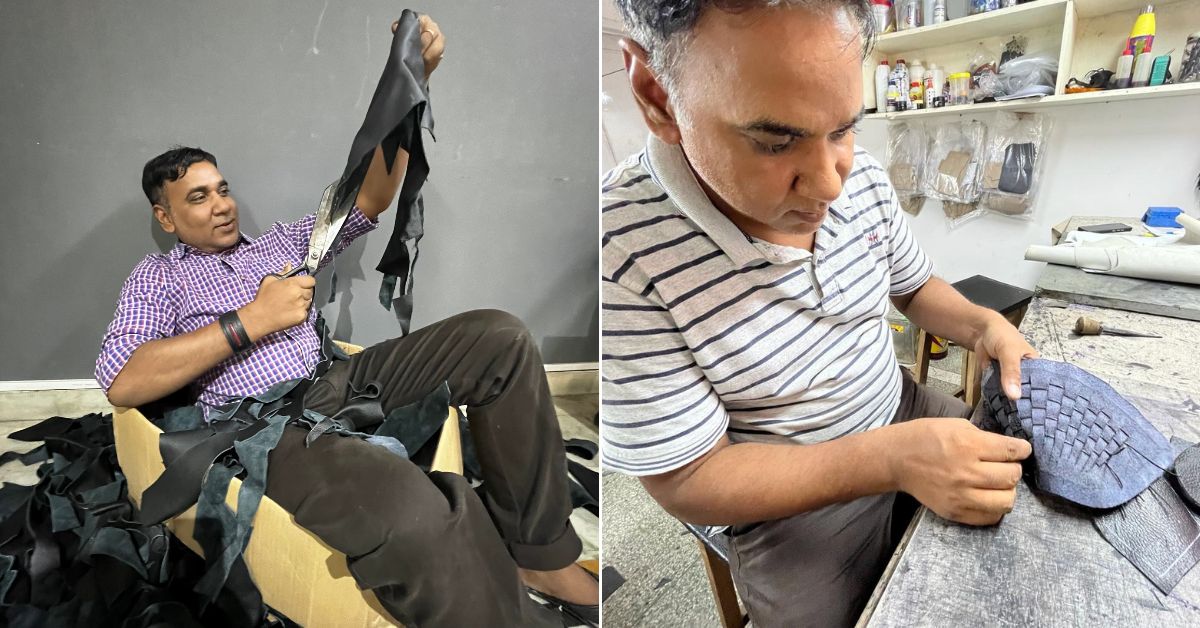 Take the example of Alim Ashraf, a traditional leather craftsman and native of Muzaffarpur, Bihar, who learned how to work with leather working in a small-scale unit with his family. At Econock, his work begins with sourcing the scrap material and bringing it to their studio.
"Here, we work with our in-house designers who give us a sketch of what they want. We carve out a pattern accordingly, cut the scrap material, piece them together, and then we develop the final product," he says.
Moreover, he has bought into the concept of upcycling but notes that there are challenges to be encountered that aren't present when working for a traditional firm.
"What we do is collect pieces of scrap leather, fit them, and further fine-tune them to develop new products. This takes some effort. With fresh leather, you can mould it however you like. When you work with scrap leather, however, you have limited flexibility. You have to figure out how to craft a new piece from the limited material available so that it looks like a part of the design and not out of place," he adds.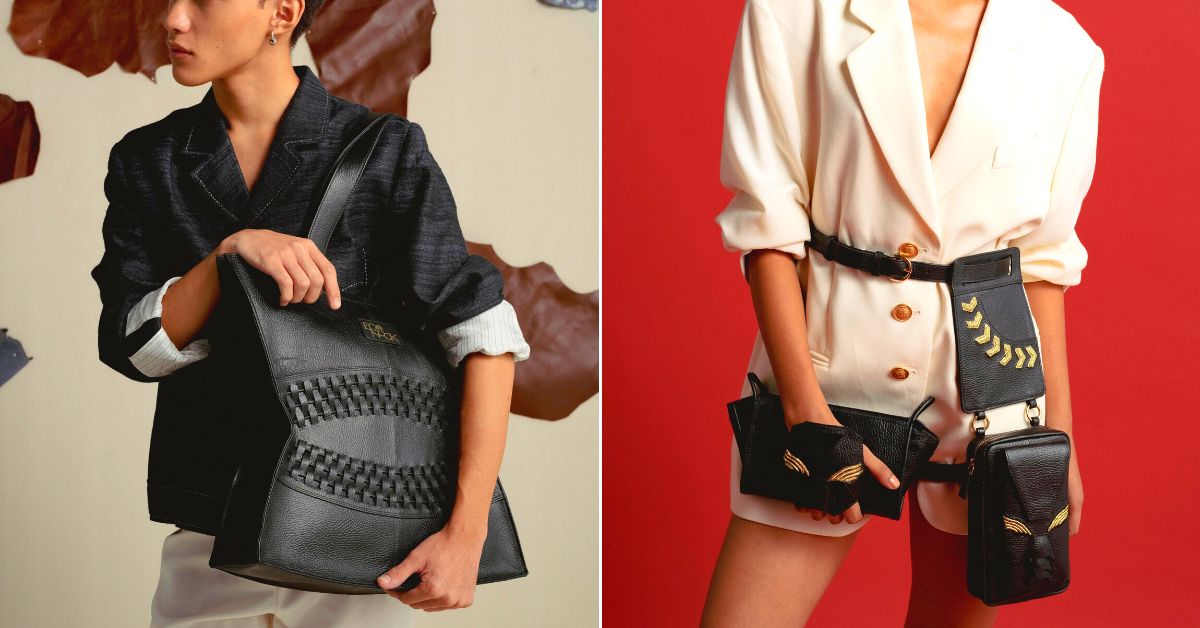 Inspired by Kintsugi
Underlying all their work is a design philosophy inspired by Kintsugi — a traditional Japanese art form used to mend broken pottery with precious metals — within the realm of waste materials.
"We have adapted this technique to mend and rejuvenate discarded materials, crafting them into a set of utilitarian accessories. This approach not only breathes new life into waste materials but also embraces and accentuates the inherent beauty of imperfections, aligning perfectly with Econock's ethos of sustainability and transformation," says Ribhav.
"We're committed to sustainable fashion and creating high-end, experimental pieces using waste materials. Our designs prioritise functionality and longevity with diverse silhouettes. Our collection highlights innovative upcycling techniques with simple shapes and functional details" he adds.
As Gouri notes, "When we started this brand, we had this idea of working around sustainability. Coming from a design background, my initial thoughts were to create pieces that are so eclectic in nature and well thought out that people would be shocked to find out products like these are made out of waste. This was the design philosophy that more or less went into our products. For example, Noir Et Blanc features a monochromatic approach, while Gold Riddance uses bold gold tones. We showcase craftsmanship in our High-Braid all-upcycled leather line."
"Our accessories need to be very utilitarian and they can't be just part of another fad. We don't want to create accessories that would eventually end up in landfills once a seasonal trend has passed. They are durable in terms of material, utilitarian in terms of their functionality, and design-wise, they are archival so that they remain in your wardrobe for a long time," she adds.
Moving ahead, however, they are expanding their product range to include jewellery crafted from scrap leather and metal, and have developed a new fabric made from waste threads. Emblematic of their new product range is their upcoming collection 'Creation of Eve', which reimagines the story of Eve (from Adam and Eve) through upcycled accessories.
"Could we show Eve in a more powerful light because she has been overlooked several times in history? We wanted to couple that idea with how people often overlook or forget waste as well and that is how we came up with a whole storyline," she adds. The technique employed in the creation of their Eve collection takes inspiration from the concept of Kintsugi.
"We tried to apply the same concept with scraps and join them with golden embroidery to ensure there is zero wastage. We have created a whole fabric from waste threads coming out of shirts and T-shirts. As soon as you look at our collection, you can already see that there are smaller scraps in bits and pieces and a golden light that is gleaming from inside of it. That seemed like a great way to introduce the creation of Eve in her most powerful form," she says.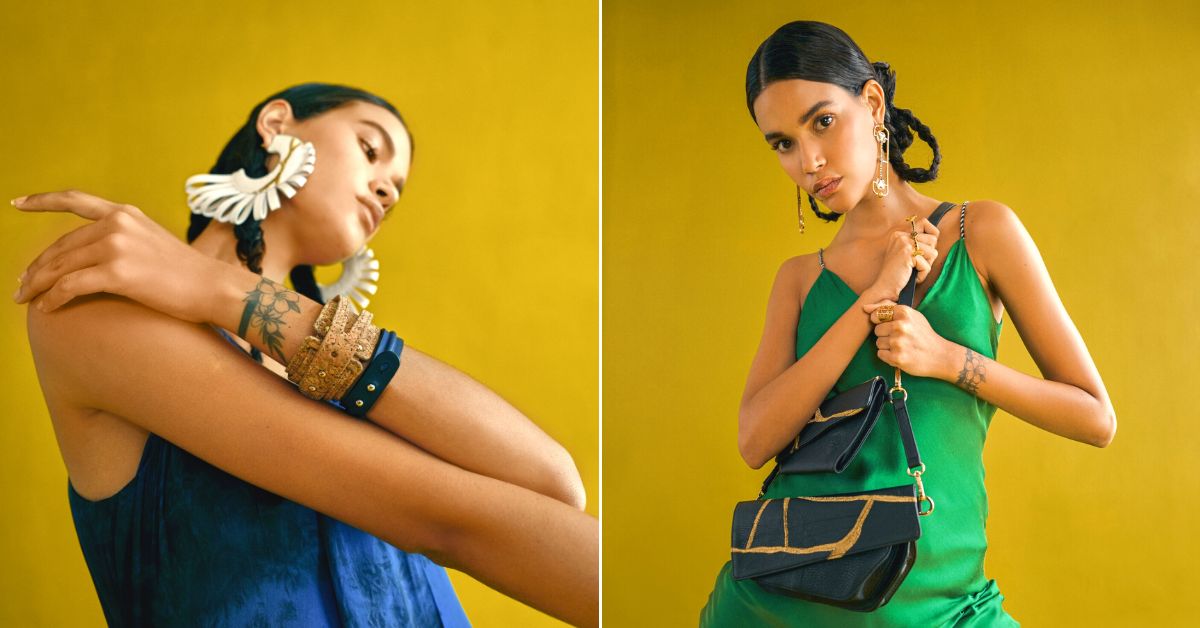 Looking ahead
The move into jewellery is part of their larger evolution as a brand. Econock initially started off with making upcycled bags, but recently tapped into smaller accessories.
"Not everyone can afford our upcycled bag but people have asked us whether we could make smaller utilitarian accessories. That is when we came up with a small range of accessories like a wine case for gifting and smaller travel accessories, like phone slings and passport cases, that people would just want to buy. They can be part of the larger Econock community even if they can't afford our upcycled bags and instead buy our smaller pieces. With women adorning a lot of accessories, we decided to create a jewellery line as well," explains Gouri.
Despite taking these steps into new product territory, Econock remains a bootstrapped venture. "We want to build this organically. But down the line we're keen to explore partners and investors who are in synergy with the values we are trying to inculcate here," says Ribhav.
In a world of fast fashion and expensive designer labels, here's a self-sufficient brand focusing entirely on slow, circular and sustainable fashion choices. Prospective partners and investors will need to understand this if they want to collaborate with Econock.
(Edited by Pranita Bhat; Images courtesy Econock)
We bring stories straight from the heart of India, to inspire millions and create a wave of impact. Our positive movement is growing bigger everyday, and we would love for you to join it.
Please contribute whatever you can, every little penny helps our team in bringing you more stories that support dreams and spread hope.
Tell Us More