A daily wager turned 'Father of Chinars', Abdul Ahad Khan's mission to protect Kashmir Valley's iconic tree started in Hatmullah 15 years ago.
Featured image above by Firdous Hassan.
In 2007, 38-year-old Abdul Ahad Khan in Kashmir's Kupwara district was returning home from his work as a daily wage labourer at construction sites.
Since it was July, he decided to rest under the shade of a decades-old chinar tree in Hatmulla village. While in repose, he realised that this tree was one of the few surviving ones in the village, once known for its mighty chinar trees. So he decided to embark on a mission to revive its dwindling plantation.
Locally called bou'in or boueen in Kashmiri language, and scientifically known as the Platanus orientalis, the chinar tree grows over 20 metres in height, while its girth can go up to 50 feet.
The chinar tree is highly revered in Kashmiri culture and serves as a symbol of the region's natural heritage. The tree is frequently portrayed in a variety of artistic, poetic, and literary works. The oldest chinar tree is believed to be over 700 years old and is in Budgam's Chattergam village with a girth of over 50 feet.
Come 2023, Khan has planted more than 300 chinars in Hatmulla, which is adjacent to his native village, Nagri Malpora. Simultaneously, he has become a part of the state forest department's campaign of planting over 1,000 chinars in the forests of Kupwara.
"It has now been 15 years since I planted chinars in Kupwara. What inspired me to start this mission was that chinar, which is a part of our rich history and culture, was fast diminishing in the valley," he says.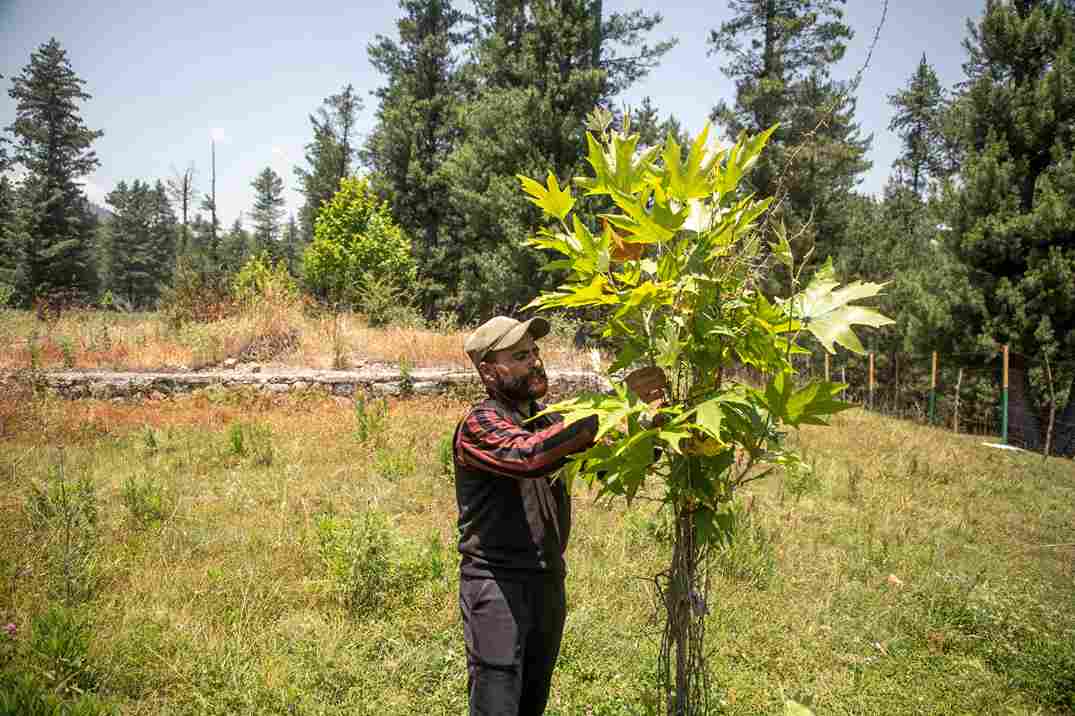 How his journey started
With little knowledge about the government department to seek help or how to plant these trees, Khan started experimenting with its twigs.
"I started looking for chinar trees in my district whose twigs I could use for the next plantations. I used to cut twigs randomly and plant them anywhere I could find space back in my village. Despite planting them in hundreds, I had very little success," he says.
Gradually, Khan learned the procedure after consulting with the elders and experts from his village. "Chinar plantation is a skill and a proper procedure needs to be followed. A twig of proper length is needed to successfully achieve results," he said.
Explaining the process in detail, he adds that when the planted twig starts forming roots, it is again planted in an open area. This entire cycle takes about a year. The roots grow within the first six months following which, it is shifted to the new plot the next year.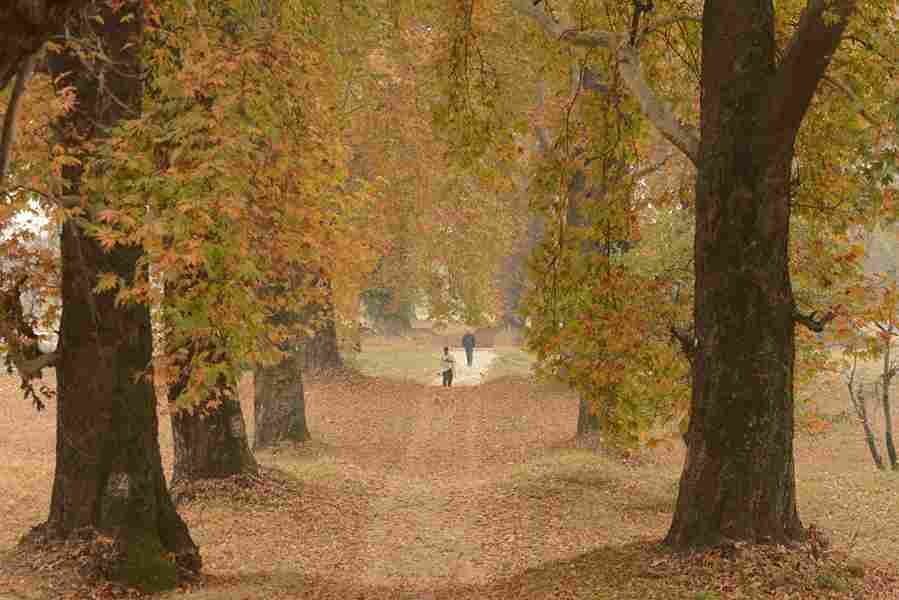 Geotagging and identifying each tree
The Forest Research Institute of Jammu and Kashmir is currently geotagging chinars across the valley to know their number as well as their health.
So far, the institute has geotagged as many as 18,000 of these trees across the valley and the remaining 10,000 are still under census. Officials at the institute claim that the major proportion of the chinars that are accounted for are diseased and require immediate conservation efforts.
"We conduct an analysis of every chinar tree by looking at 25 characteristics like age, health, height, width, how susceptible they are to diseases, and which tree needs aid. After covering Kashmir, we will move to Chenab valley in Jammu to geotag the rest of the chinars. So far we have come to the conclusion that the majority of these trees in the valley are diseased," says Dr Syed Tariq, researcher and coordinator of the chinar census project of the institute, saying that they have also created a record form to catalogue each tree.
While the institute is now proposing to create an online database of chinar trees, they are also taking various revival measures — such as building nurseries where the chinars can be cultivated on a mass scale and taking prompt action to cure the diseased tree.
"The database is aimed at tracking the trees' health and growth. We are also raising awareness through social media campaigns and growing chinar tree saplings to increase their number in the valley," Tariq says.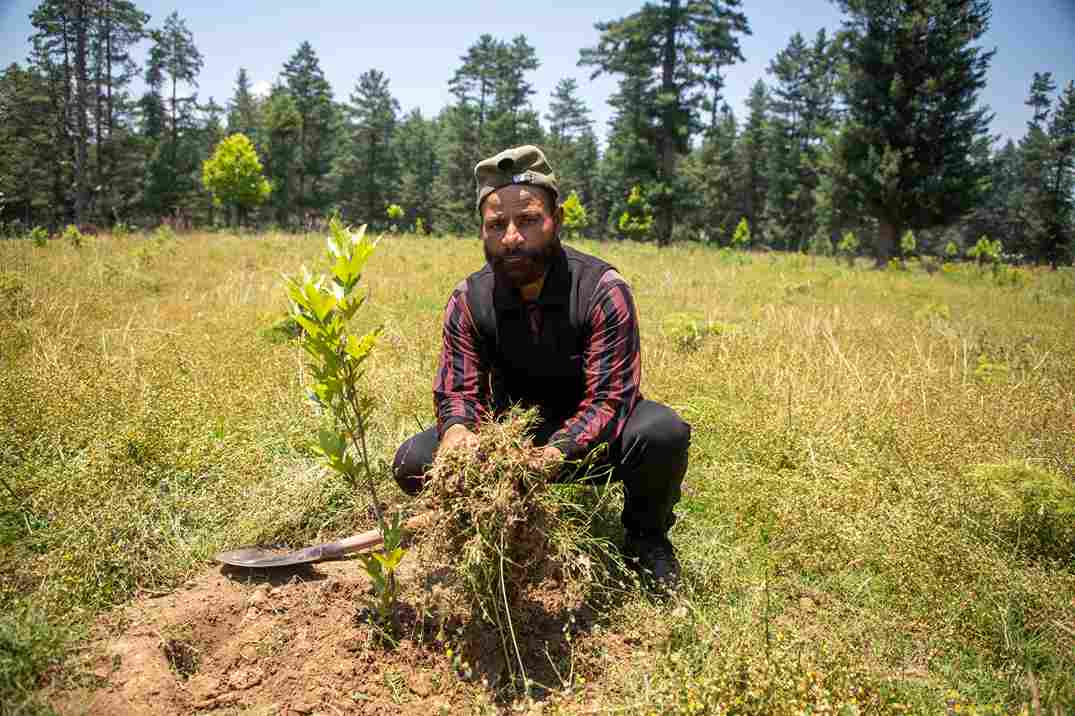 Khan's efforts give Hatmulla a chinar plantation area
Realising Khan's efforts, the forest department converted 20 hectares of barren land in Hatmulla into a chinar plantation unit, which currently has over 300 chinar trees. The unit has become the first of its kind in the valley, where the trees are cultivated on a mass scale.
"In 2019, when we saw what Abdul Ahad Khan was doing with this barren land, we immediately converted the 20-hectare plot into a reserve. We demarcated the area and erected fences to protect these chinar plants. Today, we have 300 such trees in this unit," says Zahid Mughal, district forest officer of Kamraj, Kupwara.
The forest department is using Khan's proficiency across all chinar plantation drives in the district. "Khan has a good knowledge about the cutting and planting of saplings with a minimal failure rate. Since he is a daily wage labourer, the department gives him work during the plantation season and while maintaining the trees in the district," Mughal says.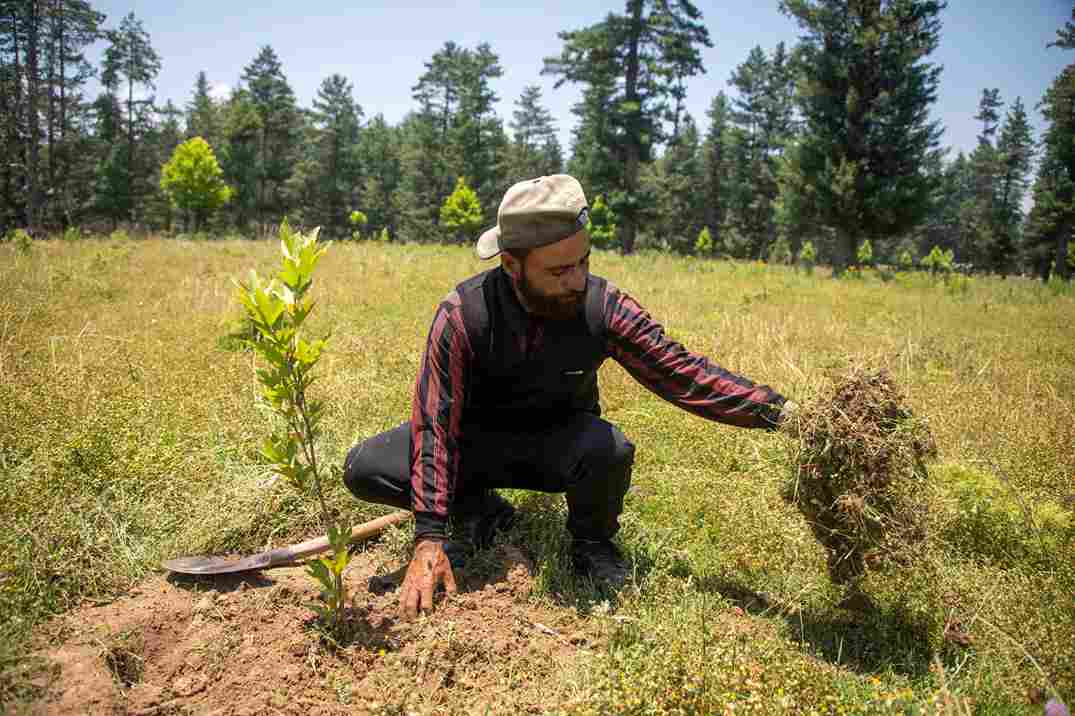 Chinar plantation is like charity for Khan
To Khan, planting trees is similar to Sadaq-e-Jaira (a kind of charity in Islam, the rewards of which a person continues to receive even after death) so that people could find shade during the scorching summers.
"I know these trees will benefit the people of my locality. Our ancestors knew the advantages of chinar which is why they planted this tree in almost every village of Kashmir. For me, it is like a religious duty and I will continue this mission till my last breath," he adds.
Khan, who still works as a daily wager to eke out his living, has dedicated two days a week to nurturing these trees.
"When the climate is very hot, these chinars require to be watered periodically. So, I don't go to work for two days a week, but instead, I spend my entire day watering them. Though I am poor and work as a labourer, I nurture these trees like my own kids; they are like my children," he says.
Khan has not married and lives with his mother and brothers. He has inspired his family and others to look after the chinars as well.
After the chinars, Khan has now extended his mission by planting deodar and other pine trees in the forests. He can expertly handle this task now after updating himself about it. He continues to work in plantation drives and hopes that others will recognise the need for immediate afforestation efforts.
"Though many aren't much interested in this type of social work in my area, there are still some who visit and help me out. I hope someday, everyone realises the need for a green and clean environment and that Mother Nature is conserved," he says.
(Edited by Padmashree Pande)
We bring stories straight from the heart of India, to inspire millions and create a wave of impact. Our positive movement is growing bigger everyday, and we would love for you to join it.
Please contribute whatever you can, every little penny helps our team in bringing you more stories that support dreams and spread hope.
Tell Us More