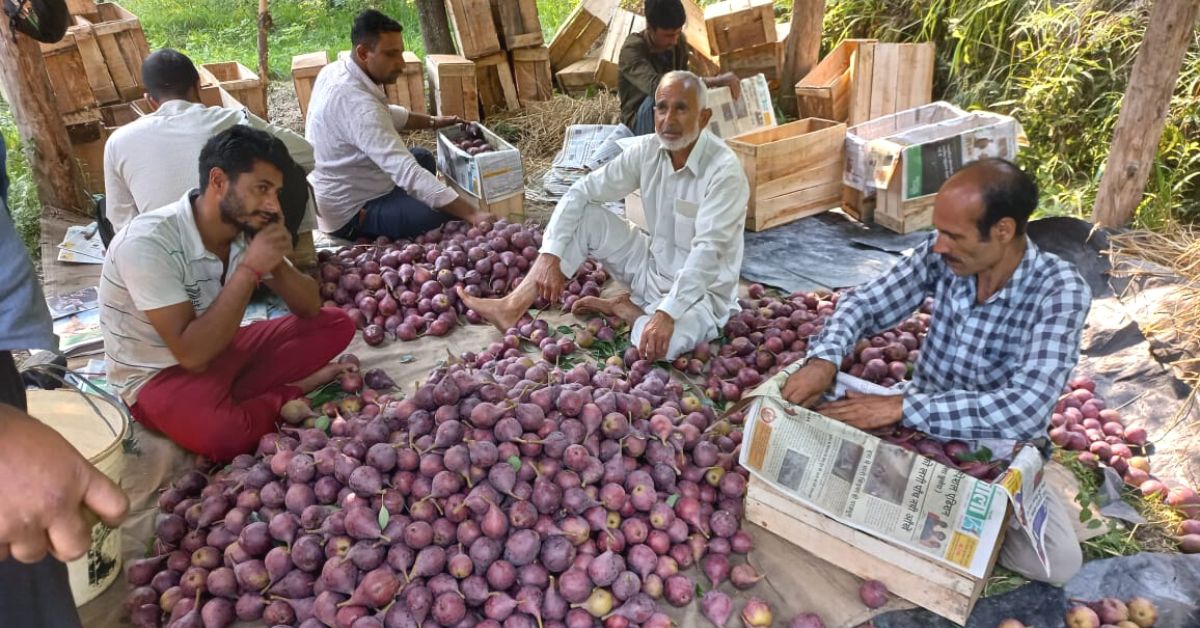 Haji Mohammad Shafi Sheikh from Kashmir quit his job as a contractor in a forest corporation to grow exotic red pears that now fetch him more than Rs 25 lakh a year.
This article is part of The Better India's series #EarnYourIndependence, with which we celebrate Indians achieving financial freedom in innovative ways.
In 1980, Haji Mohammad Shafi Sheikh, a contractor in a forest corporation, was on a routine visit to Kashmir. He was scheduled to meet his younger brother Abdul Rashid Sheikh and cousin Ghulam Nabi, who was pursuing a degree in Engineering at Srinagar's Engineering College.
The trio decided to explore a few of the tourist destinations. They started their journey with Nishat, a picturesque area of Srinagar, which houses the famed Mughal Garden, home to mighty Chinars.
A road on the outskirts took them to a beautiful garden of green pears, where Shafi and the others spent hours relishing and enquiring about the fruit.
Their interest in the garden grew to the extent that Shafi embarked on a mission to grow a similar orchard in his native village Bharova in Bhaderwah.
Bharova was still oblivious to the existence of these fruits, given its topography and the fact that locals only cultivated maize and fodder to feed their animals.
"The entire area of Bahrova is hilly and maize was the only crop being grown by farmers because of the drought-prone conditions. People were not financially stable due to which they couldn't explore other options over maize to earn a livelihood," Shafi says.
In the same year, he took a few saplings of pears and walnuts home and sowed them adjacent to his house to track their growth.
"Surprisingly, plants grew normally and within a few years started bearing fruits. It was very much encouraging for me and my interest grew to sow more plants to give an idea to the people about the scope of horticulture in my area," Shafi says.
The 74-year-old now annually harvests 3,000 boxes of exotic red pears enough to fetch him more than Rs 25 lakh. "The maize which I grew in my fields would fetch me only Rs 4,000 per annum. Often we suffered crop failures and farmers were becoming poorer. But now, farmers of my area are financially stable," he says.
Apart from pears and apples, Shafi also harvests 15-20 quintals of walnuts annually.
Horticulture Sheikh of Bhaderwah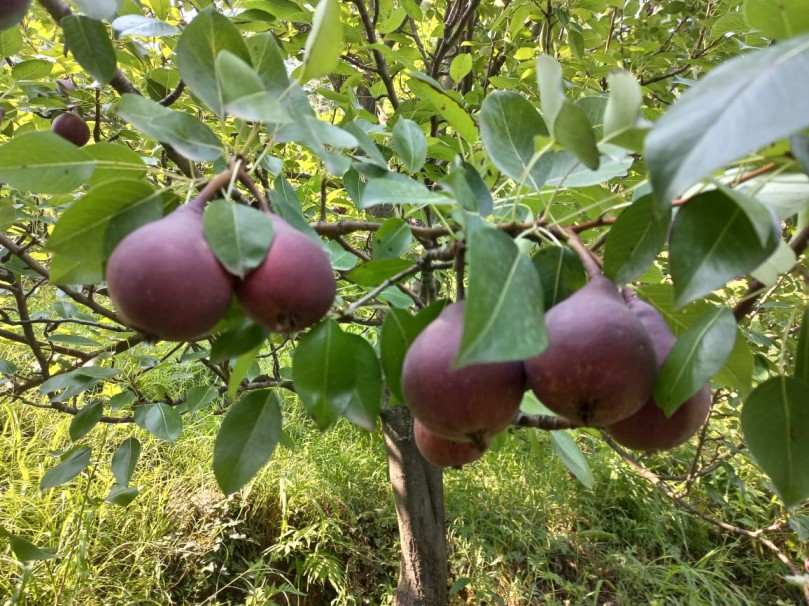 The journey of growing pears on land which was confined to just fodder and maize a few decades before was not easy for Shafi. It was indeed a work of patience and determination for him, who would take the help of experts to have disease-free produce.
"In 1993 when I saw my pears growing, I left my job immediately and devoted my entire time to horticulture. I always had a hope that my efforts will change the fate of the people of my village," he says.
After reaping benefits from his efforts, Shafi finally decided to completely abandon the custom of growing maize in 2002 and shifted to horticulture, despite opposition from his neighbours and family. "It was a very difficult decision for me and people would often question me for giving up maize cultivation. The initial years were full of hardships as plants needed years to bear fruits," he says.
Growing native pears and walnuts didn't satisfy his appetite and Shafi finally sought help from Sher-i- Kashmir University of Agriculture Science and Technology Jammu to grow exotic red pears, which he only had heard about till then.
"Seeing my commitment and desire to expand my orchard scientifically during a routine visit by a team of scientists from Krishi Vigyan Kendra, one of the scientists, Dr Vikas Tandon, who is a professor at SKUAST Jammu handed me a few Italian pear seedlings, which was a significant turning point in my path," he says.
After successfully growing red pears, he grafted green pears plants with red pear fruits to grow high-quality fruits in his orchard. "Now I have some 250 red pear trees and apart from them, I grow green pears, apples and other variety of fruits. For research, I visited Himachal Pradesh and other states to learn technicalities growing exotic fruits in my orchard," he says.
He is hoping his production increases in the coming years as scores of his plants are ready to bear fruits. "I keep on experimenting with my orchards. From spraying quality pesticides to timely de-weeding, my production will increase in coming years," he says.
A ray of hope for Bhaderwah farmers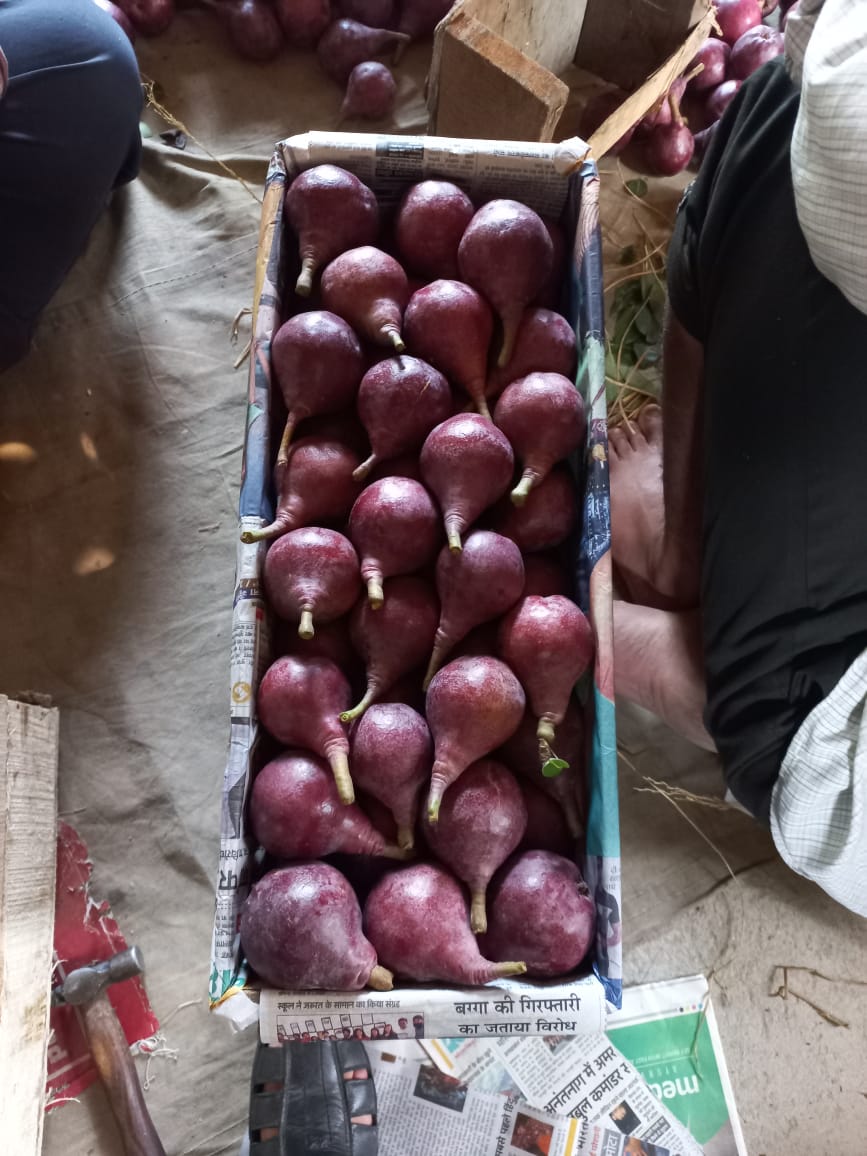 Seeing Shafi's hard work bearing fruits, his younger brother Abdul Rashid too has shifted to horticulture and has over 2,500 trees of pears in his orchards. His cousin Ghulam Nabi too followed his path and grew pears on his land to get better returns.
"I feel happy that my village is gradually progressing. I can now see a lot of growers, who are dedicated to growing pears and other fruits in our village," he says.
Not just Bharova, adjacent villages like Khalo and Shanatra too are gaining recognition for growing exotic Italian red pears. These three villages grow nearly 1.5 metric tonnes of red pears annually.
Many farmers are getting inspired by his efforts and taking of horticulture in the hilly district of Bhaderwah. "Our district was only known for its breathtaking landscape a few decades before. Now, with the efforts of Shafi Sahab, we are growing quality exotic pears, which are very unique and have a huge demand in the market," says Abdul Sattar, a framer.
Today, 165 households from the villages of Bharova, Khalo, and Shanatra have shifted to cultivating fruits, particularly Italian pears, taking their cue from Shafi.
Horticulture, an employment generator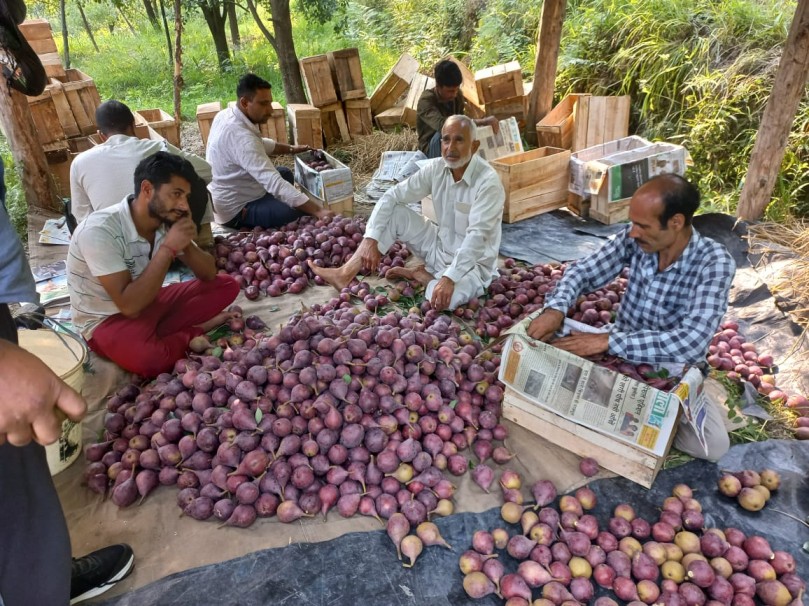 Ever since Shafi took this initiative, the fate of the village has changed. Horticulture has been the employment provider to the village as more youth associate themselves with the growing pears.
During the season he employs almost 25 people in his orchards, who look after spraying, pruning and harvesting of pears. "Initially I had four boys who would look after my orchards. Now almost 25 boys remain associated with me during harvest season," he says.
Fifty-year-old Krishan Lal, a resident of village Khalu in Bahderwah has been working for over 15 years with Shafi as a packer. He has been earning a decent livelihood and says, "I was working as a farmer before and my earnings were not enough. Now I earn some Rs 30,000 during the season at Shafi sahab's garden."
Shashi, a 35-year-old man too has been associated with the trade of red pears. "Horticulture has a great scope in Bhaderwah and scores of the youth are getting employed in this sector," he says.
Edited by Yoshita Rao
We bring stories straight from the heart of India, to inspire millions and create a wave of impact. Our positive movement is growing bigger everyday, and we would love for you to join it.
Please contribute whatever you can, every little penny helps our team in bringing you more stories that support dreams and spread hope.