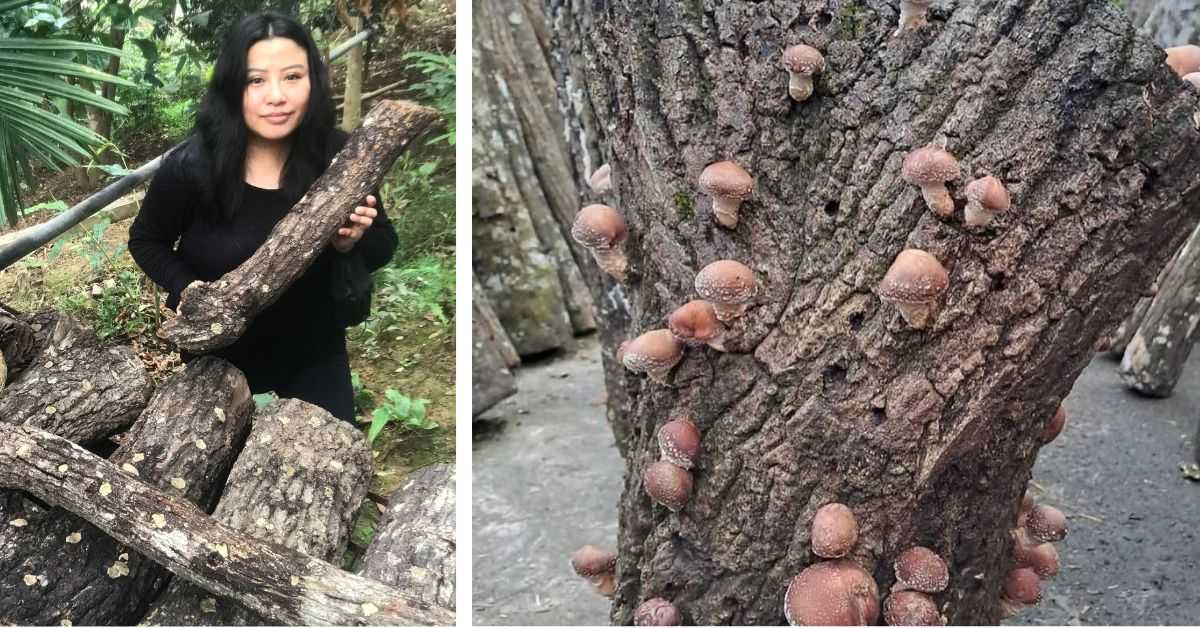 Nagaland's Lhüvevolü A Rhakho shares how she learned to grow quality chemical-free shiitake mushrooms and set up Native Organics, which sells value-added mushroom products across the country.
Shiitake mushrooms are known for their explosive flavour. They're not just recommended by scientists for their Vitamin B5 and dietary copper content, but chefs worldwide also praise them. When you try dishes containing these fungi, you'll experience a savoury, almost meaty taste from the first bite. They complement a variety of foods like soups, risottos, broths, and seasonings, enhancing their flavour.
When Lhüvevolü A Rhakho from Nagaland's Phek district was experimenting with different recipes in 2019 in a bid to get her family to eat healthier, she stumbled upon a few recipes that suggested eating mushrooms. At the time, the 37-year-old mass communications graduate was engaged in a retail business. While she had no plans of venturing into the entrepreneurial space, life did.
Today as Lhüvevolü spearheads her initiative 'Native Organics', she says it is a testament to her passion and dedication to learning. She says she starts her day at the break of dawn, checking on the unit in Phek where the mushrooms are grown, going into the neighbouring fields and speaking to the farmers — all the while believing that there is always something more to learn that will help her scale her venture.
But while her focus is now razor sharp, in 2019, she was merely "experimenting with mushrooms to pass her time."
As she notes, "It was during this time that I began to see how economically viable the idea was." But even so, it was an interaction with the famed Dr Sosang Longkumer of Konger Agritech that really gave her the final push to explore mushroom farming in detail.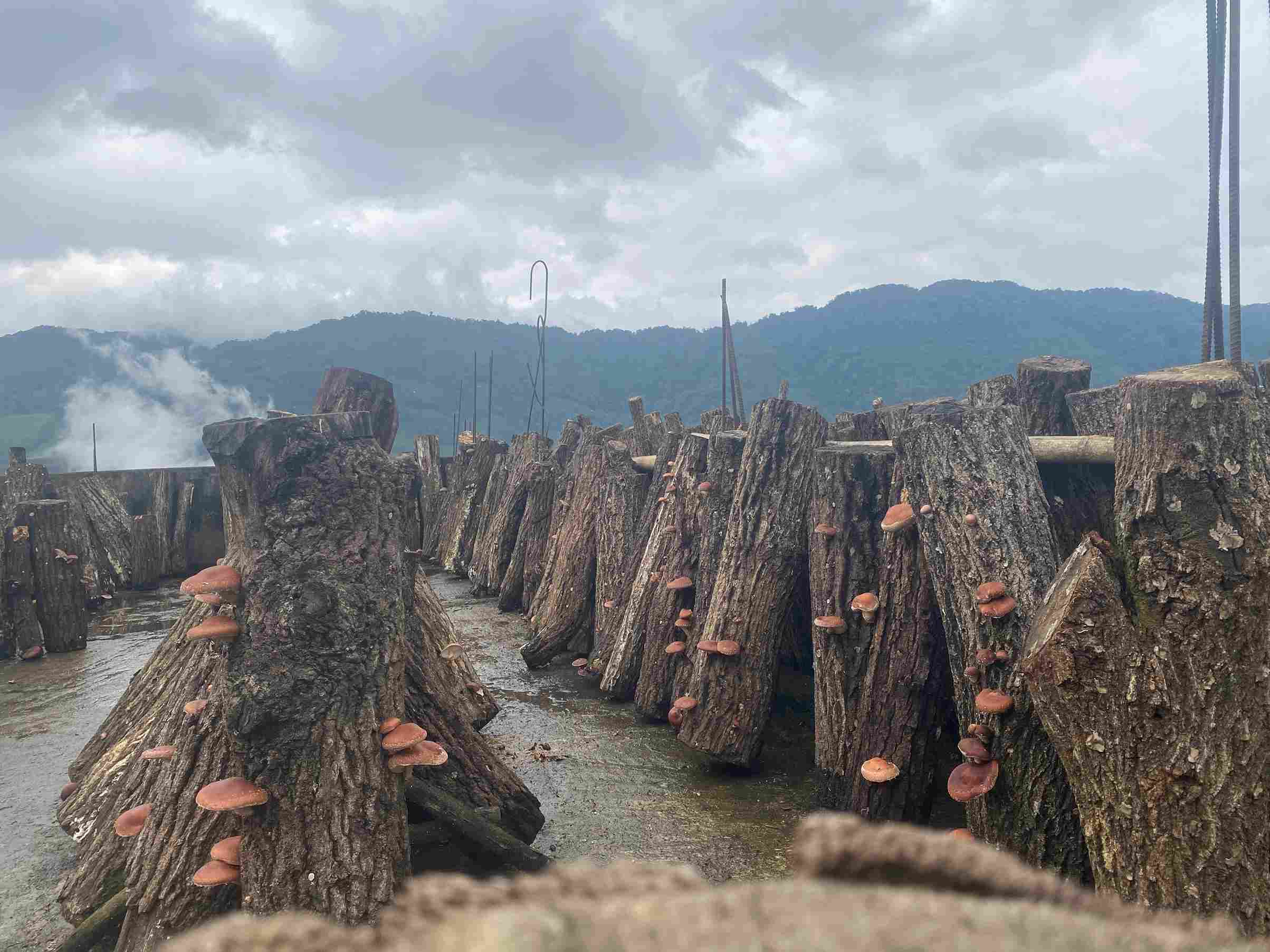 A chance encounter and an idea
Dr Longkumer is credited with introducing shiitake mushrooms, which usually grow in East Asia, into Nagaland in 2018, thus setting the stage for the rise of "mushroom-preneurs" in the Northeastern state.
In his mushroom spawn production laboratory in Dimapur, Dr Longkumer would spend hours researching and experimenting, all in a bid "to live up to a challenge" —  as he told The Better India in a previous interview.
Quoting Dr Longkumer, "My interest in mushrooms began when Dr Rajesh, a senior scientist and my former colleague at the Indian Council of Agricultural Research (ICAR) unit in Nagaland, challenged me to grow mushroom cultures and make spawns inside the laboratory. This was sometime in 2010, and I was working as a research associate."
Coupling his knowledge of microbiology and applied genetics, Dr Longkumer achieved outstanding results. He recalled how "Dr Rajesh was impressed by the quality of the mushroom spawns and advised setting up a spawn production lab to help farmers grow mushrooms all through the year. Mushroom farming is a profitable venture with low investment and early returns."
In Nagaland, Dr Longkumer is something of a hero. His startup Konger Agritech has spent the years since its inception training over 500 farmers in Nagaland in shiitake and oyster mushroom cultivation and generated "approximately 20,00,000 Shiitake dowel spawns and 25,000 kg of Oyster mushroom spawns".
Why shiitake mushrooms?
Prior to 2018, Government-backed laboratories produced the fungi only during the winter months — a reality that Dr Longkumer attempted to change with his startup. He wanted to ensure the perennial availability of these mushrooms and pass on the information on how to cultivate them to farmers in the state.
Lhüvevolü was one of the lucky recipients.
As she recounts, "Dr Longkumer helped me out tirelessly and taught me the ways of cultivating mushrooms. Besides, I also wanted to try growing a mushroom that was in demand, tasted really good, had medicinal benefits, and could be cultivated in our type of environment. So I settled on the idea of shiitake since the production was easier and simpler in comparison to other mushrooms."
These mushrooms come with a host of benefits. The dark brown fungi thrive on hardwood trees and have terpenoids, sterols and lipids, which are said to have immune-boosting, anti-cancer effects. In their dried form, the fungi have a typical umami flavour that makes them a wonderful addition to dishes.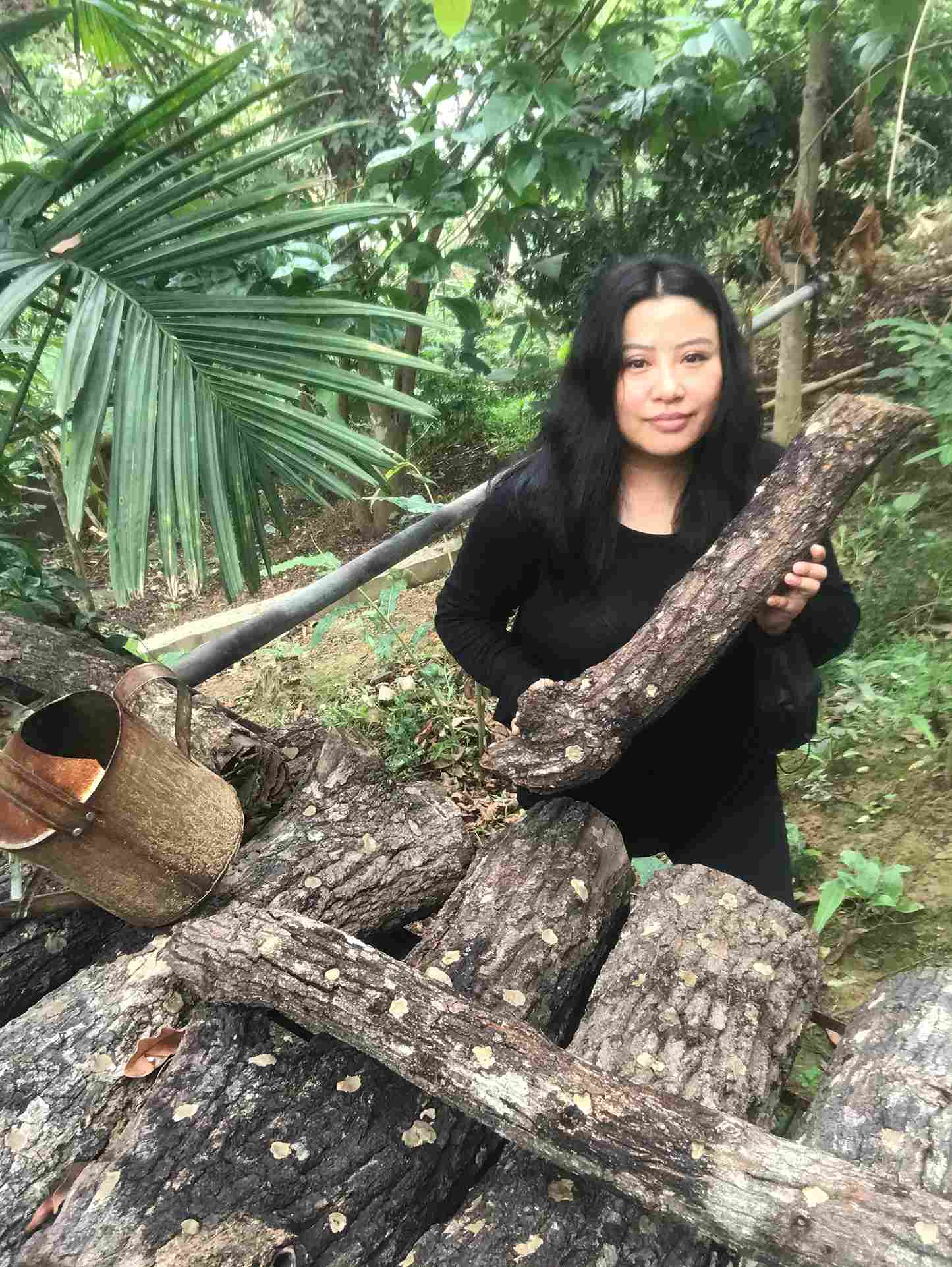 But the real reason why the shiitake revolution took off in Nagaland faster than anyone had anticipated was that the taste of the mushrooms cultivated here was better than those cultivated elsewhere.
Though traditionally grown on sawdust logs in other parts of the world, in Nagaland, the methods are slightly different. Here, oak logs are deployed which result in mushrooms having a better taste and higher medicinal value, informs Lhüvevolü.
When she started her journey cultivating these mushrooms near her home after her interaction with Dr Longkumer, she says she never anticipated the trajectory of events that would follow.
"It started as a side hobby, but I gradually began seeing the potential behind the cultivation. Seeing people's interest in the product allowed me to expand the hobby to an entrepreneurial capacity," she says.
Native Organics also encourages their farmers to grow these mushrooms by supplying them with oak saplings. One of the farmers Veshoselü says he wasn't even aware that mushrooms could be used for business. "Native Organics has helped marginal farmers like myself by providing market linkage; otherwise it is not easy to sell produce in small quantities. Income from selling shiitake mushrooms also helps us in managing household expenses during seasons."
Meanwhile, for Lhüvevolü there is no looking back.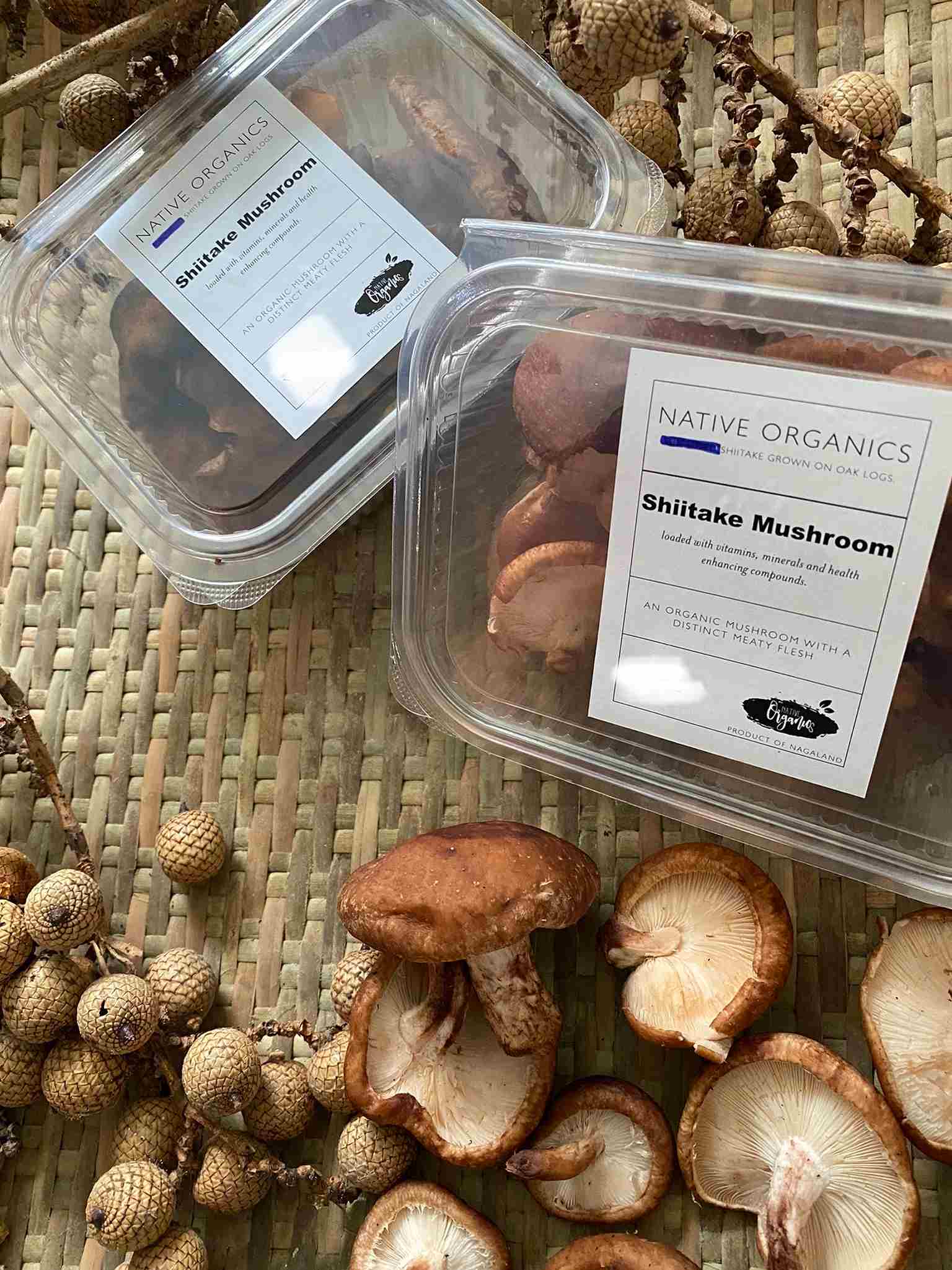 'There is a lifetime of learning with mushrooms alone'
Elaborating on the chemical-free process she follows to grow the shiitake mushrooms, she says, "The first step involves stacking up oak logs or any other hardwood logs in an enclosure built to maintain dampness and low light conditions. Next, we drill small holes into the logs in proportional sizes and leave the logs in the enclosure. Then we insert the spore directly onto the prepared log and water it at regular intervals till the mycelium starts growing."
She adds that at Native Organics, their passion for sustainable practices is evident in the quality of the shiitake mushrooms — emphasising that they are grown with absolutely no use of chemicals or pesticides.
Elaborating on a technique called pollarding, which is used to grow these ingenious fungi, Lhüvevolü says it is an eco-friendly one. "The pruning of the branches is done in a way that does not harm the tree and ensures that the tree is saved for the future."
She is inexplicably proud as she adds that Native Organics has "more than 4,000 fruiting oak logs". Once the mushrooms are harvested, they are sun-dried and turned into powders and sold across India with a major portion of orders coming from cities like Delhi, Mumbai, Bengaluru, Pune and Chennai. These peak during the harvest season — June, July and October — says Lhüvevolü.
The products range from smoked shiitake mushroom powders and shiitake chutneys to shiitake chilly flakes and other such products retailing for Rs 500 for a 75 g jar.
As I express my amazement at how well she has managed to scale the venture without any formal training in business, Lhüvevolü laughs. "To be honest, I didn't know a thing! I ventured into this business with a passion for building something from scratch and the humility needed to learn as much as possible."
Edited by Pranita Bhat
Sources
We bring stories straight from the heart of India, to inspire millions and create a wave of impact. Our positive movement is growing bigger everyday, and we would love for you to join it.
Please contribute whatever you can, every little penny helps our team in bringing you more stories that support dreams and spread hope.