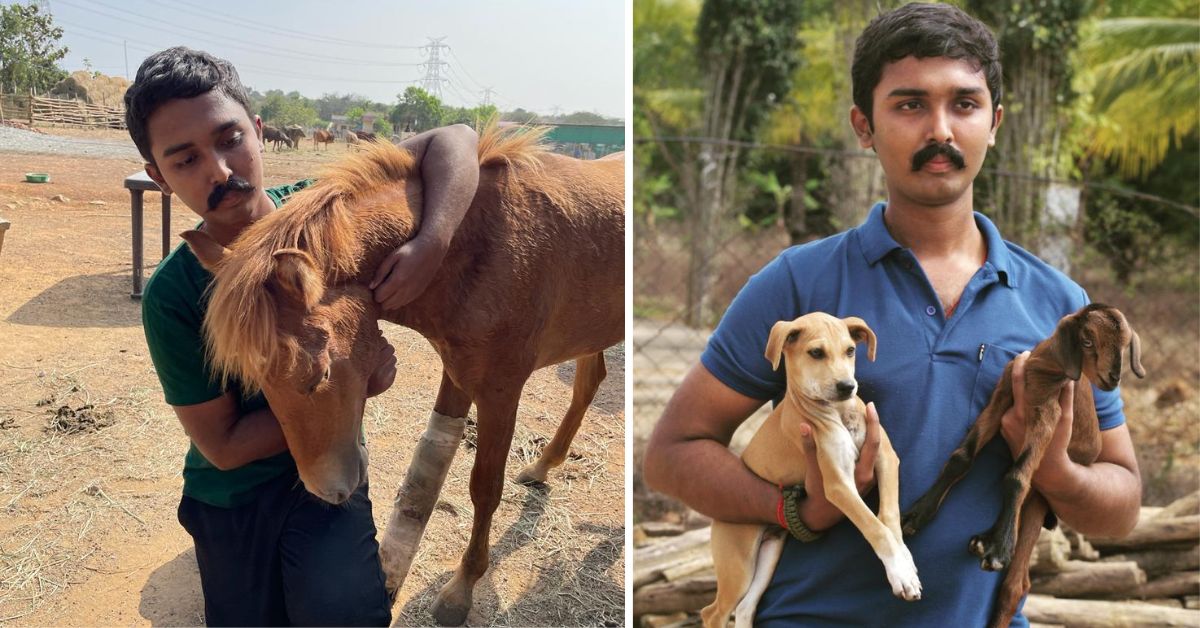 Sai Vignesh (22) started helping animals at a very young age, thanks to his parents and grandfather. Later, he started Almighty Animal Care Trust in Tiruvallur, Tamil Nadu to provide a safe haven for animals. Currently, over 250 animals reside in his sanctuary.
Growing up in Chennai, Sai Vignesh's dearest early memory is of playing with his grandpa and their pet dog. This experience fostered his strong bond with animals from a young age.
"I was devastated when I lost my dog to cancer. To help me cope with the loss, my parents and especially my grandfather would encourage me to spend time with stray dogs and feed them," he recalls in a conversation with The Better India.
As he grew up, he learnt about the atrocities humans do to animals. "I found how they were beaten up and harassed, both physically and sexually, and left to fend for themselves. This made me realise that I wanted to make a safe haven for animals," he says.
At the age of 15, Sai had already begun assisting animals in his area. Now at 22 years old, he has built a sanctuary called Almighty Animal Care Trust in Tiruvallur, Tamil Nadu. It hosts a variety of rescued animals from houses cattle, disabled dogs and goats to pigs and horses.
Charity begins at home
Growing up in Chennai, all the dogs in Sai's neighbourhood would come together around him, showing him affection as he petted them lovingly. "The love that one receives from nature and animals is one of a kind. It is something so pure and unconditional that it always gives me peace," he says.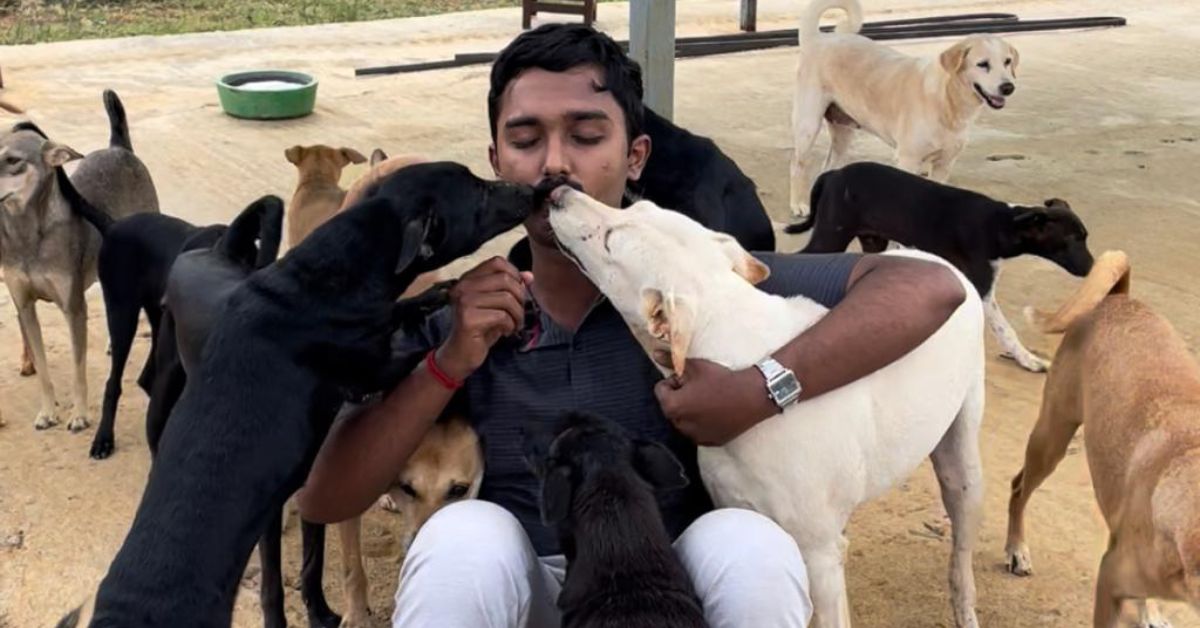 In 2015, when Chennai was hit with a massive flood. "I was very worried about the stray animals in my area and started to let them in my house. This was the starting point that led me on this journey," he shares.
While the flood receded, Sai was left even more determined to do something for animals.
"I began feeding stray animals on the street and assisting if any of them were hurt. I also posted about my work on social media, and people started to contact me whenever they found an injured dog on the streets," he says.
Soon, Sai's inbox started to fill up with requests from people all over the city. "My house's backyard was full of rescued and healing strays. It was becoming an inconvenience to my neighbours. So I started to wonder if I could have a place solely dedicated to the animals," he adds.
Talking about how he managed to help strays at such a young age, he says, "My grandfather was my greatest cheerleader. He would give me Rs 30,000 every month to help the strays. It was his motivation that led me to believe that I can open a sanctuary for animals."
After the passing of his grandfather in 2018, Sai was set on fulling their combined dream.
'Grandpa's Dream, My Vision'
"While I was set to open up a sanctuary, I was only 18 and did not know how to proceed. With my grandfather gone, the financial support was also gone. While there were generous donations from people from time to time, I needed a concrete amount of money to purchase land and construct the sanctuary," he says.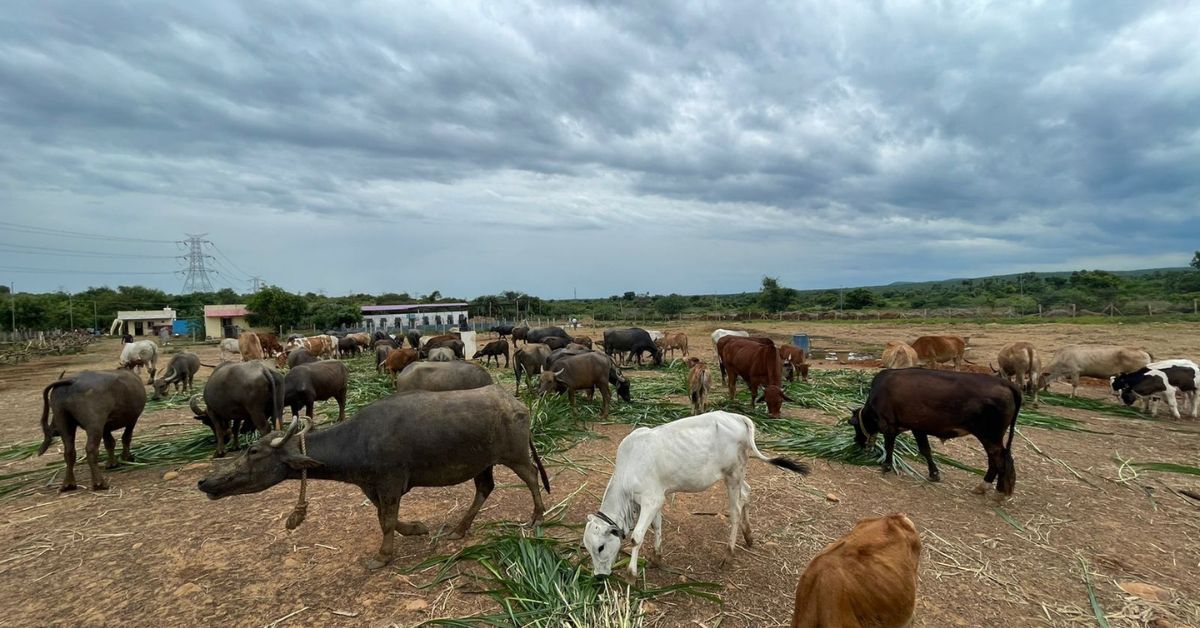 Looking for avenues and donations, Sai stumbled upon an ancestral home that belonged to his family. "I was determined to convince my parents to sell the house and help me with the funds. While it was a big decision, they could see that it was my only passion," he recalls.
Sai and his parents sold their ancestral home and purchased an eight-acre land near Poondi reservoir in Tiruvallur on the outskirts of Chennai. "With the help of some more donations, I was able to construct a safe haven for animals. The Almighty Animal Care Trust was inaugurated in 2019," he says.
While his cause started with taking care of stray dogs, his care soon expanded to other animals.
"I realised that in Chennai, there were sanctuaries for dogs, but when it came to farm animals, they had nowhere to go. Many bulls, buffaloes and calves are abandoned by their owners. They roam in the city, consume polluted water and food, and end up in difficult conditions," he says.
Sai continues, "If a dog gets hit by a car, there is a chance it will get some kind of help. However, with animals like sheep, cows and buffaloes, they are most likely to end up in slaughterhouses."
This led Sai to open up the sanctuary to any animal that needs help. Presently, he has around 250 animals under his care — which include around 80 dogs, 25 goats, 116 cows, buffaloes and bulls, 4 pigs, and 2 horses.
Rescuing and fighting for animal rights
People reach out to Sai via his Facebook and Instagram pages to inform him about any animal in danger. Some volunteers usually accompany him to rescue the animals.
"Once the animal is under our care, we immediately take it to a vet. After initial treatment, we take the animal to the sanctuary. There, we have a vet who visits every morning to check up on the animals," he explains.
Apart from taking care of the animals and giving them food and shelter, Sai also works for their rights. "We check if the animal has been harassed, sexually molested, or was about to be slaughtered illegally. There are ways to fight against such atrocities," he notes.
Over the past years, Sai has been reporting cases of violence against animals to the local police. Many of them violate rules under the Tamil Nadu Animal Preservation Act, IPC 429, Prevention of Cruelty to Animals Act, and Food Safety and Standards Act (FSSA).
"We have a lot of cases that are pending in lower courts including dog poisoning, cattle trafficking and animal abuse," he says.
Additionally, he also started sensitisation of police officers towards animal cruelty. "I started conducting seminars in 2021 and have reached out to nearly 2,000 police offers. It is important because many officers in rural areas were not aware of the laws against animal abuse and the correct measures to take," he adds.
Sai's inbox and phone are always buzzing with requests from people all around the city as well as the outskirts.
"Three years ago, we found a cow that had met with an accident and injured its leg. It was in deep pain and needed immediate attention. I had seen many of Sai's reels on Instagram and was aware of his work. So I called for his help, and he rescued the cow and took it to his sanctuary," says Kathir Selvan who has been in touch with Sai ever since. He now informs Sai of any animal in distress that he happens to encounter.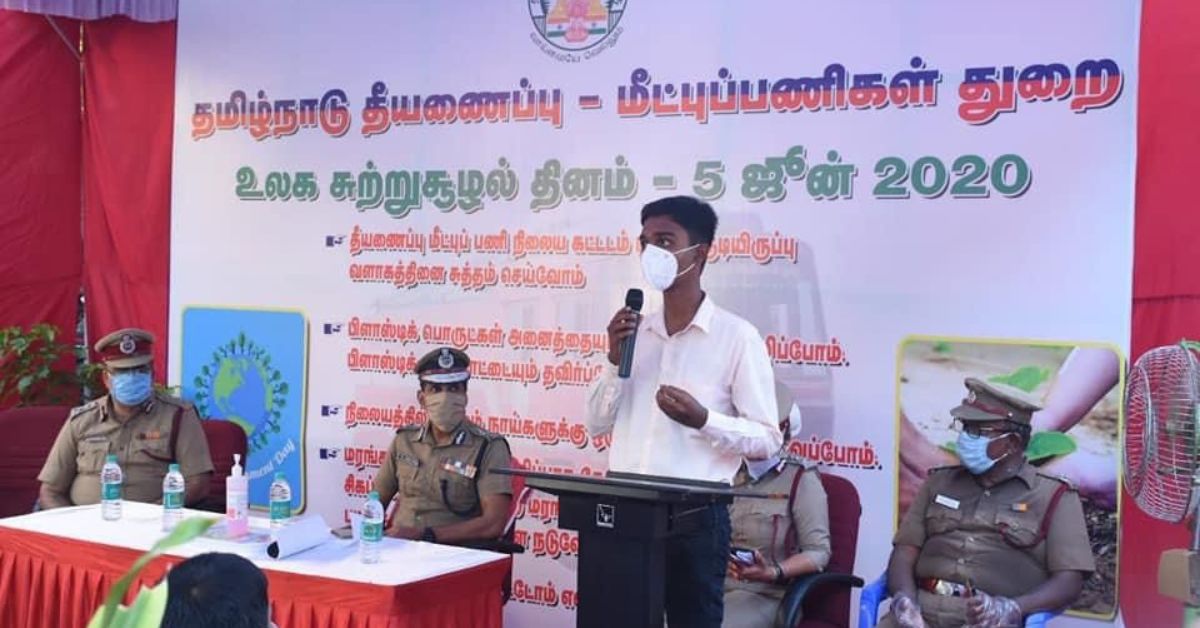 Talking about his motivations and reflecting on his journey, Sai says, "When I see an animal in pain, it almost feels like I am experiencing it myself. They deserve to live as much as we do. There are days when the sanctuary is low on budget and hands, but we have somehow survived for all these years. At the end of the day, when I look back and see nature thriving in all its glory at the sanctuary, it fills me with indescribable joy and satisfaction."
How you can help
Sai, who also works as a web developer, dedicates most of his income to the upkeep of the sanctuary.
"Besides my income, there are people who keep donating regularly in kind and money. The per-day expense for the sanctuary's upkeep and for feeding the animals comes to around Rs 18,000," he shares.
"Anyone who wants to contribute can do it in any form. You can volunteer here as we are always short of hands, or you can also donate money, food, or medicines," he says, adding that he regularly shares updates on the animals' health and well-being on social media.
Currently, Sai is planning to build a quarantine centre in the sanctuary for animals with contagious diseases.
If you wish to further his cause, you can reach Sai at 89393 20846.
Edited by Pranita Bhat
We bring stories straight from the heart of India, to inspire millions and create a wave of impact. Our positive movement is growing bigger everyday, and we would love for you to join it.
Please contribute whatever you can, every little penny helps our team in bringing you more stories that support dreams and spread hope.