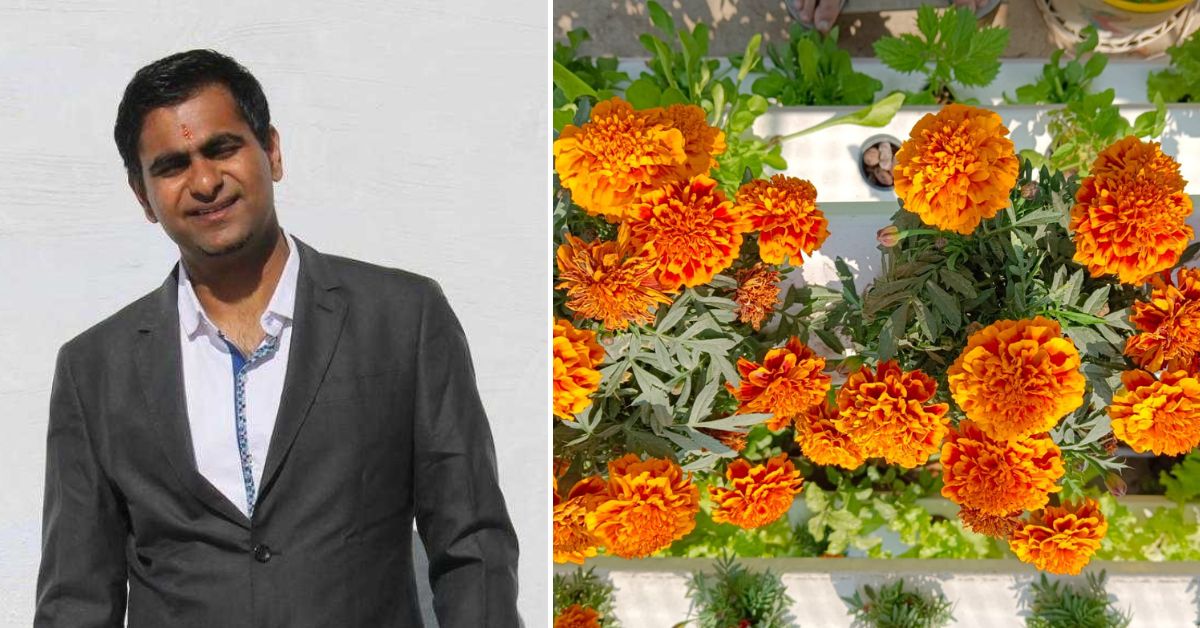 Vadodara-resident Shashank Chaubey quit his comfortable job to grow vegetables using aquaponics farming. Having started with zero farming experience, today he grows 2,500 varieties of plants on a 2,000 sq ft commercial terrace farm and helps other people do the same.
Shashank Dubey was comfortable in his corporate job in Delhi. One day, he read an article about vegetables grown on the floodplain of the Yamuna river and the potential health risks associated with eating them. This news troubled him.
"These vegetables are grown in polluted environments and loaded with heavy metals. People who consume them get fatal diseases, such as cancer," the 33-year-old tells The Better India.
"Apart from that, urban residents are so dependent on packaged and deep-fried foods, which is harmful to health. The quality of the food that we consume matters. So I thought I should grow my own vegetables," he adds.
After working for nearly a decade as an electronics and communications engineer, Shashank quit his job in 2018 and moved to Vadodara. Soon after, he ventured into growing his own food. But like a majority of urban residents, space was a constraint for him.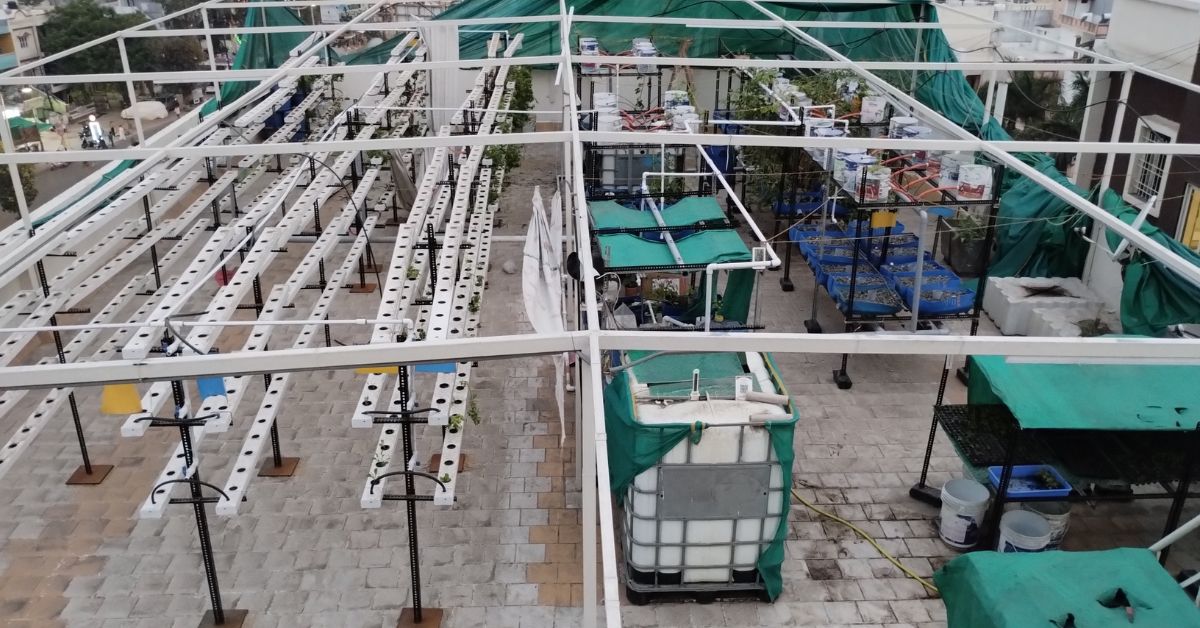 As an alternative to traditional vegetable farming which requires a lot of time and large land, the engineer chose aquaponics farming, which combines aquaculture and hydroponics. In this method, fish helps humans grow food as the nutrients from fish excreta enrich the water used to grow plants.
Today, he grows nearly 2,500 varieties of plants, which include green leafy vegetables, medicinal herbs, and flowers.
Hydroponics vs aquaponics
While looking for alternative methods to conventional farming, Shashank discovered hydroponics as well as aquaponics methods of farming.
Explaining the difference between the two, he says, "In hydroponics, plants are grown without soil as a base. Instead of soil, the roots are immersed in water. A system is placed wherein a fixed quantity of water keeps cycling. Additionally, liquid chemical fertilisers are added to nourish the plant."
Meanwhile, aquaponics combines hydroponics with aquaculture.
"The major difference between hydroponic and aquaponic setup is the media used to provide nutrients to the soil. It has a similar setup of hydroponics but with an additional fish tank to breed fish. The fish excreta is decomposed by bacteria into nitrate which is an ideal fertiliser for plants. It is like imitating the river ecology. Through this fish tank, water is regulated throughout small tanks that hold plants," says Shashank, who has upcycled drums and cans to use as fish tanks.
Other than nitrates produced by fish waste, Shashank adds iron nails, lime and egg shells to boost iron and calcium nutrients in the media.
"The biggest advantage of this method is that along with growing food without soil in less space, it is also organic. Also, there is no need to fertilise the plants individually," says Shashank.
Interestingly, aquaponics farming saves 80 percent of the water required in a conventional farming setup, he informs. "Farmers can also harvest additional income by breeding and selling edible fish other than vegetables," he says.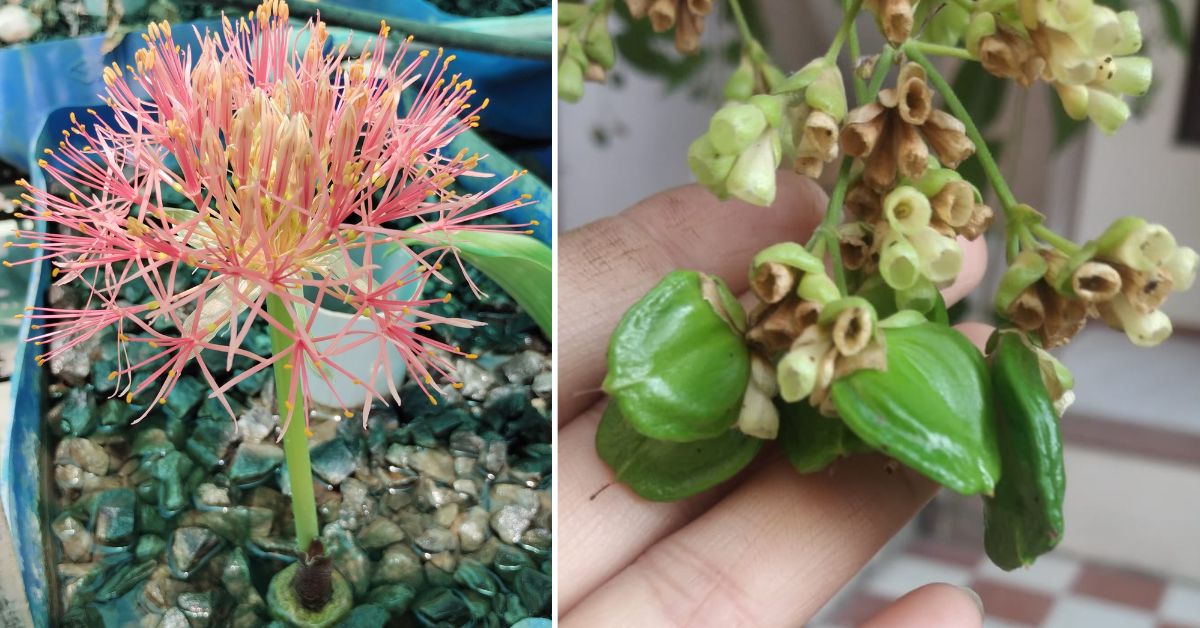 Decentralising food production
After six months of research and assistance from ICAR-CAFRI, Vadodara, he grew vegetables through aquaponic farming under artificial light in a 600 sq ft area for three years. Seven months back, he moved to grow vegetables in a commercial terrace setup.
Without any previous farming experience before, today, Shashank is able to harvest about 500 kg of vegetables monthly from his 2,000 sq ft aquaponic terrace farm. He now also trains urban residents interested in farming.
"I wanted to build this farm to demonstrate that urban people can also grow vegetables every day. I support them for a year to help them understand the system so they gain confidence to grow vegetables in an aquaponic setup," he says.
Gautam Trivedi (26), a Vadodara resident and music producer by profession, wanted to grow his own vegetables. After receiving training from Shashank, he set up an aquaponics farm in a 50 sq ft area of his garden. "In an aquaponics set up, we get nice green leafy vegetables that are crunchier and better in taste than that available in the market. It also requires low maintenance," he says.
So far, he has trained 35 people from Gujarat and Rajasthan through offline and online classes.
"It is a one-to-one process. I conduct a six-hour class. In the initial three hours, I inform them about the different plants that a farmer can grow. In the next three hours, I train them on how to implement the aquaponics system," says Shashank, who charges Rs 2,500 and Rs 3,000 for offline and online classes, respectively.
Sharing a few tips on aquaponics farming, he says, "Crops require an environment with the optimal temperature. For instance, to grow leafy vegetables, a temperature between 25 and 30 degrees Celsius is needed. Whereas for hilly crops, such as strawberries, you need to reduce the temperature to 18 degrees Celsius, and for crops like lettuce, up to 15 degrees Celsius. We use urban clay pots to regulate the temperature of water in the system," he adds.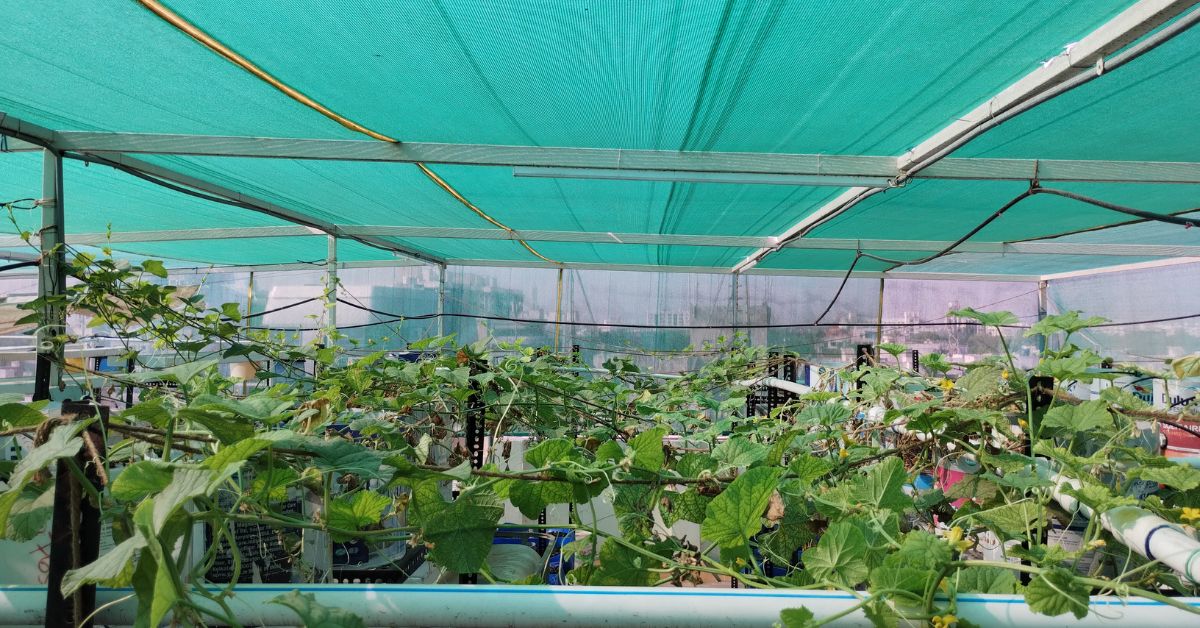 Other than this, he suggests farmers introduce fish like gold and koi fish. "They produce more excreta and also survive in harsh temperature conditions. Just ensure to filter the water before adding the fish to the tank; water should not be hard. You can add 150 fish in a 1,000-litre tank. For edible fish, you would require a tank of 3,000 litres as their size grows," he says.
Shashank says it costs Rs 800 per sq ft to establish an aquaponics terrace farm in a vertical setup. "This cost can be reduced to Rs 400 if farmers wish to avoid vertical farming. It is a one-time investment," he adds.
"Food production is basic yet urban residents avert from the idea. Instead of earning a good income for myself, my focus is on enabling urban Indians to grow their own vegetables even if they have a small space — as small as one square foot, The aquaponics farming will enable people to decentralise food production," says Shashank.
If you wish to learn aquaponics farming, you can contact Shashank at +91 99742 04501.
Edited by Pranita Bhat
We bring stories straight from the heart of India, to inspire millions and create a wave of impact. Our positive movement is growing bigger everyday, and we would love for you to join it.
Please contribute whatever you can, every little penny helps our team in bringing you more stories that support dreams and spread hope.