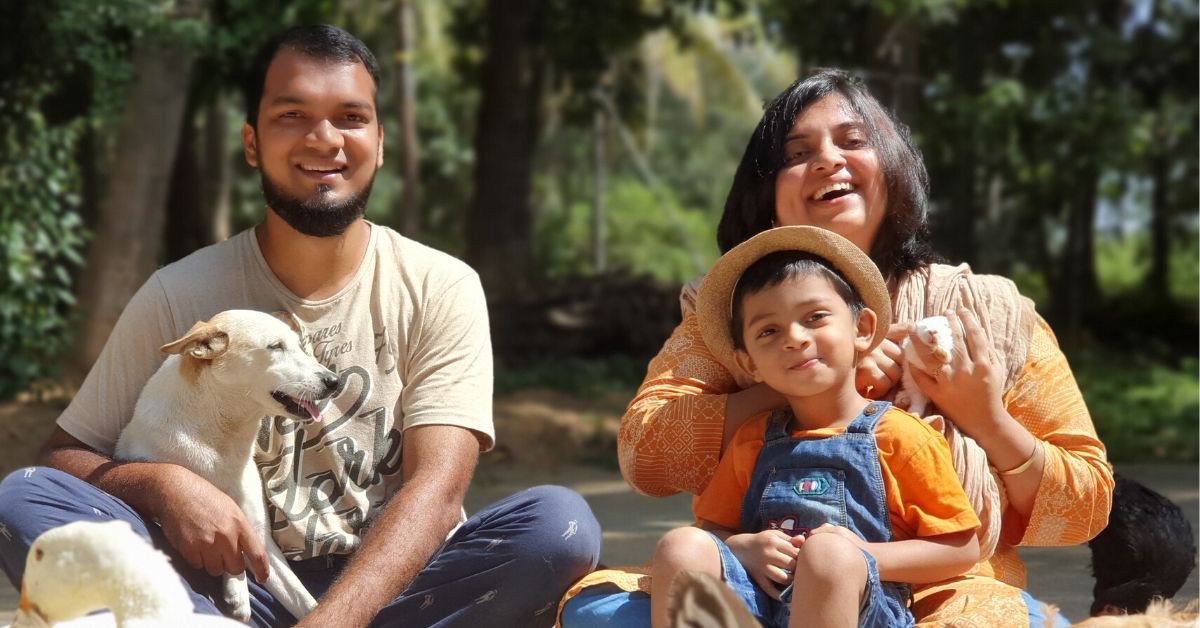 Ever thought 40+ veggies could grow in 2 square feet of space? Azlan and Amina from Karnataka have developed a vertical system that can make this possible
Azlan Shakib and Amina Iman's story begins during their college days, where they met and bonded over their mutual fascination for agriculture. Determined to  grow food using sustainable methods and re-introduce the concept to other people, they decided to venture into farming instead of getting a conventional job.
"Farmers are the most crucial players in our ecosystem as they produce something that we cannot live without. But, I have come across so many cases where they just abandon their fields and migrate to the city for a consistent income. This fuels the problem of the chemically-infused food that we consume. We had no knowledge, formal training or any family background in agriculture, but the current situation worried both of us enough to quit our profession," Azlan tells The Better India.
---
Aquaponics is a breakthrough, organic method of growing more vegetables in lesser space, using less energy, spending less time and saving more than 90% water than traditional farming. Join the course on Aquaponics brought to you by The Better Academy. Click here
Unable to view the above button? Click here
---
In 2014, they registered their bootstrapped company 'DesignHouse.' Today, that has turned into a farm and home named 'Humm of the Earth.' The first step was to identify farming techniques that are easy to adopt, natural and one that consumes less water. After much research and studies, they finalized on 'aquaponics' and 'permaculture.'
The first, Aquaponics, is a combination of aquaculture and hydroponics. In simple terms, fish waste is used to grow plants without soil, and in return, the vegetables purify the water for the fish. Permaculture, on the other hand, is a type of farming technique that is entirely sustainable and mimics the natural ecosystem of a forest with intentional bio-diversity as opposed to the conventional practice of monoculture.
The resulting 'food forest' can be wholly rain-fed and sustainable enough to generate its manure with minimum interference.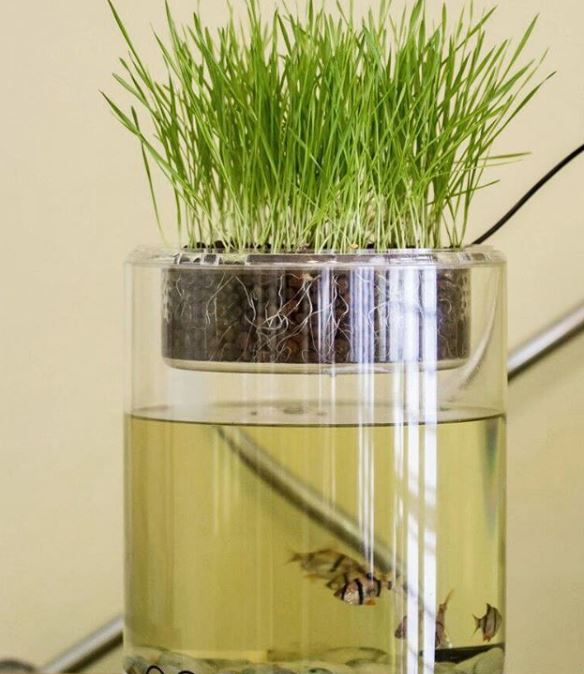 To get the required expertise, Azlan trained for three months under Murray Hallam and Geoff Lawton, who are experts in Aquaponics and Permaculture, respectively. "It was a tough time. Amina and I were facing a severe financial crunch, and there was a lot of social pressure to take up a job. However, we became each other's support system and went ahead with our plan," he mentions.
Using Fish Waste to Grow Food
"Aquaponics allows food to grow without much hassle and space and we set up an ecosystem with one fish tank on the rooftop of our house in Bengaluru," says Amina.
This was in 2014, and the couple grew veggies and herbs, like lettuce, tomatoes, spinach, basil, wheatgrass and lemongrass. The system is designed in a way that transports water, filled with fish waste to the grow bed where saplings are planted.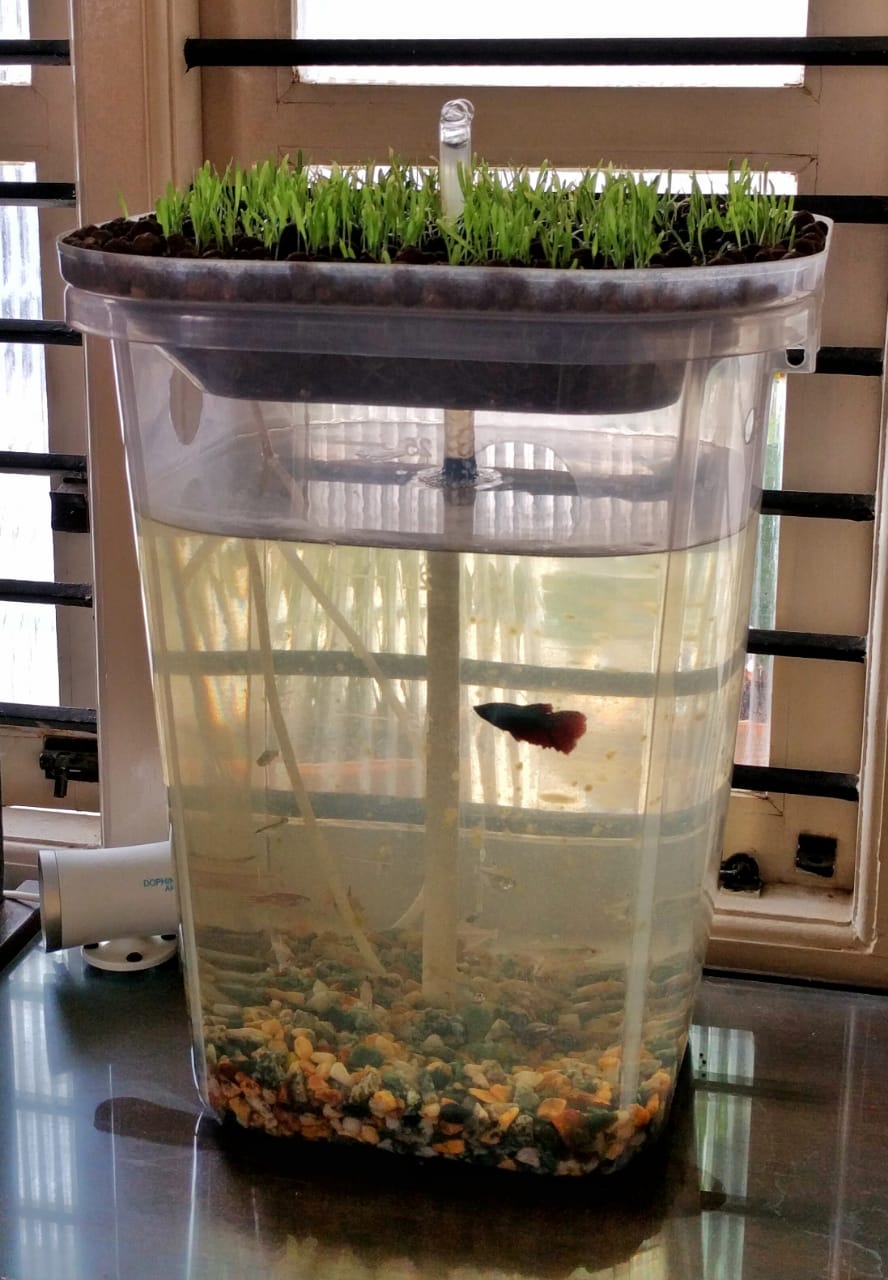 The beneficial microbes present in the system helps in converting the fish waste into nitrates that are easily absorbed by the plant roots, and the cleaned water is sent back to the fish pond.
"This recycling technique saves 90 per cent of the water required to grow plants, and the fish tank does not require regular cleaning. The entire automated system is consistent and manages on its own. After setting up the system, all one has to do is feed the fish and throw your favourite vegetable seeds on the bed," says Azlan.
As for the investment cost, it can range from as low as Rs 1,000 to Rs 2 lakh. The price depends on the availability of space and the time commitment a person is willing to make. "The process is so simple that even a school student can grow a vegetable in a small rice box. We design the system after measuring the space and requirements of the clients. We help them install a fish tank, filtration system and a grow bed," says Amina.
From 2015 onwards, they started taking on clients (more on that later) and today, the client base of the company ranges from people who want to practice terrace gardening, to restaurants to schools. "We have also developed a vertical system where people can grow 40+ veggies in a tiny space," adds Azlan.
A significant highlight of the couple's career is the 10,000 sq ft commercial Aquaponics Farm called "The Eat Neat Project" that they designed for a Resort in Bengaluru.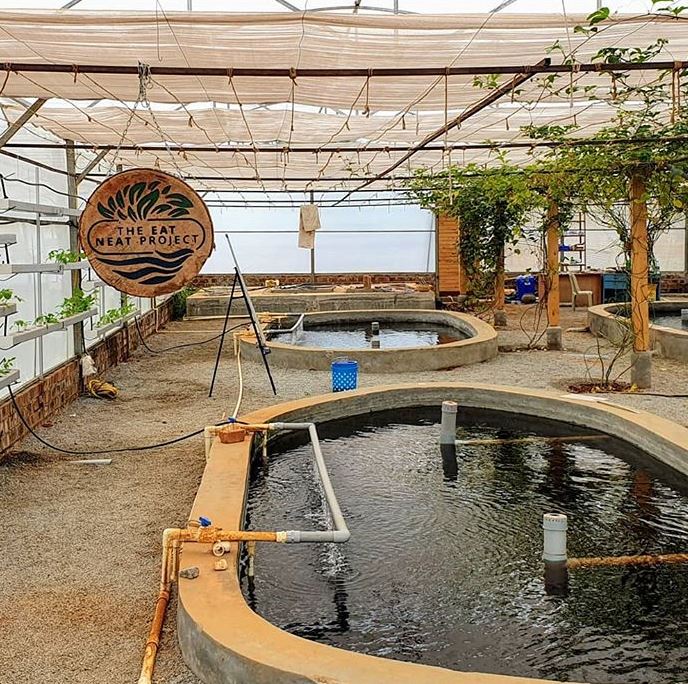 Through that, the couple plans to educate people on the ease of aquaponics as well as train future practitioners.
After practising aquaponics and permaculture in the city for over five years, the couple moved to a farm near Harohalli village in Ramanagara to set-up a sustainable permaculture farm (Humm of the Earth) and be closer to Nature.
They leased a nine-acre land to grow a food forest with a wide assortment of fruit trees like mangoes, coconuts, custard apple, guava, sapota, amla, Barbados cherries, drumsticks and even exotic fruits like elephant apple.
Growing Plants Without A Borewell or Irrigation System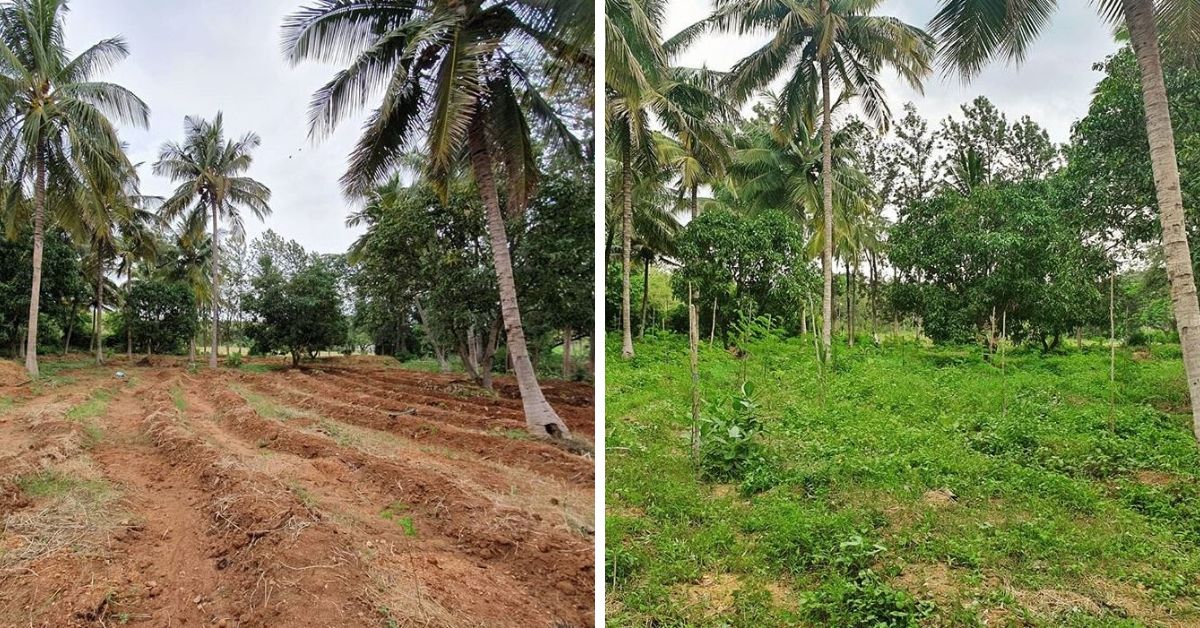 Sanjeev Kumar Patil, a scientist in Karnataka's Dharwad district, is known for growing sweet and juicy mangoes. His one-acre farm also thrives with different kinds of naturally grown seasonal fruits like jackfruit, guava, custard apple, golden apple and jamuns.
Interestingly, three years ago, the same land was parched, and growing trees seemed like an impossible task. The transformation is all thanks to Azlan and Amina, who intervened and implemented the principles of permaculture on Patil's land.
"Unlike the traditional way of growing a forest which takes almost 100 years, permaculture achieves most of this in 4-5 years. It is a sustainable way with minimum inputs and does not require an irrigation system or borewell for water needs," Azlan informs The Better India.
The first step, says Azlan, is not to sow the seeds, but 'plant water.' Using rain catchment structures like check dams, ponds, bunds or swales, all the rainwater is captured. It is either stored in artificial ponds for irrigation purposes or used to recharge the groundwater.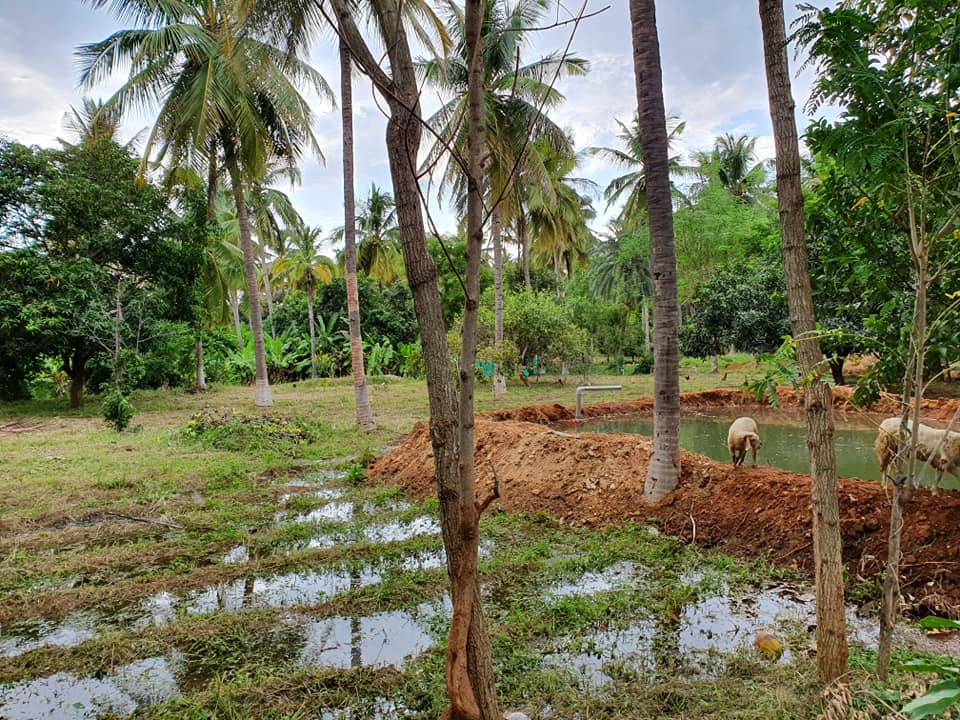 For Patil's farm, the husband-wife created a network of swales on contour (trenches) to store and capture the run-off water. The collected water seeps below and to fasten the process, organic mulch is layered on top of the soil. Some water from the swales is transported to the artificial pond through percolation, which can be used to water the plants.
The next step was to plant nitrogen-fixing plants and trees like alfalfa, clover, moringa, drumsticks, and soybean to enrich the fertile land by fixing nitrogen from the air that helps in plant growth.
"The earthworms are an integral part of the farm that help decompose the mulch into manure and also make holes in the soil in the process, so when it rains, the soil, which was hard earlier, can now absorb more water. It is a beautiful system where soil-life and plants live in harmony. This process does not require constant care or intervention as it is self-sustaining," says the 28-year-old.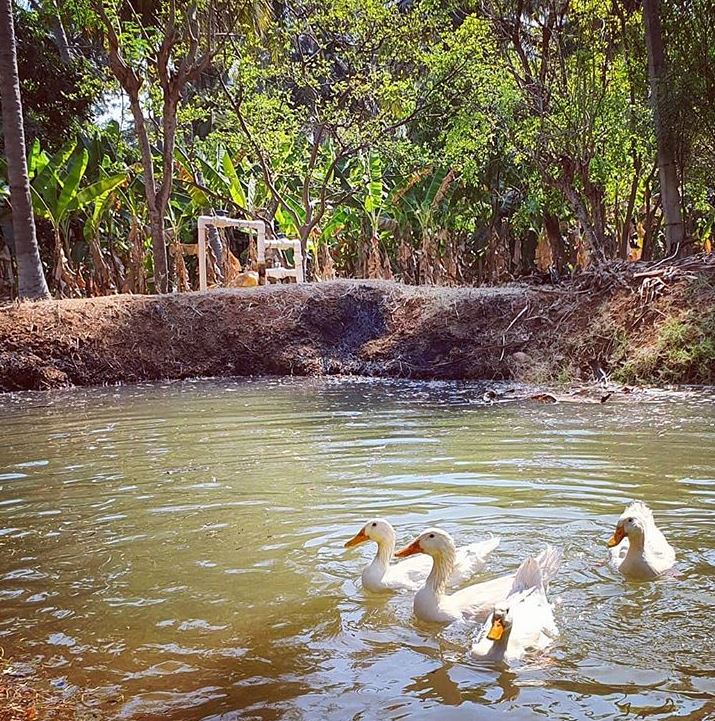 "I use no chemicals or pesticides in my food forest, and it is completely rain-fed. It has been three years, and there could not have been a better water-saving method. My friend, who is a bird watcher, has noticed a significant increase in the presence of birds since he shifted to permaculture," Patil tells The Better India.
Seeing Patil's success, his neighbours have also adopted similar techniques. For their part, Azlan and Amina have helped a handful of people convert their land into sustainable forests through permaculture, with each project taking an average of around 6-8 months.
Kudos to them for silently brewing a change, and staying true to their commitment to helping people grow food in a natural way without disturbing the ecosystem.
All the images are sourced from Humm of the Earth/Facebook 
Get in touch with Azlan and Amina here.
---
Also Read: Kerala Woman's Backyard Polyhouse Gives Her Organic Veggies & Rs 20000/Month!
---
(Edited by Gayatri Mishra)
Like this story? Or have something to share?
Write to us: contact@thebetterindia.com
Connect with us on Facebook and Twitter.
We bring stories straight from the heart of India, to inspire millions and create a wave of impact. Our positive movement is growing bigger everyday, and we would love for you to join it.
Please contribute whatever you can, every little penny helps our team in bringing you more stories that support dreams and spread hope.