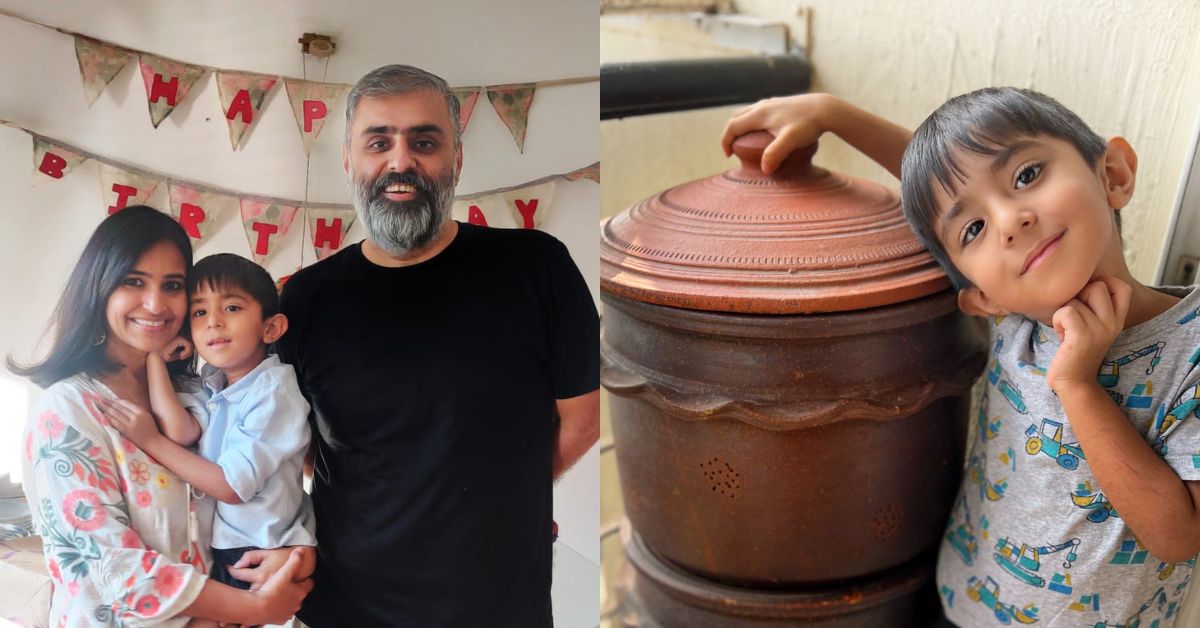 Mumbai-based Sonika Bhasin started living a low-waste, sustainable lifestyle when she became a mother four years ago. Today, she is raising her son to be an environmentally conscious child while helping others do the same
Becoming a parent brings about a massive change in one's life. You learn something new every day. That's what happened with Sonika Bhasin when she embraced motherhood in 2019.
Buying the first cloth diaper for her son Abir opened her eyes to just how bad disposable diapers are for the environment. This triggered her shift to sustainability.
"When I bought a cloth diaper, I wanted to learn how to use it properly. I joined a group on Facebook called Cloth Diapering India. I started asking people why they prefer cloth over disposables. Everyone who replied said that it is good for the environment. The question that arose in my mind then was, 'Why is a disposable diaper not good for the environment?'," Sonika, a media professional, tells The Better India.
The National Geographic Human Footprint, Euromonitor 2017, Science Report found that over three lakh disposable diapers are either burned or sent to landfills every minute. This practice contributes to climate change, greenhouse gas emissions, and pollution of our oceans.
The same report stated that the global disposable nappy industry extracts over 248 million barrels of crude oil annually, and creates over 38 million tons of solid waste per year.
Reading about the harmful effects of disposable diapers was Sonika's initiation into a sustainable lifestyle, and there has been no going back. Today, the sustainability enthusiast shares her experiences and tips on zero waste practices, sustainable parenting, and leading an environmentally conscious lifestyle.
'Started thinking about my son's future'
"Till Abir was born, our lifestyle was pretty wasteful. We realised that this lifestyle was not good for Abir's future and decided to make some changes. I first started by cloth diapering Abir till he was potty trained. Why would I want to put a plastic diaper full of toxic chemicals on my child? I found that wet wipes are also made of plastic, so we didn't use them; same with cotton balls. We started reusing as much as possible," says Sonika.
As she started reading, she discovered how many household items are harmful to the environment, and slowly started making more changes.
"I used to think that cleaners and detergents, which dissolve in water, are harmless. When I found out that they could also be non-biodegradable, I started investigating further and switched to biodegradable detergents. When Abir started crawling, I didn't want him to be on a floor that was mopped using a toxic floor cleaner. So I started buying bioenzymes and later made them myself," adds the sustainability enthusiast.
Sonika then started eliminating plastic from her kitchen and reducing waste.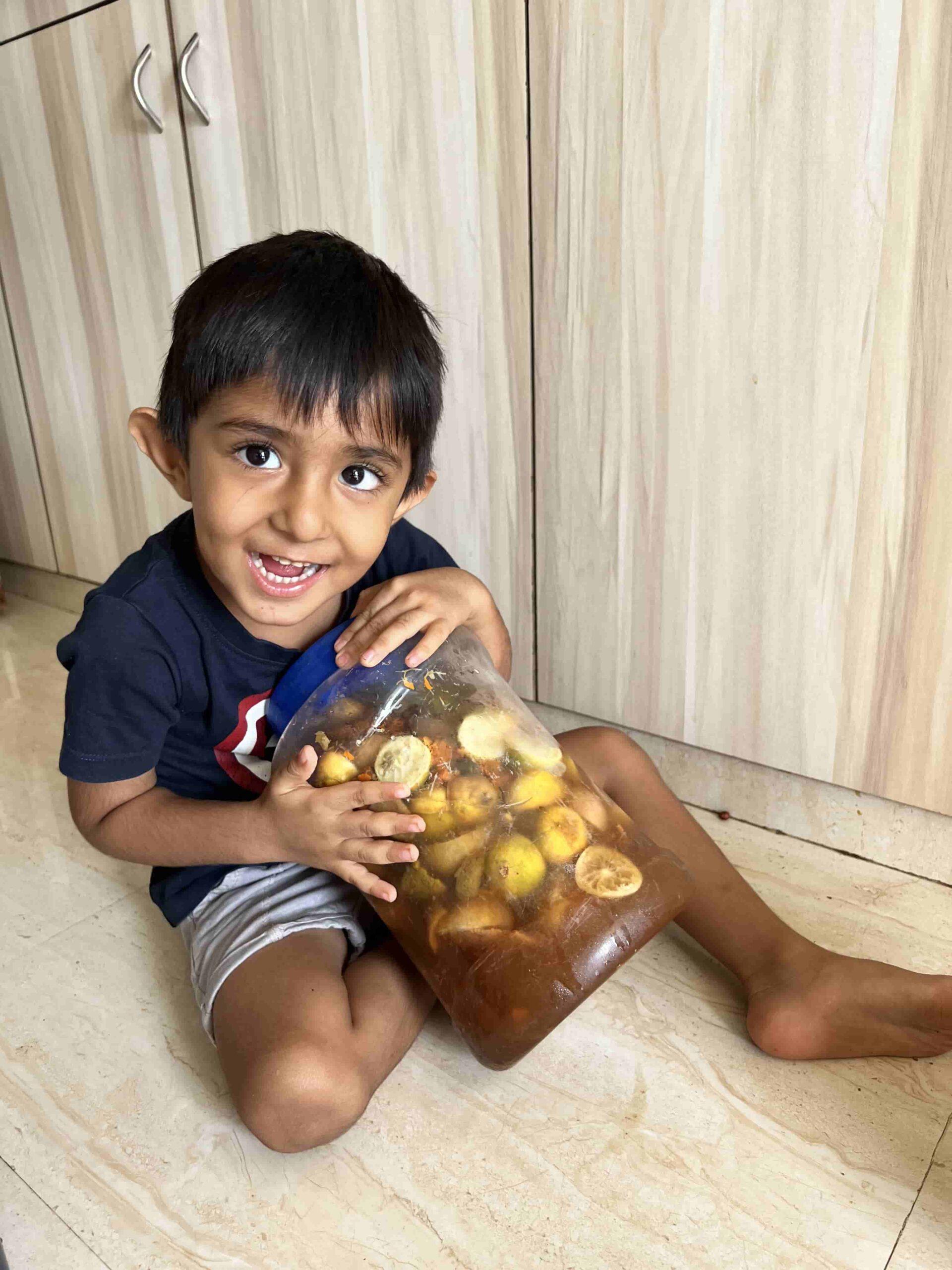 "We started composting at home. We also started doing package-free grocery shopping. We simply carry bags from home and go to shops that sell loose grains, dry fruits, and other grocery items. We even carry containers to buy sweets, pastries, curd, paneer, etc. A zero waste store opened up near my house a few years back," she adds.
For the past three years, Sonika is ensuring that no packaging enters her kitchen. She always carries a water bottle, napkin, cutlery and a dabba (box) when she goes out. She even carries this during her travels to ensure a sustainable trip.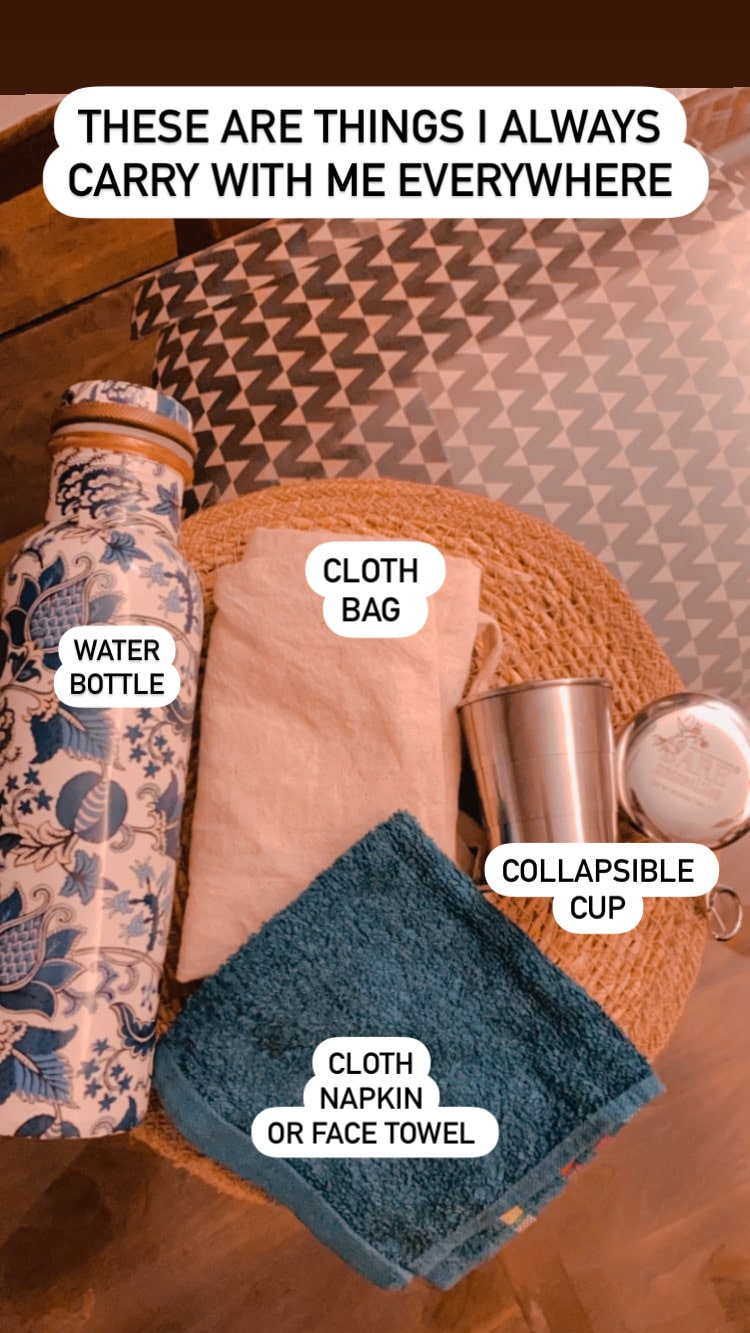 By doing these small changes, she has been able to pack away her dustbins in storage. All their wet waste is composted and dry waste is given for recycling.
Raising an eco-warrior
Sonika says she started this journey thanks to her son. By making easy switches to sustainability, Abir has grown up thinking that this is the way of life. The parents involve the now four-year-old in all the activities and say that he loves composting and making bio-enzymes.
"He loves showing his friends how to compost," says the proud mother.
"Nature has so many exciting things; he loves seeing new leaves on the plant. Our endeavour is to make him do things we used to do as kids. We let him get his hands dirty, pick up earthworms, etc,"
By sliding information about the environment into normal conversations, Abir is growing up to be a very environmentally conscious child. "We speak to him about why balloons are not good or why plastic is not good. He has never asked for these things. We celebrated three of his birthdays with no balloons and plastic decor, and they were great fun," adds Sonika.
How to lead a sustainable lifestyle?
Sonika began sharing her sustainable lifestyle swaps on Instagram during the lockdown. She took part in composting workshops and started sharing her newfound knowledge with her growing number of followers. Today, her Instagram page @sonikabhasin has more than 53,000 followers.
If you want to switch to a sustainable lifestyle but are unsure how, here are a few tips:
Start out gradually. Take baby steps.
"Start by making a simple change. If you try doing too much, it can be overwhelming. Pick any one thing that you find easy. Start by carrying a bottle of water wherever you go."
Think/read about the environmental impact of your actions
"See what happens to your waste once it's picked up from your doorstep. Read about it online. Start being conscious and mindful."
"Reduce the amount of things you buy. This itself can have a huge impact. Be aware and think if you really need this product."
Consider sustainable diapers/period products
"Use reusable pads or menstrual cups instead of sanitary pads or tampons."
Carry your own bags when you go shopping
"Just set out on this path and you will want to do more. You will feel happy when you avoid a plastic bag. It will give you a sense of satisfaction," shares Sonika.
Edited by Pranita Bhat
Sources
We bring stories straight from the heart of India, to inspire millions and create a wave of impact. Our positive movement is growing bigger everyday, and we would love for you to join it.
Please contribute whatever you can, every little penny helps our team in bringing you more stories that support dreams and spread hope.