Thousands of rural youth drop out of school and college every year because they cannot afford to study further or don't know what to do next. This toll free helpline gives them valuable career advice and provides information about various financial support mechanisms like scholarships that they can use
---
This article on using mobile technology for social good is part of the
#Mobile4Good
series & is made possible by Vodafone India.
---
Thousands of rural youth drop out of school and college every year because they cannot afford to study further or don't know what to do next. This toll free helpline gives them valuable career advice and provides information about various financial support mechanisms like scholarships that they can use
Bilawar was a Class 10 student from Andhra Pradesh (AP) and worked in a small hotel when he called Vidya Helpline, a career counselling helpline for rural and disadvantaged kids. He didn't really know what help he wanted…all he knew was that he wanted to earn more money.
The counsellor at the other end of the line advised him to join the National Institute of Tourism and Hospitality Management. Bilawar then did a residential course in hotel management, got a job in a good hotel, and today earns much more than he did earlier. He is planning to do a course in fire safety now to further improve his job profile.
Bilawar is not the only one to benefit from the toll free Vidya Helpline, which has opened the gates for thousands of rural kids to careers they could not have imagined.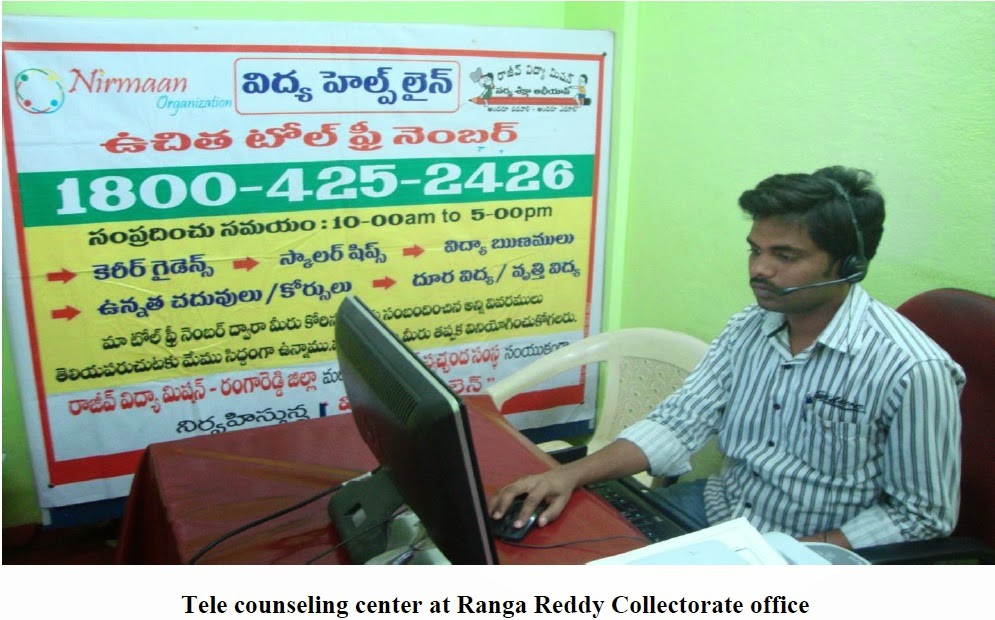 "There are so many young students in rural India but they are not aware of what they can do to follow the careers of their choice. Either they end up doing traditional businesses or taking up odd jobs. There are as many opportunities as there are people, but there is an exposure divide. We want to bridge this knowledge gap. Every student should be given guidance, including on how to obtain monetary support, to pursue the right education of his or her choice," says V. Chandrasekhar from Vidya Helpline.
Vidya Helpline is an initiative of Nirmaan, an NGO that was founded by a group of BITS-Pilani university students in 2005 to help feed the children of hostel mess workers. The Vidya Helpline was started in 2010.
"We wanted to avoid middleman who sometimes give wrong information to the students. Vidya Helpline is a one-call solution for all the students who need any kind of guidance when it comes to careers and education," says Chandrasekhar.
The service started with a single helpline in the Ranga Reddy District of Andhra Pradesh (AP) and picked up speed really well in its first year of operation, without much publicity.
Soon, the helpline was receiving calls from all 26 districts of AP and the phone wouldn't stop ringing.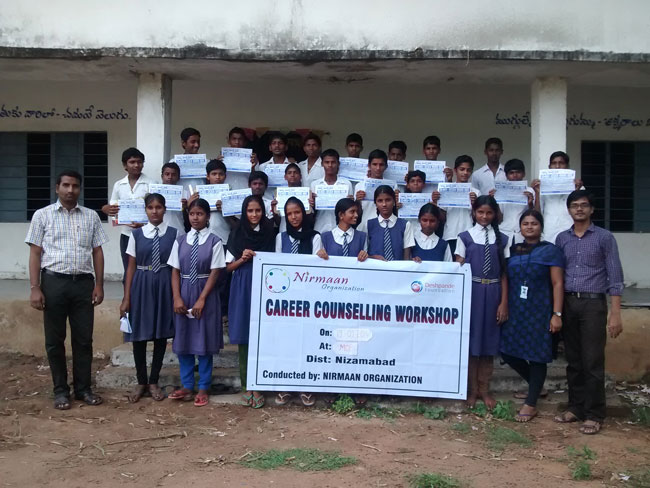 After 5 years now, they operate 15 phone lines, have a staff of 30, and are helped by over 200 volunteers. Vidya Helpline has various experts on board who provide career-related guidance to the callers. The service is meant for students from rural and underprivileged backgrounds only.
"We consciously did not advertise the helpline much as we wanted to focus on students from rural areas who need our help. A well-known public helpline number would have attracted callers from all backgrounds and we wanted to focus on the disadvantaged sector. So we just talked about our initiative at the right locations and made sure the majority of calls that we address are from the less privileged section of society," says Chandrasekhar.
As soon as a call is received, all information about the caller—like name, age, academic background, interest, location, etc.—is recorded. Some of the valuable information that the helpline provides its callers includes information on scholarships and study opportunities that they can avail of, institutes they can join, and skills they can enhance. The helpline also helps them make the best decisions based on their family backgrounds and financial circumstances.
"For example, there is a scholarship where engineering students get a stipend of Rs. 9,000 every month. This scholarship helps the students earn money at the age of 17-18 when they are still studying. These students do not know about such things, and we want to bridge this knowledge gap," says Chandrasekhar.
The helpline also sends text messages to the students based on their profiles. The text messages include information on government benefits they can avail of and scholarships they can apply for. These messages are also sent to school dropouts to help them resume studies. For visually impaired students, Vidya Helpline sends voice messages in local languages.
Vidya Helpline has so far sent over 2,50,000 voice and text messages to students, and addressed over 2,30,000 calls.
Today, it takes over 10,000 calls every month from different locations, including Andhra Pradesh, Telangana, Odisha, and Assam. Vidya Helpline is also working on an android that lists 50 career opportunities at a time for rural students.
Overall, Vidya Helpline focuses on providing every kid with an opportunity to follow his or her dreams. "The students should be able to do what they are passionate about and should not be restricted due to financial and other constraints," says Chandrasekhar.
With Vidya Helpline's support, a bright future may just be a phone call away for millions of rural kids in India.
Their Toll-free helpline is: 1800 425 2425 (use this number only if you have to help a child in need; do not use this for general inquiries please).
To know more about Vidya Helpline, or check out their website.
Like this story? Or have something to share? Write to us: contact@thebetterindia.com, or connect with us on Facebook and Twitter (@thebetterindia).