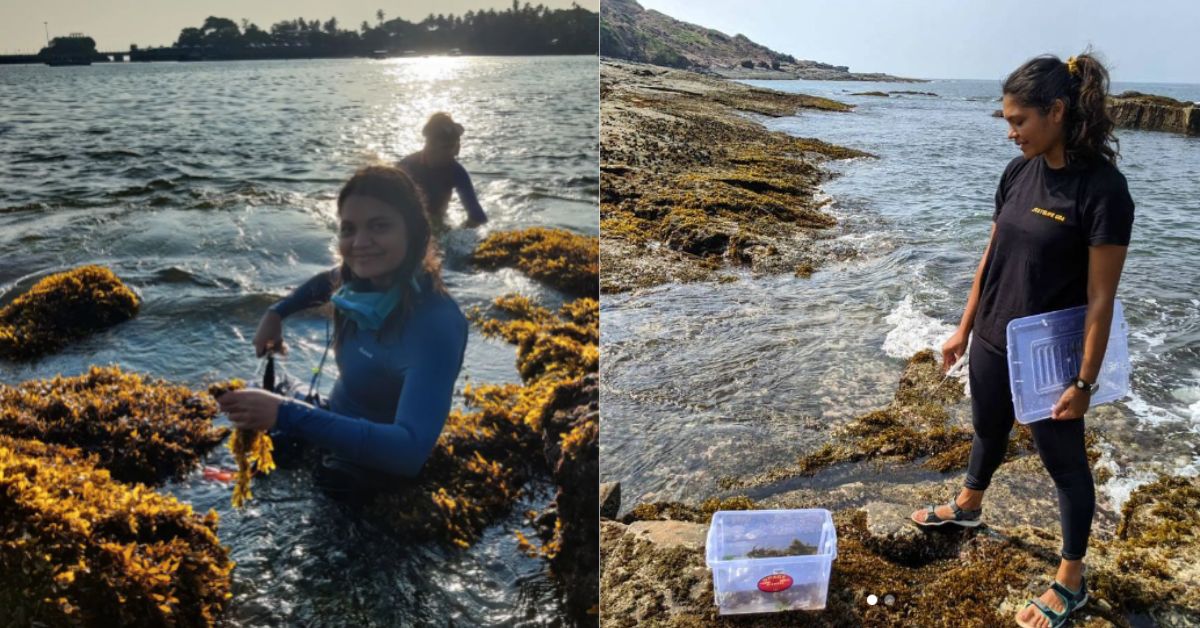 Goa-born Gabriella D' Cruz believes seaweed is the crop of the future. The marine conservationist is working with chefs to co-create recipes using seaweed, and shares how it could tackle many of India's most pressing issues.
What if the lettuce from your burgers, or the seasoning in your salad and pickles, was replaced with seaweed?
Primarily used in the hydrocolloid industry to make gels to be added in ice creams and toothpaste, seaweed — algae that grow on rocks in the sea — is a highly nutritious food rich in iodine.
Goa's Gabriella D' Cruz believes seaweed is the crop of the future.
Harnessing the untapped potential of seaweed, the marine conservationist says it can address the malnutrition crisis in a country where every third child is stunted and underweight.
"A lot of people in India are iodine deficient. Generally, you will find the malnourished population in areas that are away from the coast. They get artificial iodine in the food and salts they consume. Seaweed is an excellent iodine food source for India," the 30-year-old tells The Better India.
Gabriella, who did her master's in Biodiversity Conservation and Management from the University of Oxford, did not settle for a job that is deemed conventional. Instead, she chose to put seaweed on the food map of the country.
For the past five years, she has been working to understand seaweed ecosystems, markets, and supply chains in India. She runs a seaweed company The Good Ocean to raise awareness about India's seaweed diversity as well as its value as a highly nutritious and climate-smart seafood.
"You can use seaweed to make pickles, burgers, vegetables, seasoning, and salt alternatives," says Gabriella, who regularly consumes seaweed in soups, salads, and eggs on toast.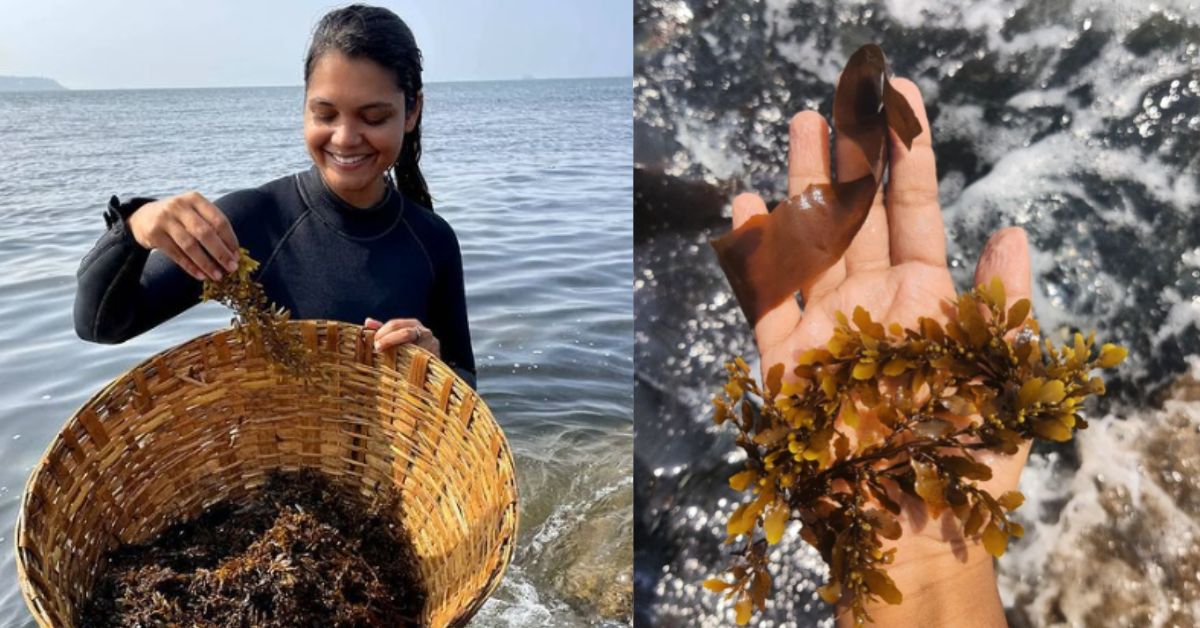 An idea to make a difference
As a child, Gabriella would spend a lot of time by the coast and in tidepools, a shallow pool of seawater where seaweed is found. She would admire the visually appealing seaweed as she swam around it, but it never occurred to her that it could be consumed.
It was back in 2015 when, while doing research on coastal communities in Tamil Nadu, she realised the value seaweed adds to the local ecosystem by supporting the biodiversity and livelihood of local fishers.
She met communities of women who have been harvesting seaweed for generations to be sold to hydrocolloid industries. "Technically, we use seaweed every day in India as toothpaste and ice creams, but nobody knows about these women. When I met them, they complained about how people come to interview them, to know about their work, but nobody really intervenes to do anything on the ground. I realised while academia is important, it is also important to have on-ground interventions that change things," she highlights.
"I was really inspired by them to look at the seaweed supply chain in other parts of India and look at better ways of building the seaweed industry," she adds.
With her company, Gabriella is enabling a better market linkage and engaging the coastal community in the seaweed industry while protecting the environment. Currently, working with a small team of five people, she aims to employ women to run seaweed farms and processing units.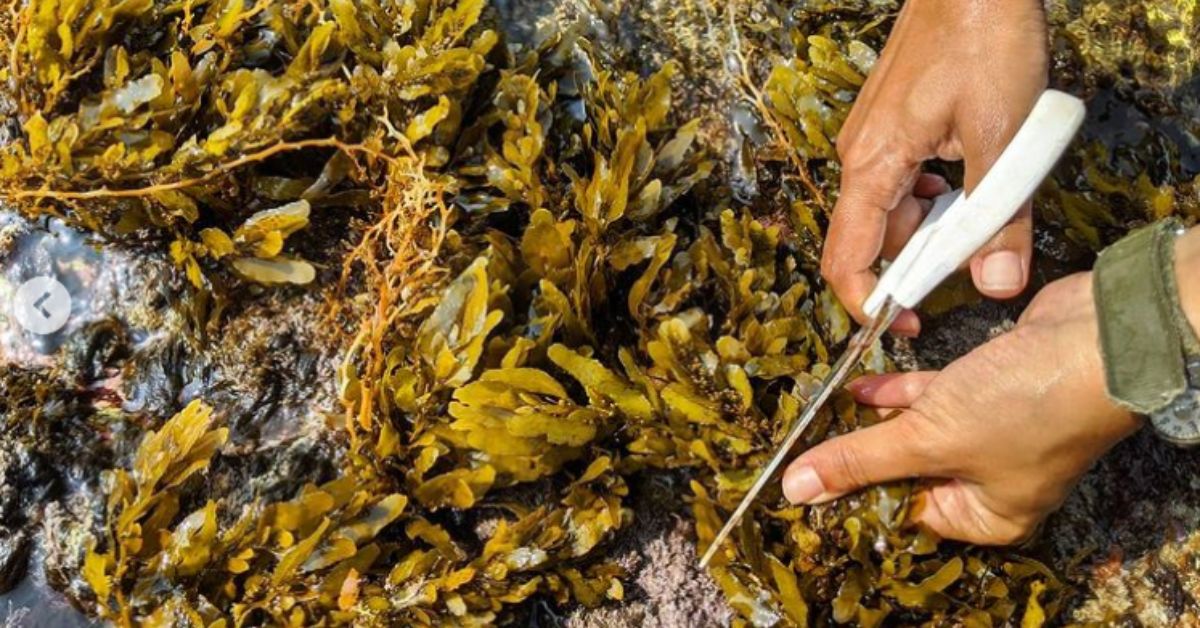 Why seaweed demand is increasing in India
India is home to 800 species of seaweed. Of these, 145 are available in Goa. Currently, in its first year of operation, The Good Ocean harvests seaweed along the coast in Goa and supplies it to restaurants, breweries, distilleries, and beauty companies.
"It is one of the only companies in India that harvests seaweed for food. We allocate certain locations from where we harvest seaweed keeping species, water clarity, and currents in mind. We harvest seaweed, bring it back to the processing unit, clean and dry it, and make sure it is food-standard appropriate. Then, we package it and sell it to chefs," she adds.
Gabriella supplies seaweed to 5-6 hotels in Mumbai and Goa. Talking about the demand for seaweed, she says, "Its demand has grown in the past two years. India is getting a lot more interested in eating Japanese food, through the lens of sushi and seaweed salads. I get so many calls from all over the country to supply seaweed to them. I see a lot of scope for the seaweed industry here."
She points out that seaweed food is quite expensive, given that it is generally imported from countries including Japan, Korea, and China. Gabriella is setting up a market linkage where seaweed is locally sourced and sold cheaper.
She sells a 10-gram packet of dry seaweed for Rs 96. "When you rehydrate it, it becomes eight times the weight. It is relatively affordable in terms of nutritional value. With innovation, we can make more products that are affordable and good for Indian consumers," adds Gabriella, who works with chefs to co-create recipes where seaweed can be celebrated in Indian food.
Diving through challenges
With her team, the marine conservationist harvests only one type of edible seaweed — Sargassum. From an ecological perspective, she makes sure to have a short harvesting season from October to February.
In the harvesting season, Gabriella packs her kit of fins and mask, and with a pair of scissors and a basket, she dives into the seaweed forest.
"I often witness beautiful Moray eels chilling in the tidepool. There are quite often loads of fish that swim around me when I harvest seaweed. Little damselfish are very protective of their seaweed, they try to attack you even though you are 300 times bigger than them," she laughs.
"Many people are engaged in work where they feel a need to escape from it, to have a holiday. I am one of the very fortunate people who can swim for work. It's like every day is a holiday," she adds.
But it is not an easy task.
Championing women in the fight against climate change
"It is not like growing potatoes or bananas. You need to study seaweed. It is like getting to know the whole community of creatures. Besides, you should be a good swimmer. You must know the right tide timing. There are lots of barnacles, Moray eels, and marine animals that can bite or attack you. Sometimes you get a jellyfish sting. You have to be careful," she says.
"Since we work as a food company, it is a lot challenging because now you have to be selective of what species you are harvesting. You need to ensure the quality of seaweed, as well as the reproductive cycle," she adds. The ecologist believes seaweed spores every full moon and new moon. Therefore, she does not harvest seaweed since she does not want to disturb their reproductive cycle.
For Gabriella, it was challenging to bridge between being an ecologist and a businesswoman. "When you work in the business space, you usually sacrifice the environment for profit. But when you are in a sustainable business, you can't do that. You have to be cognisant of conserving the local ecology as well as growing a business," she adds.
As per her, seaweed farming not only can empower coastal communities but also help combat marine pollution. Once coastal communities are able to avail employment opportunities they will become protectors of the sea, she says.
For her mission to change lives and revive oceans using seaweed, Gabriella was also awarded the BBC Global Youth Champion Award 2021. She was also one of the 16 climate champions to be part of the recently launched Women Climate Collective (WCC), a pan-India initiative that seeks to increase the representation of women's voices and perspectives in climate.
According to her, women commonly face higher risks and greater burdens from the impact of climate change, and yet are under-represented in conversations around solutions. Gabriella suggests encouraging women-led businesses in the climate space for gender-inclusive climate action.
"Climate space for women in India is quite challenging. Having more women in this space helps to ease anxiety, work on strategies, to be heard, and make your point known," she adds.
(Edited by Divya Sethu; All images: Gabriella D' Cruz)
We bring stories straight from the heart of India, to inspire millions and create a wave of impact. Our positive movement is growing bigger everyday, and we would love for you to join it.
Please contribute whatever you can, every little penny helps our team in bringing you more stories that support dreams and spread hope.