This article is published in partnership with Godrej & Boyce
The advent of COVID has led many towards a more sustainable mindset, and a wider acceptance of an environmentally friendly lifestyle. Among these is the housing sector, which has seen a rise in apartment complexes that are imbibing an environmentally conscious way of day-to-day functioning.
Is your housing society a part of the trend too? Has it come up with an out-of-the-box solution that contributes towards a sustainable and green future? Is it a trailblazer in recycling, domestic staff welfare and more?
If yes, this is your spot! And it's time for your place of residence to be recognised and rewarded for these tremendous efforts.
The Better India and Godrej & Boyce are here with the 'Best Housing Society Awards' to recognise housing societies in India that have set the bar for what it means to be a truly thriving, sustainable and inclusive community.
The winner will be awarded a certificate and prizes worth Rs 1 lakh from Godrej & Boyce.
Who can you nominate?
Wondering what we are looking for? Here are the 8 categories: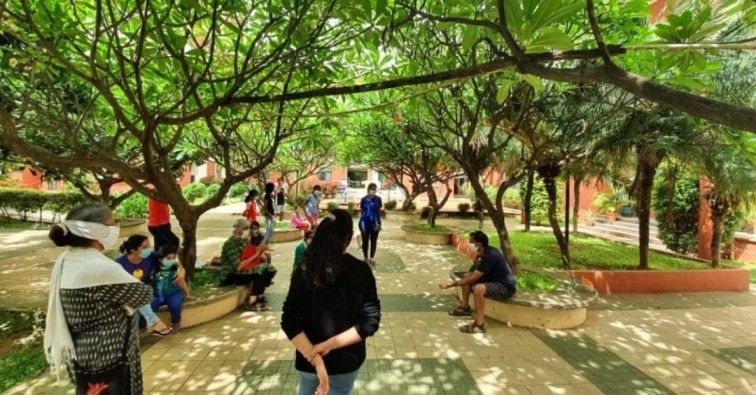 Sustainability: Housing societies that are doing rainwater harvesting, waste segregation and recycling, installing solar panels, planting trees, etc, to create a more sustainable world.
Swachh initiative: If your society keeps cleanliness above everything else, not just inside the gates, but also outside.
Inclusivity: If your society is inclusive of all — senior citizens and people with disabilities, with signs in braille, ramps, etc.
Empathy: If your society provides domestic workers with facilities such as washrooms, drinking water stations, resting stations, etc.
Innovation: Societies with the zeal to innovate solutions for a sustainable future.
Promoting India's Culture and Heritage: If your society is the life of every festival and includes all of India's cultures to bring residents together.
Promoting Entrepreneurship and Home Enterprise: Societies that support home-based entrepreneurs and promote such individuals, especially women.
Community Building – If your society contributes to the people and communities living in nearby areas.
There will also be one overall winner which features the best practices for 'Godrej Good & Green Overall Winner'.
Things to know:
All nominations will go through a jury and a meticulously designed scoring process. The nominees will be judged based on attributes such as reduction of carbon footprint, the positive impact created, the number of individuals benefited, the period of work/action, its scalability, etc.
The competition is only open to societies and individuals living in India.
You can nominate more than one individual. Make sure to mention the category of nomination.
How to nominate or apply?
You can nominate or apply by simply filling out the form: http://bit.ly/3kh8G82
Edited by Divya Sethu