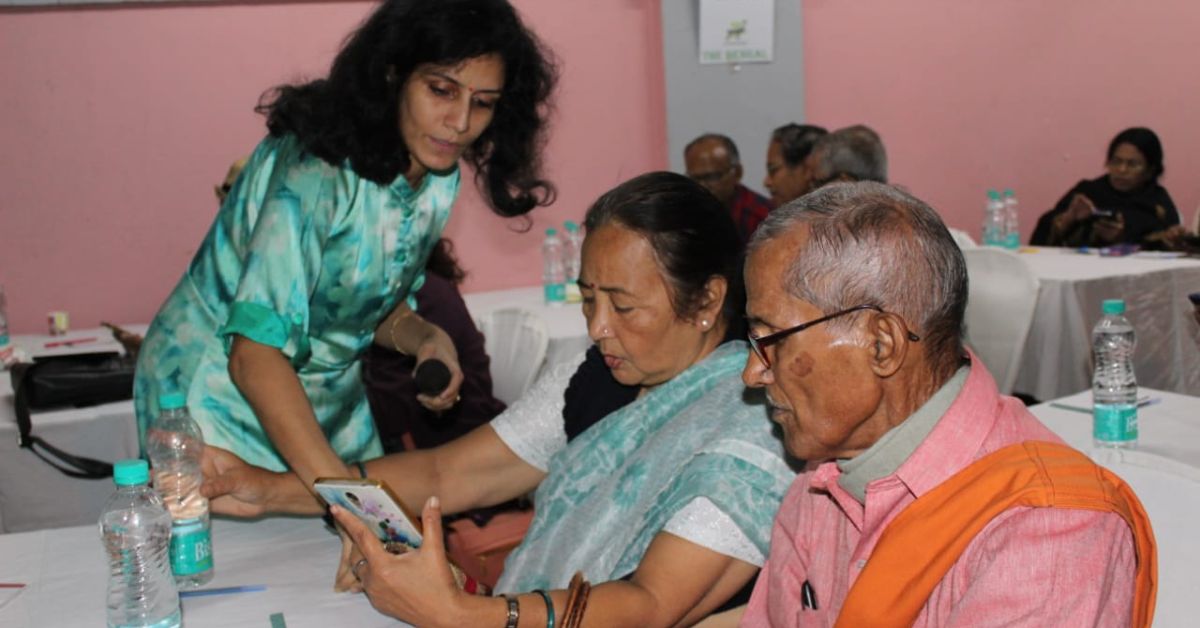 Kolkata-based cousins Neelam Mohta and Pinky Bhaia started Mobile Pathshala to help senior citizens understand how to operate WhatsApp, Facebook, Youtube, Google Maps and even ordering online.
"Beta yeh Google Maps toh hai phone mein, but iska istemaal kaise hota hai?"
This question was posed to 44-year-old Neelam Mohta by her father over breakfast one day. While she spent a half hour explaining how the app worked and he reached his destination just fine, it got her thinking.
Many people in their fifties and beyond were intimidated by technology. The gap was widening. Something needed to be done.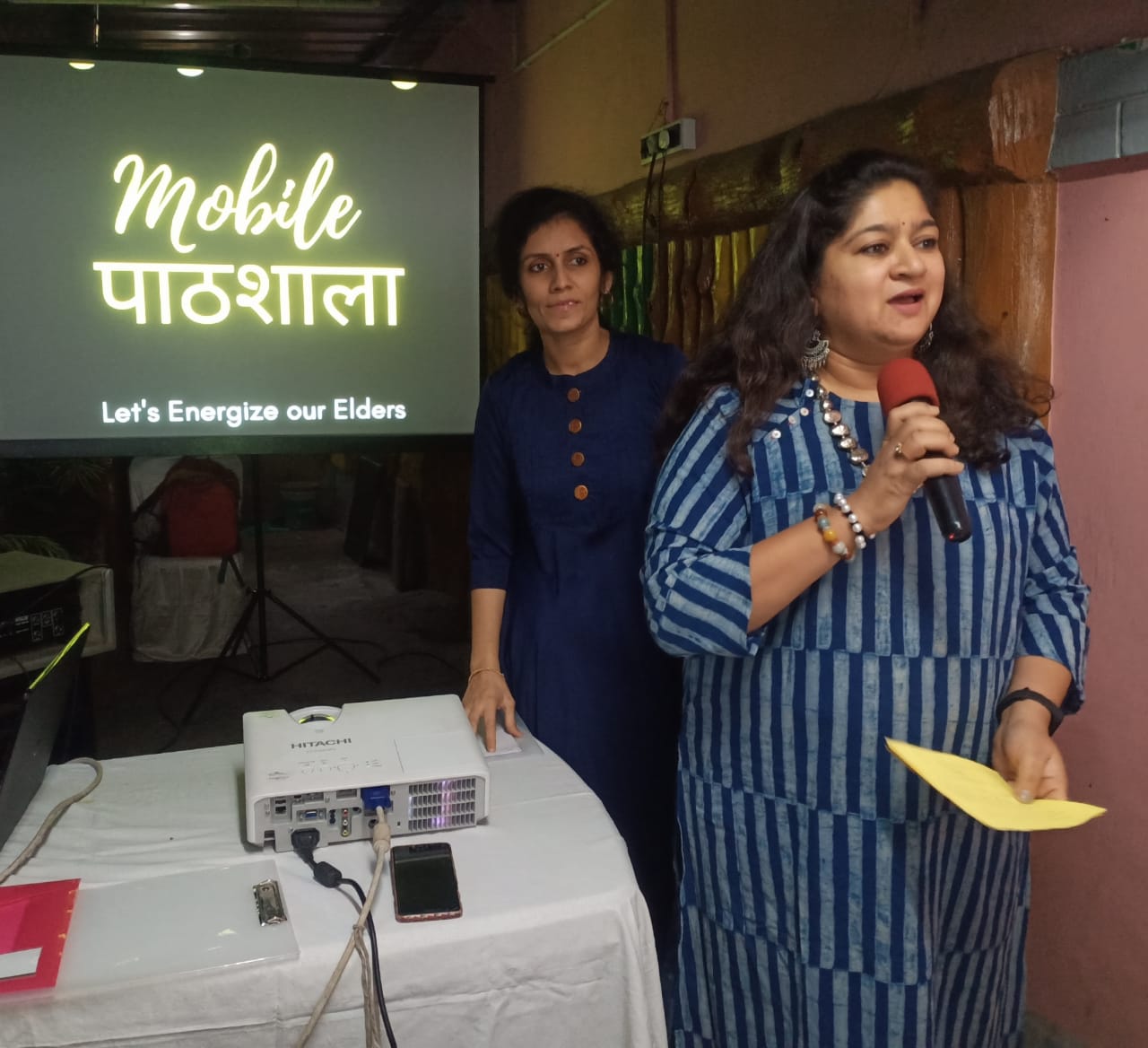 Sharing her thoughts on the matter with The Better India, she says "Our parents' generation have high-end phones with all these fancy applications that are ironically aimed at making life easier. But, they are always hassled when it comes to using these."
Soon after this revelation, Neelam got talking to her cousin Pinky Bhaia and discussed the tech crisis with her. "She too shared the same thinking as me," recounts Neelam.
The Kolkata-based duo, united by a common goal, decided to start their venture Mobile Pathshala in 2019 to help senior citizens get a grip on technology and the various mobile applications.
Today, their venture has helped over 3,000 senior citizens achieve their dream of becoming self-reliant and well-versed with tech.
A school for senior citizens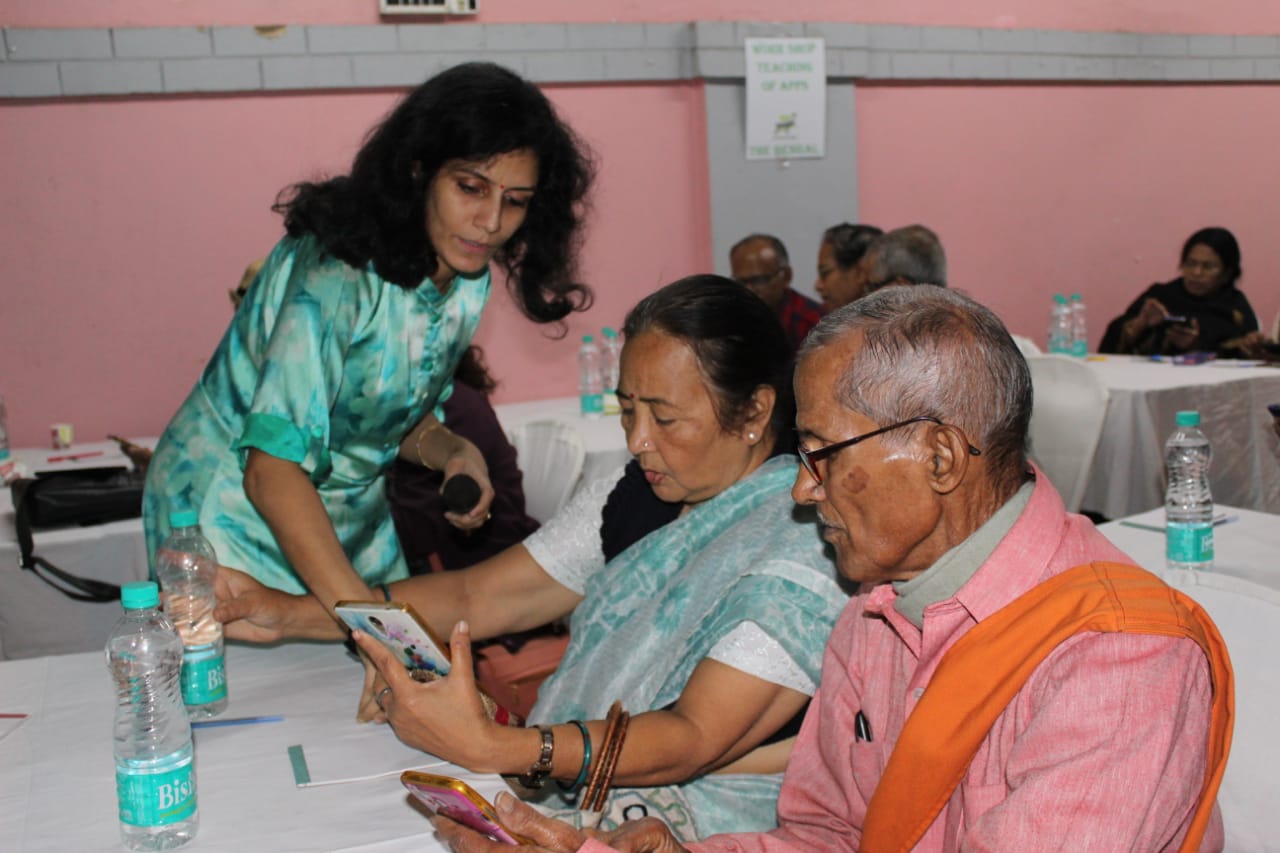 Neelam says the timing, too, was perfect to start something new. "Both Pinky and I are homemakers with children who are grown up. The start of a business felt like the perfect way to fill this empty space while doing something constructive."
Pinky adds that along with this, there was a thrill associated with becoming entrepreneurs and sharing their knowledge to uplift others. "Our kids even helped us with the logistics," she quips.
Thus began the duo's journey of setting up their platform. During their initial research, they would come across facts and figures that would startle them.
Pinky asks, "Did you know India has around 117 crore phone users, of which 65 per cent use a smartphone?" She adds that when they realised the number was so humungous, they were sure they had made the right decision in starting this novel venture.
"Tech has become an integral part of our personal and social lives," she says, going on to compare it with a knife — use it well and it will make life smoother. Use it unwisely or without knowing all its features and it will kill your productivity.
With their aim set in stone, the next mission was to spread the word about their newly started 'pathshala' and get 'students' on board.
How tough was it?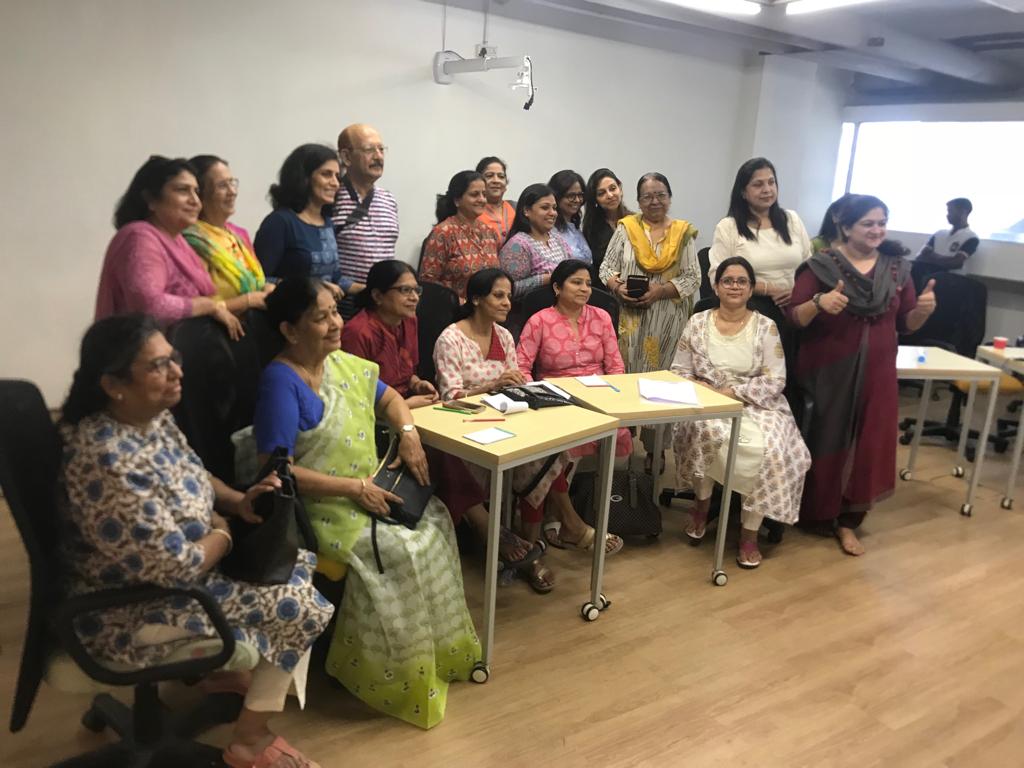 "Incredibly easy," says Neelam, adding that even at 65 people are so enthusiastic to learn something if it is helping them make their lives simpler.
"Initially, we would put up posts on our Facebook page," she says. "But then we realised, our target audience was not scrolling through Facebook. They were in yoga clubs and associations and on online groups of course," she adds.
The duo learnt one lesson through their initial days: never underestimate the power of a WhatsApp forward.
As the word began to spread among the community about these two women who were willing to train elders in using technology and applications, more and more senior citizens began to show interest.
Mobile Pathshala had officially kicked off in 2019. In a small room in Kolkata furnished with a projector and some chairs, the duo began holding classes. While there was no 'routine', batches were held as per the convenience of the senior citizens.
"It was perfect," recounts Neelam. "These people were so joyful at starting 'school' once again."
However, just as their classes were picking up speed, the COVID lockdown hit in March 2020 and they were worried.
But, what they feared would be a spoke in the wheel of the fully operational classes, had the opposite effect.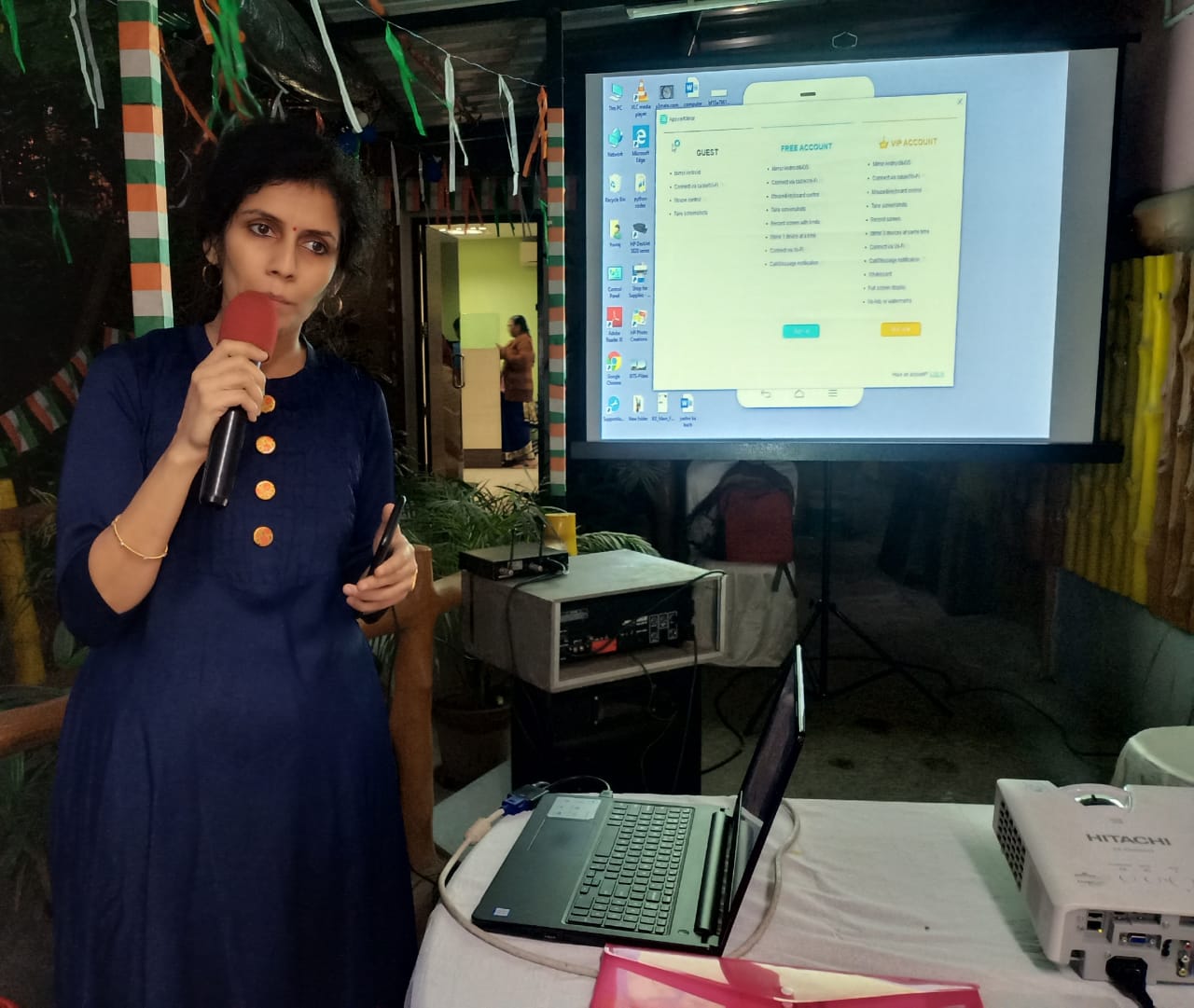 'The lockdown proved to be a game changer for us.'
"Truly, it did," says Pinky, adding that they now began conducting classes on Zoom where they could reach a wider audience, and also teach senior citizens to navigate a whole host of other apps apart from just WhatsApp and Facebook, etc.
"The lockdown was a time where everything began to take place online, including their yoga sessions and meditation clubs, etc," she adds. "Also with their families at home they would be interested in knowing how to use apps like Canva to make birthday cards or edit pictures and we found an opportunity in this."
Now not only were their target audience experimenting with apps but also intrigued by ordering online, using platforms like Amazon, eBay etc. The duo saw this as a wonderful time to teach their students the finer nuances of e-commerce.
"We started addressing issues such as how to keep a check on bank frauds, banking systems, privacy regulations and essentially how to use the mobile without getting into trouble."
Speaking about the lessons at the Mobile Pathshala, Neelam says, "We focus on one app per session so that they get a wholesome understanding of it. We do not want to complicate it unnecessarily for them."
Citing an example of a workshop about Google Chrome, she says, "The session involved an introduction to the app, how to save a page, bookmark a page, sign in through a profile or as a guest, search for recipes, etc. and go back to the homepage."
Other sessions that have been conducted include using finance apps, saving passwords online securely, managing WhatsApp storage, exploring the features of YouTube, etc.
Sometimes, the duo also ventures into quirky subjects such as tricks of how to read deleted WhatsApp messages.
"They simply love the little hacks," says Neelam. "Nothing is too simple or too complex for them. Once they get a hang of it, they become pros."
She recounts how some of her students often complain about having to delete pictures from their gallery as their phone space is occupied. "Their queries are sometimes the simplest of things," she says, adding that by the end of the session when they become experts at managing their storage space, they are thrilled.
Pinky agrees and adds, "Something what we may view as 'oh it's so easy', is not that easy for them. All we are trying to do through this platform is to get them to also view it as something simple."
The learners, too, are all praises for the duo. Dimple, a sexagenarian from South Africa says, "Before being a part of this platform, I would always be fascinated by the 'add effects' option that pictures have. But now that I know how to use these, it is like a whole new world has opened up for me."
"I have even made my Facebook page several times and deleted it too. It is fun," she laughs.
However, for Dimple, the best part about Mobile Pathshala is that the learning does not stop after a session.
"Whenever I come across a problem while using an app, I reach out to Neelam and Pinky and they help. There is no time framework within which you need to ask your doubts."
Another learner Naresh Goenka (65), says after weeks of attending classes, he has now installed GBoard and can send messages in Hindi. "I am so happy with this."
He adds, "The sessions are very fruitful."
With classes conducted offline as well as online, the senior citizens are delighted. For a private offline class, the charges are Rs 1,000 while for an online class in a group, the charges are Rs 399. For their usual online batches, classes are conducted thrice a week during the afternoon time.
Pinky and Neelam conduct workshops too along with the classes whenever time permits or they get requests.
While the size of the class strength varies from 10 to sometimes 72, the duo say the quality of teaching does not.
We know we are doing good and we see around 15 to 20 new admissions every month, most of which are women. This, they say, is an additional reason for them to feel proud. "Apart from our aim of having senior citizens well versed with technology, we also wish for all women to be self-reliant and financially informed," says Neelam.
Mobile Pathshala has learners from all over India — Kolkata, Delhi, Madras, Mumbai, Bangalore — as well as Nepal, South Africa and Switzerland. Neelam and Pinky plan to expand their reach and cater to organisations, associations and large communities in the coming year.
"We feel a sense of fulfilment at reaching out to a generation that has taught us so much," says Neelam, excusing herself as her batch of excited sexagenarians can't wait to get the class started.
Edited by Yoshita Rao
We bring stories straight from the heart of India, to inspire millions and create a wave of impact. Our positive movement is growing bigger everyday, and we would love for you to join it.
Please contribute whatever you can, every little penny helps our team in bringing you more stories that support dreams and spread hope.