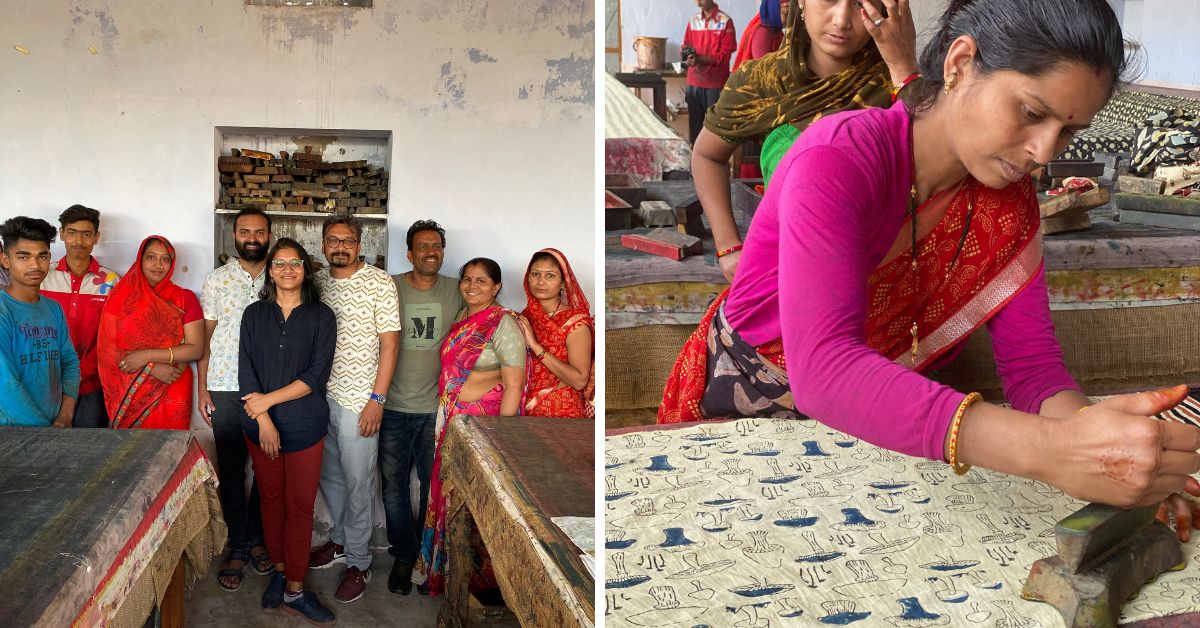 Founded by Gujarat couple Shipa and Hardik Patel and their siblings, Chhapa is a sustainable clothing and accessory brand aiming to revive hand block printing, while earning crores.
After graduating in interior design, Shipa Patel was visiting her village in Gujarat, and was on the lookout for a creative activity. "I have always loved anything handmade, which has a raw feeling," she tells The Better India.
In Deesa, a small village near her hometown, she came across artisans practising hand block art printing, and was fascinated by the process. "It was like love at first sight for me. I fell in love with the raw texture of the wooden blocks and the technique." She started designing hand block clothes for herself as a hobby, falling in love with the entire process.
In 2013, she decided to launch the sustainable clothing brand Chhapa — the Gujarati word for imprint or stamp — with a focus on reviving and popularising hand block printing.
Today, with an online store that ships worldwide – to countries like Singapore, US, UAE , and more – and a retail store in Ahmedabad, the brand clocks in an annual revenue of close to Rs 1.5 crore, with 25 per cent of their earnings going to the roughly 25 artisans they employ.
Sustainability & helping artisans
"Sustainability is at the core of what we do," says co-founder Hardik Patel, Shipa's husband, who handles business development and IT for the company.
Chhapa works with sustainable fabrics like cotton and khadi, employing weavers and directly giving them orders for material. For their prints, they only use natural or azo-free dyes, which are eco friendly and don't eliminate harmful toxins, meaning that artisans can touch them without causing harm to their skin.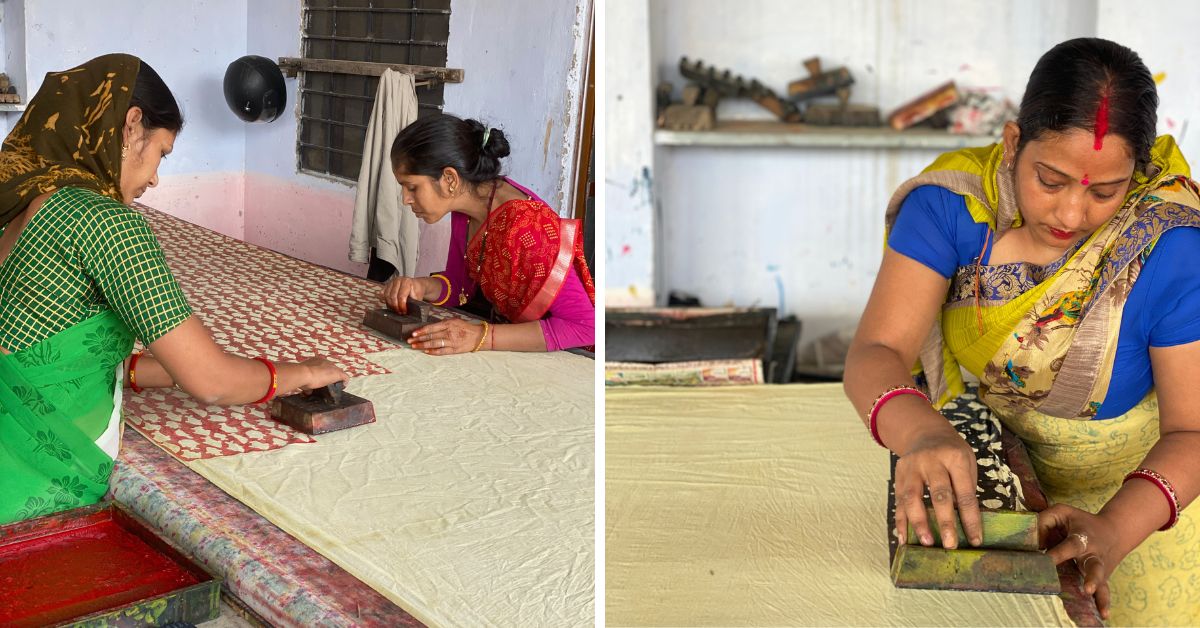 While the venture can't cut out waste 100 per cent, they try to reduce it as much as possible, upcycling where they can. For instance, any leftover fabric is used to create accessories like camera belts, pouches, iPad sleeves, bags, and more.
Chappa's USP is their unique designs. Instead of going the traditional route, they design their own motifs — elephants, sunglasses, planets, birds, rickshaws, and more — which are then carved onto wood blocks for hand printing. Essentially, they're amalgamating the traditional technique with quirky, fun designs, to appeal to a younger audience.
After discussing ideas among themselves, the four member family team — Shipa, Hardik, Bimal, and Sheetal — at Chhapa agrees upon a theme for a collection. Shipa, who manages the design and creative aspects of the business, then creates a mood board and colour scheme. The next step is entering a collaborative process with the artisans, agreeing upon colours and designs, and a collection is readied.
"Their colours and designs are unique. You won't find such designs anywhere else in the market," asserts Geeta Tondria, one of the artisans working with Chhapa since 2016.
While they're focused on offering consumers something new and different, Chhapa's primary focus is supporting artisans. "Our driving force is to give work to the artisans because we realised that they struggle to get work," says Hardik. Because of this, they were ready to experiment on a small scale with the startup.
A 300-year-old technique, hand block printing is slowly dying, primarily because of the evolution of fast fashion and changing consumer demands. The method involves a carved, wooden block being dipped in dye and then pressed onto the material by hand, involving a great degree of precision and focus.
"Artisans were quitting the art form because they weren't getting any work," says Hardik.
It is Chhapa's endeavour to popularise the art again and bring it back into public consciousness. "Now, not only are the artisans practising the art, but they're also passing it on to the next generation," he adds.
"Earlier, no one from the younger generation wanted to do block printing, preferring to find jobs in the government or private sector," says Geeta. "Now, after completing their courses, they've started learning block printing. Young kids are doing the work, especially during the holiday season."
Geeta handles the entire process, from making natural dyes using flour to coordinating with other artisans and setting and printing the designs onto the garments. After printing, the garments are soaked in hot water for a couple hours so the print will set.
"Block printing has been around in Bagru (Jaipur, Rajasthan) for generations. It's a family business for many, carried on from one generation to the next. Before, it was hard to find work, it was mostly seasonal. But since Chhapa came, we've had a constant flow of work, and it has only increased over the past few months."
Chappa helps their artisans in other ways — providing free health check-ups and good quality shoes to work in.
Through their website and social media, Chhapa also focuses on communicating the artisans' story and work to consumers. "Anyone can put up a product. But if you don't explain the story behind it, then it doesn't have value. You have to constantly communicate about your work, challenges, and what goes on behind the scenes."
This continuous communication is a way for customers to learn the entire process of how their garments are being made. In the competition against fast fashion and big brands, it's this transparency that helps them stand out. "Once you educate them about the work that goes into a product, they become a loyal customer," says Hardik.
For more information, you can visit their website.
Edited by Divya Sethu