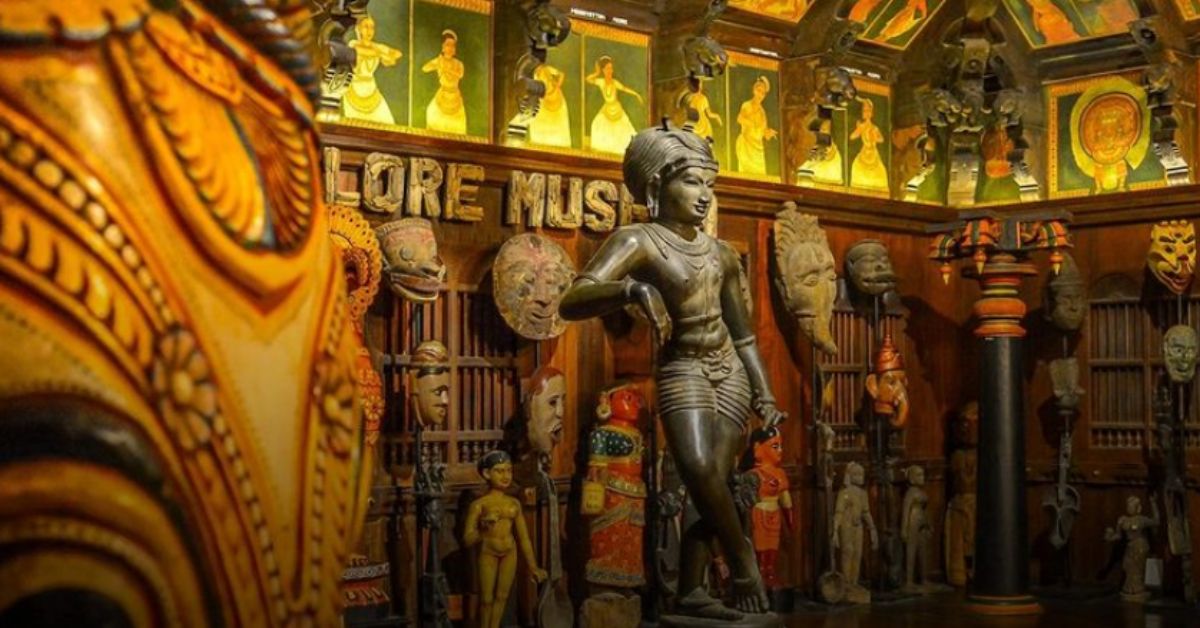 Take a gander at the brain museum in Bengaluru or a museum made entirely of money in Mumbai. Here's eight museums around the country you don't want to miss.
Every trip planned within India is incomplete without visiting a museum of that particular location which celebrates the culture, life and artefacts of the region's past. India's rich cultural heritage never fails to amaze us. It not only entertains but also informs the masses about the bygone eras and is reminiscent of them.
Although the country has umpteen museums which take its visitors to the past, most of them are similar in structure and collection. Here is a list of some unique and unconventional museums in the country which will equally surprise and educate its visitors:
1. Veechar Cultural and Heritage Museum for Utensils, Ahmedabad
Set up in 1981, this museum is a catalogue of utensils used across the country with exhibits from the personal collection of the founder of Vishalla restaurant. It was started by designer Surendra Patel and anthropologist Jyotindra Jain. It is the only museum in the world which exhibits daily use utensils from various eras.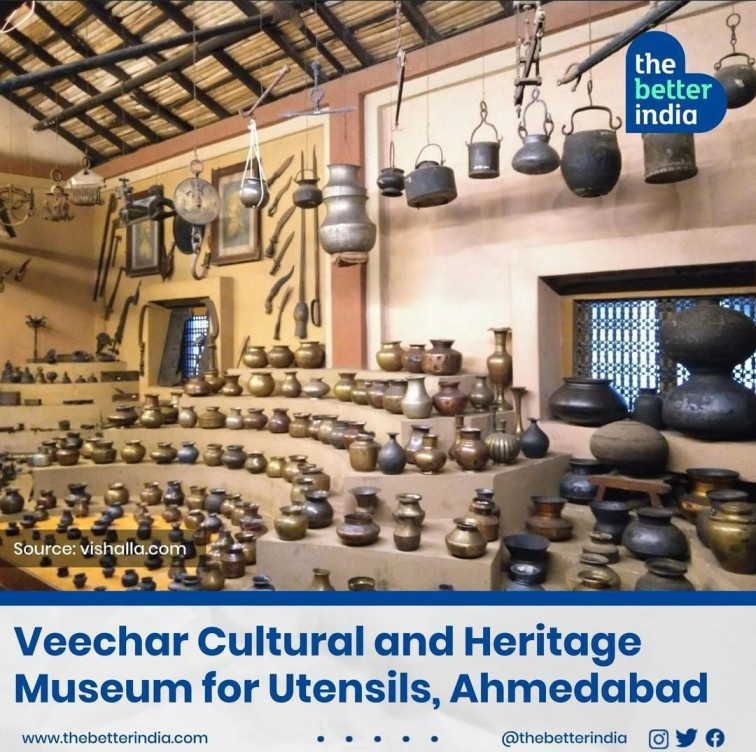 The place has a long U-shaped path that runs along a rustic hall which is lined with urns, jugs, spittoons, pots and locks. It is a part of Vishalla restaurant and was set up three years after the restaurant started functioning. The collection is majorly from Indian households, both rural and urban.
Entry fee – Rs 20/ person for adults; Rs 10/ person for children (3 – 11 years)
Open every day except Monday from 3 pm to 10.30 pm.
2. International Dolls Museum, Chandigarh
The place has an amazing collection of dolls from more than 32 countries across the globe. It is the first-of-its-kind in India and it comprises exotic and indigenous dolls with historical, socio-cultural, geographical, artistic, fashion design and costume features. They are made of clay, wood, plaster, stone, bone, cloth or different natural materials.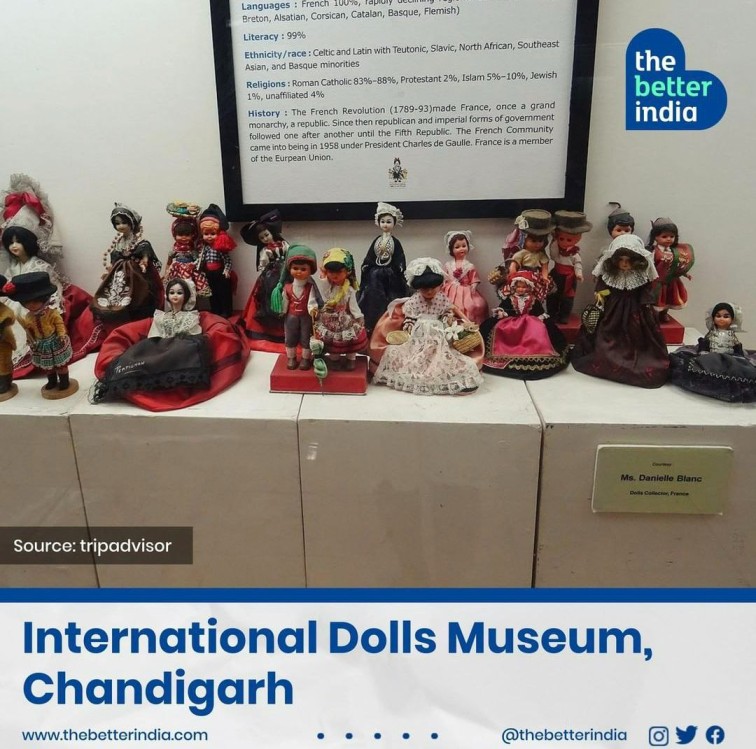 The museum was set up by the administrator of Union Territory, Chandigarh in 1985 by collecting dolls which have been received as gifts from doll lovers and others from across the world.
Entry fee – Rs 10/ person above 12 years; Free entry for kids below 12 years/ school groups and senior citizens.
Open every day except Monday from 10 am to 4.30 pm.
3. Kite Museum, Ahmedabad
A museum which exhibits 125 different kites is located in Paldi, Ahmedabad. The place is most loved by children and holds kites from ancient times till the modern period. Mirror work kites, Japanese kites and block print kites are some of the varieties displayed here.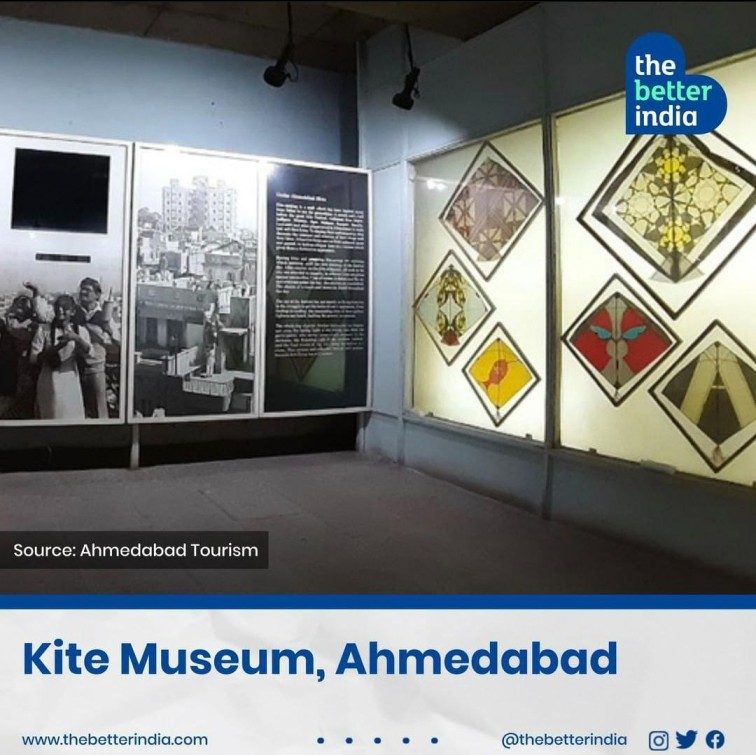 Kite flying being an important part of Gujarat's celebrations and festivals, Ahmedabad is a city that produces a large number of kites every year. The museum was set up when Mr Bhanubhai Shah gave away his kite collection to the Ahmedabad Municipal Corporation, years back. It is located in Sanskar Kendra, a building designed by prominent architect Le Corbusier.
No entry fee.
Open every day except Monday from 10 am to 6 pm.
4. RBI Monetary Museum, Mumbai
India was one of the earliest issuers of coinage in the world and this museum was set up to preserve the money heritage of the country. Representative coinage of India, paper currency, gold bars as well as financial instruments and curiosities down the ages are exhibited here.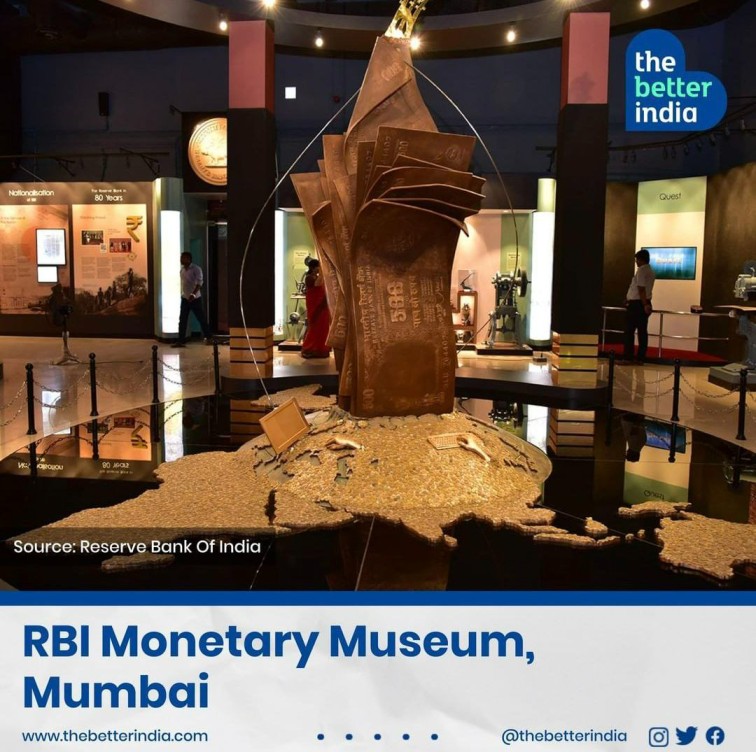 The museum was established under the educational programme by the Reserve Bank of India (RBI) in 2004. It was inaugurated by then President Dr A P J Abdul Kalam. The coin collection ranges from the Indus Valley, Kushan Empire, Gupta period and British Raj along with ancient paper money from across India, China and Southeast Asia. Over 1,500 objects are exhibited at the museum.
Entry fee – Rs 10
Open every day except Monday from 10 am to 5 pm.
5. NIMHANS Brain Museum, Bengaluru
Located within the National Institute of Mental Health and Neuro Sciences (NIMHANS), this museum is also known as the brain bank. It is a place set up for information purposes with a collection of donated brains from cases of neurodegenerative and infective conditions, victims of road traffic accidents, as relatively normal controls and for distribution of the brain tissue and serum for investigative studies.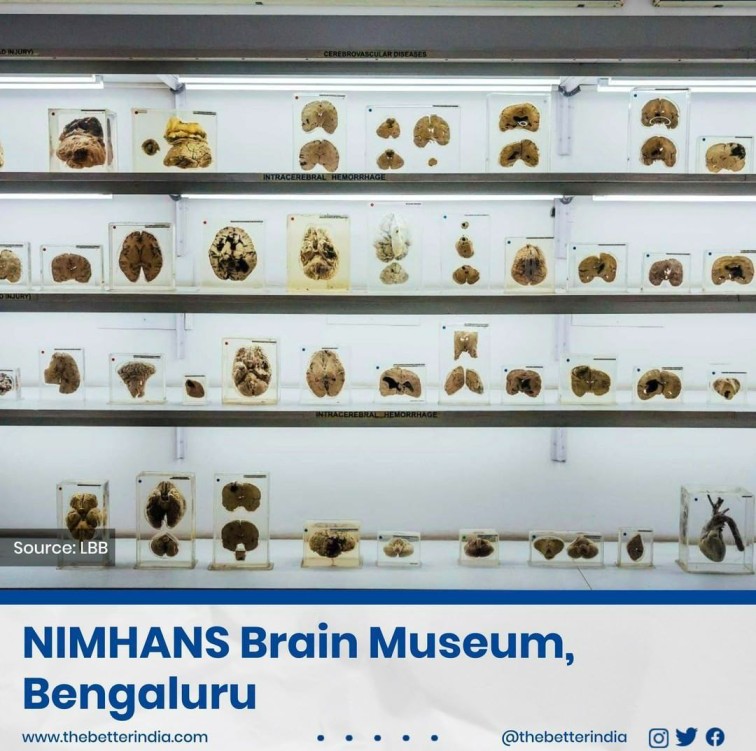 The collection is made after getting consent from the close relatives of the victims. Required brain tissues from various anatomical areas were distributed to 15 scientists for their research work throughout India from this museum. The place works as a promotion spot for neuroscience and public awareness programmes about organ and brain donation.
Free entry.
Open on Monday to Friday at scheduled times with guides.
6. Indian Music Experience Museum, Bengaluru
This is India's only interactive music museum which is known for its collection of instruments and installations. There are nine internationally-designed exhibit galleries, storyboards and artefacts here and the visitors can listen to music in all languages. The museum also has a learning centre where children and adults can enrol in music classes ranging from vocals to various instruments.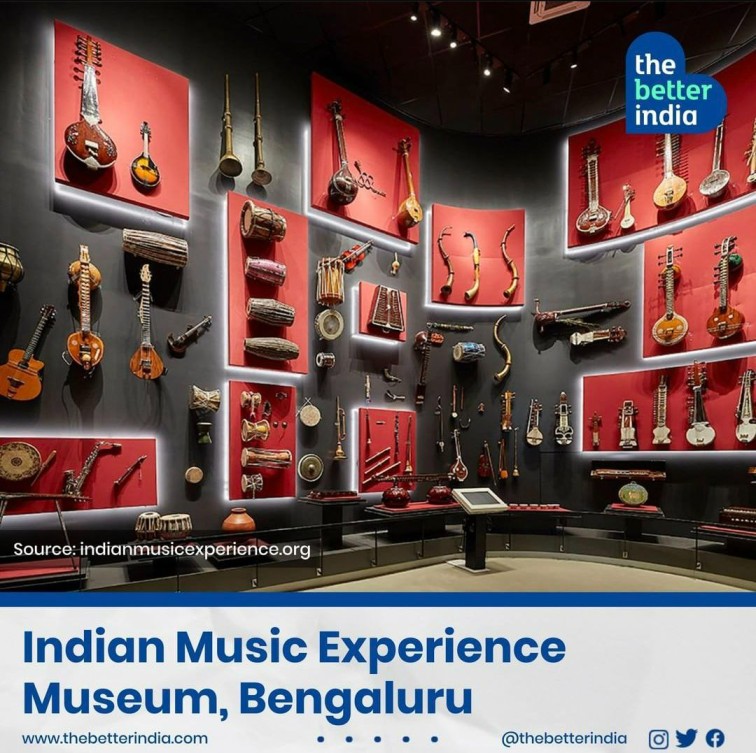 Located in JP Nagar, Bengaluru, this museum enables visitors to create music of their own. The place celebrates the country's rich history in music and gives an introduction to all of them. Interestingly, the museum has a space to have fun together as a family singing a favourite Bollywood song at the recording studio, changing the backing track, designing an album cover and emailing it to yourself.
Entry fee – Rs 250 for persons above 12 years, Rs 150 for senior citizens and children.
Open every day except Monday from 10 am to 6 pm.
7. Amrapali Jewellery Museum, Jaipur
This is India's first museum for jewellery founded by Rajiv Arora and Rajesh Ajmera. There are nearly 4,000 artefacts in the place gathered from across the Indian subcontinent. The collection includes silver anklets for horses' legs, Kalamkari panels with real gold, a silver door and back-scratchers that conceal blades at the ends.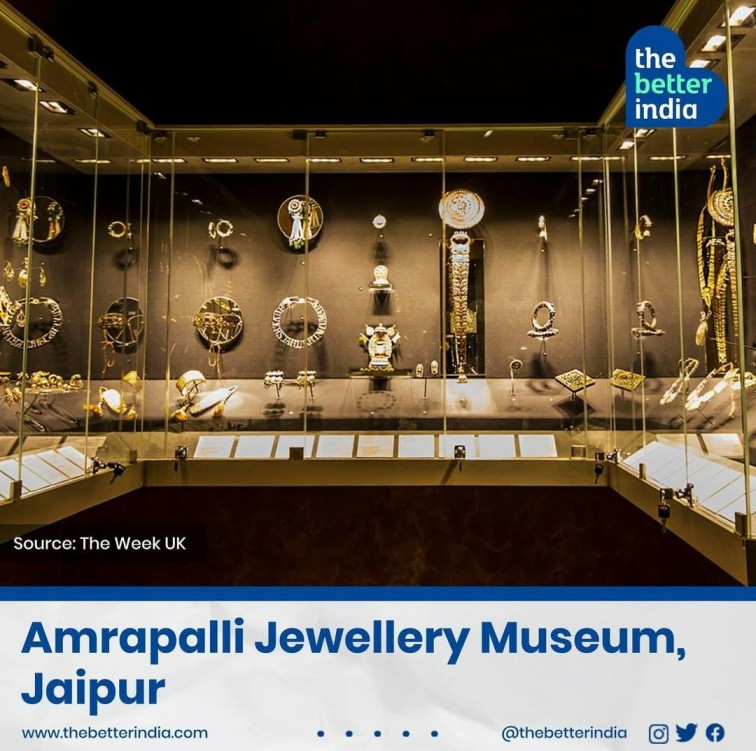 Amrapali is a brand founded by Rajiv and Rajesh who travelled all over the subcontinent to collect unique jewellery pieces. Almost 34 years later, they realised that they have a vast collection of these items and decided to exhibit them in a museum.
Entry fee – Rs 600/ head
Open every day except Sunday from 11 am to 6.30 pm.
8. FCI Food Museum, Thanjavur
The history of food is something we won't be tired of hearing and experiencing. Food Corporation of India's (FCI) museum located in its regional office was formed in collaboration with Visvesvaraya Industrial and Technological Museum, Bengaluru in 2021. Projection mapping, touch screens, proximity sensors, and radio frequency identification technologies have been employed here.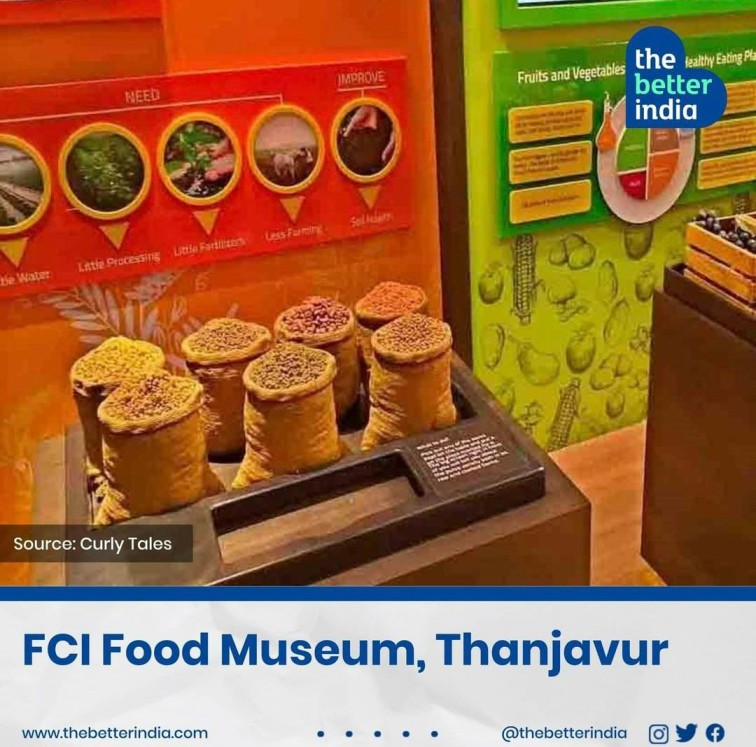 The visit begins by watching a seven-minute-long video on how humans went from being hunter-gatherers to food producers. Food charts are displayed in the museum which reveal the vast recipes in the country. A life-size replica of a Public Distribution System (PDS) ration shop is also exhibited here.
Entry is free.
Open every day except for public holidays from 11 am to 5 pm.
Sources:
Thanjavur Food Museum serves up culinary history with a dash of technology, published by The Hindu on 15 December 2021.
The 10 pieces you need to see at Jaipur's Amrapali Museum, published by Conde Nast Traveller on 2 March 2018.
10 Things to do at the Indian Music Experience, published by Buzzing Bubs on 15 November 2020.
Edited by Yoshita Rao
We bring stories straight from the heart of India, to inspire millions and create a wave of impact. Our positive movement is growing bigger everyday, and we would love for you to join it.
Please contribute whatever you can, every little penny helps our team in bringing you more stories that support dreams and spread hope.