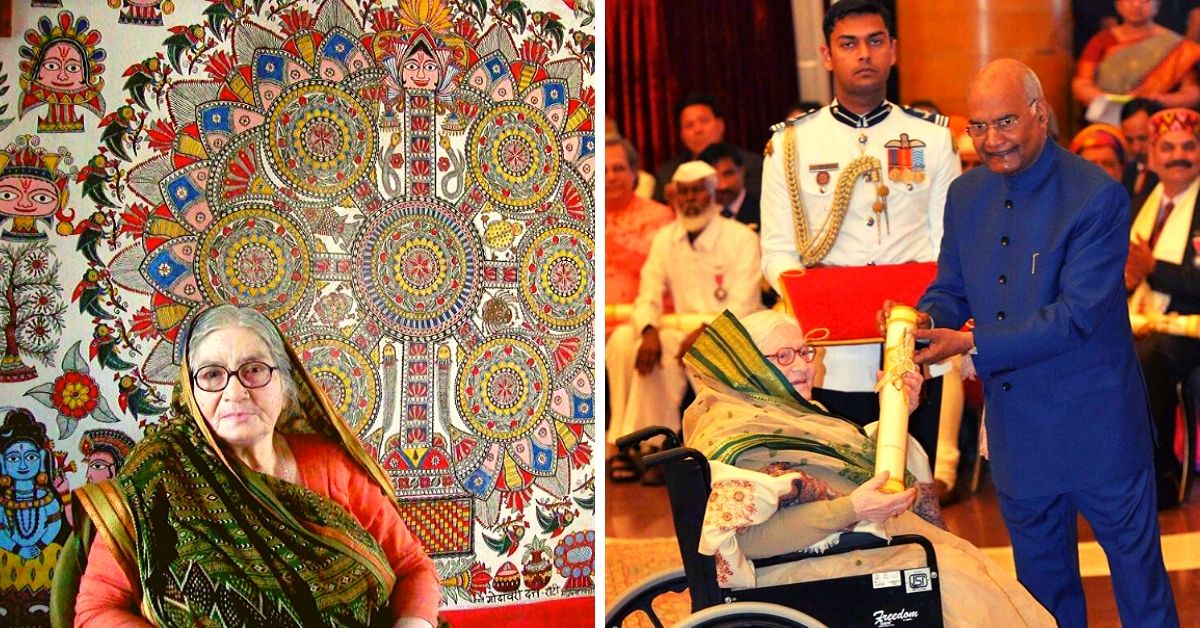 Godawari Dutta has taught around 50,000 people including students and artists from across the country in the last 35 odd years.
It is a tale worthy of a biopic.
Godawari Dutta faced the loss of a father when she was barely 10, was married off at an age when she should have been going to school, and later saw abandonment by the same husband who robbed her of her childhood.
Yet, she never let her innate innocence and the will to fight die. She kept moving forward, using the skills of an ancient art she imbibed from her mother and reached the height of validation when she received the 2019 Padma Shri—India's fourth-highest civilian award for her contributions in preserving the traditional art form of Madhubani and taking it to the world stage.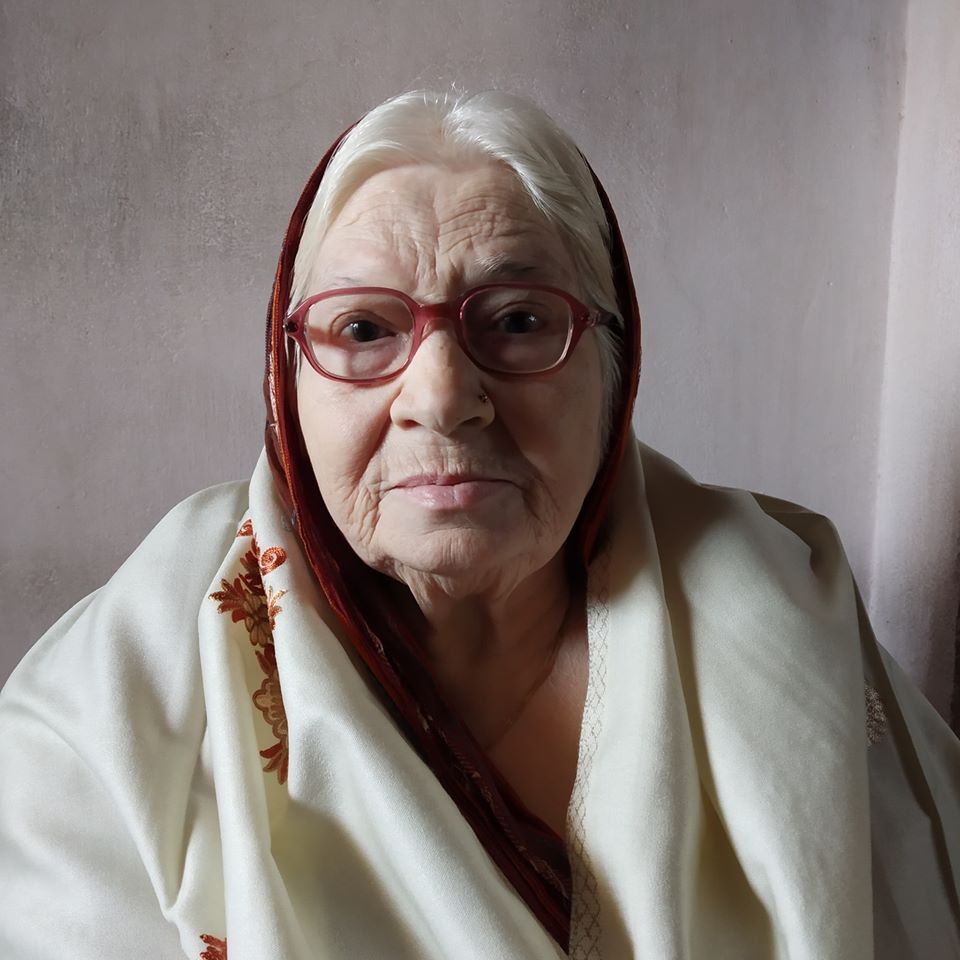 And her tale begins in Bihar's rural landscape in the late 1960s.
How her Art Ended up in a Prime Minister's Office
Indira Gandhi, the then Prime Minister of India, was visiting drought-hit Bihar to assess the situation along with one of her aids, Bhaskar Kulkarni.
As Kulkarni travelled across the villages, conversing with the people and taking stock of the situation, he could not help but notice the peculiar style of painting adorning the mud walls of every household.
The locals called it Madhubani, an art form rooted in ancient times. Kulkarni felt that the eye-catching geometrical and floral patterns could be used as a source of income-generation in the wake of the devastating famine.
Since every local woman possessed the skill of 'Madhubani', the government-run All India Handicrafts Board requested them to transfer their ritual wall paintings to paper, later to be sold in urban markets.
Among those innumerable paintings, a colourful painting depicting the battle of Mahabharata was not sold. Instead, it landed on Indira Gandhi's desk after it grabbed Kulkarni's attention.
That painting belonged to a 20-something girl, Godawari Dutta, from Bahadurpur village in Bihar, who was destined to take the art beyond seas.
Godawari Dutta—Using her Art to Build Bridges
Now in her 90s, Dutta is an internationally-acclaimed artist whose paintings are displayed in Mithila Museum in Tokamachi in Japan and in Mithila Painting Museum in Madhubani, Bihar.
Dutta hails from a region where lives are cemented in patriarchal norms and women are expected to remain within the limits of their house. Along the way, she lost her father during her childhood, was a victim of the evil practice of child marriage which culminated in her husband's desertion.
Against these personal losses, Dutta made sure that her life flowered through Madhubani.
"It is my love for Madhubani and unconditional support from my mother that helped me get through every challenge," Dutta tells The Better India (TBI).
Dutta was born in the pre-independence era where being born a girl was looked down upon. Across India, every mother would groom her daughter to be an ideal wife. Manners, ethics and culinary skills were the only things that most daughters would inherit.
In Bahadurpur, it was no exception.
Among all the customs that limited her growth, she was grateful for a cultural heritage where every mother would pass on Madhubani art form.
According to folklore, each girl in the village was mandated to learn Madhubani, which originated in the Mithila region in Bihar to keep the art form alive.
Traces of the 2500-year-old custom are found in Ramayana. It is believed that on King Janak's orders, an artist painted Sita's wedding with Ram in Mithila. Even now, women in Bihar are invited to paint Madhubani on walls and floors during auspicious events like weddings, festivals and religious ceremonies.
Dutta's mother, Subhadra Devi, was a well-known artist and would often be invited to draw scenes from Ramayana and Mahabharata or symbols of love like flowers and parrots.
"The paintings are drawn in Kohbar Ghar (nuptial chamber) to bless a newlywed couple. The couple spends three nights in the room and on the fourth night consummate the marriage surrounded by the colourful paintings," Dutta explains.
Fascinated by the art, Dutta would replicate the same on walls of her house capturing images of deities and natural elements like fish, elephant, turtle, sun and moon.
"Art is in my genes. I had the privilege of nurturing it under one of the finest artists, my mother. While everyone believed that she was a natural, only I have seen the kind of hard work she put in. She would spend hours on perfecting something as simple as a line. From her I learnt to respect and preserve the art form," says Dutta.
When Dutta started out, brushes and paints had not yet reached her village.
They used fingers, nib-pens, twigs, fingers and match-sticks and natural dyes, "Black came from charcoal, yellow from turmeric, white from rice, blue from indigo, saffron from marigold and so on. We made the outlines from rice paste."
Interestingly, Dutta has never used a brush for any of her paintings.
Taking forward her mother's legacy, Dutta too has painted in several Kohbar Ghars. Just like her mother, she never charged a single penny for her artwork for she believed that painting was a form of a blessing.
Fame Amidst Struggles
After her husband left the home to never return, the responsibility of running the house and looking after her son fell solely on Dutta. This was during the same time when the All India Handicrafts Board started selling Madhubani paintings. Naturally, she grabbed the opportunity.
Over the next few years, she channelised all her energy in improvising the art. She participated in pan India exhibitions. She even made several trips to Germany and Japan for exhibitions.
Her paintings gained fame. Interestingly, her work was so popular that agents and people came to her to buy paintings.
"I started selling my paintings at Rs 5. I would participate in at least 10 exhibitions in a year. I learnt a lot from other art forms like warli, kalamkari, pithori and kalighat. Travelling increased my wisdom further."
In the 80s and onwards, she started visiting educational institutions to impart her skills. Additionally, she took people under her wings to guide them in the traditional art she received from her mother. She claims to have taught 50,000 people including students and artists from across the country in the last 35 odd years.
The Legacy of Godawari Dutta
To keep the aesthetic form alive, Dutta never turns away anyone who comes to her doorstep. Though she cannot draw and paint anymore, her love for Madhubani has not subsided a bit. Now, she happily sits on her chair and shares her wisdom about the art form to her guests.
Dutta has been around long enough to witness drastic changes in India's art scene.
Comparing Madhubani of the past and present, Dutta elaborates, "The present Madhubani scene has completely changed. Acrylic colours have replaced natural dyes. In our times, no two Madhubani paintings would be the same. Over the years, I have witnessed the art form being a part of mass production. From napkins, dupattas, wall hangings, sari, kurtis to home decor items, patterns of Madhubani can be seen everywhere today. In a way, it is great as the once dying art has become part of our national heritage," she signs off.
All the images are sourced from Priti Karn, grandaughter of Dutta.
---
Also Read: 80-YO Tribal Woman Learnt Painting At 70. Today Her Art Sells In Milan & Paris!
---
(Edited by Saiqua Sultan)
Like this story? Or have something to share?
Write to us: contact@thebetterindia.com
Connect with us on Facebook and Twitter.
We bring stories straight from the heart of India, to inspire millions and create a wave of impact. Our positive movement is growing bigger everyday, and we would love for you to join it.
Please contribute whatever you can, every little penny helps our team in bringing you more stories that support dreams and spread hope.