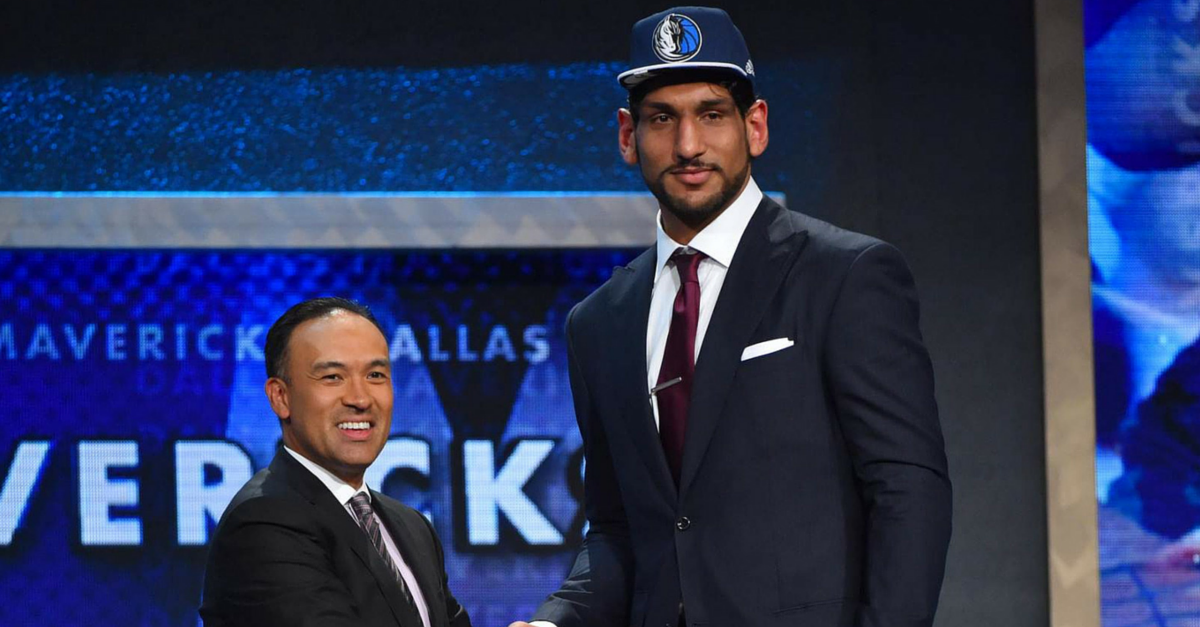 The 7 feet 2 inch tall, Satnam is just 19 and was picked at 52nd position by Dallas Mavericks. Born in the family of farmers in Punjab, Satnam became first Indian-born to grab such a position. Here's more about the young player.
The 7 feet 2 inch tall, Satnam is just 19 and was picked at 52nd position by Dallas Mavericks. Born in the family of farmers in Punjab, Satnam became first Indian-born to grab such a position. Here's more about the young player.
"The Mavs made history with the No. 52 pick Thursday night, drafting 7-foot-2 behemoth Satnam Singh. Singh is the first Indian-born player to be drafted in league history," quoted the Dallas Mavericks press release.
Here are 12 things you ought to know about the first ever Indian-born to be drafted into the American National Basketball Association (more popularly referred to as NBA).
1. Satnam Singh Bhamara was born on 10th December, 1995, in village Ballo Ke, Barnala District, Punjab.
His father, who is a farmer, is 7 feet 4 inches tall and his grandmother is 6 feet 9 inches tall.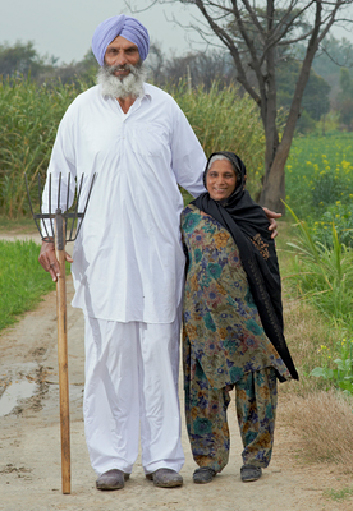 2. When he was a kid, he was nicknamed 'Chhotu'.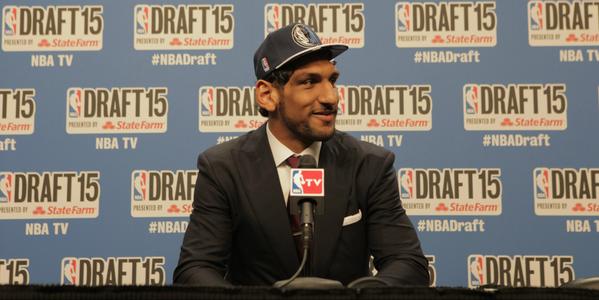 Photo source: Twitter
3. By age 10, he was 5 feet 9 inches tall and by the age of 15 he was 7 feet tall.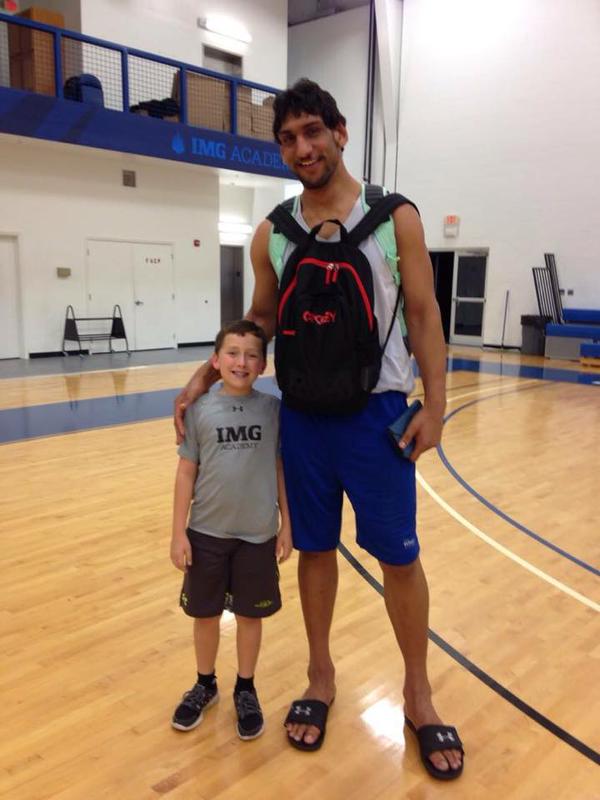 Photo source: Twitter
4. He represented India in the FIBA Asia U16 Championships at Malaysia in November 2009 and went on to help his home state, Punjab win the Gold Medal in the National Youth Championships at Trichy (Tamil Nadu).
He was also a part of the Indian Basketball team that participated in FIBA Asia 2013.
5. He was recommended by the Basketball Federation of India (BFI) to be part of a three-team contingent of Indian youngsters sent to Singapore for the NBA's Basketball Without Borders (BWB) Asia camp, which featured 44 junior boys from 19 different countries in Asia and Oceania.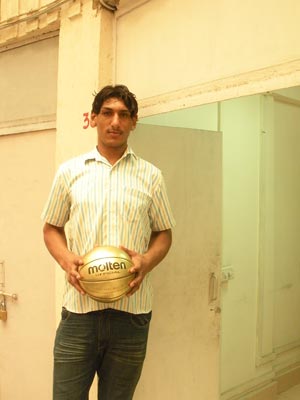 6. It was Troy Justice, the NBA's Director of Basketball Operations in India, who spotted Satnam's talent in India.
"First time I saw him play, he was wearing shoes that were falling apart. The seams had split, and he was coming right out of them," [NBA director of basketball operations in India Troy] Justice said to SB Nation. "That's all he had. He was growing so fast. We helped him get shoes."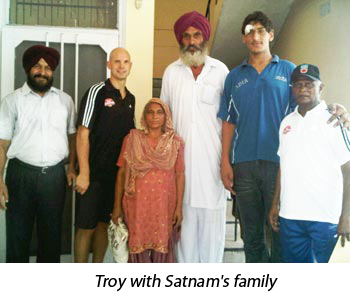 7. Satnam moved to the United States in September 2010 to train at the IMG Academy in Florida, he was sponsored by the IMG-Reliance program.
He was one of the 29 students selected to spend three months at the IMG Academy but he stayed back.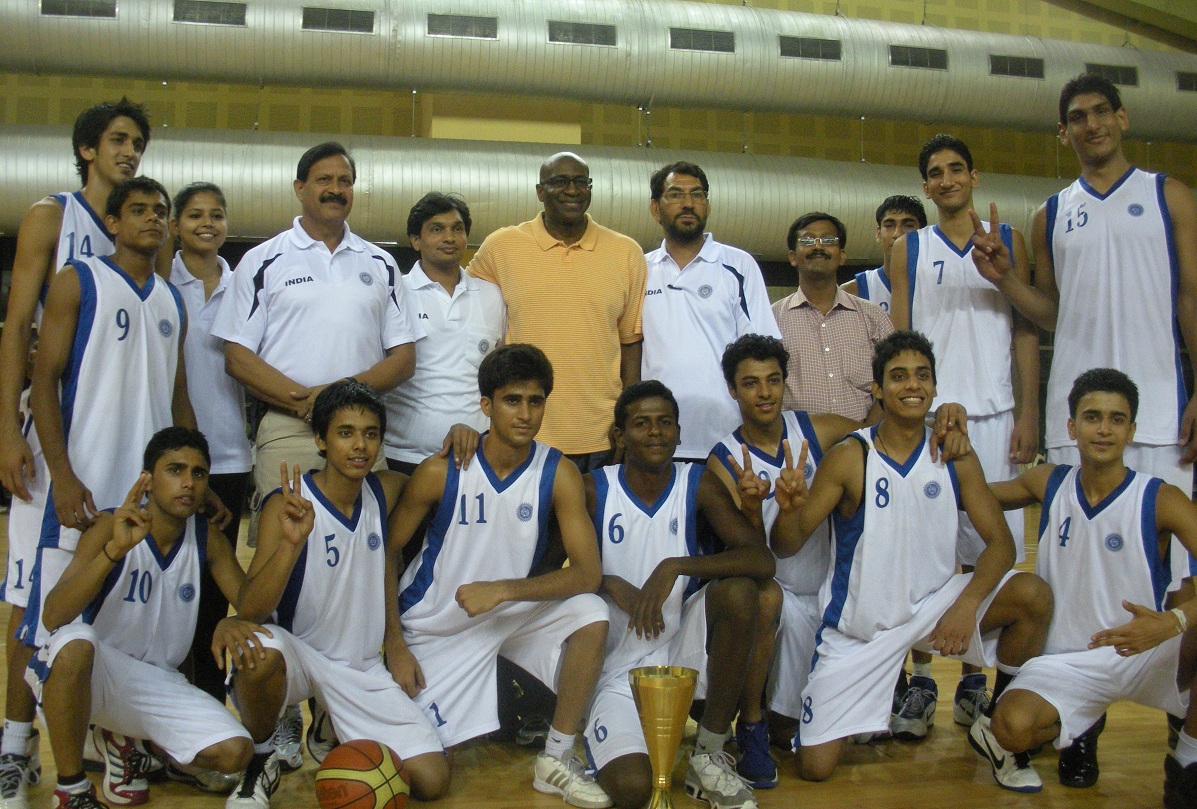 Photo source: here
8. Satnam did not receive any scholarship offers to play for an American college.
This is first time since high schoolers became ineligible for the draft in 2005 that a player was selected without playing in college, overseas or in the NBA Development League.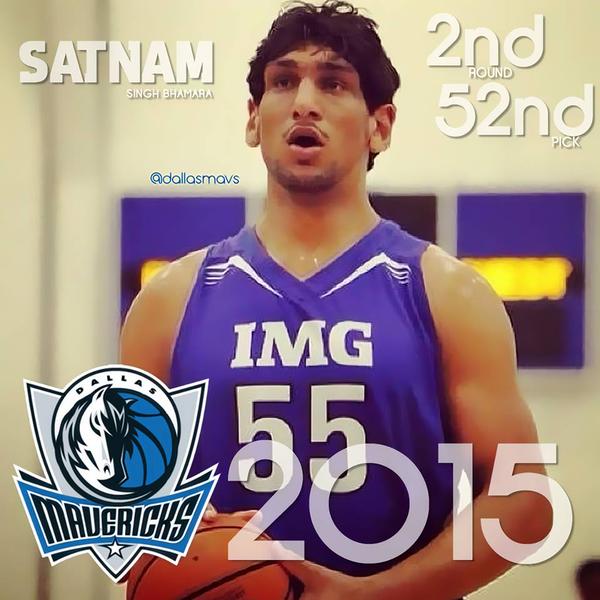 Photo source: Twitter
Photo source: sportskeeda.com
10. As of June 2015, his listed height is 7' 2" (2.18 m) and his listed weight is 290 lb (132 Kg).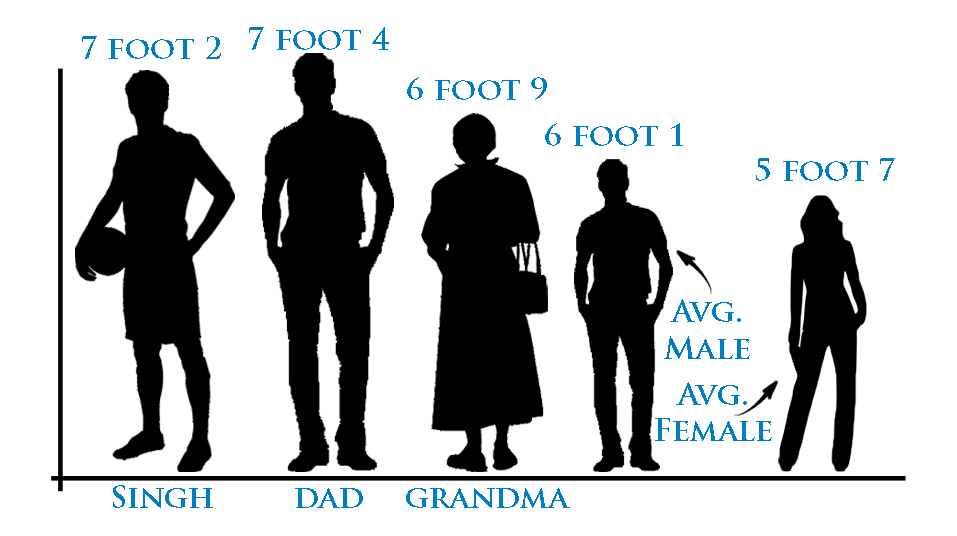 Photo source: http://mavsblog.dallasnews.com/
11. He wears shoes that are size 22.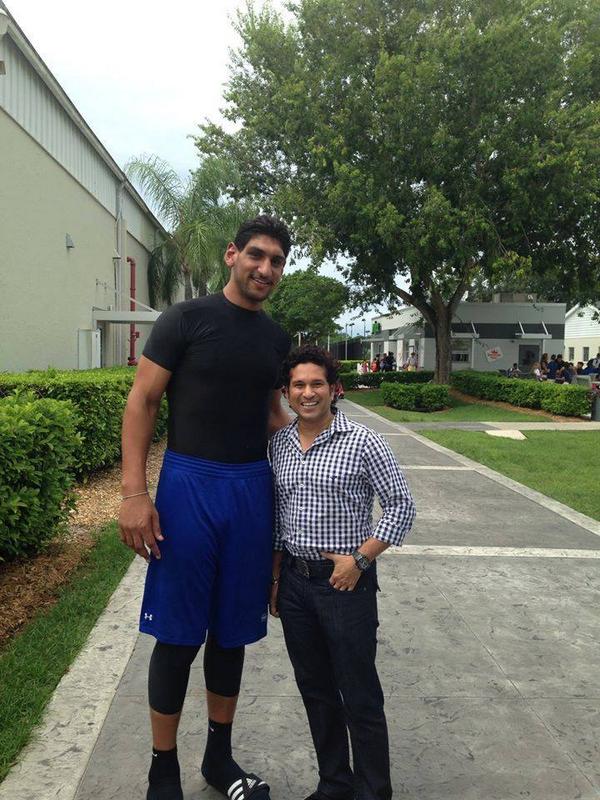 Photo source: Twitter
12. Satnam is only 19 years of age.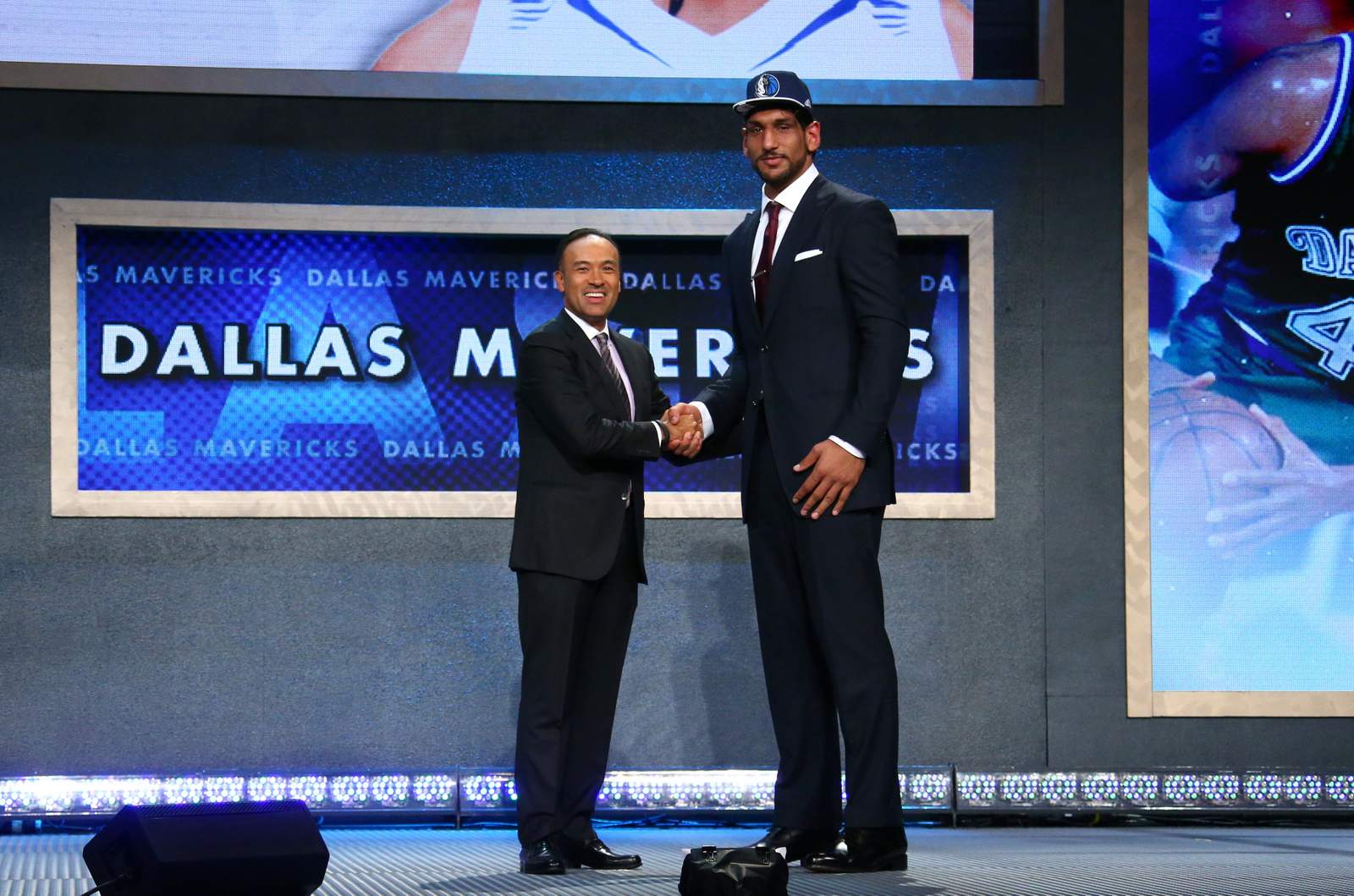 Excerpts of an interview Satnam Singh gave to Ekalavya's Youtube channel about his early introduction to the sport, the role played by IMG Reliance in his career and also has an advice to young upcoming basketball players.
Watch the original video by IMG Academy here:
When did you first start playing basketball?
A: I started playing basketball in 2005. Like in most cases, I initially played cricket in my village and then when I returned to Ludhiana, A friend of my father suggested me to take up basketball seriously.
I then met the then President of the Basketball Federation of India (BFI) Mr. RS Gill and also got introduced to the President of the Punjab Basketball Association Mr. Teja Singh. I then got enrolled into the Ludhiana Basketball Academy and that's where my journey in the sport began.
Now at the age of 19, you have enrolled your name in the 2015 NBA Draft. How has your experience been so far?
A: Ever since I first began playing the sport, I was first mentored the late Mr. Subramanium at the Ludhiana Basketball Academy. Then I represented Punjab at the state level and represented Ludhiana. Then I got noticed by the coaches at the national level and Mr.Teja Singh asked me if I would be interested to train with the Indian team, this was around 2007-08 and I said yes.
That year, I played for India at the U16 youth division and that's where an American coach saw me and called up my coach and told him," I want this kid and want to most certainly take him as he is a good kid and is playing well too," and over there, I got a great opportunity to go forward.
I kept getting better from there on and kept improving. After that the then CEO of the BFI, Mr Harish Sharma was also very impressed with my performances and felt that I had the ability and potential in me to scale greater heights in the future.
Who is your favorite basketball player?
A: My role model is Kobe Bryant because the first game I saw on television in India was between the Los Angeles Lakers and the Miami Heat.
Another player who I admire the most is the Indian player from Punjab Jagdeep Singh Bains. He was a real superstar player. Unfortunately, he's injured right now, but I respect him now just as much as I did 3-4 years back.
How much of a help have IMG Reliance been?
A: In 2010, when I was still playing in Punjab, the then CEO of BFI, Mr Harish Sharma called up the then President of the Punjab Basketball Association Mr Teja Singh and told him that I had all the potential to become a promising basketball player and felt that my name should be recommended for the IMG Reliance Scholarship and that could help further develop and enhance my skills.
After that I came for the IMG Reliance tryouts at the IMG Reliance academy in Delhi and there were about 26 girls and 24 boys over there and out of the 50 probable players, they picked 8 out of them- 4 boys and 4 girls for a fully funded Scholarship at IMG Sports Academy, that is based in Florida in USA.
You came to the IMG Academy in 2010. Can you tell us how have you improved since coming here?
A: When I first joined the IMG Academy, I don't think as good a player and I felt I needed to work on my skills, body weight and muscle building. I want to play inside and not outside and because I am a post player, strength is most important. The players who play in the center require strength otherwise they won't be effective.
Ever since I came here, I have worked hard in almost all areas of the game. Aspects such as weight lifting, nutrition and the coaches, here at the IMG Academy have fine-tuned each and every move and I have learnt so many new moves, which I had never tried in India.
What do you think needs to be done to improve basketball in India?
A: First and foremost, we players need to develop an inner drive. There are several distracting thoughts in the mind of players.
I think it's critical for us to keep focus. Ever since I have come here, my only goal has been to reach the NBA. Just like how I have been putting in the hard yards, I feel others in India should also work in the same manner.
If we need to improve in the sport, then the players must work hard every single day.
There's no doubt that I can come back to India and continue my training, but that's not the solution
Last year the Indian national basketball team defeated China. Do you think you would get picked for the side and will you be interested to play if you get chosen? How do you think you will perform?
A: That is a tough question to answer because then I will have a conflict between national duty and professional playing career. I think the win over China last year was a fantastic achievement and I want the subsequent Indian squads to aim even higher and we must not be satisfied with just one victory.
I feel it is equally important to beat our other Asian neighbors, the likes of Iran, Korea, Japan etc. Only if we win against them, then I think we will be able to achieve a respectable status in Asia. If I get the chance, then I will certainly be interested to play for my country.
What advice would you like to give to young children playing the sport in India?
A: My only advice to them would be develop their skills as early as possible because I feel the skills that are required in the school, college and the pro level, if the youngsters can develop them now, then it will help them a great deal moving forward.
Another advice I want to give them is to keep a fixed goal in your mind, a final destination. And don't let that waver from your mind. Also, I feel it is important for children to respect their family, their parents, elders, coaches and the general public. The more you respect others, the more respect will your way.
Don't think wrong about others and don't have any ill feelings about others. You can never move forward if you have ill feelings towards others.
Stay focused on your final destination.
Like this story? Or have something to share? Write to us: contact@thebetterindia.com, or connect with us on Facebook and Twitter (@thebetterindia).
About the author: Sharath Ahuja works at the Indian Institute of Science, plays badminton, billiards and snooker, and is also an amateur photographer.