After years of living in darkness, one man got solar power installed in his house and inspired many other slum dwellers to follow in his footsteps. Know more.
Sardhav village in Gandhinagar, Gujarat, had always seen dark evenings. With no electricity, many slums in the area would go dark after sunset.
But that was the story two years ago. Things are different now, thanks to one man who brought light in the lives of his fellow slum dwellers through solar power.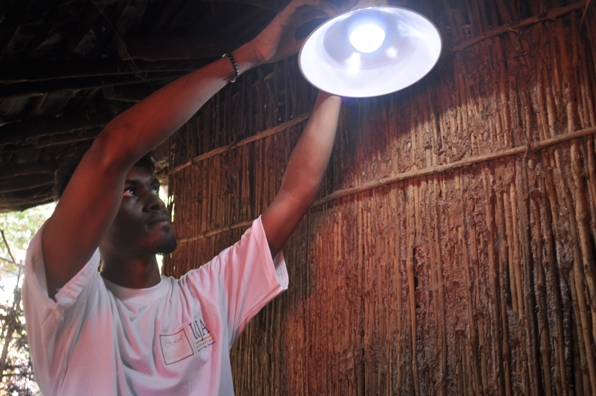 Photo for representation purpose only. Courtesy: www.urjafoundation.org
Lala Dehraji Thakor has become a changemaker in his slum just by using the alternative source of energy. When he first installed two solar panels for his personal use, little did he know that his action would change the lives of hundreds of other slum dwellers too.
A farmer by profession, Thakor came up with the idea of using solar energy for his home purpose when he saw a solar street light in use. He wasted no time and installed two solar panels of 37 w capacity for Rs. 3,750 each.
These panels are sufficient in powering the television, setup box, mobiles, one fan, two CFLs and a few LEDs in his house.
After Thakor's solar installation, 10 more families got solar panels installed in their homes. Not only this, even Revaabaai Hospital went ahead and installed portable solar lights in their premises after getting inspired from Thakor.
One small step of Thakor's has inspired many to adopt an unconventional technology to power their houses which is giving them ample light.
Like this story? Or have something to share? Write to us:contact@thebetterindia.com, or connect with us on Facebook and Twitter (@thebetterindia).