Did you know that handicrafts of all kinds constitute the second largest occupation in India? And that it is a dwindling sector with people steadily moving out of it and
Did you know that handicrafts of all kinds constitute the second largest occupation in India? And that it is a dwindling sector with people steadily moving out of it and entering other fields? One of the reasons for artisans to move out of this business is the lack of easy access to consumers and the intense competition from machine-made goods.


The Color Caravan aims to create livelihood opportunities for artisans and in turn preserve our traditional crafts. It tries to do so by presenting traditional handicraft products in contemporary style & marketing them to urban buyers.
Here is an interview with Swati Seth, the founder and the main driving force behind The Color Caravan:
Tell us more about The Color Caravan – what is it all about?
The Color Caravan is a platform for Indian handicrafts. It is a link between the artisan and urban market. The Color Caravan is not a NGO. It is very much a business venture but supports a social cause. We basically partner with independent artisans, NGOs and SHGs to not only source products from them but also develop new products with them. In this way, we help create livelihood for the artisans and thus preserve our traditional craft. Besides this, we try to educate our customers about the product that they buy from us by sharing craft stories with them. We want them to know the kind of effort and time that an artisan puts in creating each piece of craft.
What inspired you to start The Color Caravan?
A lot of people, ventures & incidents inspired me to start The Color Caravan. Having said that, the one person that inspired me the most (and continues to do so) is the great Indian rural artisan. Everytime I see a beautiful & fine piece of traditional craft created by an artisan, it leaves me awestruck & inspired. At the same time, it worries me to see our traditional craft getting lost – dying away because gradually artisans across the country are moving on from traditional crafts, handed to them over generations, in search of other opportunities.
I knew that one day I would do something of my own and it would be something to do with the handicrafts. It was always  there on my 'bucket list' but I wasn't sure when and how.  And then I reached a stage where this thought that 'if I don't do it now, I would never be able to do it' started bothering me but I still did not have the courage to quit my decently paying secure job.
They say taking the first step is always the toughest part. After contemplating the idea for months, and with encouragement & support from family and some close friends I gathered the courage and decided to take the plunge.
So, you can say that The Color Caravan was born out of my passion for travel, love for art & craft and concern to preserve and propagate age-old traditional Indian crafts.
Can you tell us a little bit about your background? Your past experience?
I am a qualified commercial artist with over 10 years of experience across the design & online industry (design, e-commerce & content). I spent the early years of my career doing wall art, designing furniture & interiors for children, painting for a textile export house, visualising & illustrating for digital & BTL agencies before moving over to online content. In between all this, I also had a short stint with a BPO. My last stint was with one of largest Indian websites for advertising, media & marketing.
What are the kind of products The Color Caravan showcases? What is unique about them?
Besides sourcing traditional handicraft products that are already available with the artisans, we help them design and develop new products using traditional craft.  We try to present traditional handicraft products in contemporary style.  So, while some of the products that we sell have been completely created by the artisan, others have been co-created by both the artisan and The Color Caravan. Some of the artisans that we work with are national and state awardees.
Currently, we have crafts like terracotta jewelry from West Bengal, Madhubani from Bihar, Pattachitra & Dokra Orissa, basketry & Longpi pottery from Manipur, Charamkari and Kalamkari from Andhra Pradesh, Bandhej & weaves from Gujarat, Chikankari from Uttar Pradesh, Blue pottery from Rajasthan & Batik and Meenakari from Maharashtra. Our current product range consists of fashion accessories, home decor, home furnishing & utility items. Since each product, each piece is handcrafted, there are no two identical pieces!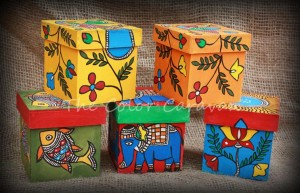 I suppose in this field you would have a lot of stories to share about artisans and their crafts. Any particular event/incident that you recall?
Every piece of craft and artisan has a story to tell. However, I'll share this particular one.  I was traveling across Kutch (Gujarat) to explore the local craft and meet artisans to partner with. Every village that I visted, every artisan that I met and every piece of craft that I saw left me awestruck. Then, I met this very old lady in a tiny village. She must have been close to 85 or 90. She was once a very fine hand embroidery artist but was forced to give up the art because of old age. Her family showed me some of her out-of-this-world creations.
I asked them if someone would be able to embroider something similar for me. I was disappointed and shocked to know that that particular embroidery art was not passed on to the next generation. No one from the younger generation bothered to learn it. No one from the current lot of artists in the village knew that particular stitch, that particular embroidery and she was too old teach now. She could barely see – it meant that that particular embroidery, that craft was now lost. It was heartbreaking.
Any specific issues that you face and are trying hard to address?
I want to add about one of the biggest issues that we and other social enterprises working for the handicraft sector are facing. People often find our products expensive and we have a tough time explaining that handmade stuff will be expensive especially when we pay fair wages/prices to our artisans and don't exploit them like others. It is sad that most customers end up comparing our handcrafted products with machine-made, non-ecofriendly products purchased at low prices & sold huge margins & profits.
Clearly The Color Caravan is a much-needed initiative in this space. What are your future plans? How do you plan to shape this initiative?
We have already started retailing through a couple of stores in Bangalore and Lucknow and are products will be soon available in Mumbai. We will continue to do exhibitions across metros. Besides this, we have plans of launching a couple of customised services.
How does one get in touch with your organization?
Tel: 011-46534315, 0522-2624182
Write to us at: swati.seth(at)thecolorcaravan.com
Look for 'The Color Caravan' Page on Facebook and click the LIKE button for updates.
To see where & how can one buy our products, please see the SHOP tab on our Facebook Page.
*****
Thank you Swati for this initiative. The Better India wishes you and the artisans a whole lot of success with The Color Caravan!
[Note for readers: If you have come across any such ideas or ventures that you believe we should write about, please feel free to mail The Better India at contact[at]thebetterindia.com.
Also, get positive news delivered directly to your mailbox by subscribing to our e-mail alerts.]
We bring stories straight from the heart of India, to inspire millions and create a wave of impact. Our positive movement is growing bigger everyday, and we would love for you to join it.
Please contribute whatever you can, every little penny helps our team in bringing you more stories that support dreams and spread hope.