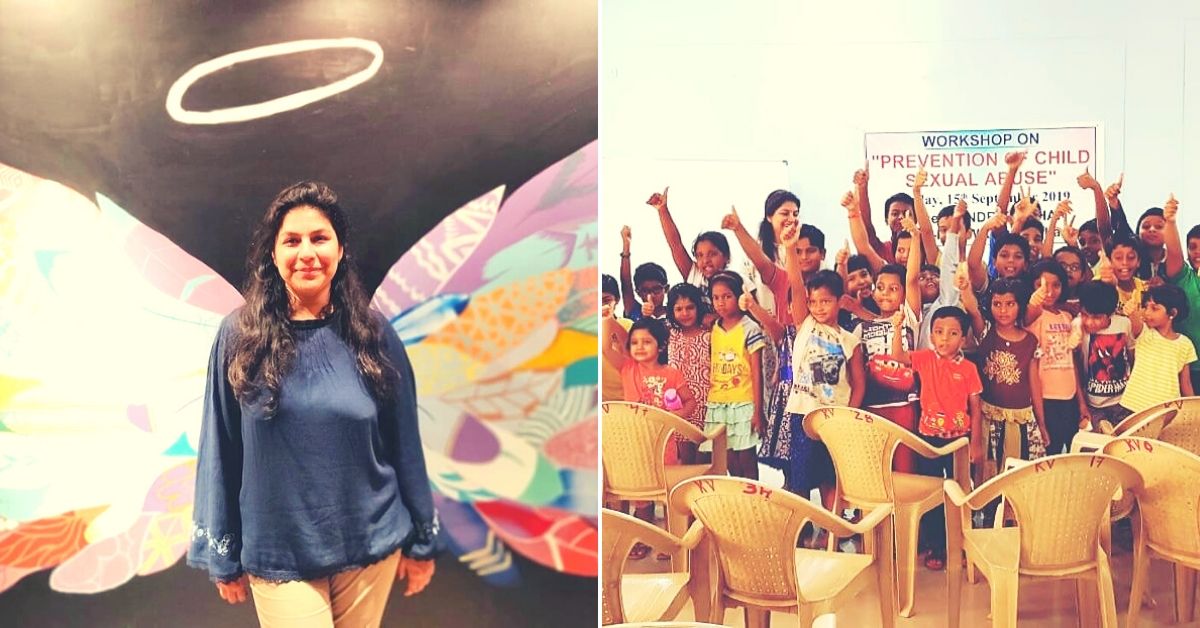 With every child she empowers, a part of her does heal. Their strength and courage is what gives her the energy to strive everyday to ensure no child has to ever suffer in silence.
Chhavi Dawar was just six years old when she suffered sexual abuse at the hands of her family's domestic help, who threatened to hurt her younger brother if she ever complained about it. Too young to understand what she had been put through, it was not until a session on 'sex education' in grade 10 that the memories of the abuse came flooding back.
What followed was years of dealing with anger issues, emotional dysfunction, anxiety attacks and thoughts of committing suicide.
She tried to take her own life a couple of times, but soldiered on by seeing a therapist, meditating and even writing. However, nothing seemed to help. That's when she decided to tell her parents.
What followed was a wave of immense support, yet bewilderment and confusion was never too far. Her parents couldn't understand how this could've happened to their daughter.
It took Chhavi over two decades to finally come to terms with her abuse.
"What helped me was meeting someone from 'Break the Silence', a citizen-run initiative where volunteers raise awareness on the subject of child sexual abuse sometime in 2016. That's when I opened up to the 'Break The Silence' team in Hyderabad. After opening up, they said that I would make a good personal safety educator because of my inherent sense of protectiveness and love for children. Even if an adult is picking up a child against their will, I get very protective and agitated about it," she tells The Better India (TBI).
Subsequently, she underwent an online course with TULIR, a Chennai-based non-profit working on the prevention and healing of child sexual abuse in India, who also helped her design a teaching module.
After training for seven months, Chhavi began her journey as a personal safety educator for children in March 2017. It's been nearly three years since Chhavi started conducting sessions at schools across Hyderabad and Secunderabad.
So far, the 30-year-old computational biologist, who is also pursuing her PhD from the Centre for Cellular and Molecular Biology in Hyderabad, has taught and trained over 30,000 students. She also does extensive sessions for parents and teachers as well based on a standard powerpoint presentation prepared by TULIR-Chennai. It explains child sexual abuse, what they as parents or teachers can do about it and the law (POCSO Act) itself. So far, she has trained around 1,500-2,000 parents and teachers.
Protection through Education
"As a personal safety educator, I am invited by schools in and around Secunderabad and Hyderabad. In fact, any school that wants these lessons taught contacts me or the 'Break the Silence' team. Then we go and conduct age-appropriate sessions. It's not rocket science. If someone attends two or three sessions, they will be able to conduct one themselves, provided they're good with children. I also do 'Train the Trainers' program in Hyderabad and have done two sessions so far. Here, we educate parents and teachers who want to learn about personal safety and how to talk to children about it," informs Chhavi.
Students who attend sessions at school are divided into three age groups: pre-primary (age 3 to 8), primary (age 9-13) and post puberty (age 14 onwards). It begins with introducing the term 'personal' to them through various examples, particularly to the first two groups.
"So I begin by asking what's 'personal' to them. They all come up with answers like their pens, pencils and stationery. Following their answer, I pose another question like 'your mother got you a new birthday dress and you spill some ice cream on it. Would you go back home and shout at your mother that because of her my dress is spoiled?' All of them say no. When I ask why not, they reply 'because it is my dress and I am supposed to take care of it'. Likewise, I ask them whether they agree that my hand is 'personal'. They all say yes. So, I suggest a short game, 'where I am going to give you my hand for a day and am going to take your hand for a day. Is that possible?' They all giggle and laugh about it," says Chhavi.
That's where she establishes with two or three examples that their body is also personal like the other items discussed. This takes about 15-20 minutes to establish. Then Chhavi arrives at the question of safety. She explains to these children that to understand personal safety they need to know their body parts as well.
"This is followed by a demonstration where I'll name the body part they have to touch and tell me where they are located. After a general demonstration, I'll ask if anyone knows how many private body parts they have, which is often followed by a bout of giggling and some expression of shyness. Some of them are not okay talking about it, following which I explain to them what triggers that shyness. We are all shy talking about our private body parts because nobody talks to us about them. But it is important to keep ourselves and our private body parts safe. We can only keep them safe if we know about them," explains Chhavi.
She names and demonstrates the private parts of the body starting with mouth, chest, part between the legs (it is 'part between the legs' for younger classes, whereas it's penis and vagina for post-puberty) and then the buttocks.
Now that she has introduced private body parts to them, that's when they arrive at the "three rules" of personal safety:
1. No one is allowed to touch, look or talk about your private parts and nobody can ask you to do the same to their private parts.
2. If someone is breaking Rule No 1, you shout out a clear 'No' to the perpetrator at the first contact and run away from them.
3. You go and talk about the incident to a trusted adult. She then introduces the concept of trusted adults to them.
So, it's a whole flow with stories and games involved in it.
After introducing the rules of personal safety, she introduces the concept of trust. Why do you trust your parents the most? Why are your parents or teachers the most trusted adults with stories and common anecdotes. But what if the trusted adult (aka a parent) isn't all that trustworthy? What if they are perpetrating abuse?
"See, there is a bond of trust between the child and the parent, and as an outsider I am nobody to break that. It is a sorry situation if that trust is broken. So, while explaining trusted adults to them, I tell them 'suppose the first rule of personal safety is broken in your house and you are trying to tell your mother about it but she is unable to understand'. In that case they must call 1098, which is the child helpline number," she explains.
After this, Chhavi comes to the subject of touch. "We talk to them about why touch is important with an example of going home after a very tiring day at school and their mother giving them a hug. We ask them how they feel about it? They all talk about feeling very good about it and feeling loved. So, touch becomes important to express our feelings," she says.
However, touch is of two types–safe and unsafe. Children ask 'how do we understand safe and unsafe'? For this, Chhavi introduces feelings to them through a game where they demonstrate emotions like happiness, sadness and confusion through facial expressions.
"Then we ask the children to associate these feelings with touch. I give them examples like 'you have gone to your grandparent's house for summer vacation where she makes you sit on her lap and is feeding you something delicious.' They talk about feeling loved and happy in that instance. But say 'you are playing in a playground but an adult comes, pushes you and you fall down'. How do they feel then? They say 'we feel angry and ask why did this happen to us? This is an unsafe touch. We have now associated feeling with touch," she says.
She then asks them about someone touching their private parts. How would they feel about it? They respond by saying 'why do they have to touch us and nobody touches us there'. There, she establishes how no one is allowed to touch their private parts and it's against personal safety rules. But let's assume someone has touched their private parts. How would they feel? Their response expresses confusion with questions like 'why would someone do that'?
"Any touch that makes them feel sad, uncomfortable, confused or makes them feel that it is their fault is an unsafe touch, I explain. Therefore, they must shout 'No' and complain to their trusted adults. At the end, we deal with the question of secrets. This is because there is a whole process of grooming that the perpetrator uses like 'we have to keep this secret otherwise I will do certain things' which essentially involves blackmail," argues Chhavi.
Children are taught that secrets involving hurting them or someone else is a bad secret. By this time, they understand what is a good or a bad secret. By the end of the session, children understand the difference and vow to tell their trusted adult if someone touches their body parts or is trying to show them something wrong.
For post-puberty students, she also addresses questions of personal space, puberty related issues and internet safety. Parents are asked to check on their child's internet usage. These students are warned about sharing their personal information online and pornography.
Queries Regarding Puberty
On puberty-related issues, she does separate sessions for boys and girls. A day before the session, she asks their counsellors to put a box, where they can anonymously send their questions in chits. She has received questions like 'how many times in a day is it okay to masturbate' and similar personal questions. By answering their questions in an educated manner students would not go to the wrong sources looking for answers.
For the first hour, she answers these questions to the best of her knowledge and then proceeds to talk about personal space and how both sexes develop physically.
"My explanation to them is that both sexes need a certain space to express themselves and we should respect that space. I teach them not to make fun of changes in a boy's voice or a girl who is developing breasts. These sessions range from two to two and a half hours, depending on their questions or the time allotted," she says.
At the end of the session, there is a revision of everything they have learnt. For those below post-puberty, sessions run upto 45 minutes.
Why do we need these lessons?
Speaking to The Better India, Latha Shankar, the Principal of Obul Reddy Public School in Hyderabad explains how sessions like the one Chhavi ran are important.
"Most of the time children don't realise that something wrong is going on. It's only when they are told that such behaviour is inappropriate that they realise it. Therefore, raising such awareness is critically important. It's also important for parents to be aware of these scenarios because most of them assume that the home environment is safe and that's alright to leave them completely unsupervised," she says.
Their (parents) assumption is that only the domestic help or someone outside their home pose a threat. Thus, these sessions help them understand that they have to be vigilant at all times. Cases of abuse aren't only restricted to what parents read in newspapers or online.
"Thanks to Ms. Dawar's sessions, the level of awareness has increased among my students. They are more open to talk about these things now and know that they can always reach out to someone in case they ever encounter such horrors. Her sessions have really helped my students. Even our teachers have benefited immensely. Schools must absolutely encourage such lessons for their teachers and students. Educators are now realizing that child sexual abuse is something we need to talk about openly and discuss," says the Principal.
Petition & Coping
During one of her sessions, a 10-year-old boy asked her an earth shattering question.
"He asked me, 'Didi whom should I go to if I can't go to my parents?' Alarm bells began to ring in my ears. In my four years of experience, that question usually meant one thing. After a thorough investigation it was found that his father had been abusing him for two and a half years. That's when I issued a petition seeking CBSE to direct all schools under its affiliation to have mandatory training for students to fight sexual abuse," she says.
The petition has garnered over 65,000 signatures and the aim is to reach 1,00,000.
(Sign the petition here!)
These sessions made the young boy at least tell Chhavi that this was happening to him. If you ask 100 kids who are your trusted adults, the three common responses are mother, father and teachers. When parents can't be trusted that's where it becomes very important to trust their teachers and learn about 1098. If there is a case of child sexual abuse that needs following-up, educators like Chhavi help the survivors file an FIR with the local police station. What needs to be done after that is taken care of by organisations like TULIR.
She also works with survivors of child sexual abuse and it has been a very personal journey for her as a fellow survivor. Some survivors reached out through LinkedIn, Email and Twitter after the petition. It is a long term goal, but she intends to do more work with survivors because India doesn't have adequate support systems. Once she finishes her PhD, the objective is to work more extensively with survivors.
---
Also Read: This Gritty Chennai Woman Has Given 'Saahas' to 8000 Survivors of Sexual Violence
---
"On WhatsApp and social media, I am blessed to be in a very supportive survivors group. I have people I can reach out to if I am having a breakdown. There are people who can reach out to me. I don't know when CBSE is going to listen to me, but one good thing that has happened since the petition is people are talking about personal safety for children and survivors now have got somebody to talk to about their abuse," she says.
Meanwhile, she finds the time to work on her research. She credits her PhD guide for encouraging social activism, giving her days off and even attending a few sessions.
Having said that, Chhavi feels that there is still some way to go before she heals completely from the abuse. There are moments when she is triggered. But as she writes here, with every child she empowers, a part of her does heal. Their strength and courage is what gives her the energy to strive everyday to ensure no child has to ever suffer in silence.
(Edited by Saiqua Sultan)
Like this story? Or have something to share? Write to us: contact@thebetterindia.com, or connect with us on Facebook and Twitter.
We bring stories straight from the heart of India, to inspire millions and create a wave of impact. Our positive movement is growing bigger everyday, and we would love for you to join it.
Please contribute whatever you can, every little penny helps our team in bringing you more stories that support dreams and spread hope.