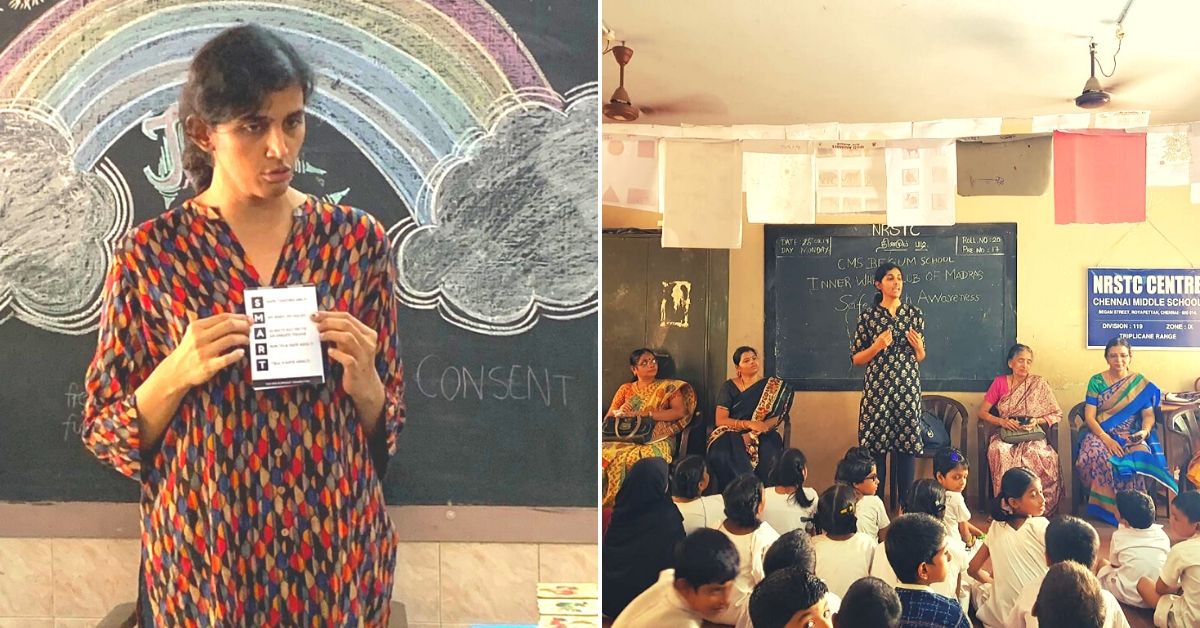 Your voice has power. Use it to stand up to gender violence. Just like Kirthi Jayakumar did, helping thousands of women across 197 nations.
As someone who grew up with a sense of idealism about the world and the desire to help people, Kirthi Jayakumar never imagined that she would have to endure severe bullying during her teenage years and early twenties.
Beaten up, verbally abused, sexually abused and even threatened with acid attacks, she would constantly wonder why this was happening to her. Despite dealing with all this trauma, she had no answers.
"Throughout all these incidents, it was my family that provided unflinching support, particularly my mother. Besides them, the book, 'The Diary of Anne Frank,' gave me a silent strength and resilience that keeps me going till this day," says Kirthi, speaking to The Better India.
After her graduation, she began working as a corporate lawyer. While the work offered some respite, she realised that there were hundreds of cases that never saw timely redressal, but could have been addressed had the people involved been aware of their rights in the first place.
Disillusioned, she quit her job and began volunteering with the United Nations Online Volunteering System and a couple of organisations in Chennai. She also began freelance work with some local publications, legal journals and publishing initiatives. Working in these spaces over some time, she realised that women were generally absent in any discourse surrounding critical questions of development.
"I worked with communities across several issues—healthcare, clean water, food, education, jobs, and what have you. Every single time, the women stayed away. That was when it hit me. There's so much sitting on one domino—gender inequality. If we tackled it head-on, this enormously global burden of inequality could just be knocked out," she recalls.
But the real turning point for her came on the night of December 17, 2012. Just two days earlier she had turned 25 and was on the cusp of receiving an award for her work with a United States-based NGO called Delta Women.
This was the same time when the horrific gangrape and murder of a paramedical student in Delhi took place.
"When I received the award, I felt like a hypocrite. Here I was receiving an award when there was so much more left to be done. I went to bed that night thinking of how much we as a society had allowed to pass. That was also the day I faced a dissociated past—where I had completely blocked out my memories of facing abuse. I decided to do what I could on my own, and started by telling my story," she recalls.
Six months later, the Red Elephant Foundation (REF) was born.
Red Elephant Foundation
REF began as a civilian peace-building initiative that worked with local communities in Chennai through peace education to achieve a gender-equal and non-violent future.
What is peace education, though? It equips people with "the knowledge, skills and attitudes that will help them either to prevent the occurrence of conflict, resolve conflicts peacefully, or create social conditions conducive to peace."
Using storytelling, dialogue, creative engagement, advocacy, and technology, Kirthi conducted a series of workshops at schools, colleges, community centres, and workplaces.
"For children, workshops include peace education, gender sensitisation and safe and unsafe touch awareness. For all other demographics, our workshops centre on gender sensitisation and peace education. Each workshop is different. We don't have a rigid curriculum, but a loose one that will help us co-create and engage with each group based on how they want to shape the exchange. We use games, stories, art, and conversation," says Kirthi.
"Each workshop is tailored to suit the people that are being addressed but at its core, the aim is to increase sensitisation about gender-based violence and teach values of gender equality and peace," says Vaishnavi Pallapothu, who runs the Feminifesto Podcast.
From corporation and government schools to private and international schools, the foundation worked with children to expand their understanding of gender as beyond the binary, help them recognise what equality and inequality are, and how they manifest. They helped them recognise patriarchy and co-create ways to navigate a world that is full of ideas of what they should do because of their gender identity.
Kirthi found that conversations, particularly storytelling, was a really effective way of addressing not just past traumas but also created a positive sense of community.
"Every time I contemplate the value of storytelling, I look back to see how telling my story made a difference. The day I shared a story on how I was bullied, two of my former bullies wrote me notes of unconditional apology. That set us free and addressed the difficult relationship all of us shared. In every classroom I had the privilege to teach and learn from students, set people free through stories, heal traumas or at least enable room for the healing of traumas, and create beautiful avenues of community," she says.
Stories are very central to any and all of their work because there is something about genuine, honest, and authentic storytelling, claims Kirthi.
Until January 1, 2020, the REF team held nearly 120 workshops, worked with 12 schools, four colleges and worked with over 3,500 children.
However, at the turn of the year, Kirthi decided to shelf the REF, and a project they had incubated within it called The Gender Security Project, has come in its place.
The focus now is on engaging with policy and expanding the understanding of gender in law and policy.
Saahas app
On the morning of May 15, 2016, Kirthi woke up to 16 missed calls and 31 messages on WhatsApp from a friend in Europe calling for help.
"She was in an abusive marriage. Her husband would lock her inside the house every day, but on the previous night, he had left the house on urgent work and forgotten to do so. After sending messages to me and several others, she pulled out her SIM Card and cut it up, lest her husband read her messages. After that, she left her phone behind and managed to slip out of the house. My friend made her way to the closest station, not knowing where to go. As a foreigner who had never left her home country before marriage, she wasn't aware of the rights she had on foreign soil," recalls Kirthi.
The friend was on the train until a kind bystander realised she was in distress and took her to a shelter. Her story shook Kirthi up to her core.
"She had put her trust in me, and I was asleep at a time I normally wasn't. I spent restless hours wondering how the gap could be plugged. What if there could be an accessible database of organisations around the world so that survivors anywhere could find help when they most needed it?" she says.
Technology seemed like a useful solution, so what followed was back-breaking work in which her team at the REF made a list of nearly 5,000 certified organisations across 197 countries that could provide aid to women who had survived violence.
They spent time verifying this information on calls, seeking friends and on occasions, even paying visits. Data across eleven verticals was ready and listed on a web-app named Saahas using the Ushahidi Crowdmapping service, an online platform, which could reach more survivors and more bystanders who could help survivors.
Unable to hire a coder on a shoestring budget, Kirthi took the painstaking trouble of learning coding by herself and even built a ChatBot that helps survivors and bystanders find resources through Facebook Messenger.
Today, Saahas has over 40,000 organisations in its network, has touched the lives of 8,000 survivors and has been translated into six languages. The app helps them access organisations that offer medical services, legal services, consular access, shelter homes, education and employment opportunities as well.
"At Safecity, I used it [the app] when a lady reached out for help via Twitter, and it was so reassuring to know that there are sources and that they have been verified. [The app] is making a huge difference," says Jaessica Xalco of Safecity, a Mumbai-based platform that crowdsources personal stories of sexual harassment and abuse in public spaces.
The app is entirely volunteer-driven and run. Kirthi funded the publication of the app on PlayStore with her own money. Thereafter she has been running it with the help of nearly 50 volunteers from the revenue earned during workshops conducted at private schools.
"If she doesn't know a skill, she will learn it and use it to better the lives of thousands of women across the world, and Saahas is a testament to this quality. She learned how to code by herself and put together this brilliant application that provides information and help to survivors and bystanders of violence, taking their needs into consideration," says Vaishnavi.
"Her work in addressing gender inequities through her various initiatives is largely driven by what she personally sees as a problem anywhere that needs addressing in the here and the now. This means that she is invested in responding to challenges in every way they manifest ranging from something like a forward on WhatsApp right up to something reported in the news or happening in the neighbourhood or community or even among her international virtual network," says Raakhee Suryaprakash, a peace educator who has closely worked with Kirthi.
Peace Bot and the Future
In addition to everything else, she has also gone onto develop Saruki, a peace-bot, which you can find on Facebook.
Saruki engages with people through Messenger, and shares resources for peace. It also has two "challenges" for users—a peace challenge and a gender equality challenge—which puts users through one activity a day for 40 days and helps them slowly shift their mindsets or enhance their understanding.
"I created this using ChatFuel. It also has a quiz that helps you identify your Compassion Footprint, which like a carbon footprint, will tell you how your behaviour is impacting others on a day to day basis," she says.
Like any non-profit, however, there is the question of funding. But Kirthi has an interesting view on the matter, believing that the spirit of volunteering will take her work further.
"I have always been certain that REF was never meant to be funded or to seek funding. The initiative is entirely built by the hands of volunteers and walks on the shoulders of these giants. At REF, we nurtured an open culture where anyone who wants to volunteer is welcome, give only as much time as they want and do any project they feel motivated by. The idea is to remain fluid and less driven by structure to ensure that the organisational effort is dynamic enough to evolve and also dynamic enough to respond to each need in the world around it," she argues.
There is a certain sense of urgency in the way she describes her work, but that's because Kirthi began working where the shoe pinches.
While she risked being triggered and re-traumatised, her fight will hopefully ensure that no one ever has to suffer the way she did, again.
---
Also Read: Acid Attacks to Foeticide: 10 Gritty Crusaders For Gender Equality in India
---
(Edited by Gayatri Mishra)
Like this story? Or have something to share? Write to us: contact@thebetterindia.com, or connect with us on Facebook and Twitter.
We bring stories straight from the heart of India, to inspire millions and create a wave of impact. Our positive movement is growing bigger everyday, and we would love for you to join it.
Please contribute whatever you can, every little penny helps our team in bringing you more stories that support dreams and spread hope.