This team introduced bee-keeping to improve agricultural productivity in India. The low-cost method has created some amazing on-ground impact, almost doubling the harvest in some cases. Here's how.
---
---
This team introduced bee-keeping to improve agricultural productivity in India. The low-cost method has created some amazing on-ground impact, almost doubling the harvest in some cases. Here's how.
Bharatbhai from Valsad district of Gujarat was just 18 when he adopted bee-keeping. Today, he is the youngest master trainer at age 25.
He initially cultivated only rain-fed crops such as rice, nachni (ragi) and black gram. After being trained in bee-keeping, Bharatbhai understood the role bees played as pollinators and their resulting impact on increasing farm yields. He then adopted a bee-friendly cropping pattern and today he also cultivates a second crop that includes Sunn Hemp, Onion, Niger and Gram.
As a result of bee pollination, the yield of his crops has increased by up to 80 percent, earning him an additional income of Rs. 7,700 in just one year.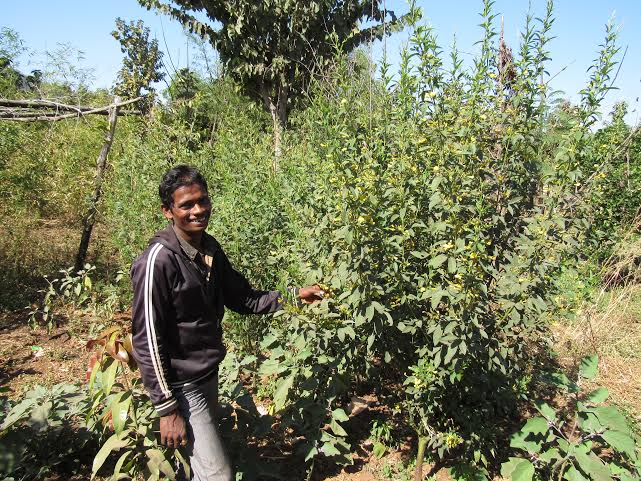 "In the monsoon, when we have no income source, we have honey to sell," he says. As a result of honey and the increased farm yields, Bharatbhai's income has jumped by 40 percent in just one year.
This is one example of how Under The Mango Tree has impacted the farmers of India. Since a majority of villagers in India still completely depend on agriculture for their livelihood, there is an urgent need to constantly innovate and bring new agricultural practices to the fore.
And UTMT has been doing exactly that by introducing bee-keeping to the farmers. Started in 2009, the organization is a humble attempt to introduce interesting agricultural inputs to the farmers.
The start
"When Vijaya Pastala, the co-founder of UTMT, researched on the subject, she found that there were some amazing types of indigenous honey available in India and yet, people were importing it from other countries. Lack of proper connectivity to the market and less awareness were some of the main reasons stopping farmers from taking up bee-keeping on a professional scale," says Sujana Krishnamoorthy, co-founder, UTMT.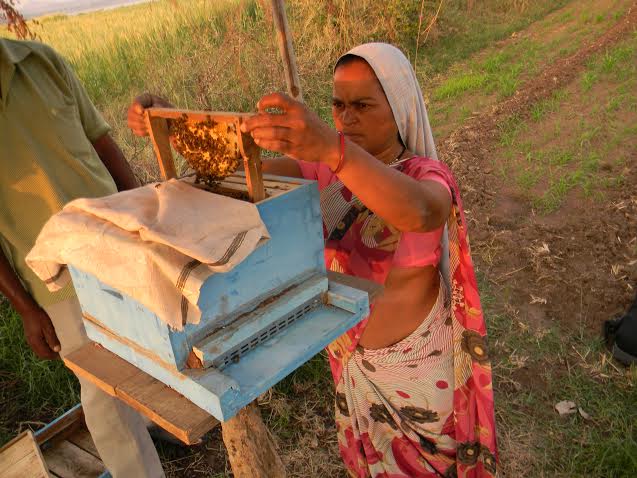 After more research, the team realized that there was a good market for honey in India and bee-keeping was an excellent agricultural input as it facilitated natural pollination and improved the harvest.
84 percent of all farmers in India are marginal or small scale farmers, and this would be just right for them, as bee-keeping could not only improve their crop but also lead to extra income from selling honey.
"Earlier it was a challenge to explain the concept to farmers as they did not understand how bees could be kept in a box. But gradually, after the training, they got familiar with the idea and as the idea spread, many people came forward to take this up," explains Krishnamoorthy.
How does it work?
Operating in three states of India, UTMT has reached out to over 3,000 farmers so far who have seen a tremendous positive change in their crops.
The interesting model of UTMT is something that makes it stand out from other similar programmes. While many organisations set up training centres to train the farmers in low-cost bee-keeping, UTMT trains them on their own farms or wadis (orchards) for 12 months.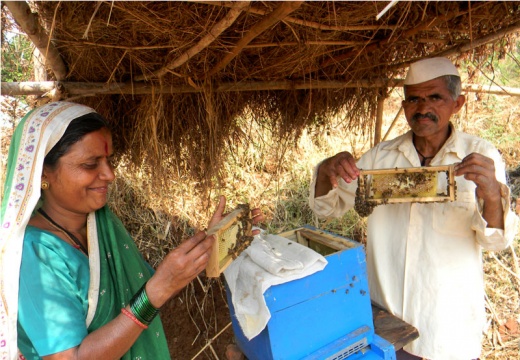 "Our model gives them on-ground support in their own farms so that their queries can be answered instantly on the spot, and they can actually implement the method as they learn," says Krishnamoorthy.
The 60 field training masters from UTMT spend 12 months on the field, teaching the farmers everything about bee-keeping. From handling the bees to extracting the honey and maintaining them in the monsoons, farmers get a deep insight into the whole process.
Every farmer gets about two to four boxes of bees with around 30 to 40 thousand bees in each box. As the bees sustain themselves, there is no need to pay extra attention on their upkeep and only minor cleaning of boxes is required, which is both cost-effective and simple for the low-income farmers.
The cost of the entire programme is around Rs.10,000 which includes the bee keeping-kit and the training cost as well. The farmer is able to recover the entire amount within a year or two, which is what makes it a low-cost model.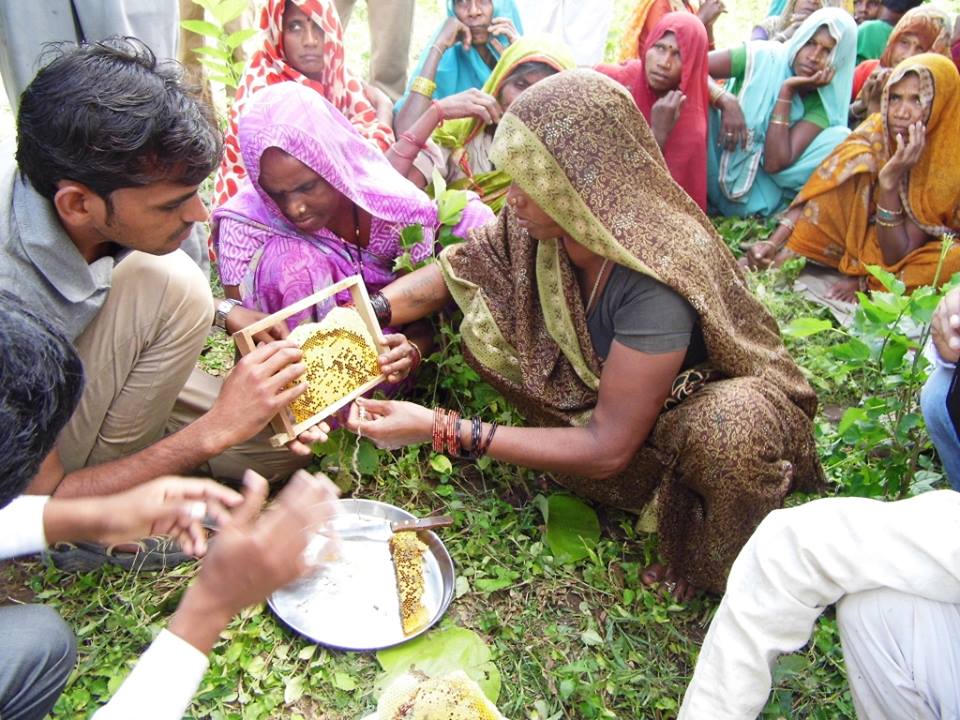 UTMT has also partnered with various local NGOs to facilitate the process. They partner with existing NGOs working in the field of agriculture, like BAIF Development Research Foundation, and approach farmers through them. They have also partnered with various foundations for implementing strategies on the ground.
The impact
"Bee keeping is a simple but also a very delicate process. You need to be extremely careful while handling the bees. That is why an intensive training is important," Krishnamoorthy explains.
While it was initially difficult to get people on board, UTMT managed to build the farmers' trust when they started seeing the positive impact themselves. The farms which had 20 kgs of mango harvest now started having 30 kgs. Other vegetables and fruits too became plumper and bigger due to pollination by the bees.
The helping hand
To give shape to their interesting idea, UTMT has recently joined hands with Marico Innovation Foundation as part of MIF's Social Innovation Acceleration Program (MIF-SIAP). MIF will be providing them with crucial support through strategies and ideas to help them refocus their business strategy on pollination services as the thrust area and chart out an appropriate road map for the same.
"Meeting Mr Mariwala was an 'aha moment' for all of us at UTMT. While the World Bank Development Marketplace award in 2013 recognized our model as among the 20 most sustainable development solutions in the world, meeting Mr Mariwala was a different high altogether. To be recognized by such a corporate doyen as a game changing idea in the field of agriculture was fantastic. Mr Mariwala felt that rather than just working for small farmers, we should broaden our focus to provide a pollination service with bees for agriculture as a whole," says Krishnamoorthy on her meeting with Harsh Mariwala, Chairman, Marico Limited.
Food for Thought
Having worked closely with the farmers, Krishnamoorthy believes that it is crucial to be open to new ideas. Many of these can change the entire scenario of agriculture in the country and help the marginal farmers earn a better livelihood without having to change things drastically. To put these ideas in motion, UTMT is looking to scale up their project and reach out to over 30,000 farmers in the next five years.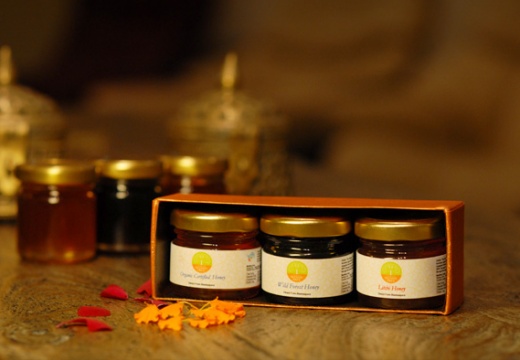 All thanks to UTMT's team of 30 people, you can now enjoy some amazing types of high-quality honey like elaichi honey from Kerala, litchi honey from Bihar and orange flavoured honey straight from Nagpur!
To know more about their work and order some of their amazing products online, check out their website.
Like this story? Or have something to share? Write to us: contact@thebetterindia.com, or connect with us on Facebook and Twitter (@thebetterindia).