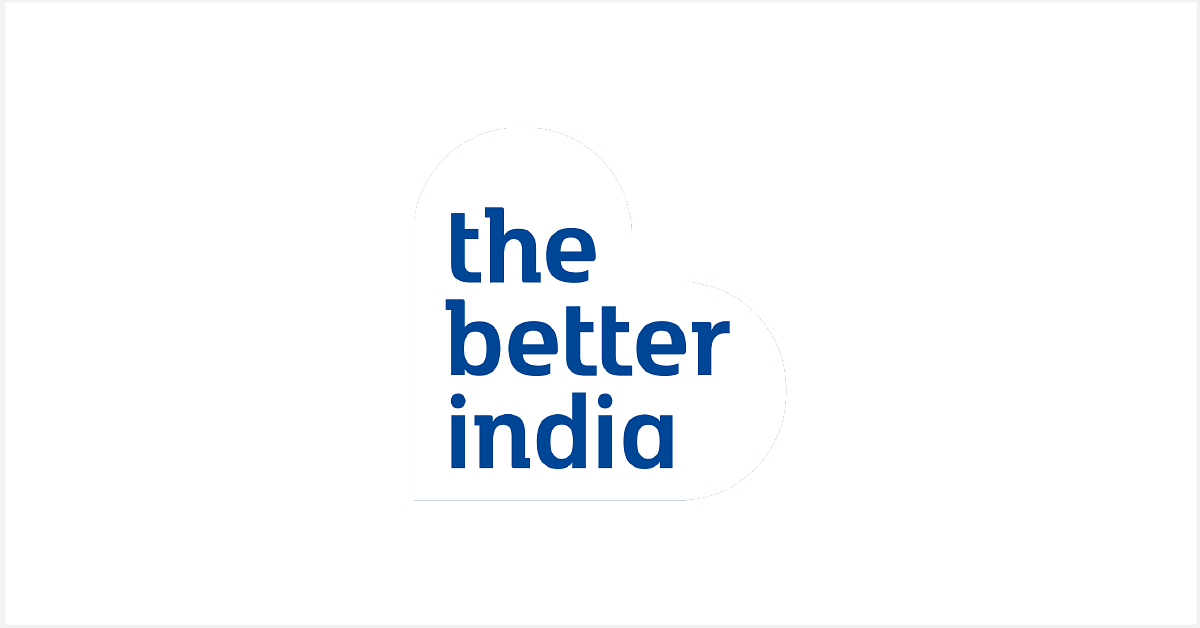 Making kindness a way of life, she is determined to ensure that society's forgotten ones have a chance to live a life of dignity. #Respect
In the past year-and-a-half, K Manisha (22), a lecturer at the Nandha College of Nursing in Tamil Nadu's Erode district, Tamil Nadu, has tirelessly rescued and rehabilitated nearly 150 beggars, drug addicts, destitutes and those afflicted with terrible diseases.
"Although the desire to serve has been within me since childhood, studying nursing and closely interacting with underprivileged patients is what finally inspired me to help those who couldn't afford three square meals and a roof over their head," says Manisha, speaking to The Better India.
Manisha wanted to join the Indian Army, but her father was against it. She then wanted to pursue an MBBS degree, but didn't secure the necessary marks. Unwilling to give up, she chose to become a registered nurse, and enrolled into to the JKKN College of Nursing and Research.
It was during her first job at the Indira College of Nursing in Trichy, that she first rescued and rehabilitated a beggar.
"From my room, I would observe a man aimlessly walking along the National Highway every day with a stick in one hand and a bag in the other. When I tried to collect details about him from nearby shops in October 2018, I was warned to stay away as he was aggressive and arrogant. However, one night when I saw him on the road once again, I began talking to him. His name was Soman, and he was a beggar from Kovalam, Kerala. After an awkward first conversation, we began meeting regularly at 6 am and 8 pm every day," she recalls.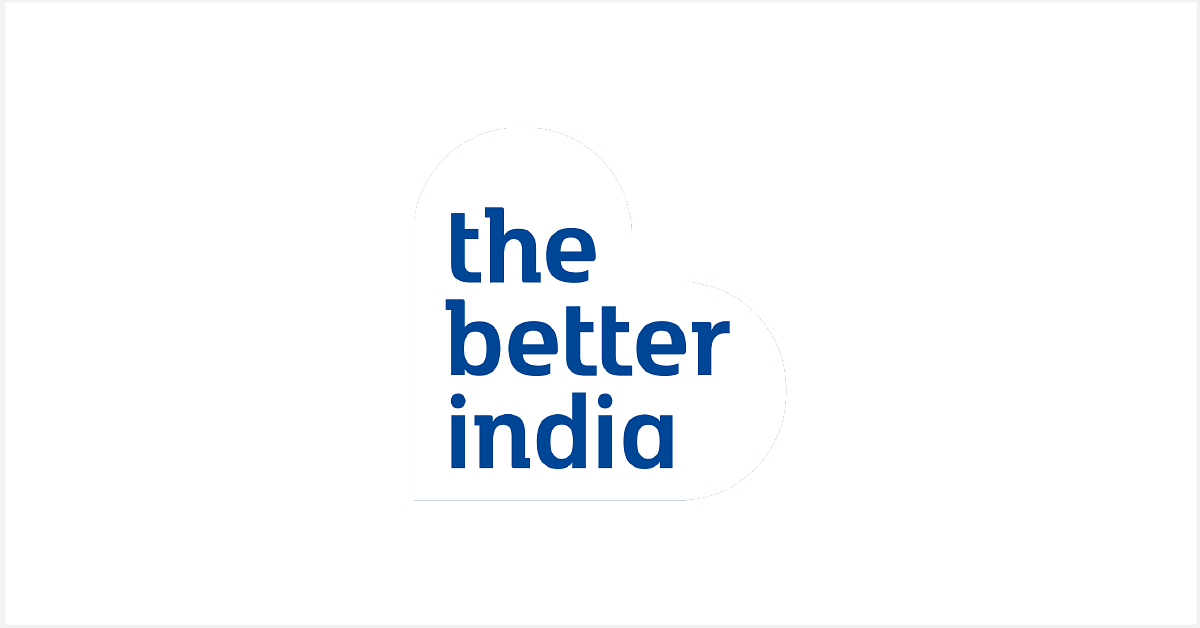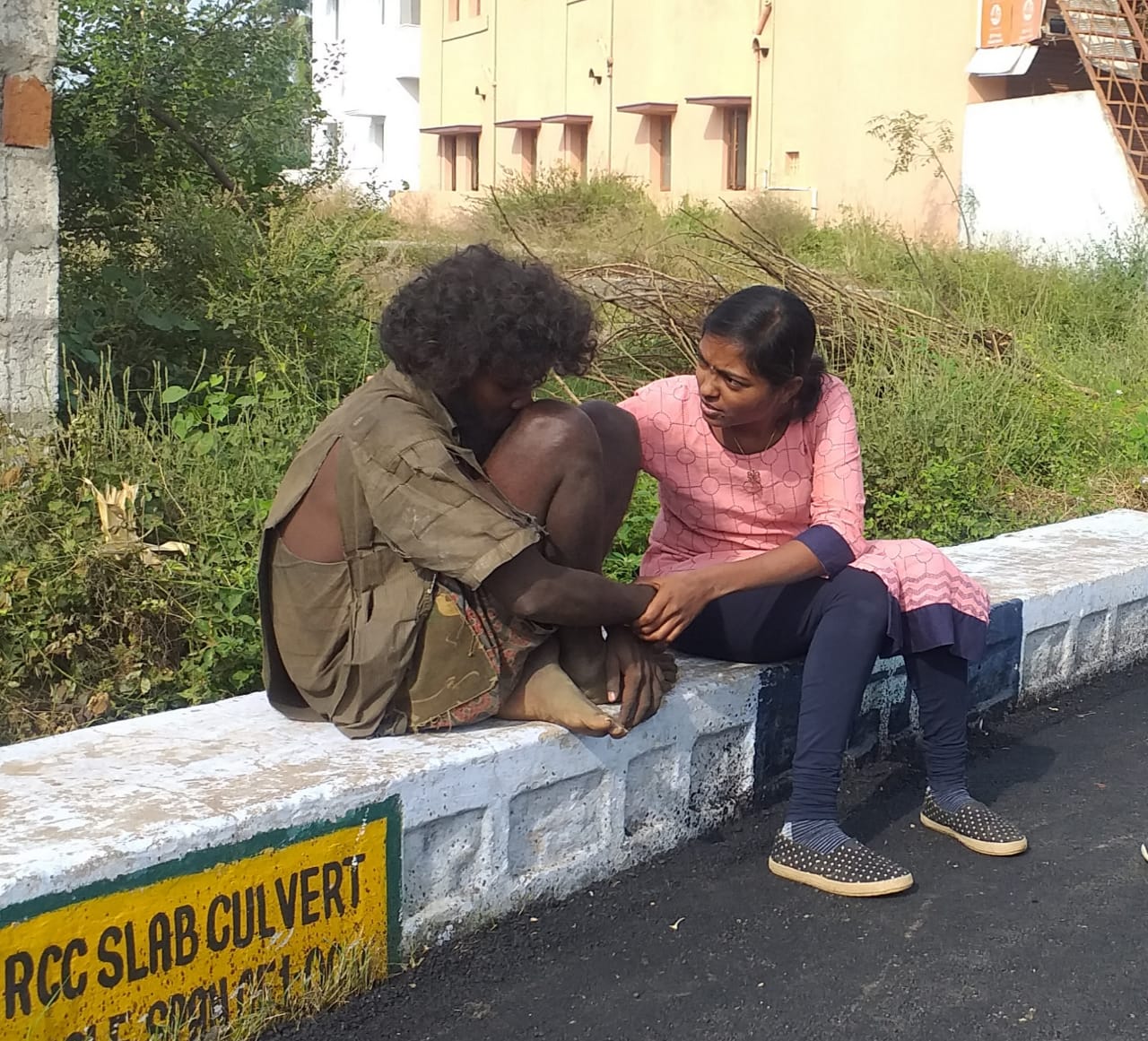 Soman was intellectually disabled, but Manisha's friendly attitude disarmed him and helped create a bond between the two. As the days passed, the two of them began eating together as well and made another friend, Robert, who was also intellectually disabled, in the same area.
"On New Year's Day in 2019, I cut Soman's hair, gave him a shave, a bath and a new pair of clothes before cutting a cake to celebrate the day. Soman and Robert distributed the cake to the people working nearby. The people around us were amazed at his new look. After taking Soman and Robert's consent, and permission from the local police, I admitted both of them to the Anbu Jothi Ashram in the Villupuram district of Tamil Nadu," she recalls.
An organised effort
To better channel her efforts in this direction, Manisha registered an NGO, the Jeevitham Foundation in September 2019, prior to which it was called 'Volunteer to Needy People.'
Today, after completing her shift, she and her team of volunteers visit different places across Erode every day, identify the homeless and spend time with them building ties.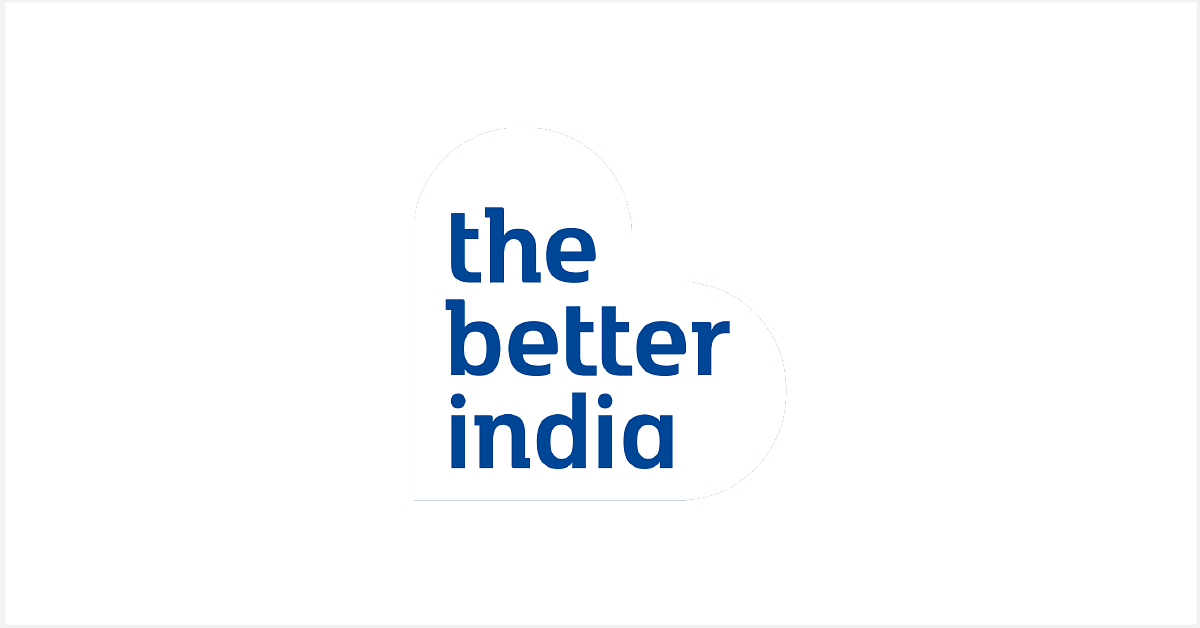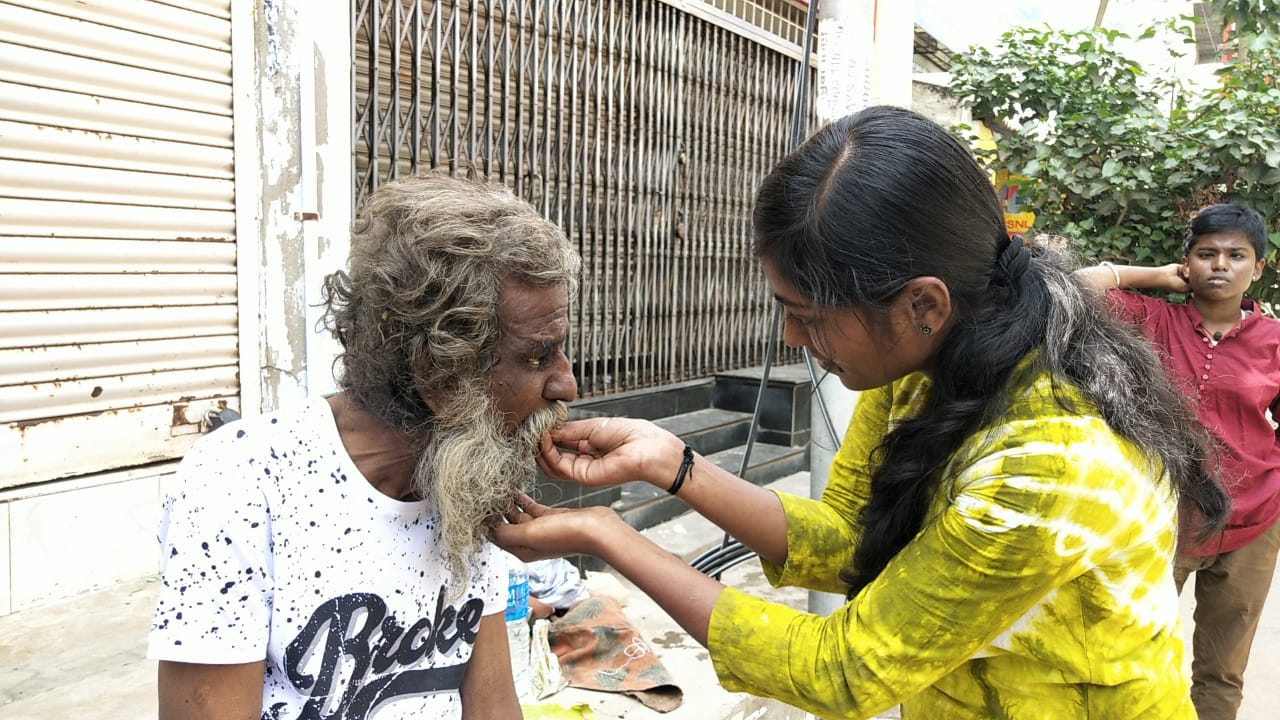 "We collect the necessary data on their current status and personal histories and set up a plan to rehabilitate them as per their wishes. If they are old, we admit them to an old age home. If they are intellectually disabled, we help them get admitted into a hospital for treatment before taking them into psychiatric home care centres. If they have a family and wish to rejoin them, we help them there as well. We do the same if they want a job. We categorize abandoned people and admit them into various types of homes. Having said that, the rehabilitation is done only with prior permission from the police," says Manisha.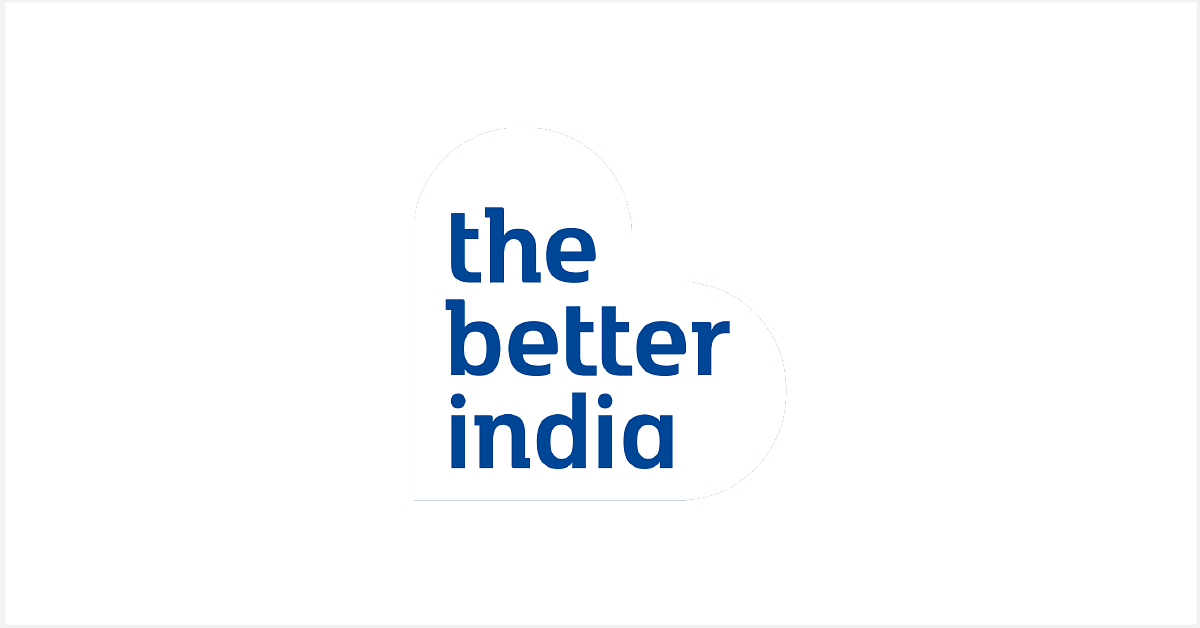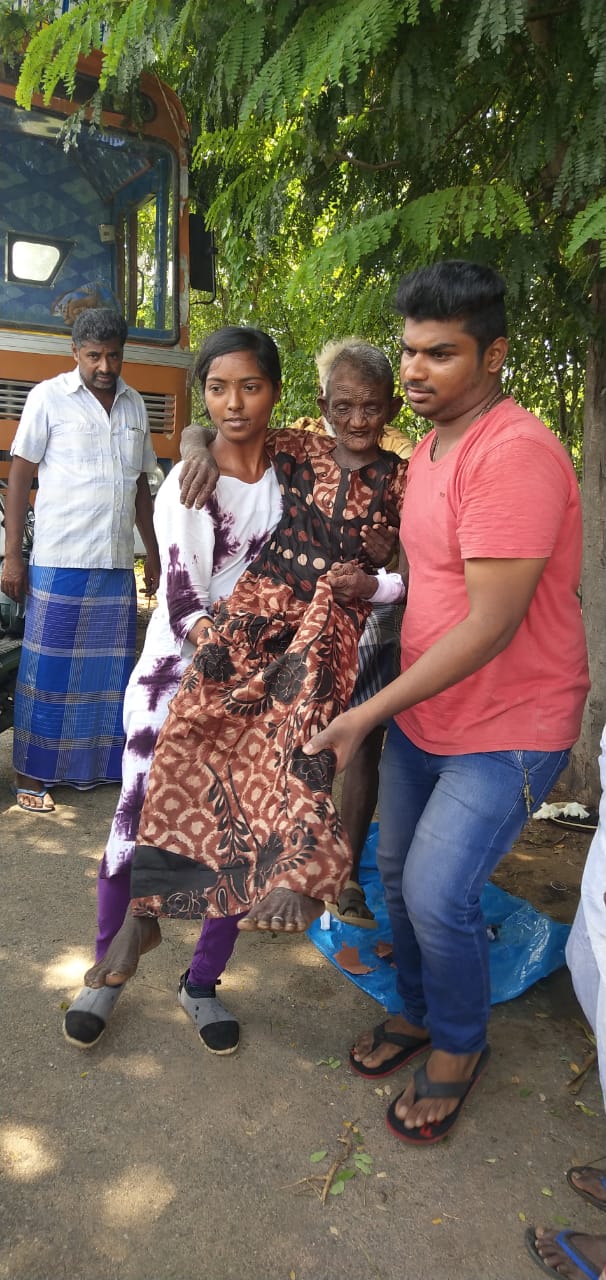 For the young woman, everyone, regardless of their financial status, deserves to lead a decent life with necessities like three square meals a day, clothing and shelter. However, she keenly feels the absence of familial support. "My parents feel that instead of doing this work, I should concentrate more on my career. However, there is no stopping me, and I hope to convince them soon," she concludes.
---
Also Read: One Man's Efforts Ensured That This TN Village Doesn't Rely on Borewells Anymore!
---
(Edited by Gayatri Mishra)
Like this story? Or have something to share? Write to us: contact@thebetterindia.com, or connect with us on Facebook and Twitter.