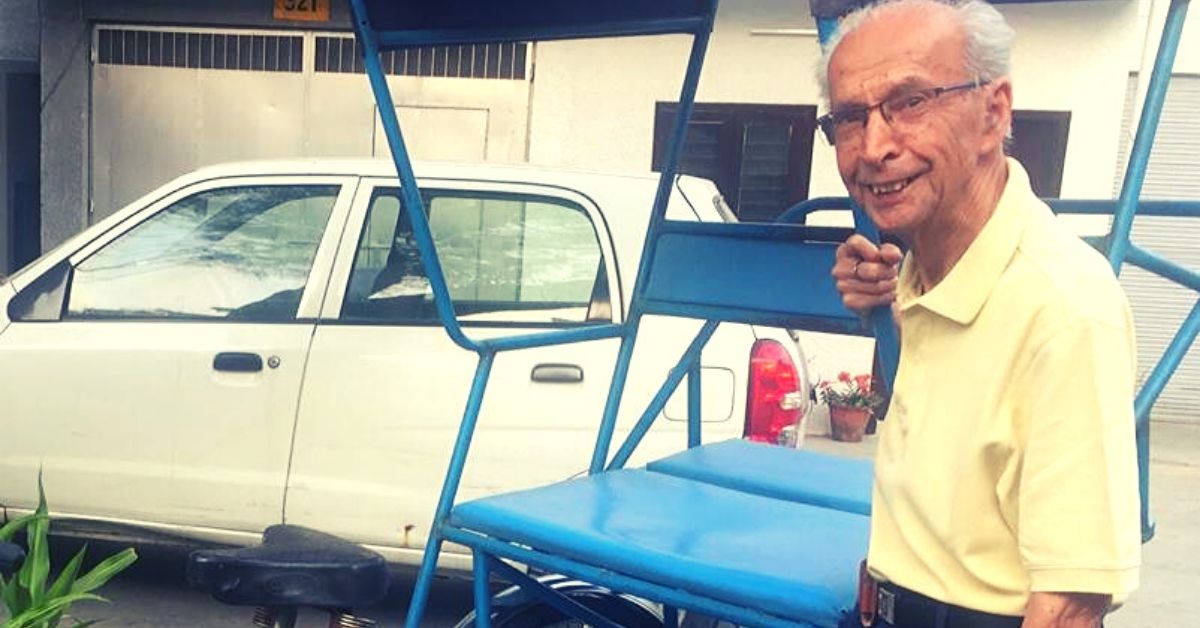 Such small inconveniences have a dramatic effect on the quality of life of senior citizens. And every little change helps!
There is no shortage of people who are working on complex problems across different sectors, to come up with solutions that will transform lives.
But more often than not, we tend to overlook everyday problems faced by ordinary people.
RN Pasrija, a retired engineer from Noida, decided to take on one such common issue, that affects not only the elderly but also children and people with injuries.
"Cycle rickshaws are environment-friendly and inexpensive and found in practically every Indian city; I also use them very often. But, climbing onto them is a real struggle for many people," says Pasrija (89) to The Better India.
---
Knee Pain? Backache? Ditch Chemical Gels and Grab These Herbal Hot & Cold Packs
---
The only way to sit on the rickshaws is to step on the platform where the legs rest. Since they are at a higher level, it is challenging to climb on without any support.
Pasrija's solution? Install a step below the leg rest! Simple, isn't it?
After hitting upon the idea, Pasrija decided to implement his plan and even managed to get a rickshaw puller named Madhav on board. Following this, he approached a local welder to fix a step on the rickshaw. The total cost came to Rs 500.
"I took a picture of that rickshaw and shared it with my friends. They all loved it, and many even came forward to provide financial help. Madhav's enthusiasm, combined with my friends' response made me confident, and I set a far-fetched goal of installing the step in as many rickshaws as possible in Noida," shares Pasrija.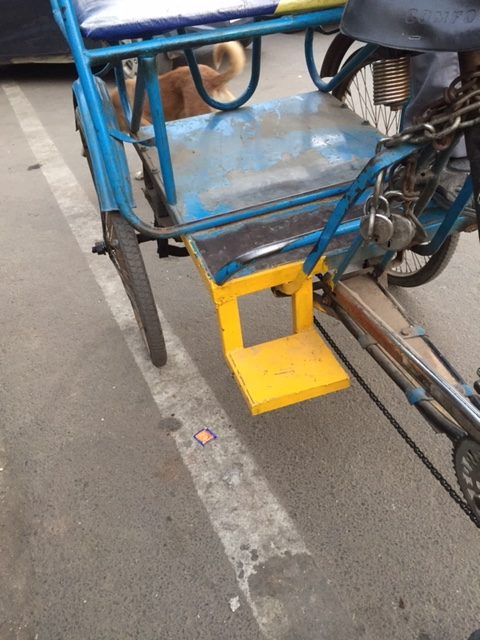 This is where he faced his first setback. Most of the rickshaw riders he met with did not own the vehicle and feared to make any changes to it, while some thought that Pasrija was out to dupe them.
So, he asked Madhav to help him out and speak to them about its benefits. So far, Pasrija has managed to install the step in five rickshaws with Madhav's help, and donations from his friends and family.
"Children and senior citizens always need help to hop on the rickshaw. Till now, the only thing I could do was support them, but not everyone helps. Therefore, this step is definitely an effective solution," Madhav, who has been riding the cycle rickshaw for the last 20 years, tells TBI.
Madhav claims that there has been a rise in the number of elderly customers ever since he installed the step on his rickshaw.
"My objective is to persuade manufacturers to incorporate the step into the current production models of cycle rickshaws. A more feasible approach would be to persuade an NGO to do this. They can have a contract with the fabricator and send the rickshaws to him. Till someone steps forward, I am happy to continue the mission," he signs off.
If you wish to help Pasrija in any way, write to him at rnpasrija@gmail.com
---
Also Read: Shattering Stereotypes: 6 Senior Citizens Who Defied Age to Do Amazing Things!
---
(Edited by Gayatri Mishra)
Like this story? Or have something to share?
Write to us: contact@thebetterindia.com
Connect with us on Facebook and Twitter.