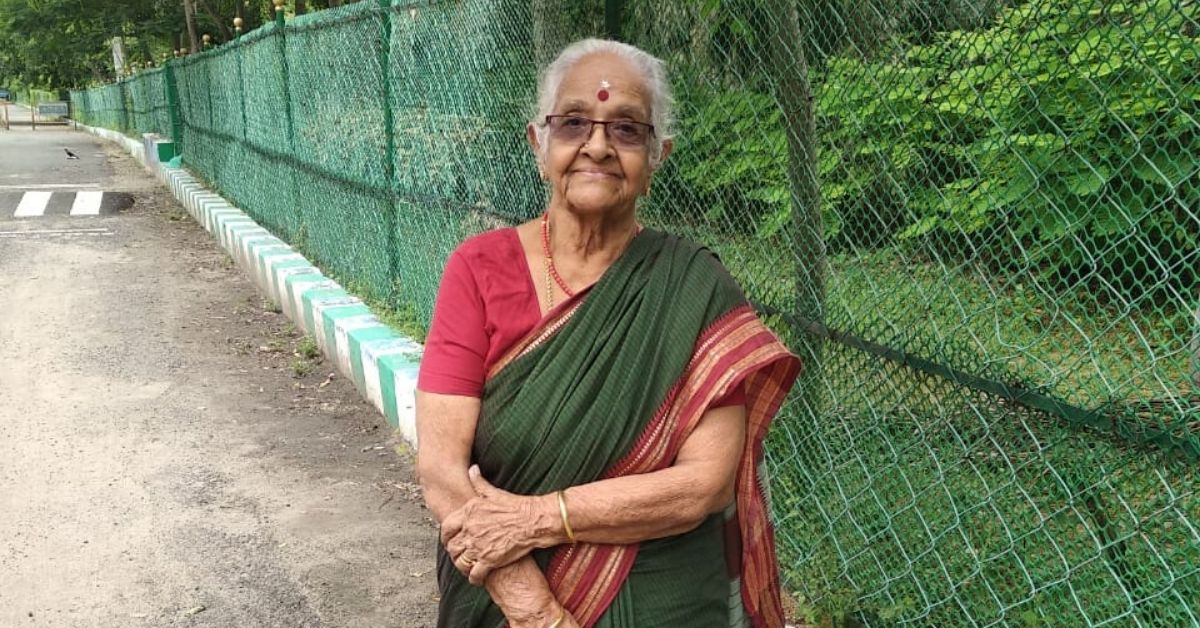 "I do not want to leave the world in a hurry. I have a lot on my plate now. I have to solve many more issues."
Even at 92, Kamakshi Subramaniyan from Chennai is a force to be reckoned with. Be it the corporation officials or the residents; everybody reveres Kamakshi 'paati' as much as they love her. For anyone not acquainted with her, she might come across as a kind lady with the sweetest grandmotherly vibes.
That is, until someone dares to violate a civic norm in her presence.
---
Attend office in style and that organic confidence! Flaunt this jute and cotton folder handcrafted by rural women artisans
---
"Be it 4 AM or 10 PM—Kamakshi paati will not hesitate to resolve a problem at the earliest. Even at this age, she can take to the streets for protesting an unwelcome government proposal or approach the highest authority to get an issue sorted," shares Ramakrishnan, who has been closely fighting civic issues with her for the past 12 years.
Kamakshi paati is perhaps the best example of the popular adage⁠—age is just a number. In a stirring conversation with The Better India, she speaks her heart out with a contagious optimism.
"I have led a very fulfilling life," she begins with a hearty laugh.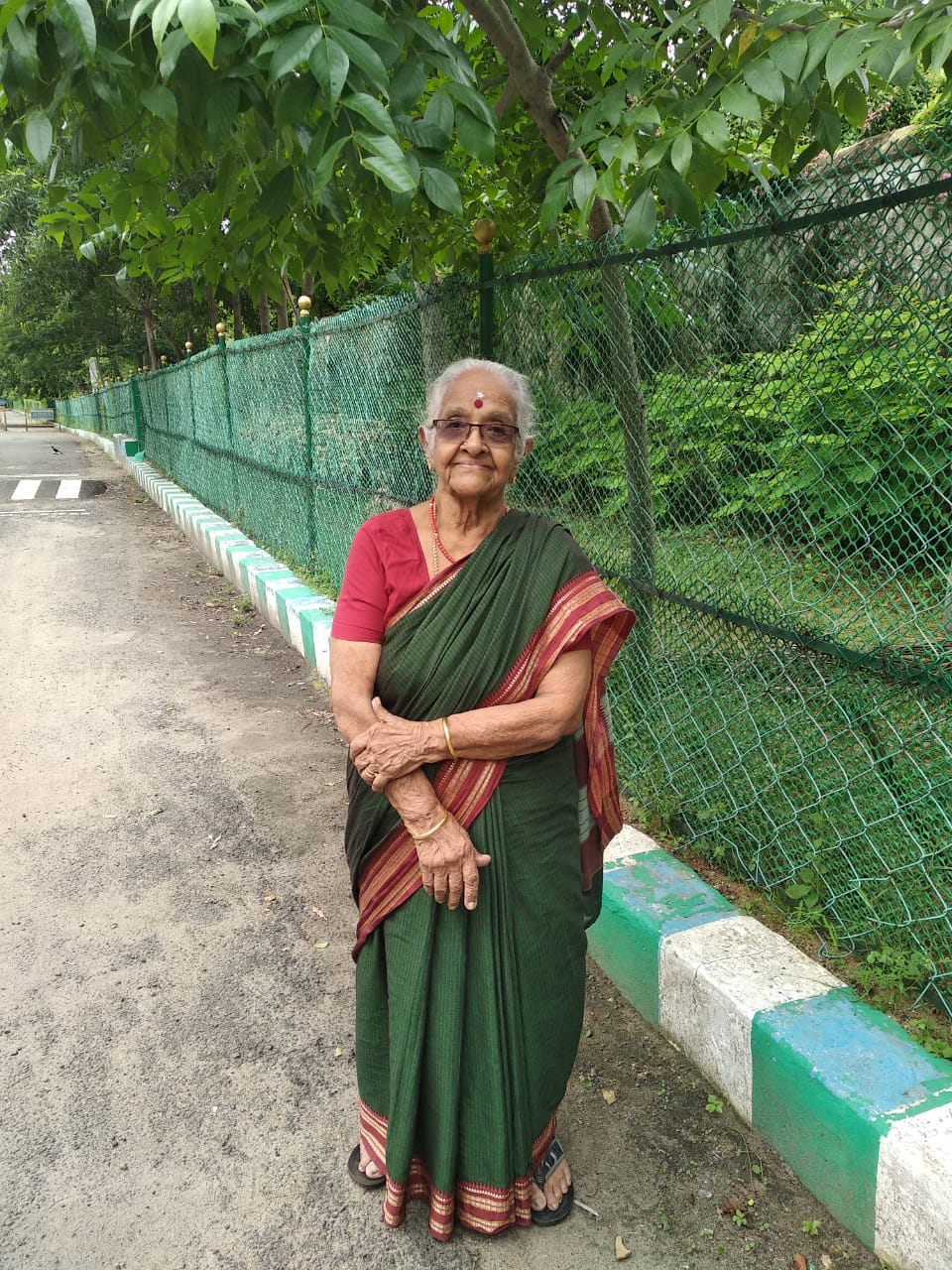 Born in Thanjavur, she was named after the world-famous Kamakshi temple. She studied in Bengaluru and later moved to Delhi after her wedding.
"Those three decades in Delhi were perhaps the best time of my life. I moved there in 1948, it was a time of turbulent politics in a newborn nation. Situations were tense, for sure, but the people were so much more open and friendly," she narrates.
Her bureaucrat husband would share all the nitty-gritty of the Indian administrative system with her, and she imbibed a lot of that information at that time, which is now coming to her aid when she takes up any civic issue.
"I moved back to Chennai in 1981 and was taken aback by the culture shock. Although I hail from Tamil Nadu, I had become adjusted to a different socio-cultural ambience in Delhi. It took me time to adjust, but slowly I got the hang of how things are done around here."
An accidental activist
Interestingly, Kamakshi paati was not so much of a vocal activist during her days in Delhi. In Chennai as well, she did not become the neighbourhood's go-to problem-solver, overnight.
It all started with a stretch of road surrounded by fallow land in front of her home in Besant Nagar. Being near the beach, Besant Nagar was one of the most pleasant and decorated neighbourhoods to reside in.
However, the road gradually turned into a pathway to hell as people unabashedly used it as an open toilet. Dead animals were buried in the adjacent plot of land and waste was being dumped regularly.
Utterly disgusted at the appalling scenario, Kamakshi paati took up the responsibility to set the wrong, right, and made futile appeals to authorities over and over again, only to be met with irrelevant excuses from the other end.
"This is a side road, Ma'am. We cannot plant trees or beautify it," they bluntly responded.
"But there is the word 'Avenue' in the name of the road, right? The dictionary definition mandates the presence of trees along the road," Kamakshi paati reminded them.
Three years of persistent appeals and protests later, she earned her first victory as the corporation officials beautified the road and built a roadside park. The park was presented to paati as a gift on her 80th birthday by the then Commissioner of Chennai. By then, she had built a great rapport with the corporation officials and local lawmakers.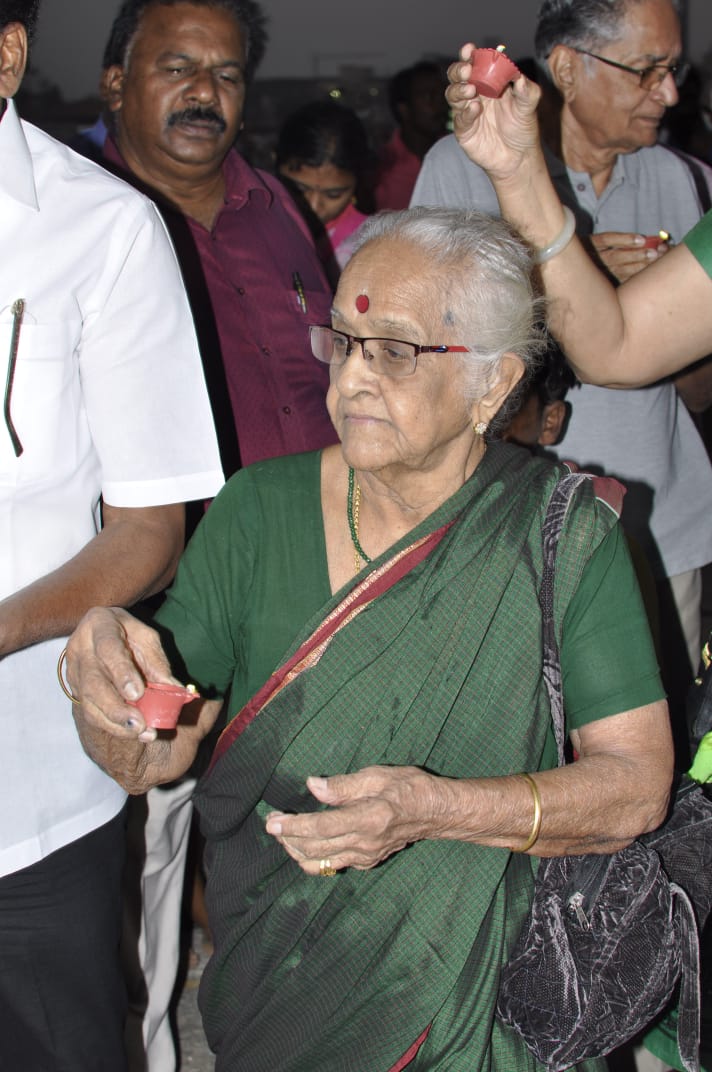 Thanks to paati's strict supervision, the maintenance of the park in on-point even 12 years later.
"I always insist on the importance of keeping up a habit. If you have renovated a place once or cleaned an area once, your job is far from done. You have to keep up with regular maintenance and cleaning. You have to ensure that the place is not littered or misused. It is your responsibility," she advises.
The park was the start. Ever since then, Kamakshi paati has been at the forefront of raising and resolving all civic issues in Besant Nagar. She has even co-founded SPARK⁠— a public forum for Chennai citizens to voice their grievances and ensure that the administration duly addresses them.
One of paati's most notable accomplishments was the restoration of the Karl Schmidt Memorial in Besant Nagar beach.
Raised by Lieutenant-Colonel Sir George Frederick Stanley, the then Governor of Madras, the memorial was constructed to recognise the sacrifice of Karl J Schmidt, a Danish national who died in 1930 after saving the lives of three English girls drowning in the sea.
However, over the decades, it had ended up in a dilapidated state. It had fallen prey to a lot of nuisance by local urchins, who used to smoke, drink, scribble on the walls and even urinate on the beautiful memorial.
"When I told paati about the history of the memorial, she immediately took up the onus of its renovation. Her active leadership accelerated the momentum of the entire operation. Within a while, the municipality promised to restore the memorial to its former glory. Not only that, the Ambassador of Denmark extended his support to maintain the memorial henceforth. All because of SPARK's escalation of the issue and paati's influence over the municipality officials," shares TD Babu, the founder of SPARK.
Babu adds that paati has emerged as a proactive and experienced senior citizen whose appeals are resolved by officials with alacrity, only out of sheer respect and love for her.
"Paati will always ensure to express her sincere gratitude towards the concerned official or department once a problem is taken care of. She even sends a positive word about any young corporation employee to his or her supervisor," reveals Ramakrishnan.
Paati's initiatives for a better Chennai
Kamakshi paati's success is not limited to her neighbourhood road or the Schmidt Memorial. She has succeeded in resolving many more, ensuring the citizens stay safer, better and happier.
When the Smart City Programme was launched in Chennai, there was a proposal to expand the sidewalks, which would constrict the street.Fearing that street vendors or cars would occupy the footpaths in Besant Nagar⁠—she had seen this happen in other places⁠—she contacted the officials, who refused to budge.
Then, she called up her neighbours and SPARK activists to arrange a road protest on Besant Avenue and ensured that the workers did not extend the sidewalks beyond six feet.
Until recently, Besant Nagar used to be a popular location for the Tamil film industry. A lot of movies would shoot extended scenes in the neighbourhood.
"Every other day, film crews would throng the beautiful streets, creating a lot of commotion and mess. So, I visited one such movie set and politely asked them to find a non-residential location. They argued with me that they have a permit. I sat down on a chair and waited for hours, asking them to show the permit. It turned out that they did not have one, and finally they had to pack up," she mentions.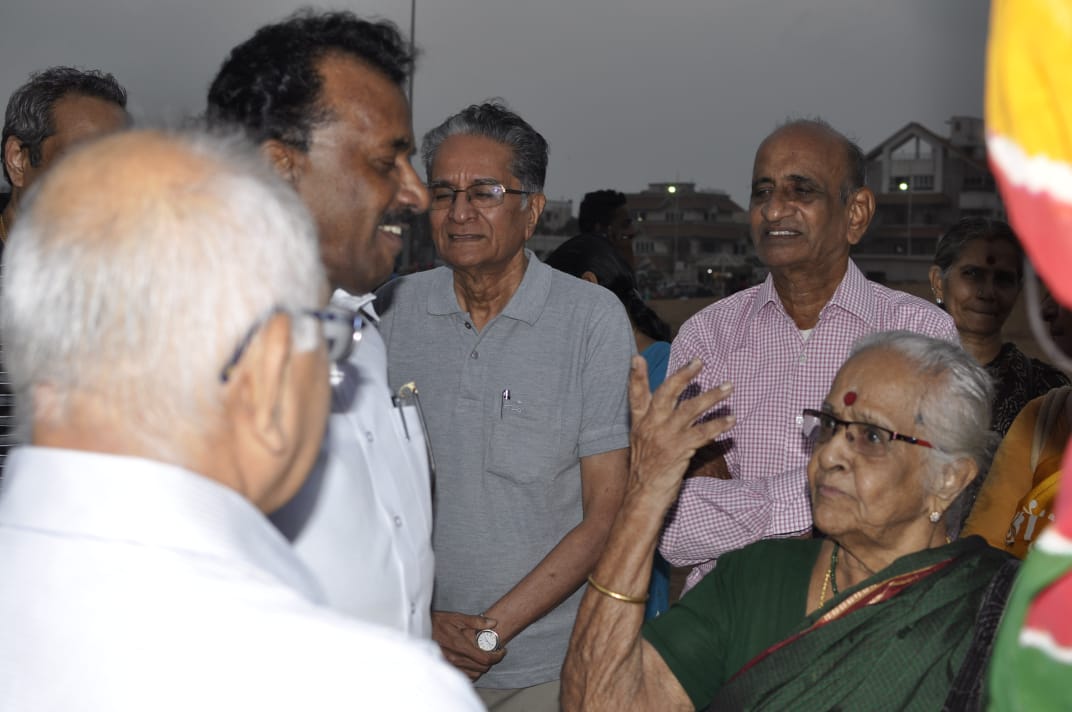 Besant Nagar, being a coastal neighbourhood, has predominantly sandy soil, which negates the need for any stormwater drain. Yet, the corporation allotted a massive sum of money for constructing stormwater drains across the neighbourhood. All the residents unanimously agreed that it was unnecessary, but it was Kamakshi paati who went a step ahead and organised protests and discussions. She ensured that Besant Nagar does not get any more stormwater drains, but get recharge wells instead.
Thanks to her, the young and old of Besant Nagar can now sleep peacefully at night after she convinced the construction workers to stop their work at night.
Miles To Go
Being a civic activist is hardly a cakewalk, even for everyone's favourite paati. There have been instances where she was threatened, and her anti-corruption stances are often met with inherent nonchalance. Young people littering the streets rudely responds if she requests them to refrain from doing that.
She believes that the public has to take a strong stand against corruption. They should not get into the practice of bribing government officials to get their work done quickly. At the same time, she also advocates that everyone remain aware of their rights and privileges as citizens.
"After all, the corporation can delay but never deny our rights."
She specifically mentions how grateful she is to the corporation officials and lawmakers for listening to the demands of the citizens and getting their grievances addressed in time.
Despite her tireless work, she mentions that her younger neighbours often leave her disappointed. Their sole dependence on her is everything she advises against. "They complain to me about their issues but do not take up any responsibility to solve them. It is no Herculean task to approach a government official or patiently protest about a recurring issue. Everyone has to take the responsibility to solve their issues."
Yet, Kamakshi paati wishes to continue her efforts for as long as she can. "I do not want to leave the world in a hurry. I have a lot on my plate now. I have to solve many more issues."
---
Also Read: Shattering Stereotypes: 6 Senior Citizens Who Defied Age to Do Amazing Things!
---
(Edited by Gayatri Mishra)
Like this story? Or have something to share?
Write to us: contact@thebetterindia.com
Connect with us on Facebook and Twitter.
We bring stories straight from the heart of India, to inspire millions and create a wave of impact. Our positive movement is growing bigger everyday, and we would love for you to join it.
Please contribute whatever you can, every little penny helps our team in bringing you more stories that support dreams and spread hope.