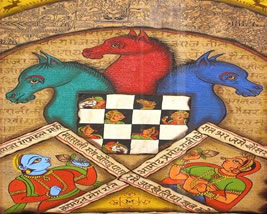 It is not uncommon to hear of India's cultural marvels, unique local traditions and unmatched contributions to handmade art works. Yet, only when one goes beyond these fancy sounding words
It is not uncommon to hear of India's cultural marvels, unique local traditions and unmatched contributions to handmade art works. Yet, only when one goes beyond these fancy sounding words to really explore India's majestic heritage is one exposed to how rich our inheritance truly is. One such work of art, born in the land of folklore, Rajasthan, is the Phad paintings. These are huge paintings done on cloth, and depict stories of the local deities and gods. Scale of the figures in the painting depicts their social status of the character in the story. What is also interesting is that the figures face each other, not the audience.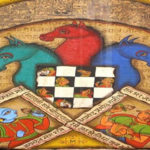 Phad paintings are unique because as per traditions, a thirty feet long and five feet wide work is done only be using natural vegetable colours. Additionally, material like squirrel hair is also used. The essence of these paintings is that they are completely natural. Yet, this has, in recent years, proven to be detriment to the popularity of Phad paintings because of a scarcity of these natural colours. Preserving this wonderful form of art is what motivated Shree Lal ji Joshi, a world-renowned Phad artist and Padma Shree and Shilpguru award winner.
Only 13 Phad artists remaining in India
Joshi ji founded Chitrashala, a pioneer institute for training in different styles of paintings of Rajasthan and especially for Phad painting (Mewar Style) more than fifty years ago. The art itself is more than seven hundred years old. There was a time when the secrets of Phad painting were confined to the Joshi family. However, when Joshi ji felt that the art form was slowly dwindling away, he felt the need to establish 'Joshi Kala Kunj', now 'Chitrashala' in 1960 to develop new artists other than the Joshi family. He virtually challenged all orthodox ideas for the sake of art. He took upon himself the task of revitalizing this art, even at the international level.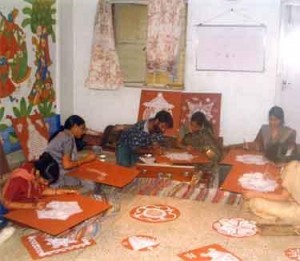 He conducted workshops, approached media and spoke to masses in India and abroad about Phad paintings. He guided both his sons Kalyan and Gopal Joshi in adding new dimensions to this art.
Kalyan Joshi Ji explains, "Phad paintings originate in our family. Initially even the daughters in the family were not taught its secrets. As a result of the practices of keeping the art within the family, our ancestors started noticing that it was losing its popularity. Hence, we took up the task of bringing it back. Me and my brother, under our father's guidance and blessings, also started a formal school for institutionalizing Phad art learning, fifteen years ago. I regularly conduct workshops. I visit schools to give live demonstrations so that he coming generations can learn about the art and what's so special about it. There are only 13 remaining Phad artists in India. This traditional art can only live if it is learnt and practiced correctly. For example, there is a method to make natural paints. We make our own colours and first test them before painting. Only then can one ensure the long life of a painting. We have paintings as old as 200 years!"
Jewels of India's Phad art
Kalyan Ji has taken up this mission with brother Gopal Joshi and is happy to see some of the artists that his father had taught winning national awards for the art. He is motivated, and humbly so, every time he meets a new audience to speak to, about this wonderful art. He also can't help but praise the artists because so much hard work goes into Phad paintings; sometimes it can take almost 2 months to finish one painting. Kalayan Ji speaks highly of some well known artists, who have excelled in this profession, "Pradeep Mujherjee, a Bengali artist, learnt from my father back in the 1970s under the guru-shishya parampara. He won the National Award in 1985. There is also Rameshwar Singh, in Jaipur who later devised his own unique style, using modern touches to enhance Phad art. He won the LKA award. The interesting part is that every painting has a story. So, by preserving this art, we also preserve stories that have traversed thousands of years by word of mouth and hearsay, from our ancestry."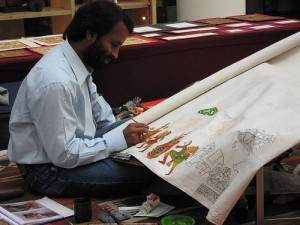 While those born in the Joshi family started learning the Phad traditions in their early years, the children of today's times suffer from an overload of information and may never know about the wonder of Rajasthan's most cherished art form. It is this fear and a strong determination to overcome it that has led these Phad artists to pursue greater goals. In the age of communication technologies, all one can hope for is that this art can reach out to all those who have an appreciative eye and who love India for its true glory.
Gallery
You can take a look at this wonderful collage of their works here: http://phadchitra.com/gallery.htm
Contact details
Chitrashala
(Phad Painting Training & Research Institute)
Opp. Mataji ki Gali, Sanganeri Gate, Bhimganj,
Bhilwara City , State-Rajasthan 311001 (India)
Email: kalyanpjoshi[at]yahoo[dot]com
Web: http://phadchitra.com/
We bring stories straight from the heart of India, to inspire millions and create a wave of impact. Our positive movement is growing bigger everyday, and we would love for you to join it.
Please contribute whatever you can, every little penny helps our team in bringing you more stories that support dreams and spread hope.